Our customers have been hired by:
Training makes perfect. Every company wants perfect employees that will grow, gain more skills and become the best version of themselves! But to get there, they need you. A training manager.
But how to convince them you're the most skilled, the most experienced, and simply, the best trained for the job they have to offer? Oh, our dear Padawan, buckle up because you're in for speed training on how to create a perfect training manager resume! Let's get right to it!
This guide will show you:
A training manager resume example better than 9 out of 10 other resumes.
How to write a training manager resume that will land you more interviews.
Tips and examples of how to put skills and achievements on a training manager resume.
How to describe your experience on a resume for training managers to get any job you want.
Want to save time and have your resume ready in 5 minutes? Try our resume builder. It's fast and easy to use. Plus, you'll get ready-made content to add with one click. See 20+ resume templates and create your resume here.
Sample resume made with our builder—See more resume examples here.
Looking for other resume samples in education and development? Check out our other guides:
Training Manager Resume Example
Brittany Dunham
Training Manager
775-967-6345
bdunham@yahoo.com
Linkedin.com/In/BrittanyDunham
Summary
Result-oriented training manager with 10+ years of experience in staff development, which included managing training departments for IT companies. Successfully trained 250+ workers and managed a team of 10+ trainers. Successfully identified training needs, and designed and executed training programs which enhanced operational performance and growth, helping Until-IT to grow by 15% within a year.
Work Experience
Training Manager
Until-IT, Austin, TX
July 2018–present
Delivered training to 100+ Until-IT workers on various topics, including IT procedures, customer service protocols, communication, and marketing.
Participated in setting the company goals, objectives, and individual OKRTs for 200+ employees.
Created virtual training sessions for the global teams, using virtual classroom tools.
Key achievement:
Streamlined training processes, reducing onboarding time by 25% and saving the company an estimated $45,000 annually in training costs.
Training Manager
ModernTecho, Columbia, SC
June 2012–July 2018
Created the instructor scripts for a team of 10+ contracted instructors.
Received 4.5 and 5.0 scores for training courses.
Oversaw the delivery of training programs focused on cultural awareness, ensuring a friendly and inclusive environment for employees and clients.
Key achievement:
Implemented a customized training program resulting in a 10% increase in employee productivity and a 15% decrease in error rates within the first quarter of implementation.
Education
Bachelor's Degree in Business Administration
The University of Texas in Austin, TX
August 2014–May 2018
Key Skills
Problem-Solving
Time Management
Communication
Collaboration & Teamwork
Coaching
Microsoft Office
Training Delivery
Employee Training,
Recruiting,
Sourcing
Certifications
Certified Professional in Training Management (CPTM™), Training Industry Incorporated, 2022
Certified Professional in Learning and Performance (CPLP), Association for Talent Development, 2020
Hobbies and Interests
Hockey – captain of the local team for five years.
Enthusiastic gadget reviewer and tech blogger.
So now you know what a perfect training manager resume can look like. Let's start the training of writing your own, shall we?
1. Format Your Training Manager Resume Perfectly
A Training Manager identifies and assesses training needs, implements different training methods, and creates tailored employee training plans. Their job is to boost the performance and skills of employees. They monitor the effectiveness of implemented training programs, update them if required, and watch the training costs to keep the work efficient and effective.
But before that, let's learn the correct way of formatting a resume! Follow these simple steps and have a flawless training manager resume ready in no time:
Pro tip: Quality over quantity. The ideal resume length should be no longer than two pages for a manager position, which requires some years of professional experience.
2. Write a Perfect Training Manager Resume Profile
Flawless formatting is a good way of grabbing the attention of a hiring manager. You can easily achieve it simply by starting your resume professionally. This requires some training, but worry not, it's a short one!
You can do it by writing a resume summary or objective:
It's safe to assume that as a manager, you will be using the second one. You require some experience to distinguish yourself from a regular training specialist. After all, you aim to be in charge of everything that's training-related within a company!
And what's the best way to write a professional resume summary for a training manager? By following a simple formula:
Adjective + Job Title + Years of Experience + Achievements + Skills + What You Want to Do for the Employer
Now that your intro is ready let's move on to the perhaps most important part of any manager's resume!
You need your resume to be ATS-friendly. Read our guide and learn how to do it: 18 ATS-Friendly Resume Templates (Compliant & Optimized)
3. Create an Ideal Training Manager Resume Job Description
According to a study, 65% of employers prefer their candidates to have relevant work experience. And as we've mentioned before, applying for a manager position is something that requires relevant work experience more than applying for other regular positions. Your duties will not be limited to simple training sessions. And that's why hiring managers are looking for someone experienced enough to take care of the entire training department.
Time to prove to them that you're the one they're looking for!
How to make a perfect work experience section on a training manager resume?
Your experience section is ready. Let's go a bit further back on your resume and speak about your education!
Pro tip: Think about what the hiring team will look for in all the resumes that land on their desks. And then describe your current and past responsibilities in a fashion that will help them find that in your work history!
When making a resume in our builder, drag & drop bullet points, skills, and auto-fill the boring stuff. Spell check? Check. Start building a professional resume template here for free.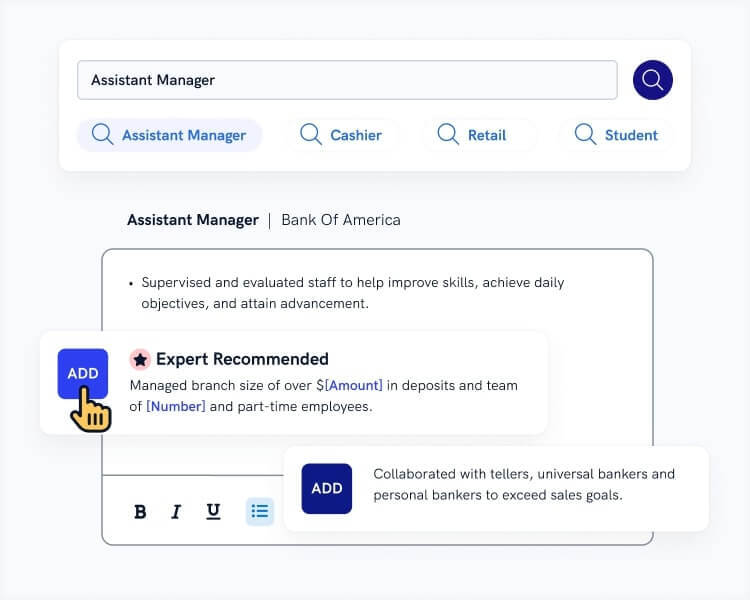 When you're done, Zety's resume builder will score your resume and our resume checker will tell you exactly how to make it better.
4. Show Education on Your Training Manager Resume
Writing about education should be important for a teacher like yourself. After all, you surely are passionate about educating others and learning new things to educate them even more, right? So let's show it to the hiring managers!
How to write a perfect education section on a training manager resume?
List your degree, your school name, and the date you graduated. That will help you keep the entire document as readable as possible!
Add extracurricular activities you've taken part in. That can help you prove your skills
Include all the relevant coursework to show you're not only skilled but also ambitious!
Pro Tip: Most hiring managers won't be interested in your GPA in the education section. Add it to your resume only if it was above 3.0 and you graduated within the last three years.
5. Make Your Skills Prove You're a Perfect Fit
There are certain skills required to be a great trainer. But there's a completely different set of management skills that you need to be a great manager. So how can you prove to the hiring managers that you combine these two sets of skills? There are a few simple steps you should follow!
How to list your skills on a resume for a training manager?
Create a list of all the skills you have. List your soft and hard skills. Don't limit yourself, being picky will come later!
Pick those skills that will make you look like a perfect fit. Read the job ad again and try to find some that are included within it! Also: consider adding some transferable skills.
Choose your final 10 skills that will work best in helping you get that job. Combining some soft skills with some hard skills is a perfect idea.
Training Manager Resume Skills
Collaboration & Teamwork
Coaching
Planning
Pro tip: Trying to create a resume that not only presents your achievements but also highlights your key skills? Read more: Combination Resume (Template & 5+ Combo Examples)
6. Persuade Recruiters With Additional Sections on Your Training Manager Resume
You know well how to create a great resume. But there is one thing this guide hasn't trained you to do yet. And that's putting some extra content into your resume that doesn't really fit the experience, education, or skills sections but can be a winning point in the application process!
What can you put in additional sections on your training manager resume?
Certifications and licenses can perfectly prove that you've got the skills you've covered in the previous section. And you're certified, which is always a plus!
Conferences you attended listed in the additional section show that you keep developing your management and training skills.
Hobbies and interests can be an amazing way to show that you're a team player, a great leader or an amazing time organizer!
Language skills are always a good thing to have, especially working in an international environment.
Publications and research are how you tell your recruiters that hiring you means hiring an authority!
Volunteering experience is a nice thing to put in your resume, especially if it's relevant to the job opening.
Pro tip: There is plenty of information you can include in the additional sections in your training manager resume. Just make sure they are all relevant to the job you're applying to.
7. Finish Up Your Training Manager Resume with a Cover Letter
Did you know that 83% of recruiters claim that cover letters help them make hiring decisions? So even though your training manager resume is ready, let's not skip the part when we say a bit more about how to make a great impression on a recruiter with a perfectly-crafted cover letter
How to write a cover letter to add to a manager in training resume?
Wondering what to include in a cover letter? Wonder no more! Read our guide: What to Put in a Cover Letter in 2023
Plus, a great cover letter that matches your resume will give you an advantage over other candidates. You can write it in our cover letter builder here. Here's what it may look like: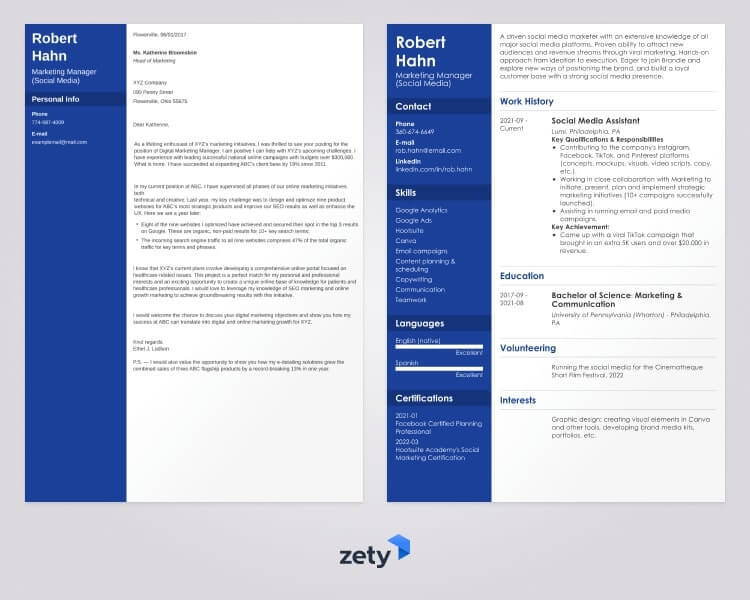 See more cover letter templates and start writing.
Now your training is concluded. You are ready to create a perfect training manager resume, send it to the recruiters, get the job and start training. Good luck!
Thank you for reading this guide! Let's talk more in the comment section below!
About Zety's Editorial Process
This article has been reviewed by our editorial team to make sure it follows Zety's editorial guidelines. We're committed to sharing our expertise and giving you trustworthy career advice tailored to your needs. High-quality content is what brings over 40 million readers to our site every year. But we don't stop there. Our team conducts original research to understand the job market better, and we pride ourselves on being quoted by top universities and prime media outlets from around the world.