Finance Manager Resume: Example & Writing Guide
Our financial models predict no finance manager worth a dime skips out on writing a solid application. Get yourself up to industry speed with our finance manager resume guide.
Stacked portfolio? Check. Management experience? Check. Bending cash flows to your will with so much ease you're practically telekinetic? Check on that, too.
Finance managers handle big numbers and huge investments, and if that's you, you know it's sometimes easy to get lost in the fine print and start glossing over those details.
Without ironing out your finance manager resume, you may as well kiss your dreams of advancing your career goodbye.
This guide will show you:

A finance manager resume example better than 9 out of 10 other resumes.
How to write a finance manager resume that will land you more interviews.
Tips and examples of how to put skills and achievements on a finance manager resume.
How to describe your experience on a resume for a finance manager to get any job you want.
Want to save time and have your resume ready in 5 minutes? Try our resume builder. It's fast and easy to use. Plus, you'll get ready-made content to add with one click. See 20+ resume templates and create your resume here.
Sample resume made with our builder—See more resume examples here.
Considering similar jobs? Check this out:
Finance Manager Resume Example
Ruth J. Mulligan
Finance Manager
407-588-1187
RuthMulligan@zetymail.com
Linkedin.com/in/12Ruth.Mulligan
Summary
Results-driven finance manager with 6 years of experience supervising asset portfolio of LifeVest Inc. Boosted operational efficiency by 7% within first year of employment by automating processes and slashing risks. Seeking to contribute to strong client relations and achieve stable year-on-year revenue growth at Virgo-Andied.
Work Experience
Finance Manager
LifeVest Inc., San Francisco, CA
September 2016–October 2022
Key Responsibilities
Secured necessary financing for the company and used strong negotiation skills to cut costs by 10% while securing beneficial contract provisions.
Performed financial reporting and project analyses using Cognos to foresee (un)desirable market shifts and course-correct.
Influenced business decisions with effective verbal and written communication, reducing unnecessary risk.
Owned ongoing delivery of multiple strategic projects through progress tracking and resolution support, resulting in successful and timely delivery of 97% of projects.
Key Achievement: Doubled company annual revenue from $2.4 million to $4.9 million within 5 years.
Financial Analyst
Liberty Mutual, Irvine, CA
June 2013–September 2016
Closely collaborated with supply chain management team to streamline operations and reduce overheads by 7.5%.
Managed execution of trade confirmations and cash flow settlements of up to $150 million in value.
Budgeted projects according to latest market trends.
Education
MA in Economics and Business
Hult International Business School, Boston, MA
2008–2010
Key Skills
Financial Planning & Budgeting
Market Analysis
Optimizing Operations
Negotiation Skills
Strong Team Player
Data Visualization
Analytical Thinking
Certifications
Certified Financial Manager, Global Association for Quality Management (GAQM), 2019
Certified Investment Management Analyst, Financial Management Association (FMA), 2020
Conferences
1255th International Conference on Accounting and Finance—Attendee
World Finance Conference 2021—Attendee
Without further ado, this is how you write a finance manager resume properly:
1. Format Your Finance Manager Resume Template
Finance managers oversee the well-being of a company's financial operations, and are tasked with generating financial reports and projecting quarterly and yearly profits. To succeed, a finance manager resume needs to show just that kind of ability, plus some stress resistance and analytical thinking.
Still, that's putting the cart before the horse here. Or should it be bull in this case?
Regardless, we'll get to the what, but first, let's deal with the how.
Presentation matters, always! Show up to a job interview in dirty rags and your chances will nosedive.
Take a look at this handy checklist and fix your resume format, stat:
When all is said and done, save your resume as a PDF to preserve your formatting.
Read more: What Should My Resume Look Like? Full Guide with Examples
2. Write a Finance Manager Resume Profile
With the basics out of the way, you'll now want to introduce yourself and captivate your reader at the same time.
To do that, write a resume profile. It's a quick statement to help the recruiter see why they can safely place their finances in the hands of a talented finance manager, that being yourself.
If predicting cash flows and taking care of the general ledger has been your daily bread for more than 2 years, in a resume summary, write about the key factors and qualities of your work experience you've gathered so far. Include persuasive finance achievements and adorn them with real numbers for a bigger punch.
Otherwise, if you don't have much managerial experience to speak of yet, choose the resume objective. Put more focus on your transferable skills from previous positions and the know-how you have as a finance whiz to deliver great results to the company.
Read more: How to Write a Resume Introduction (with Examples)
3. Describe Your Work Experience on Your Finance Manager Resume
What matters most in the money world?
Numbers, numbers, numbers!
Use them smartly in your work experience section and reap the profits like Michael Burry:
As you pick the key duties to mention in your job description, remember to tailor your resume to each job ad. Use the same language as the employer to boost your chances of getting noticed.
Read more: What is Meant by Relevant Experience on a Resume?
4. Polish Your Education Section
A tidy resume education section is a must, even for senior roles like yours. Whether you hated or loved your college years, the hiring manager will want to take stock of your education, so get it done right.
Since you're applying for a managerial role, it should be safe to assume you have at least a few years' experience in your field. In such a case, you can just stick to the basics: list the degree you obtained, the name of the institution, and your years of attendance.
Listing other details, like your GPA, is only a good idea if you graduated relatively recently.
Read more: How to Put Your Degree on a Resume
When making a resume in our builder, drag & drop bullet points, skills, and auto-fill the boring stuff. Spell check? Check. Start building a professional resume template here for free.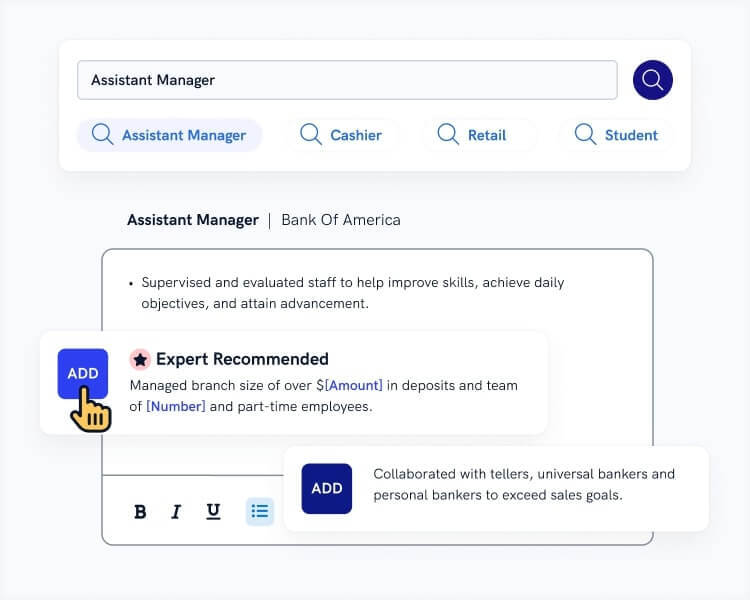 When you're done, our online resume builder will score your resume and our resume checker will tell you exactly how to make it better.
5. Secure Their Attention by Tailoring Your Finance Manager Skills Section
Aside from your work experience and your education, what the recruiter wants to know first and foremost is the set of skills you bring to the table.
If they're going to bring you into their sandbox, they have to know you can build them a nice castle. After all, financial managers pretty much make the big bucks from the get-go, according to the BLS.
Take a look at this example list of top finance skills:
Finance Manager Resume Skills
Accounting
Stock Market Familiarity
Supervising Staff
Multi-Currency Reporting
Mentoring
Data Visualization
Economics
Financial Modeling
Optimizing Day-to-Day Operations
Tracking & Analyzing Data
Cash Flow Statements
Directing Investments
Projecting Profits
Budgeting
Risk Assessment & Management
Drafting Financial Reports
Long-Term Financial Strategy
Managing Credit
Accuracy
Knowledge of Legal and Regulatory Requirements
Negotiating
Financial Analysis
But hold on there—
A skills section shouldn't be longer than your 401K investment plan.
Instead, you can let your value skyrocket in the employer's eyes by targeting your resume's skills section.
If you open up the job ad, under "Requirements" (or "Expectations", or something along those lines), the company pretty clearly states what they're looking for in an ideal employee.
Now, you may not necessarily have all of these qualities, but surely at least some of your technical skills, hard skills, and soft skills fit that bill nicely.
Pick 5–10 of those skills that you have and that are mentioned in the job ad. This way, you're presenting yourself as the ideal candidate for the role, plus you make your resume more ATS-friendly.
Read more: Key Resume Skills: Guide & Examples
6. Increase Profits with Extra Sections on a Finance Manager Resume
The financial sector is one of the most globally distrusted industries, unfortunate as that is.
To make your application more cohesive and believable, use extra resume sections. They help to show your personality and prove you're genuinely passionate about your profession.
Here are some ideas of what to add to a financial manager resume:
Conferences, particularly as speaker
Scientific publications
You can also consider putting your hobbies and interests on your resume, although that's tricky—especially for managerial and other senior roles. Only include things that directly speak to your career development or key skills.
Read more: What to Put on a Resume: Full Guide
7. Write a Finance Manager Cover Letter
What's the point of a cover letter?
To waste your time?
Not at all.
In fact, a significant number of recruiters consider them a must-have addition for any candidate.
But you need to make it good.
Let's break down how to write a good cover letter:
Pick the rightcover letter format to make it look professional.
Write an engaging cover letter introduction, stating the position you're applying for and hooking the reader with an impressive achievement of yours.
Reference a value or fact about the company that you have in common.
End the cover letter making a call to action and promising to deliver on a valuable goal.
Keep an eye on the length of your cover letter: 3–4 paragraphs on one page will definitely suffice.
Read more: Manager Cover Letter: How to Write, Examples & Tips
Plus, a great cover letter that matches your resume will give you an advantage over other candidates. You can write it in our cover letter builder here. Here's what it may look like: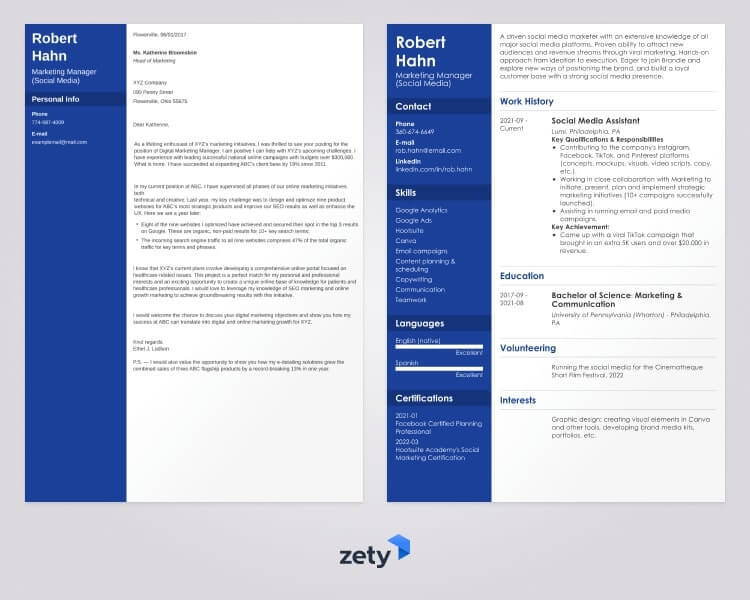 See more cover letter templates and start writing.
Now that's a stellar financial manager resume!
Got anything to add to this financial manager resume guide? We'd welcome all questions and ideas in our comments section below. If you want to chat, we'll be waiting for you in the comments!
About Zety's Editorial Process
This article has been reviewed by our editorial team to make sure it follows Zety's editorial guidelines. We're committed to sharing our expertise and giving you trustworthy career advice tailored to your needs. High-quality content is what brings over 40 million readers to our site every year. But we don't stop there. Our team conducts original research to understand the job market better, and we pride ourselves on being quoted by top universities and prime media outlets from around the world.