Apple Resume: Guide, Tips & Template (Any Specialist)
Been dreaming of Apple careers for years? It's time to refurbish your Apple resume! But to get it right, you'll need to think different.
Fascinated by Apple technology? Know every product and feature, and have every Apple Event bookmarked in your calendar? It's time to write an Apple resume that will bring you closer to your dream.
The competition is intense, but with the right approach, your Apple resume will stand out like a 4K screen among Standard Definition displays.
This guide will show you:
An apple resume example better than 9 out of 10 other resumes.
How to write an apple resume that will land you more interviews.
Tips and examples of how to put skills and achievements on an apple resume.
How to describe your experience on a resume for an apple specialist to get any job you want.
Want to save time and have your resume ready in 5 minutes? Try our resume builder. It's fast and easy to use. Plus, you'll get ready-made content to add with one click. See 20+ resume templates and create your resume here.
Sample resume made with our builder—See more resume examples here.
Not what you're looking for? Try these guides:
Apple Resume Template
Andrew Stinson
Apple Genius
817-257-6814
andy.stinson@email.com
linkedin.com/in/stinsonandy
Summary
An energetic, customer-focused Apple professional with a passion for Apple technology and vision. Repaired over 1,000 Apple devices, suggesting accessories that could improve overall user experience (20% revenue via upselling). Willing to join the Apple Genius Fort Lauderdale team to provide excellent service and swift resolutions to customers' technical issues.
Experience
Apple Repair Specialist (part-time)
iBroke, Louisville
February 2022–present
Key Qualifications & Responsibilities
Assessing 10–30 devices daily to quickly identify the necessary repairs, providing the clients with a quote and a timeline.
Conducting technical repairs of the full range of Apple products within 1–3 business days.
Handling the stock and proactively ordering the necessary parts and materials to ensure efficient service delivery.
Key Achievement:
Achieved 100% customer satisfaction rates consistently over 6 months through a can-do attitude and delivering all orders on time/before the deadline.
Education
BS in Computer Science
University of Tennessee, Knoxville
September 2018–May 2023 (expected graduation)
Betty Stevens Frecknall Scholarship holder.
2021 UniHack hackathon winner.
Skills
Knowledge of Apple products
Troubleshooting
Customer service
Ability to maintain composure
Communication skills
Strong people skills
Efficient problem solver
Critical thinking skills
Decision-making skills
Time management
Certifications
AppleCare Hardware Certification, Apple, 2022.
Languages
Follow these steps to write a successful Apple resume:
1. Make Your Apple Resume Sleek
Apple specialists are professionals across various roles, offering their expertise to Apple customers. The purpose of an Apple resume is to show that you possess the necessary technical knowledge and soft skills to maintain the exceptional standards of Apple products and services.
Every piece of Apple tech is smooth and minimalist, and every detail serves a purpose. If you want to improve your chances of getting the desired job, you should approach writing your Apple resume the same way. It should look great, read great, and every line should be there for a reason. It starts with the formatting.
Map out your Apple resume according to these guidelines:
Pro Tip: Adding links to social media accounts? Don't forget to check your online presence. You don't want a prank from 10 years ago to cost you a job opportunity!
2. Stun With Your Resume Summary (Or Objective)
When you open a box with an Apple product, you know instantly it's exceptional. This is what puts Apple ahead. The opening statement of your Apple resume should produce the same effect: say it all, make an impression—and fast (imagine it's an elevator pitch.)
To show recruiters that you have relevant experience and prove you're a great candidate, write a resume summary:
Brainstorm a list of your strongest skills and impressive measurable achievements.
See which ones match the job description, and craft a brief paragraph based on your findings.
For an entry-level resume, compose a persuasive resume objective:
Focus on transferable skills and qualifications.
Explain your motivations and why you're willing to join this particular team.
Want more? Read this article: Best Resume Tips
3. Customize the Job Description
As you move on to the contents of your Apple specialist resume, you need to remember that relevant experience is your way to getting that interview.
Follow these instructions to get the work experience section of your Apple resume right:
Feeling good about your chances? Start prepping for the interview in advance: How to Ace Your Next Interview
4. Shine a Light(ning) on Your Education
Hey, Siri! Do I need to add education to my resume for an Apple job? The answer is yes! Even if you're applying for a retail position (which usually doesn't require a degree), it's definitely desirable for a tech giant like Apple. It'll give you an advantage over other candidates.
Here's how you describe your studies properly, depending on your experience:
Have some jobs under your belt? Add the name of your degree, institution (+location), and the years you spent in school.
New to the job market? Make sure you add a bullet point or two about your academic wins.
When making a resume in our builder, drag & drop bullet points, skills, and auto-fill the boring stuff. Spell check? Check. Start building a professional resume template here for free.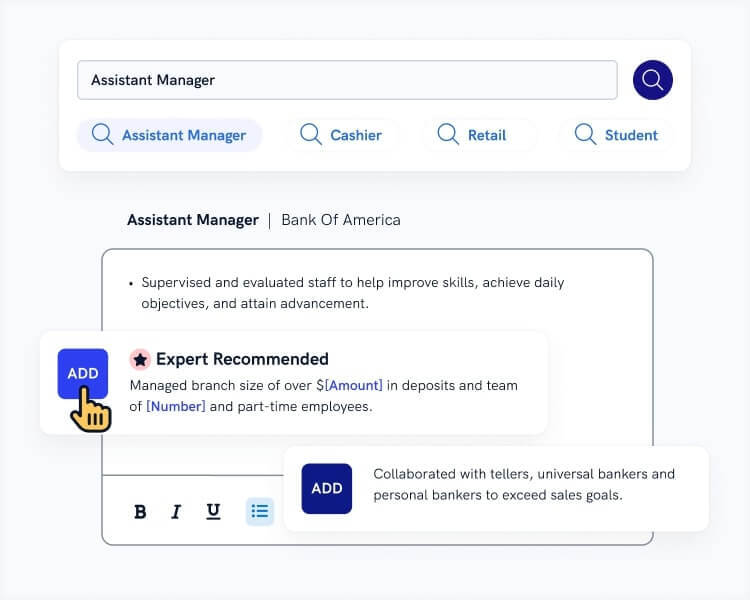 When you're done, Zety's resume builder will score your resume and our resume checker will tell you exactly how to make it better.
5. Show the Right Apple Skills on Your Resume
Utilize the Skills section of your resume to the max, or it goes straight into Low Power mode.
To list skills on your Apple specialist resume, follow these steps:
Create a master list of your prominent hard and soft skills. That should include the technical skills required for your job, plus the equally critical interpersonal skills.
Look at your Work experience and Education sections carefully to see which skills can truly reinforce what's in there.
Done? See if what you've listed makes sense for the job description.
Here's what skills could look like for one of the typical Apple resume examples:
Apple Resume Skills
Read more: Employability Skills Recruiters Want to See on Your Resume
6. Consider Adding Other Sections
Don't let the recruiter go into airplane mode just yet—cement your success with extra information on your resume.
Here are some great ideas for additional sections on an Apple resume:
Pro Tip: Additional sections work great for language skills, which are crucial both in a client-facing role and a diverse team. If you look at many Apple job ads, you'll see "Multilingual ability is a plus," so seize that opportunity to distinguish yourself.
7. Write a Cover Letter
Think you don't need a cover letter? Jailbreak at your own risk. According to surveys, over 80% of recruiters believe a cover letter (if done correctly) will significantly increase your chances. It should explain to the hiring side why your qualifications will ultimately benefit them, thus making you someone they'll invite for an interview.
Make sure your Apple resume is accompanied by a cover letter that follows these rules:
Read more: How to Write an Apple Cover Letter
Plus, a great cover letter that matches your resume will give you an advantage over other candidates. You can write it in our cover letter builder here. Here's what it may look like: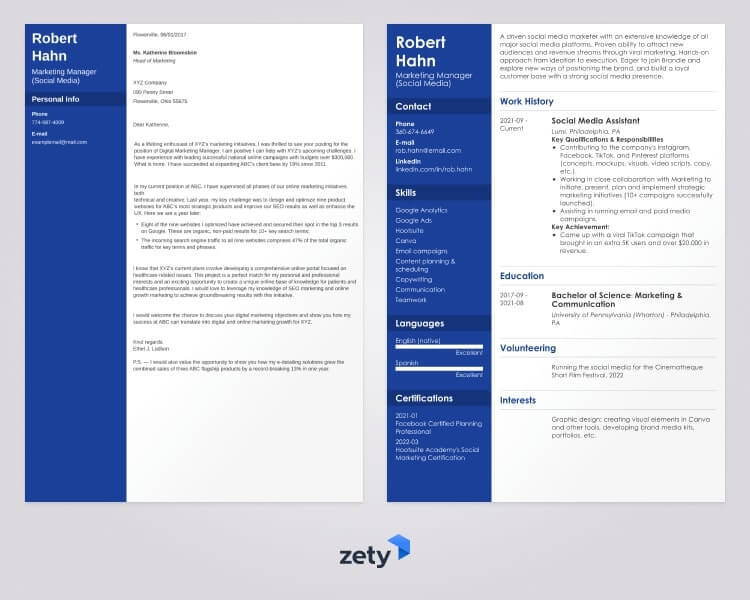 See more cover letter templates and start writing.
You're ready! This is everything you need to know about writing a perfect resume for an Apple job.
What are your tips for creating a great Apple resume? Comment below and let us know what you think!
About Zety's Editorial Process
This article has been reviewed by our editorial team to make sure it follows Zety's editorial guidelines. We're committed to sharing our expertise and giving you trustworthy career advice tailored to your needs. High-quality content is what brings over 40 million readers to our site every year. But we don't stop there. Our team conducts original research to understand the job market better, and we pride ourselves on being quoted by top universities and prime media outlets from around the world.