Our customers have been hired by:
Every kid under the sun wants to be an actor, for at least a time in their early life. Kudos to you for pursuing that dream and not abandoning it.
But before you become an award-winning actor in musical theater, or a Los Angeles production company picks you up, you need to deliver a beginner acting resume that's a smash hit.
This guide will show you:

A beginner acting resume example better than 9 out of 10 other resumes.
How to write a beginner acting resume that will land you more interviews.
Tips and examples of how to put skills and achievements on a beginner acting engineer resume.
How to describe your experience on a resume for a beginner actress or actor to get any job you want.
Want to save time and have your resume ready in 5 minutes? Try our resume builder. It's fast and easy to use. Plus, you'll get ready-made content to add with one click. See 20+ resume templates and create your resume here.
Sample resume made with our builder—See more resume examples here.
Looking to start your career through different means? Have a look at these:
Beginner Acting Resume Template
Crystal Gilbert
Actor-performer
319-790-7853
crystalgilbert@zetymail.com
Height: 5'5"
Eye color: hazel
Hair color: blonde
Voice tone: contralto
Resume Objective
Aspiring and empathetic actor seeking roles in commercial, stage, or film productions. Participated in Internet short-form comedy sketches with a total view count of 750 million. Greatly skilled in memorizing lines, emotive performances, and improvising.
Film and Television
Resident Evil, Season 1 Episode 7, extra in background, Netflix (Rachel Goldberg), 2022
NCIS Hawaii, Season 1 Episode 5, speaking role, Harp to the Party Productions, CBS (Christopher Silber), 2021
Commercial Work
Pepsi commercial, aired in May 2019
Kia Motors commercial, aired in November 2020
Education
Columbia University School of the Arts Theatre Program
2017–2020
Selected for lead role in 4 school productions
Performed Shakespeare's A Midsummer Night's Dream as part of a self-initiated classic plays acting club
Skills
Singing
Playing Guitar & Piano
Confidence
Stage Presence
Time Management
Pronunciation
Conveying Emotion
Organizational Skills
Language Skills
German—advanced
Portuguese (Brazilian)—intermediate
Spanish—beginner
Hobbies and Activities
Co-starring in an Internet short-form sketch series with a total view count of 750 million
1. Format Your Beginner Acting Resume Correctly
As a beginner actor, you play characters by using your voice and body language. You're likely to start in commercials, plays, or in secondary roles. Nonetheless, a beginner acting resume needs to show acting skills, voice work, and collaboration skills as your main strengths.
Past that, you can probably rely on networking to carry you the rest of the way.
Wait a second.
As a beginner, you'd be hard-pressed to have any kind of professional network.
How do you win, then?
With a well-formatted beginner acting resume that puts your strengths in the spotlight. Here's how to format your resume for the best results:
Save the resume file as a PDF, as it will let you preserve the resume structure without errors or bugs.
Read more: What Should a Resume Look Like?
2. Write a Beginner Acting Resume Objective
Most people employed in the arts have to work a second job to get by. On top of that, acting often comes up as one of the most anxiety-inducing professions out there.
But there are gigs that won't require you to overwork and over-stress yourself.
You just have to prove you're good enough to get them.
So—
How do you get the casting director not only on board with hiring you, but also excited to see you perform?
Simple: you write a resume profile that drops jaws and gets standing ovations.
Prepare a resume summary if you're a beginner, but have been in the industry for over 2 years. Highlight the achievements and biggest moments of your career thus far.
Write a resume objective if you're not quite up to 2 years, and focus on the skills and drive you have to finally get that Hollywood breakthrough.
Read more: How to Start a Resume for Beginners: 15+ Tips
3. Write a Good Beginner Acting Job Description
Listing past acting jobs when you're just starting out can be quite intimidating.
I mean, do they really want to hear about the complete blowout of a performance you gave 20 years ago during your 4th-grade school play?
That's probably going too far back on your resume.
Even if you're writing this section with no acting experience whatsoever, trust me, there are things you can do:
If you have scored acting gigs in the past, mention the title of the film or play and what your role was, plus the name of the director.
Group everything by the category of theater, film, commercial, voice work etc.
Focus on the more prominent roles, and don't be overly descriptive. Your credits should be all neat and fairly condensed.
Now, let's assume you're writing a resume with no experience at all. Zip. Nada. Not even an extra with a Wilhelm scream.
In that case, do the following:
In the work experience section, you can include scenes from acting school, end-of-semester/year plays, freelance work in commercials, the likes.
Swap the order of your education section (coming up next) and work portfolio if there's more going on in your school history than work experience.
Pro tip: If you've worked with a famous actor (or director), you can name-drop them without shame. It adds a ton of heft to your experience.
4. Improve Your Beginner Acting Education Section (It Counts!)
Some actors and actresses start out with no formal acting education.
Logic would dictate you can therefore skip your resume education section entirely.
And that would be a big mistake, huge!
Since you're a beginner, it's precisely this section that can carry the most weight, and even steal the show.
This is how to write it:
Read more: How to List Your Degree on a Resume
When making a resume in our builder, drag & drop bullet points, skills, and auto-fill the boring stuff. Spell check? Check. Start building a professional resume template here for free.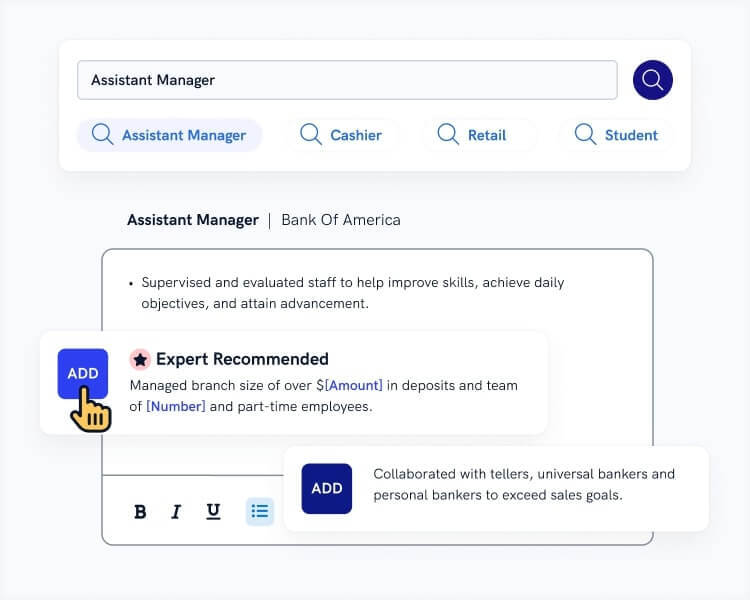 When you're done, Zety's resume builder will score your resume and tell you exactly how to make it better.
5. Make Your Beginner Acting Skills Shine
You can't expect to get your big break in a Los Angeles production company or studio without the right acting chops.
The #1 tip to keep in mind: tailor your resume's skills section.
Why?
Certain roles require particular skills. Others don't. If you spam-send casting coordinators with the same, generic resume, you'll end up with a really tough crowd.
Instead, pick out a list of soft and hard skills you actually have (which means no lying on your resume!) and make sure they coincide with the skills the casting call states as "required".
And in case you need some acting inspiration, here's a sample list of skills for beginner actors and actresses:
Beginner Acting Resume: Skills
Working Individually
Teamwork Skills
Confidence
Rehearsing
Stage Presence
Projection
Good Pronunciation
Gymnastics
Creativity
Taking Direction
Learning Lines/Directions
Good Memory
Improvisation/Ad-libbing
Dancing & Singing
Accents
Method Acting
Conveying Emotion
Physical Fitness
Musical Instruments
Read more: Essential Skills for Any Resume
6. Create a Miscellaneous Section for Beginner Acting Resume
The most viral acting stories are always those "rags-to-riches" ones that developed character.
Jim Carrey used to clean toilets; Halle Berry worked as a bartender.
Some of these extras (pun intended) can and should make your way onto your resume—you never know what could make you stand out in exactly the way that is needed for a particular role.
The number 1 thing to include here should always be your language skills, if you have them. Useful interests or hobbies can go on your resume, as can special certifications, professional achievements and awards, or anything that ups the "Wow!" factor of your resume.
Read more: Free Resume Templates in PDF/Doc
7. Send a Cover Letter to Go with Your Beginner Acting Resume
To you, any audition feels too short.
You have so much more to show and express, but they always cut you off.
Writing a cover letter for an acting job allows you more ways of expression. Take advantage of it, and they'll fall in love with your performance.
Start off by formatting your cover letter: proper cover letter spacing and margins and a good cover letter font.
Addressing the cover letter directly to the casting director keeps it personal (in a good way).
Begin your cover letter boldly to secure their attention. In the middle, provide more context on your past career and future ambitions. Show them why you're a great addition to their agency, and/or a particular role.
Finally, end the cover letter with an exciting offer. End on a bit of a cliffhanger, and say you'll reveal more during the interview.
Read more: Expert Cover Letter Writing Tips
Plus, a great cover letter that matches your resume will give you an advantage over other candidates. You can write it in our cover letter builder here. Here's what it may look like: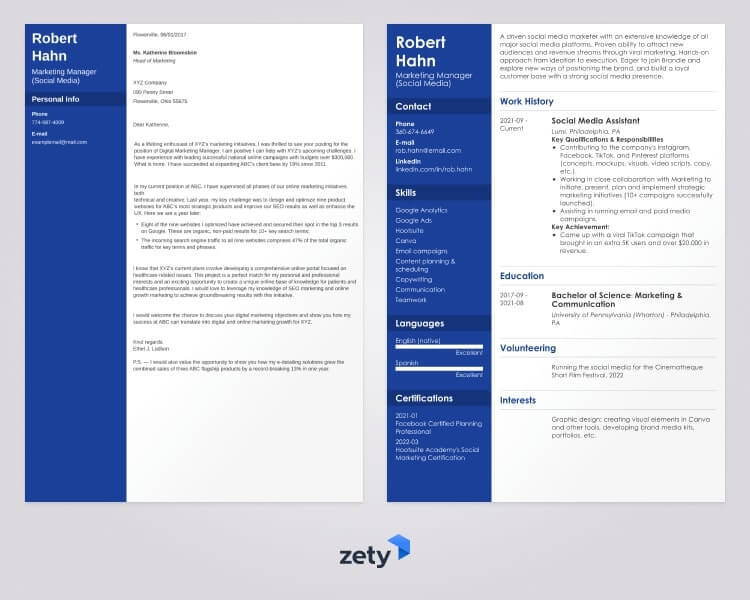 See more cover letter templates and start writing.
Aaaand cut!
That's our idea of the perfect beginner acting resume!
Thanks for reading. What did you think of this guide? Still got questions about writing a good skills section for a beginner actress or actor? Let's chat in the comments!
About Zety's Editorial Process
This article has been reviewed by our editorial team to make sure it follows Zety's editorial guidelines. We're committed to sharing our expertise and giving you trustworthy career advice tailored to your needs. High-quality content is what brings over 40 million readers to our site every year. But we don't stop there. Our team conducts original research to understand the job market better, and we pride ourselves on being quoted by top universities and prime media outlets from around the world.