Dental Receptionist Resume: Examples, Job Description & Tips
A compelling dental receptionist resume will make you seem like you run the place yourself. Learn how to upgrade your resume with this guide.
Everyone knows dental care is not the cheapest thing out there.
So, receptionists in dentist's offices make a hell of a buck, too, right?
Not always, but sometimes, yes.
Those practices are, however, always heavily bombarded with average dental receptionist resumes. Hundreds of them.
And today, you'll learn how to go way above average and beat them all.
This guide will show you:
A dental receptionist resume example better than 9 out of 10 other resumes.
How to write a dental receptionist resume that will land you more interviews.
Tips and examples of how to put skills and achievements on a dental receptionist resume.
How to describe your experience on a resume for a dental receptionist to get any job you want.
Want to save time and have your resume ready in 5 minutes? Try our resume builder. It's fast and easy to use. Plus, you'll get ready-made content to add with one click. See 20+ resume templates and create your resume here.
Sample resume made with our builder—See more resume examples here.
Want to lead the charge from the front desk in another field? Read these:
Dental Receptionist Resume Example
Marisol J. Harper
Dental Receptionist
920-434-3014
marisol.harper@zetymail.com
Summary
Upbeat and reliable dental receptionist with 5 years of experience behind the front desk in a dental practice. Kept the documentation for 350 clients at-hand with perfect organization. Utilized computer skills to digitize and organize client data at Mortenson Family Dental, slashing billing and/or information management errors by 95%.
Work Experience
Dental Receptionist
Mortenson Family Dental, Prospect, KY
June 2015–October 2020
Managed the entire 900 square foot office in an organized and professional manner.
Helped ensure efficient and profitable operations by seeking client referrals. Secured 12 new clients in a week as an all-time best.
On occasion filled in as dental assistant, sanitizing equipment, developing dental radiographs, and assisting during dental procedures.
Processed payments and notified clients of all relevant financial obligations.
Office Clerk
California Central District Court
May 2013–December 2014
Answered telephones and re-directed up to 120 phone calls a day as necessary.
Reviewed files, records, business transactions and other activities to search for possible discrepancies.
Kept stock of refrigerated items, maintained office vendor files, and placed orders for equipment and supplies.
Education
High School Diploma
DuPont High School, Louisville, KY
2009–2013
Key Skills
Neat organization
Verbal & written communication
Keeping inventory
Processing payments
Multitasking
Customer service
Assisting during basic dental procedures
Hobbies and Interests
Awards
2017 Friendliest Face Award in Mortenson Family Dental
Language Skills
Now, take a look at how we recommend writing a dental receptionist resume:
1. Present Your Dental Receptionist with the Right Format
Dental receptionists greet and instruct patients in dental practices. Aside from handling documentation and administrative work, they also perform data entry and other tasks. A dental receptionist resume should therefore be versatile, as it has to show all of that and more.
But let's be real for a moment—
Receptionists don't need formal, specialized education. Working front desk in a hotel won't differ significantly from working in a dental clinic.
Which means, you are up against an exponential number of candidates gunning for that same job.
To get ahead of them, your resume format needs to spark a glow in the recruiter's eyes right from the get-go.
The first step is to figure out the proper resume layout. The reverse-chronological resume presents the most recent and relevant experience first, which generally works best.
The font of your resume also needs a professional look, so give that a quick check-up just in case. Arial or Calibri in 11–12 points will be your best bet.
Make sure you also use proper resume margins and that you structure your resume with clearly distinguishable sections.
Read more: What Should My Resume Look Like?
2. Write a Dental Receptionist Resume Objective or Resume Summary
People are afraid of coming in for dental procedures.
If you can't keep the greeting area clean and tidy, what kind of message does that send about the practice?
Not a good one.
Likewise, your resume should also be quickly scannable, and let the recruiter know what kind of professionalism you bring to the table.
We call that a resume profile, and it's a 3–4 sentence statement at the top.
A resume summarypresents your career in a nutshell. Write one if you've got experience as a (dental) receptionist.
Resume objectives work best for entry-level candidates and focus on what you've learned from other jobs and how you'd use it to succeed in this position.
Read more: How to Write a Resume Introduction: 5+ Examples
3. Describe Your Dental Receptionist Work Experience the Right Way
You can describe your experience simply, like writing "Answered phones" and "Filed documents."
But it doesn't mean you should.
Bland dental receptionist job descriptions like that will bore the recruiter faster than a drill bores into a patch of tooth decay.
What you should do instead is make your dental receptionist work experience section look and feel more dynamic, like so:
Read more: How to Write a Resume with No Experience
4. Optimize the Education Section on Your Dental Receptionist Resume
Do you need an education to perform well at your job? Not necessarily.
Does your resume need to have an education section? Absolutely.
Even if, as is often the case, your academic experience boils down to a high school diploma, your employer still needs to know that.
Set aside enough room to talk about your:
Highest obtained degree
School name and location
Year of graduation
If you have more than 5 years of work experience, you can just leave it at that and move on to the next section. If you're short on experience, though, you can list more information detailing what you learned and excelled at in school.
Consider adding:
Still studying? Quit college? Read more: How to Put Unfinished College on a Resume
When making a resume in our builder, drag & drop bullet points, skills, and auto-fill the boring stuff. Spell check? Check. Start building a professional resume template here for free.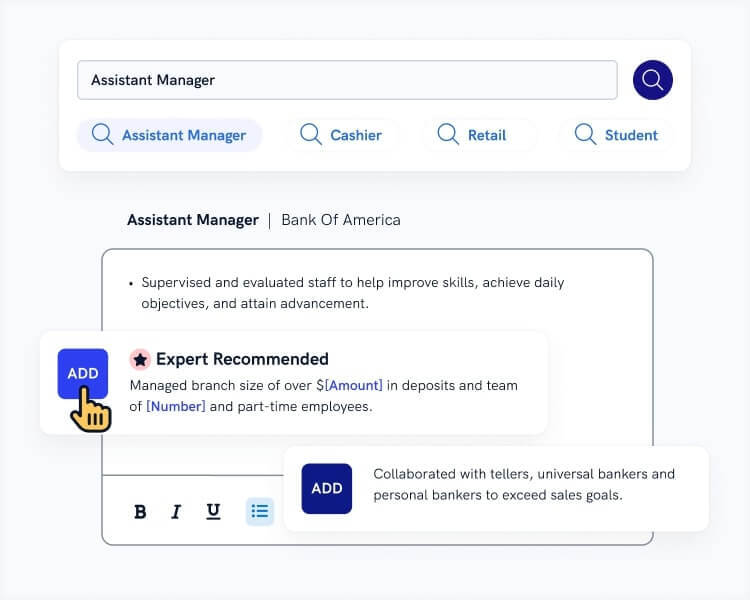 When you're done, our online resume builder will score your resume and our resume checker will tell you exactly how to make it better.
5. Present a Tailored Skills Section
Any dental receptionist needs to have a wide set of skills to do their job well. All that multitasking is required for the company to run well.
You're good enough that patients coming in for a filling might as well come to you directly to fill them in on all the details.
For now, let's tackle your skills section one thing at a time. First, an example:
Dental Receptionist Resume Skills
Answering Clients' Questions
Updating Patient Information
Good Memory
Managing Cancellations
Keeping Documentation
Preparing Billing Statements
Friendly Attitude
Data Entry
Scheduling
Math Skills
Taking Payments
In- and Outbound Calls
Basic Computer Skills
Understanding of Dental Procedures
Placing Orders
Patient Confidentiality
Monitoring Office Supplies
Recall that tailoring the resume yields the best results.
We also have to do that here to not look phony:
Create a spreadsheet of all of your skills.
The job ad will most likely have a requirements section. Search it to find out what skills exactly they need you to have.
Those resume keywords will likely get your resume past the ATS (software used by companies to scan incoming job applications), and are in general the best fit for the position at this particular company.
Read more: 99+ Key Skills for Any Resume
6. Add Bonus Sections to Your Resume for Dental Receptionist Jobs
What good is a receptionist that is dreary and drab?
In the eyes of the recruiter filtering out dud resumes, probably not much.
Lighting up a place with an actual personality can do wonders for your chances and is a positive way to combat patients' anxiety, which has been identified as one of five crucial factors that stress out doctors, too.
So, let some of that personality shine through by adding an extra resume section or two to get an advantage over others and secure the spot for yourself.
Relevant certifications and licenses are always worth listing on your resume. Consider writing about any extra training, volunteer work, or professional awards to boost your score. Hobbies and interests,passion projects, or foreign language skills can definitely help, too.
Read more: 50+ Resume Tips to Help You Get Hired
7. Write a Dental Receptionist Cover Letter
Should you add a cover letter to your application?
Most recruiters won't be interested in you if you don't, so yes, absolutely.
It doesn't have to take too much time, either. A simple cover letter template like this one below will definitely do the job:
Read more: What Should a Cover Letter Say
Plus, a great cover letter that matches your resume will give you an advantage over other candidates. You can write it in our cover letter builder here. Here's what it may look like: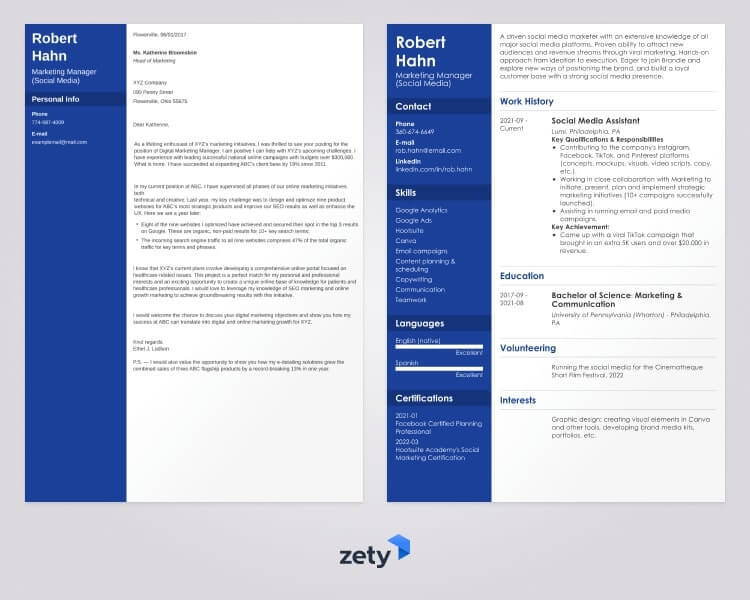 See more cover letter templates and start writing.
Thanks for reading. Got any extra questions or advice regarding writing a dental receptionist resume? The comments section is always open!
About Zety's Editorial Process
This article has been reviewed by our editorial team to make sure it follows Zety's editorial guidelines. We're committed to sharing our expertise and giving you trustworthy career advice tailored to your needs. High-quality content is what brings over 40 million readers to our site every year. But we don't stop there. Our team conducts original research to understand the job market better, and we pride ourselves on being quoted by top universities and prime media outlets from around the world.