Our customers have been hired by:
You're a quick read away from polishing up your school nurse resume that will make it shine and sparkle like you just gave it a proper physical. And you thought working with kids was the hard part! Pah!
Just kidding, it won't hurt one bit, actually.
After following these seven steps, I can guarantee you will be able to get your pick from among the schools, not the other way around
This guide will show you:

A school nurse resume example better than 9 out of 10 other resumes.
How to write a school nurse resume that will land you more interviews.
Tips and examples of how to put skills and achievements on a school nurse resume.
How to describe your experience on a resume for a school nurse to get any job you want.
Want to save time and have your resume ready in 5 minutes? Try our resume builder. It's fast and easy to use. Plus, you'll get ready-made content to add with one click. See 20+ resume templates and create your resume here.
Sample resume made with our builder—See more resume examples here.
Looking to do triage elsewhere? Try these:
School Nurse Resume Example
Carmen Spence
School Nurse
949-672-0006
carmenspence@zetymail.com
Summary
Attentive school nurse with 6+ years of professional experience working with children. Seeking to join Orderly High to provide care and compassion to students and staff. Specialized in dealing with special needs patients and disseminating safety information. DDNA & CCEI certification.
Work Experience
School Nurse
Rocky Hill Public School, Rocky Hill, CT
February 2016–May 2022
Managed and coordinated health services for a school of 2,400 students.
Organized & conducted 25 seminars on various topics including immunization, public health, and sexual education.
Assessed children's needs based on health screenings, taking into account their individuality and goals or characteristics.
Administered medications, prepared reports and surveys, and kept parents and teachers informed on important details to ensure proper care for each student.
Conducted first aid and CPR training with an end-exam, with 85% of attending students achieving a pass grade.
School Nurse Assistant
Holliston Elementary, Holliston, MA
January 2013–January 2016
Communicated with parents and guardians, keeping them informed of incidents related to their child's health.
Referred students and parents to specialized health services and resources.
Ensured full HIPAA compliance.
Education
Bachelor of Science, Nursing
Texas A&M University, Killeen, TX
2004–2008
Licenses and Certifications
Registered Nurse, License #22540120
Child Development Associate, Childcare Education Institute, 2016
Advanced Cardiovascular Life Support (ACLS), NHCPS, 2010
CPR, American Red Cross, 2008
Key Skills
Empathy & Compassion
Patience
Administering Medication
Working with Children
Special Needs Education
Communication Skills
Negotiating with Parents
Problem-Solving
Administering Injections
Treating Wounds
Languages
Spanish (Mexican): Native
English: Bilingual
Portuguese (Brazilian): Intermediate
Now, let's show you how to write a job-winning school nurse resume:
1. Use the Right School Nurse Resume Format
School nurses perform the duties of first-line health responders in schools. As such, all the usual duties of a nurse will be your daily bread here. For a great school nurse resume, try to show you're also excellent with kids, good at communicating with others, and able to work with special needs patients.
Now, let's be optimistic for a while and assume you've got a proven track record in all of the above situations.
Great, that should make you an instant hire, right?
Not immediately.
The principal (or whoever is handling the school's recruitment efforts) will, obviously, want to take a look at your resume first. No pinky promises here.
And let me tell you, if the design of your resume is looking like a poorly-healed wound at best, you're in trouble no matter its actual content.
Follow these steps to write a perfect resume:
Resume margins: set to 1" on each side.
Resume font choice: Arial, Calibri, Helvetica are all staples and reliable performers. Keep them at 11 or 12 pt, slightly larger for headings.
Resume formatting: you can (and should) use bold and italic fonts to your advantage in order to emphasize important things, like your name, but don't overdo it.
White space: another weapon up your sleeve. Try to hit the sweet spot of readability while avoiding creating a massive wall of text.
Resume layout: go with the reverse-chronological resume to emphasize the highlights of your nursing career.
Resume sections: there should be roughly 6 or 7, and you'll learn all about them in a second.
Resume length: One page, most likely. Two-page resumes are reserved for school nurse veterans who've been in the trenches for 15+ years.
Read more: What Should Your Resume Look Like? Expert Guide with Examples
2. Write a School Nurse Resume Objective or Summary
Little Timmy walks into your office. He's all beaten up after taking a bad fall playing ball during recess.
There are three coffee mugs on your desk, pill bottles falling out of cabinets in disarray, and a pair of used-up disposable gloves on the floor.
Do you think Timmy feels he's about to be taken care of well?
Let's dial it back. Point is:
It's all about first impressions.
The principal will judge your resume within just a few seconds of first picking it up. And to make him want to keep reading past that, you need to convince him with 100 ccs of an excellent resume profile.
It's a simple introductory statement highlighting past achievements and future ambitions.
Write a resume summary if you have 2+ years of school nurse experience, bringing up a couple of your key professional accomplishments and particularly strong suits.
Go with a resume objective if you're just starting out, and rely on transferable skills and other ways you know you impress (past employer commendations, college achievements if you just graduated, etc.)
Read more: How to Start a Resume: Full Guide
3. Show Your Experience in the Job Descriptions on Your School Nurse Resume
Assuming you're not writing a resume with no prior experience, the school nurse job description section is the main course for the recruiters.
So, you have to make it appetizing for them to read. Why?
Because recent estimates project thenumber of school nurses in the country to oscillate around 240,000, and that's a lot of competition to be going up against.
Here's how to get ahead of them:
Pro tip: Using numbers and action words will make any recruiter's blood pump a little faster. Well, maybe not literally, but the general idea is that these techniques make you seem like a more exciting hire, and so, they're less likely to forget you when comparing the (likely hundreds of) candidates that applied.
4. Elaborate on Your Education as a School Nurse
There's a reason medical school is a tough, long road that not everybody embarks on. Your education plays a crucial role in ensuring you're properly equipped to deal with public health.
You can't skimp out on it on your resume.
General rule of thumb says with more than 5 years of nursing experience, you only need to list your degree, the school name, location, and year of graduation. That's it, now go home and rest.
Less experienced nurses will have to boost their resume's vital signs by including extra details from their university or college life. Think relevant coursework, making the Dean's list, or graduating with honors.
Read more: Listing School Extracurricular Activities on a Resume [Full Guide]
When making a resume in our builder, drag & drop bullet points, skills, and auto-fill the boring stuff. Spell check? Check. Start building a professional resume template here for free.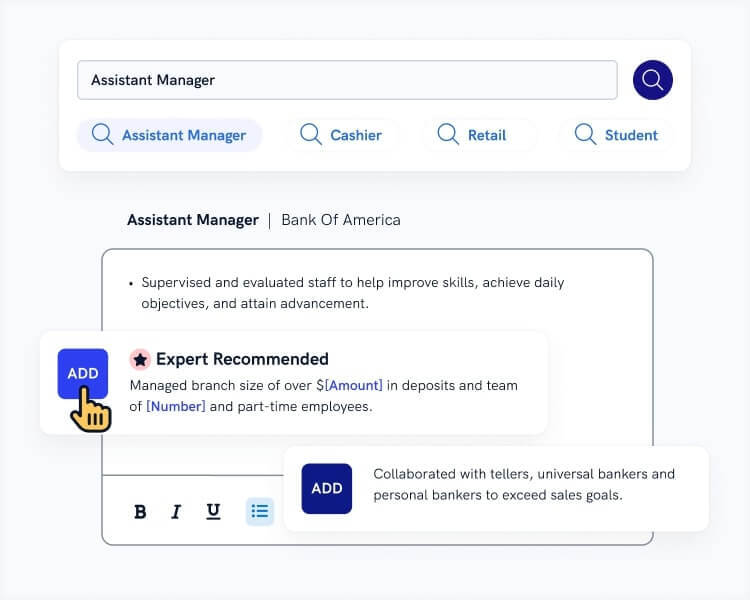 When you're done, our easy resume builder will score your resume and our resume checker will tell you exactly how to make it better.
5. Mention the Right School Nurse Skills
What are the core competencies of a school nurse?
According to this write-up, they're pretty varied, incorporating legal and ethical practices, integrating teaching staff education principles, and more.
But even if you have the right certifications (more on that later) to imply you're all of that and more, a great school nurse resume still requires a glimmering skills section to demonstrate your abilities.
Check this out:
School Nurse Resume Skills
Working with Children
Dedication
Health Education
Collaborating with Teachers
Talking to Parents
Patience
Patient Assessment
Taking Vital Signs
Administering and Monitoring Medications
Stress Management
Attention to Detail
Compassion
Working with Special Needs Patients
Adaptability
Conflict Resolution
Wound Care
Safe Patient Transfers
CPR
But, instead of blasting the school with a massive list like that, try to narrow it down to what they actually, specifically need:
Use the job posting as your guide and figure out the school's needs. Search for relevant resume keywords they used in the job description.
By targeting your resume like this, you eliminate the chances of getting a negative result from their ATS resume scans.
Make sure your resume contains a healthy mix of hard skills,soft skills, and technical skills.
In the end, pick out between 6 and 10 tailored skills to put onto your school nurse resume.
Read more: 99+ Necessary Nursing Skills for a Resume & Career
6. Add More Sections to Your School Nurse Resume
A crucial but often overlooked element of any resume is the free-form section.
No, it's not a space to put the star patient sticker, but rather an opportunity to separate yourself from the legion of scrub-wearing scrubs.
Also, for nurses or any other healthcare workers in particular, this is where you would putyour many certifications and licenses.
Other ideas for school nurses include:
Read more: What Not to Include on a Resume: Information to Avoid
7. Attach a School Nurse Cover Letter to Your Application
A cover letter won't make your career, sure.
But it could break it, since a lot of recruiters want to see one and may even discard your application without one.
Here's a quick rundown of what a cover letter should look like:
Follow up on your job application after about a week, just to make sure they keep you fresh in their minds.
Read more: How to Write a Nursing Cover Letter [+Examples]
Plus, a great cover letter that matches your resume will give you an advantage over other candidates. You can write it in our cover letter builder here. Here's what it may look like: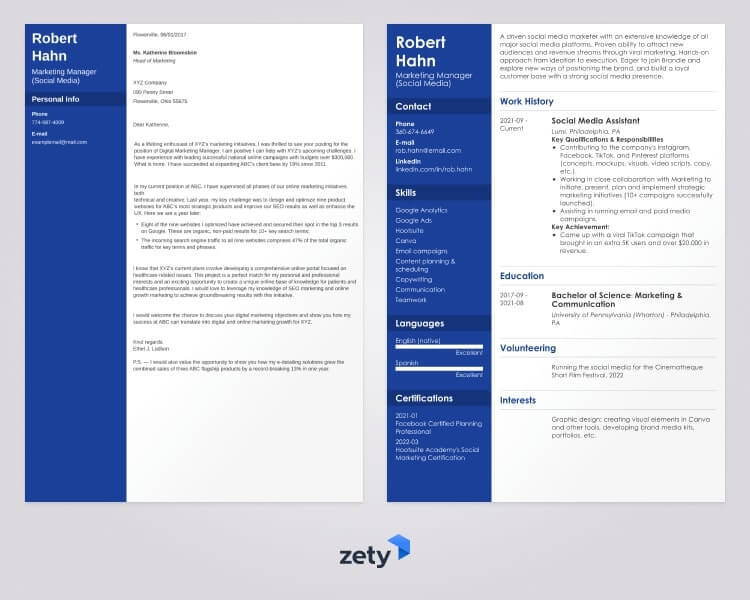 See more cover letter templates and start writing.
And you're done, just like that!
Thanks for reading! Do you have any questions about how to write a school nurse resume? Perhaps you need some extra tips on coming up with a strong school nurse resume objective? We're ready to chat in the comments below!
About Zety's Editorial Process
This article has been reviewed by our editorial team to make sure it follows Zety's editorial guidelines. We're committed to sharing our expertise and giving you trustworthy career advice tailored to your needs. High-quality content is what brings over 40 million readers to our site every year. But we don't stop there. Our team conducts original research to understand the job market better, and we pride ourselves on being quoted by top universities and prime media outlets from around the world.