Our customers have been hired by:
We'll show you the foundation (and the framing and rough electrical) of writing the best contract administrator resume the recruiter has ever seen.
So much hinges on your ability to carefully look through of dozens of contract clauses. Jobs, livelihoods, millions of dollars—you know the drill.
Needless to say, the company won't hire someone unless they're absolutely sure that person is as responsible as they come.
And that is exactly the vibe your contract administrator resume needs to give off.
This guide will show you:
A contract administrator resume example better than 9 out of 10 other resumes.
How to write a contract administrator resume that will land you more interviews.
Tips and examples of how to put skills and achievements on a contract administrator resume.
How to describe your experience on a resume for a contract administrator to get any job you want.
Want to save time and have your resume ready in 5 minutes? Try our resume builder. It's fast and easy to use. Plus, you'll get ready-made content to add with one click. See 20+ resume templates and create your resume here.
Sample resume made with our builder—See more resume examples here.
Need a different guide? See these articles below:
Contract Administrator Resume Sample
Sherri B. Hickey
Senior Contract Administrator
704-204-5026
sherrihickey@zetymail.com
Professional Summary
Accomplished contract administrator with 11 years of experience. At Revision Energy, successfully negotiated a series of contracts for commercial solar installations at estimated $250 million in value. Served as POC for clients and avoided escalation to managers 100% of the time.
Work Experience
Senior Contract Administrator
Revision Energy, Portland, ME
August 2012–February 2020
Managed negotiations and client relations with 27 clients and over 120 contractors.
Prevented manager escalations 100% of the time.
Drafted contracts and carefully scrutinized client-submitted revisions, saving on average $75,000 annually.
Conducted analyses of customer requests for proposals (RFP's) and prepared price quotations.
Contract Associate
BGIS, New York City, NY
January 2010–July 2012
Assisted with review of ~12 customer contracts weekly.
Developed procedures to ensure regulatory and legal compliance.
Awarded a contract for regional waste disposal plant to upgrade their sanitary appliances.
Educational Background
Bachelor's Degree in Organizational Management
Nyack College, NY
September 2005–June 2009
Key Skills
Drafting, Reviewing & Adjusting Contracts
Excellent Negotiation Skills
Client & Contractor Relations
Preparing RFP's
CRM Usage
Teamwork & Communication
Certifications
Certified Construction Contract Administrator (CCCA), CSC, 2017
Certified Professional Contract Manager (CPCM) – NCMA, 2015
Awards
2019 Excellence in Contract Administration Award—runner-up AGC-WA
Let's show you how to write a contract administrator resume that gets jobs:
1. Format Your Contract Administrator Resume
A contract administrator will scrutinize every single sentence of a contract to ensure full compliance for all parties involved. Duties include preparing drafts, analyzing revisions, and resolving contractual disputes. And you need all of that to shine through on your contract administrator resume.
What happens if you don't do that?
Contract voided.
Let's show you how to a-void that kind of quick ending. The way there starts with outlining your resume before you start:
Pro Tip: Some offices allow for submitting resumes as PDF files. Use it to your advantage, as it prevents unwanted bugs and ensures your resume can be read properly.
2. Prepare a Contract Administrator Resume Summary or Resume Objective
It's a dog-eat-dog world out there, especially in the career world. Nearly 30 thousand more administrative managers are expected to enter the workforce by 2030.
Recruiters won't give your resume more than a few seconds of their attention, that's why you can't submit a contract's worth of bland descriptions and expect it to work.
No, you have to get them hooked at first glance.
Write a resume profile to place in the top part of the page. It's a short paragraph telling them you're not some Jo Schmo, but rather a winner ready to bring home the bacon.
If you've gone over many contracts in your career, write a contract administrator resume summary. Use it to describe high points and best professional achievements. Utilize numbers to keep the attention on you.
On the other hand, without prior experience, you'll want to write a resume objective instead. Focus more on your ambitions and your transferable skills from past gigs to demonstrate how you'd still be of value.
Pro Tip: For maximum effect, a resume introduction needs to give off the impression that you're ready to work for the company's benefit. If you sound too selfish and focus on what you want to get out of it, you might just get passed over.
3. Write about Your Contract Administrator Work History
You know that feeling you get when you gloss over a draft contract and it hits all the right notes, not a single edit to make? Like it's almost too perfect to be real.
Aim for that same kind of experience with your resume work history section.
List your last job first, then add 5 or 6 bullet points.
Describe your duties and accomplishments, but only stick to the relevant stuff. They won't care that you also prepared coffee.
To get that perfect cozy feeling, tailor your application to their needs. They'll quickly realize you're exactly what they need, because—surprise, surprise— you took your time to research the relevant resume keywords and targeted the resume to fit the company's profile.
Pro Tip: Remember that the recruiter is a picky and impatient beast, and he or she won't stick around without incentive. That's why putting numbers next to your achievements and using action words on your resume are your go-to tactics to keep them from falling asleep.
4. Make the Most out of Your Education Section
Contract administrators typically have to present some sort of degree, for example in contract management.
Notice how I said, "have to".
Some people claim the resume education section isn't necessary. These people are wrong.
It could, in fact, make all the difference.
If you've been working as a contract administrator for 5 or more years, you can limit yourself to the basics: the school name, year of graduation, and degree obtained.
In other cases, consider adding extras such as:
Scholarships you received
Pro Tip: Swap the placement of your work experience and education if you think the latter will make a better impression. Always aim for maximum effect.
When making a resume in our builder, drag & drop bullet points, skills, and auto-fill the boring stuff. Spell check? Check. Start building a professional resume template here for free.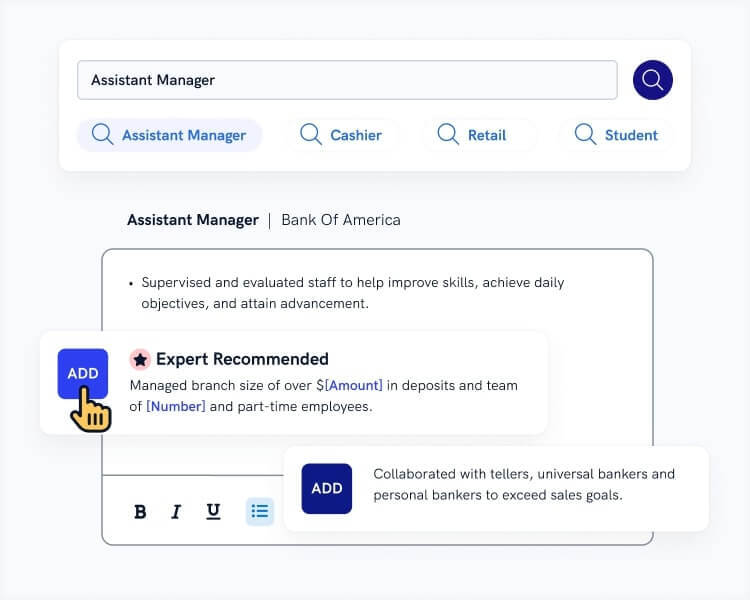 When you're done, Zety's resume builder will score your resume and our resume checker will tell you exactly how to make it better.
5. Add the Right Skills onto Your Contract Administrator Resume
Here's a sample list of soft skills and hard skills handy for every contract administrator:
Contract Administrator Resume Skills
Negotiating Terms
Preparing Purchase/Sale Contracts
Reviewing & Updating Contracts
Risk Analysis & Reduction
Disposal of Unclaimed Property
Proposal Planning
Enforcing Regulatory & Legal Compliance
Meeting Contractors
Liaising
Keeping Organized Records
Tracking Correspondence
Designing Contract Management Strategies
Conflict Resolution
Putting all of these in one list, however, is equivalent to a contractor demanding hazard pay for painting 20 square feet of wall. Ridiculous.
Instead, open up the job ad and search it thoroughly for specific resume keywords. They will let you know what particular job skills you need to have to succeed in that position. These are the key to making your resume ATS-friendly and getting invited for an interview.
Pro Tip: Consider familiarizing yourself with the ins and outs of information management. This report states poor management information systems as one of the major concerns regarding contract closeouts.
6. Put More Sections on a Contract Administrator Resume
It doesn't end there. A contract administrator resume needs to go the extra mile if you want to find success.
Why?
Because I can guarantee you, the recruiter has already seen hundreds—if not thousands—of applications.
If you don't stand out, you're just a wall of text. And walls of text don't get hired.
Spice things up with a few extra resume sections, like these:
Read more: What Not to Put on a Resume
7. Attach a Cover Letter to Your Contract Administrator Resume
Do you need to write a cover letter?
Yes, absolutely. 5/10 recruiters claim they want to see one if they're to consider a candidate at all.
Here are a few pointers on how to write a cover letter, so you may get back to scribbling contract notes:
Plus, a great cover letter that matches your resume will give you an advantage over other candidates. You can write it in our cover letter builder here. Here's what it may look like: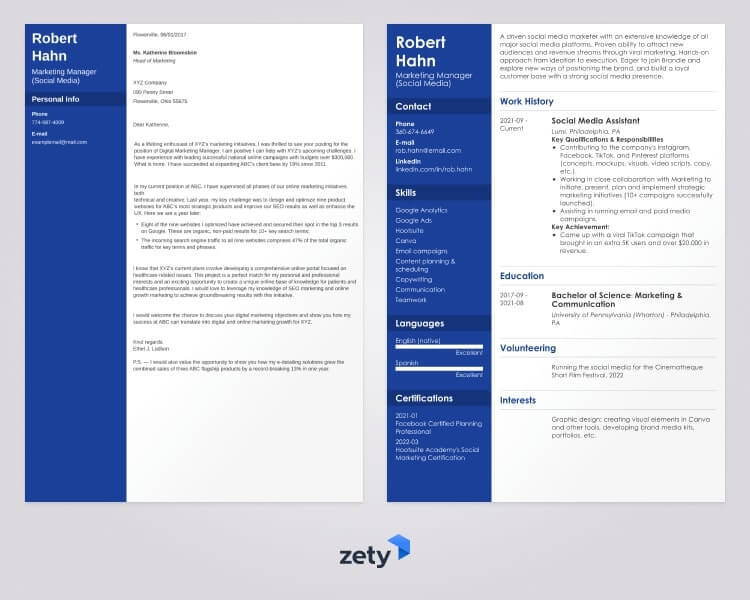 See more cover letter templates and start writing.
Got any further tips to share for fledgling contract administrators? Maybe you still need some help discussing aspects of your work history on your resume. We're to help you, just drop us a line in the comments below.
About Zety's Editorial Process
This article has been reviewed by our editorial team to make sure it follows Zety's editorial guidelines. We're committed to sharing our expertise and giving you trustworthy career advice tailored to your needs. High-quality content is what brings over 40 million readers to our site every year. But we don't stop there. Our team conducts original research to understand the job market better, and we pride ourselves on being quoted by top universities and prime media outlets from around the world.