Our customers have been hired by:
If you dream of being the next James A. Baker III, you've come to the right place.
In a few, you'll see how to write the best chief of staff resume ever. And if you've been eyeing up that company position, you must be rubbing your hands, right?
Excellent salary, great opportunities, stock options, I mean, even the name of the position implies success.
But—
Recruitment standards are going to be the most brutal you've ever faced. Your chief of staff resume needs to be perfect from head to toe.
That's why we're here today.
This guide will show you:
A chief of staff resume example better than 9 out of 10 other resumes.
How to write a chief of staff resume that will land you more interviews.
Tips and examples of how to put skills and achievements on a chief of staff resume.
How to describe your experience on a resume for a chief of staff to get any job you want.
Want to save time and have your resume ready in 5 minutes? Try our resume builder. It's fast and easy to use. Plus, you'll get ready-made content to add with one click. See 20+ resume templates and create your resume here.
Sample resume made with our builder—See more resume examples here.
Looking for other exec-level guides? We've got you covered with these articles:
Chief of Staff Resume Example
Guy Westhoff
Chief of Staff
774-215-1193
guywesthoff@zetymail.com
linkedin.com/in/123westhoff.guy
Summary
Independent and resourceful chief of staff with 16 years of experience advising C-suite executives and overseeing strategic planning. Identified, tracked, and executed the improvement of KPIs in Piper-Cala, raising employee efficiency by 34%. Directly managed 16 senior staff members and oversaw execution of their and their departments' daily and weekly goals.
Work History
Chief of Staff
Piper-Cala, Charlotte, NC
June 2014–June 2022
Implemented entrepreneurial mindset to generate interest in company events, spreading brand name and recognition while drawing in up to 2,000 attendees.
Served as advisor and decision-maker reporting directly to the CEO.
Identified several new paths of growth, expanding business and growing profit margins by $3M over 5 years.
Demonstrated excellent financial management and supervision in administration of $1.2M yearly operation budget.
Fostered an atmosphere of trust and cooperation among employees.
Director of Finance
Central Coast Community Energy, Monterey, CA
April 2008–March 2014
Led development of company's annual budget, variances, and forecasts.
Developed financial reports, dashboards, and analytical tools in collaboration with Analytics team to increase support to financial processes.
Deployed a new Enterprise Resource Planning (ERP) platform which led to time saves and efficiency increases across the board.
Education
Master's Degree in Financial Administration
Boston University Metropolitan College, Boston, MA
2001–2003
Core Skills
Leadership
Financial & business acumen
Constructing priority lists
Dynamic & adaptable
Resourcefulness
Delegating tasks
Monitoring KPIs
Excellent communication skills
Organizational skills
Additional Activities
Member of the Business Roundtable since 2007
Won the B-Corp "Best for the World" 2017 award as COS for Piper-Cala
Organized a New York Fundraiser in partnership with Fairtrade International, raising $123,600 for better working conditions for coffee farmers in Costa Rica
Certifications
Certified Financial Planner (CFP), Certified Financial Planner Board of Standards, 2016
Certified Business Development Manager, American Institute for Business Management and Communication (AIBMC), 2015
Let's get this show on the road. This is how you write a chief of staff resume:
1. Select an Appropriate Format for a Chief of Staff Resume
A chief of staff supervises the work of various teams to ensure the proper functioning of a corporation or government institution. They are also involved in handling press conferences or public events. A great chief of staff resume should a good mix of HR, leadership, and management skills.
Whether your direct superior is the POTUS or the CEO of a Deloitte, your resume needs to catch their eye all the same, since you'll likely be in close contact all the time as part of their general counsel.
That means if you're not up to the 5-star, $150K+ salary standard, you're out.
Follow these steps to not let that happen:
Pro tip: Send a PDF resume unless the company or board specifically asks for a different format. PDFs are more reliable and likely to display your resume correctly.
2. Write a Chief of Staff Resume Objective or Summary
The goal of this part, also known as the resume profile, is to give a brief rundown of who you are and what you have been able to accomplish so far.
They likely won't read your entire resume save for the introduction—that's why it needs to be so catchy, it'll entice them to read the whole thing.
Write a career summary if you've been working as a chief of staff for a few years. It should contain details about your experience managing people and integrating teams effectively. Squeeze in a numbered achievement to really show off your good side.
Choose the career objective if you're not that experienced in this position. Focus more on your professional ambitions, but reassure them the past knowledge and achievements, and thetransferable skills you bring to the table, will become an indispensable asset.
Read more: Excellent Resume Introduction Examples
3. Describe Your Work Experience on a Chief of Staff Resume
You could be applying to work under Frank Underwood.
Or maybe someone of far less imposing stature.
Bad news: it all doesn't matter.
A chief of staff lives and dies by their key professional accomplishments. Before getting one of the top positions in a new company, you'll need to prove you meet their standards.
And trust me, those goalposts are set very far.
Your work history section needs to fly past all of them:
Start by listing your most recent position, and go backward in time with previous jobs.
Every single entry should come with your job title, company name, dates of employment, and up to 6 bullet points. Positions from way back when should only get 3 bullets.
Your resume shouldn't go too far back, though, as that ends up being irrelevant experience, and nobody wants to read that. Up to 15 years will usually do it, unless you have a real gem of an achievement to share from longer ago.
Action words allow you to keep their attention focused, while numbers show the real impact of your efforts.
Don't bother them with the mundane stuff. For best results, describe your accomplishments, not daily duties and responsibilities.
Read more: How to Write a Targeted Resume
4. Write a Fitting Chief of Staff Resume Education Section
Education on a resume is a controversial topic.
If you're in and out of meetings on behalf of the CEO all day, who cares what grade you got in your contemporary business operation class 17 years ago?
Still—
Your education must make its way onto your resume one way or the other.
As an experienced candidate for a senior role, though, you can just restrict yourself to the basics: your alma mater name and location, the degree you achieved, and the year you graduated.
Read more: How to List Majors and Minors on a Resume
When making a resume in our builder, drag & drop bullet points, skills, and auto-fill the boring stuff. Spell check? Check. Start building a professional resume template here for free.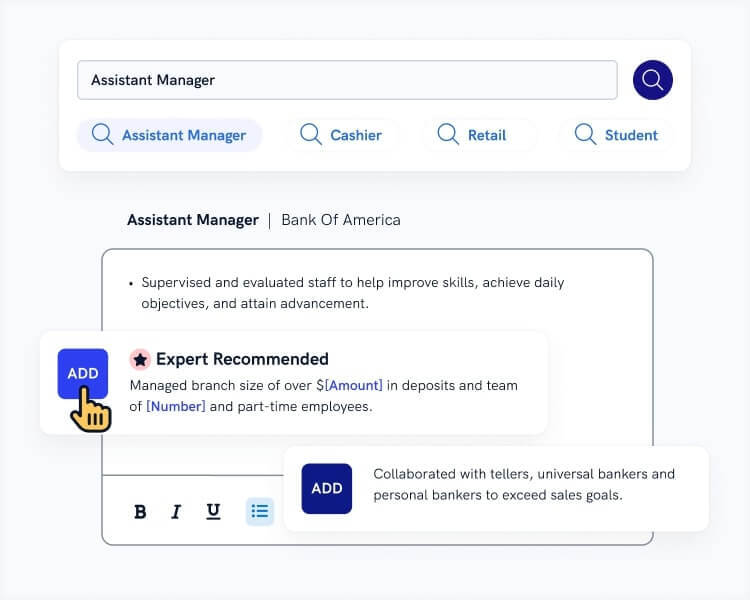 When you're done, Zety's resume builder will score your resume and our resume checker will tell you exactly how to make it better.
5. List the Right Professional Skills for a Chief of Staff
As chief of staff, you have to do a little bit of everything. Don't misunderstand that as a reason to list 35 skills on your resume.
That's either a straight resume lie or mostly unnecessary. Let me explain.
While it's true you will need a wide array of management and people skills to do your job effectively, companies vary from one another.
That's why you should tailor your resume every time you write one—to meet that particular job's specific set of requirements. That includes the presented skills on your resume.
Try this method for an excellent chief of staff skills section:
Jot down all of your professional skills in one Excel spreadsheet or list. Take note of all hard skills, soft skills, and technical skills that spring to mind, as ideally, you want to submit a mix of all three.
Open the job posting, and scan for the specific wording (aka resume keywords) that clue you in on what the company expects of you. Compare these to the skills on your list.
Out of those that match, select up to 10 that are most relevant to the job, and ditch the rest. Doing so will make your resume bulletproof, especially in the eyes of their ATS software that scans resumes.
And here's a sample list of the best skills for a chief of staff:
Chief of Staff Resume Skills
Strategic Thinking
Productivity & Efficiency
Charisma
Employee Recognition/Management Software (e.g. Nectar)
Managing Communications
Leading Special Projects
Coordinating Press Conferences & Media Releases
Guiding & Advising Staff
Counseling Leaders
Training Staff
Executive/Performance Coaching
Process Review
Scrupulous Documentation
Gathering Data
Taking Action
Foresight
Project Management Experience
Emotional Intelligence
Budget Management
Consulting/Management Consulting
Conflict Resolution
Research Skills
Pro tip: What makes a great chief of staff? It's definitely proper time management. Only 9% of people employed in executive-level positions across the globe deemed the time management satisfying in their organization, so if you're looking to excel in a particular skill, this would be the one.
6. Include Additional Sections on Your Chief of Staff Resume
You've got the skills, your work experience speaks for itself, and you formatted your resume like the chief of staff extraordinaire that you are.
"What else can you tell us about yourself?"
Dead silence.
…
A scenario like that kills your chances every single time. And that's just one of the very many interview questions you should be prepared to answer to.
Indeed, being a person able to bring additional value to the workplace is an asset in and of itself, especially when your work revolves very heavily around being and cooperating with other people.
Adding extras to your chief of staff resume can both make you more human, and help you stand out from among other, boring candidates.
List certifications and licenses on your resume, along with foreign languages you speak and any awards you've received. You can also include personal projects on your resume, as well as memberships in professional associations, conferences you've attended or spoke at, and your professional publications.
Lastly, mentioning any volunteering experience on your resume will go a long way towards showing you're CSR-conscious and, well, an all-round decent human being.
For a senior position such as this one, though, you'd do best to skip your hobbies and interests resume section. It's likely you have more impactful things to share. If you do want to mention your pastimes, make sure they're somehow relevant to the job and that you can use them to your advantage during the interview.
Read more: What to Avoid on a Resume: 15+ Examples
7. Write a Chief of Staff Cover Letter
You know very well how much communication matters in high-level business settings.
But a resume alone can only convey so much. To get through to the CEO, really speak to them of your values and strengths—you need a cover letter.
Here's the bottom line on how to write an executive cover letter:
Pro tip: To make sure nothing gets lost (and to show you really care),send them a polite follow-up email a few days to a week after your initial message.
Plus, a great cover letter that matches your resume will give you an advantage over other candidates. You can write it in our cover letter builder here. Here's what it may look like: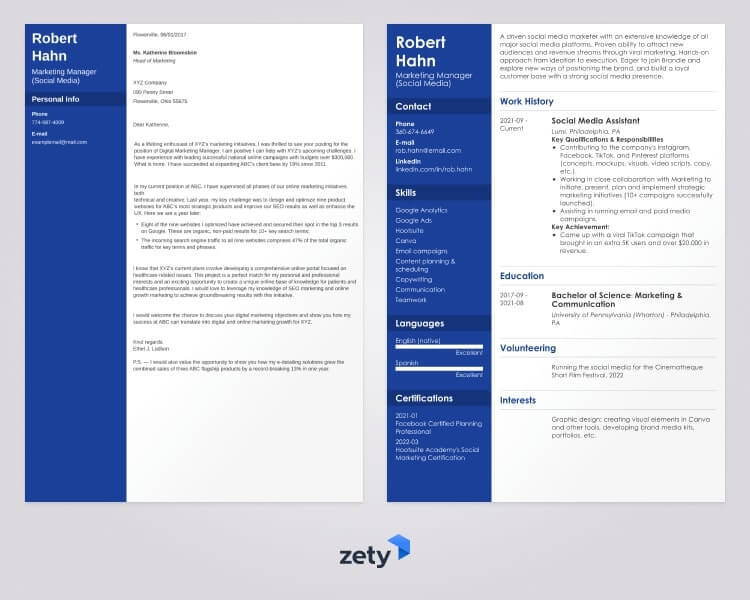 See more cover letter templates and start writing.
That's all!
Everything you ever wanted to know about writing a chief of staff resume.
Thanks for reading! Still got more questions on how to write a chief of staff resume worthy of the Congressional Gold Medal? We're ready to help you, just head to the comments section!
About Zety's Editorial Process
This article has been reviewed by our editorial team to make sure it follows Zety's editorial guidelines. We're committed to sharing our expertise and giving you trustworthy career advice tailored to your needs. High-quality content is what brings over 40 million readers to our site every year. But we don't stop there. Our team conducts original research to understand the job market better, and we pride ourselves on being quoted by top universities and prime media outlets from around the world.