Cleaner Resume Sample for 2023 + Resume Cleaning Skills
Sweep employers off their feet with a cleaner resume that lets your strengths shine like a freshly polished chrome doorknob.
But getting a great cleaning job requires you to really need to stand out from all the other candidates. And for this, you need a sparkling cleaner resume.
Read on and learn what are the best cleaning resume skills to include in your documents, how to write a cleaning job description for resume and how to make a neat, clean resume that will get you hired.
This guide will show you:
A cleaning resume example better than 9 out of 10 other resumes.
How to write a cleaning resume that will land you more interviews.
Tips and examples of how to put skills and achievements on a cleaner resume.
How to describe your experience on a resume for a cleaner to get any job you want.
Want to save time and have your resume ready in 5 minutes? Try our resume builder. It's fast and easy to use. Plus, you'll get ready-made content to add with one click. See 20+ resume templates and create your resume here.
Sample resume made with our builder—See more resume examples here.
You're writing a resume for cleaning jobs but you're still open to seeo ther openings? Get prepared for sending your applications right away, thanks to our guides::
Sample Cleaner Resume Template
Wesley D. Davis
wesley.davis@emailll.com
613-745-3351
Summary
Meticulous housekeeper with 4 years of experience and proven skills in cleaning and disinfecting medical facilities as well as disposing of biohazardous waste. Eager to join the team at Cliniox and contribute to a clean, healthy, and safe environment for staff and patients.
Work Experience
Housekeeper
Medolis Health Centre, New York, NY
July 2019–July 2022
Achieved 100% adherence to the sanitization policies at Medolis Health Centre
Contributed to the 4.5-star reviews of Medolis Health Centre: 70% of all reviews specifically complimented the cleanliness of the facility
Adhered to best practices for disposing of biohazardous medical waste (0 recorded violations)
Trained 3 new Environmental employees
Janitor
RetailVibe, new Yotk, NY
April 2018–June 2019
Contributed to RetailVibe's excellent reputation as a well-maintained mall
Identified a maintenance issue that would have cost the company $10,000 if left unnoticed
Education
Alberta High School Diploma
Goldfield School, New York, NY
Graduated in 2017
Excelled in Environmental and Outdoor Education class
Member of the school's basketball team that won 70% of its games
Skills
Disposal of biohazardous medical waste
Safe use of detergents and other chemicals
Sanitizing surfaces according to employer policies
Attention to detail
Daily cleaning
Deep cleaning
Vacuuming with industrial equipment
Carpet cleaning
Supply management
Certifications
Custodial Technician Certification (certified by ISSA), 2019
Cleaning Industry Management Standard-Green Building Certification (certified by ISSA), 2019
Hobbies
Your resume can be just as good. Just follow our step-by-step guide to writing a job-winning cleaner resume:
1. Clean up the Formatting of Your Cleaning Resume
Cleaners are responsible for keeping facilities such as offices, factories, hospitals, hotels, and many others… well, clean and tidy. The purpose of your cleaner resume is to show how your skills and work ethic bring value to your prospective employer.
The style and layout of your resume can say a lot about your personal qualities. So the first thing to do when writing a cleaning resume is to format your document for a clean and tidy look:
Create a resume header with your contact information, double-check it for typos
Put your work experience and education in the reverse-chronological order: start with the most recent entries and "go back in time" from there—this professional resume layout is very neat, orderly, and easy to read
Choose a classic CV font like Arial or Helvetica and set the font size to 11–12 pt
Make sure there's a lot of white space around your resume sections—as a cleaner, you definitely don't want your resume to look cluttered
Don't forget to save your cleaning resume as a PDF file because Word files (DOCX) can look messy when opened on another computer
Keep your resume to one page, unless you're a vampire with 350 years of experience as a cleaner. In that case, opt for two pages
Now that you've laid the foundation for your resume, let's go through all the sections.
2. Start With a Crystal Clear Cleaning Resume Objective or Resume Summary
Your next step is to write the paragraph that goes right under your contact information and explains why you're the best candidate for this job.
It should be short, catchy, and as clear as a freshly washed window.
If you've got 2 or more years of professional cleaning experience, this paragraph will be called a resume summary because it summarizes your key achievements and skills.
If you're looking for your first cleaner job, write a resume objective instead. It's a paragraph that shows how your skills and your enthusiasm will help the company achieve its goals.
The basic formula for resume objectives and resume summaries is:
Adjective + Years of experience + Achievements + Skills + What you want to do for the employer
The main difference is that resume summaries put more focus on achievements, while resume objectives highlight skills and motivation.
Feeling overwhelmed?
Don't worry. If you're not sure what to write in your resume summary or objective, skip it for now and start crafting the other sections of your cleaner resume. When you're done with them, you'll find it much easier to write your objective or summary.
3. Let Your Work Experience Shine on Your Cleaner Resume
How do you write the work experience section of your cleaner resume so that you stand out from all the other candidates?
Well, here's how:
Structure your work experience section in the reverse chronological order (your most recent work goes first)
Make sure each entry includes your job title, the company name and location, your start and end dates, and up to 6 bullet points
When writing the bullet points, present your achievements rather than your duties and responsibilities. If you can prove your achievements with numbers, include them by all means
Begin each bullet point with a powerful action word
Focus on the achievements that match the requirements of the specific job ad you're responding to
Easy, isn't it?
4. Wipe the Dust off Your Diploma for the Cleaning Resume
Does your educational background matter for a cleaning job?
Yes.
While employers probably won't care about your math grades, they want to know more about your personal qualities.
And it's easy to present them in your education section.
After you've mentioned the kind of diploma you have, your school, and your graduation year, add a few bullet points with achievements that show your work ethic, physical fitness, or any other personal quality you want to "brag" about.
When making a resume in our builder, drag & drop bullet points, skills, and auto-fill the boring stuff. Spell check? Check. Start building a professional resume template here for free.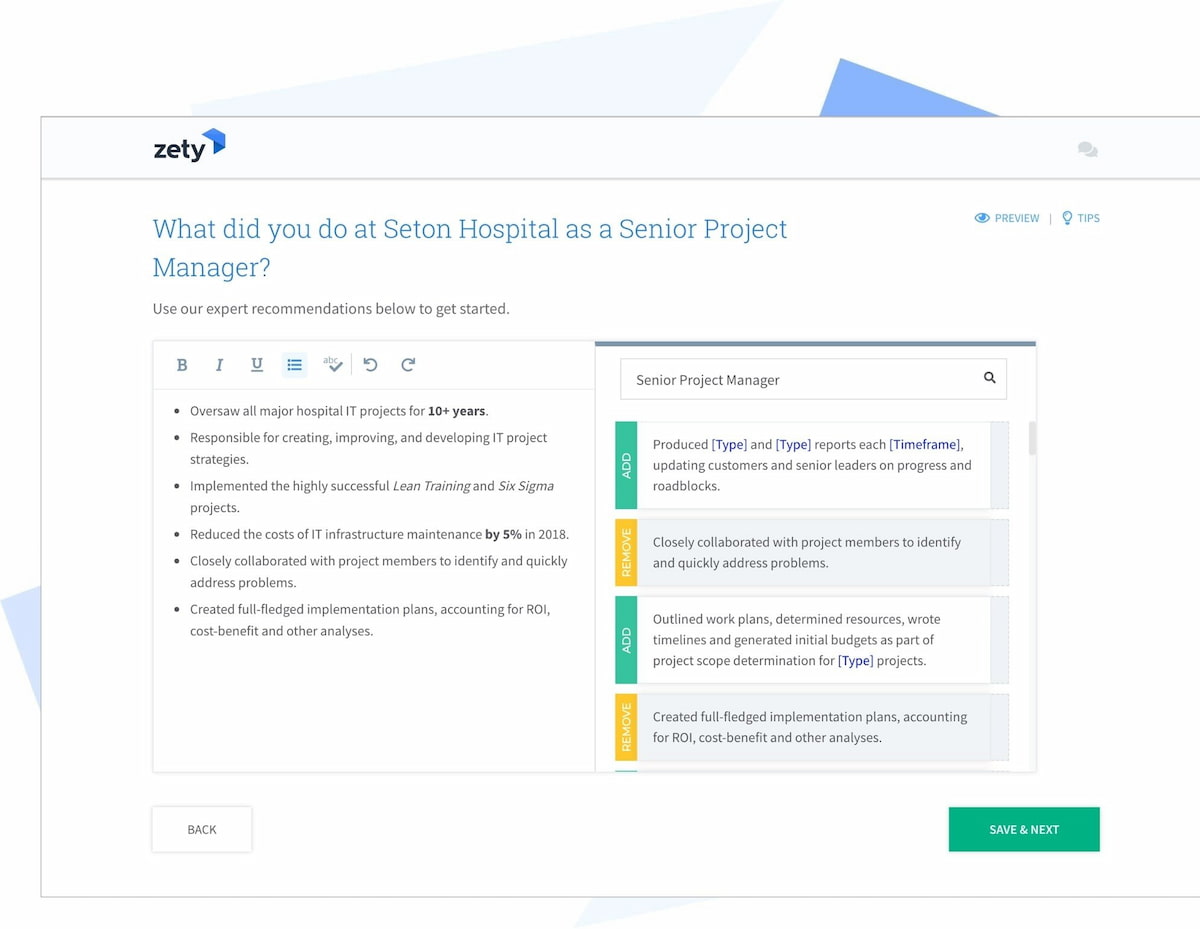 When you're done, Zety's resume builder will score your resume and tell you exactly how to make it better.
5. Show Your Cleaning Resume Skills
Now's the time for the skills section of your resume. Here's how to write it:


Make a big list of all professional skills you've learned throughout your life
Re-read the job ad and find the skills that match your list
Put these skills on your resume
Note that you'll have to tailor your skills section for every employer you're going to contact. Each company needs a slightly different skillset, so only list the skills, both hard and soft, that matter to this specific employer. You'll come up with somewhere around 8–10 bullet points.
Here's a list to inspire you:
Skills for Cleaner Resume (Bucket List)
Daily cleaning
Deep cleaning
Vacuuming
Mopping
Dusting
Washing windows
Safe handling of detergents and other chemicals
Teamwork
Working independently, with minimal supervision
Identifying and reporting maintenance issues
Disinfecting bathrooms and fixtures
Emptying waste containers
Making beds
Disposing of medical waste
Operating industrial vacuum cleaners
6. Add a Touch of Personality with Extra Sections on Your Cleaning Resume
Does your resume look like a picture out of a minimalist design magazine—all neat and tidy, but you just wish the place had more personality?
Here's an easy fix.
Add more sections to your resume and include your language skills, certifications and licenses, volunteer work, hobbies and interests, or anything else you think will fit.
These extra sections let your personality shine through, provide conversation starters for job interviews, and make recruiters genuinely curious about you.
7. Write a Cover Letter for Your Cleaning Resume
Yes, this looks like a lot of writing.
But many employers refuse to read resumes that don't have a cover letter attached to it, so don't let your near-perfect resume get rejected.
Fortunately, effective cover letters don't have to be long. There's no hard and fast rule for cover letter word count, but even as few as 200 words will do.
Just follow these simple tips:
Read more: How to Write a Good Cover Letter for a Resume & Get a Job
A great cover letter that matches your resume will give you an advantage over other candidates. You can write it in our cover letter builder here. Here's what it may look like: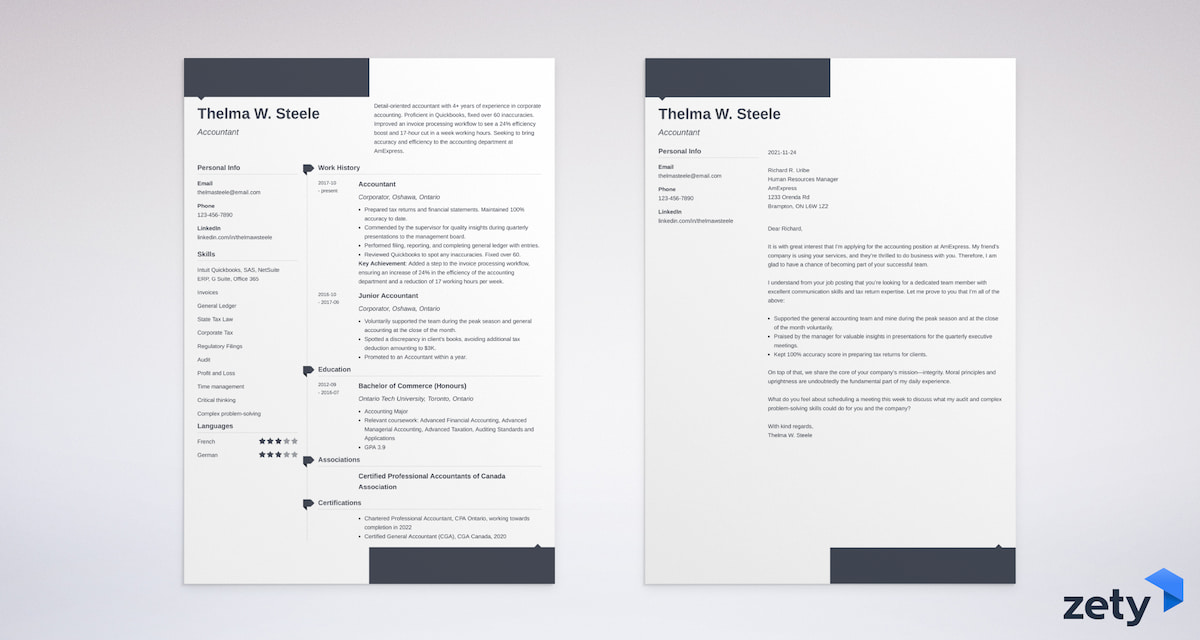 See more cover letter templates and start writing.
Done.
Now's the time to send your resume, take a break from the screen and start getting ready for your job interview.
Do you have tips or thoughts about making a great cleaner resume? Give us a shout in the comments section!
About Zety's Editorial Process
This article has been reviewed by our editorial team to make sure it follows Zety's editorial guidelines. We're committed to sharing our expertise and giving you trustworthy career advice tailored to your needs. High-quality content is what brings over 40 million readers to our site every year. But we don't stop there. Our team conducts original research to understand the job market better, and we pride ourselves on being quoted by top universities and prime media outlets from around the world.