Our customers have been hired by:
You've mastered the art of translation, but now you face the ultimate challenge: creating a translator resume that speaks the language of "hire me!" Don't worry, we're here to help you navigate this linguistic labyrinth.
Together, we'll craft a resume so impressive that hiring managers will reach for their bilingual dictionaries just to find the words to describe it.
This guide will show you:
A translator resume example better than 9 out of 10 other resumes.
How to write a translator resume that will land you more interviews.
Tips and examples of how to put skills and achievements on a translator resume.
How to describe your experience on a resume for a translator to get any job you want.
Want to save time and have your resume ready in 5 minutes? Try our resume builder. It's fast and easy to use. Plus, you'll get ready-made content to add with one click. See 20+ resume templates and create your resume here.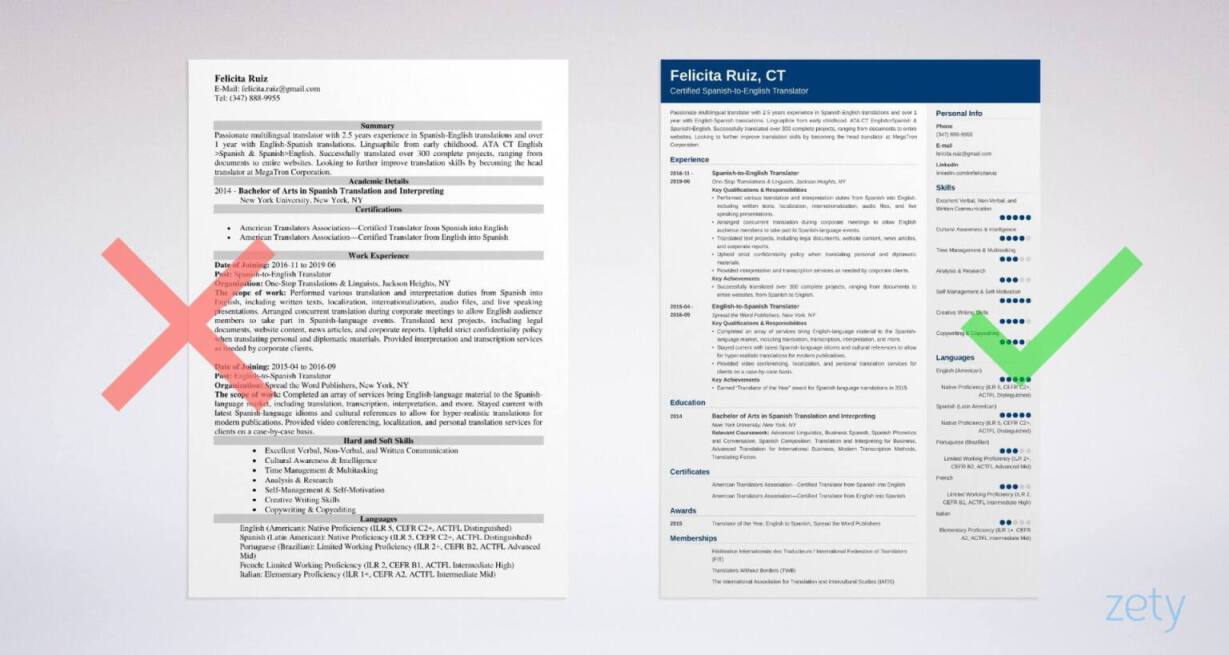 Sample resume made with our builder—See more resume examples here.
Here are a few teaching guides related to translation resumes:
Translator Resume Sample
Felicita Ruiz, CT
Certified Spanish-to-English Translator
felicita.ruiz@gmail.com
(347) 888-9955
linkedin.com/in/felicitaruiz
Summary of Qualifications
Passionate multilingual translator with 2.5 years experience in Spanish-English translations and over 1 year with English-Spanish translations. Linguaphile from early childhood. ATA CT English>Spanish & Spanish>English. Successfully translated over 300 complete projects, ranging from documents to entire websites. Looking to further improve translation skills by becoming the head translator at MegaTron Corporation.
Work Experience
Spanish-to-English Translator
November 2016–June 2019
One-Stop Translations & Linguists, Jackson Heights, NY
Key Qualifications & Responsibilities
Performed various translation and interpretation duties from Spanish into English, including written texts, localization, internationalization, audio files, and live speaking presentations.
Arranged concurrent translation during corporate meetings to allow English audience members to take part in Spanish-language events.
Translated text projects, including legal documents, website content, news articles, and corporate reports.
Upheld strict confidentiality policy when translating personal and diplomatic materials.
Provided interpretation and transcription services as needed by corporate clients.
Key Achievements
Successfully translated over 300 complete projects, ranging from documents to entire websites, from Spanish to English.
English-to-Spanish Translator
April 2015–September 2016
Spread the Word Publishers, New York, NY
Key Qualifications & Responsibilities
Completed an array of services bring English-language material to the Spanish-language market, including translation, transcription, interpretation, and more.
Stayed current with latest Spanish-language idioms and cultural references to allow for hyper-realistic translations for modern publications.
Provided video conferencing, localization, and personal translation services for clients on a case-by-case basis.
Key Achievements
Earned "Translator of the Year" award for Spanish language translations in 2015.
Education
Bachelor of Arts in Spanish Translation and Interpreting
New York University, New York, NY
Graduation: 2014
Relevant Coursework: Advanced Linguistics, Business Spanish, Spanish Phonetics and Conversation, Spanish Composition, Translation and Interpreting for Business, Advanced Translation for International Business, Modern Transcription Methods, Translating Fiction.
Key Skills
Excellent Verbal, Non-Verbal, and Written Communication
Cultural Awareness & Intelligence
Time Management & Multitasking
Analysis & Research
Self-Management & Self-Motivation
Creative Writing Skills
Copywriting & Copyediting
Languages
English (American)

: Native Proficiency (ILR 5, CEFR C2+, ACTFL Distinguished)

Spanish (Latin American)

: Native Proficiency (ILR 5, CEFR C2+, ACTFL Distinguished)

Portuguese (Brazilian)

: Limited Working Proficiency (ILR 2+, CEFR B2, ACTFL Advanced Mid)

French

: Limited Working Proficiency (ILR 2, CEFR B1, ACTFL Intermediate High)

Italian

: Elementary Proficiency (ILR 1+, CEFR A2, ACTFL Intermediate Mid)
Certifications
American Translators Association—Certified Translator from Spanish into English
American Translators Association—Certified Translator from English into Spanish
Awards
2015 Translator of the Year, English to Spanish, Spread the Word Publishers
Memberships
Fédération Internationale des Traducteurs / International Federation of Translators (FIT)
Translators Without Borders (TWB)
The International Association for Translation and Intercultural Studies (IATIS)
Above was our idea of the ideal translation resume sample.
Let's fix up yours, now.
This is how to write a translator resume:
1. Choose the Best Format for Your Translator Resume
Whether they're freelance translator online jobs or cushy translation work for a large corporation, there's a method to your tasks.
Same on a resume—
To be sure the hiring manager can interpret what you read, format your translator resume right.
Follow these formatting guidelines on a translator resume:
Pro Tip: Is a resume PDF or Word doc better? The PDF is almost always better, as it can be read on just about any device the hiring manager chooses to view it on. Use a Word doc if the job description specifically asks for it.
2. Write a Translator Resume Objective or Summary
On a resume, your elevator pitch is the resume objective or summary statement, also called a resume profile.
Though it's only a short paragraph, this introduction is powerful, if done right. It gives hiring managers an overview of your translation experience and language skills.
A resume summary is perfect for when you have tons of experience. This introduction statement breaks down your translating background and language skills. It further wins them over by including a key achievement with numbers to quantify your abilities.
A resume objective is the better option when you have little or no experience. This introductory paragraph focuses on your career goals. However, it still provides them with a numbered accomplishment to allow you to stand out as a top translation candidate.
Pro Tip: Though they'll read the heading statement first, write it last. With this strategy, you'll be able to come up with better morsels of information to include after you've written the rest of the translator resume.
3. Create the Perfect Translator Job Description for a Resume
Time to show them you can #i18n like it's nobody's business—


How?
By knowing how to describe work experience on a resume most effectively.
To turn in a translator job description that's davvero eccellente:
Add your most recent job first, and follow that with the one before it in reverse-chronological order.
Place job titles on top, employment dates below that, the agency's name, and up to 6 bullet points detailing translation-relevant job responsibilities.
Start each bullet point entry using action words (e.g., globalized, localized, etc.).
Use numbered accomplishments to prove you're the best translator they could hire.
Tailor your resume to one specific translation job. Like a text converted via Google Translate, translation employers hate generic resumes.
Pro Tip: Are you preparing a resume for the first job as a translator? You still have translation-relevant tasks. Just impress them with job responsibilities related to project management, accuracy, etc.
4. Make Your Translator Resume Education Section Shine
As a specialized job requiring intense precision and training, hiring managers for translator jobs place high value on the education in a resume.
So—
Keep these rules in mind to make an education section they'll admire:
Start with your most advanced degree, and go back from there.
Include your major, the school name and location, graduation date, and relevant coursework.
To really impress them, include extras you might have, such as Latin honors or publications.
Don't add high school on your resume if you've completed a college degree.
Pro Tip: What is relevant coursework for translation jobs? Aside from any specialized classes dealing directly with translations, include project management, cultural studies, and classes related to the language pair you deal with.
5. Highlight Your Translating Skills on a Resume
From 2016 through 2026, translation and interpretation jobs will increase by a whopping 18% in the United States.
That's more than 12,000 translators to compete against.
So—
Whether for a medical translator job or a legal translation job, choose the right translator skills to wow them with on your resume:
20+ Most Important Skills For Translators
Cultural Awareness
Cultural Intelligence
Multitasking Skills
Analysis & Research
Self-Management
Self-Motivation
Consecutive Interpretations
Simultaneous Interpretations
Creative Writing Skills
Copywriting & Copyediting
Adherence to Deadlines
Accountability
But—
Every translating job is different, so they'll each require different skills.
So don't just take our list word-for-word.
Rather, here's a better way:
Pro Tip: You won't be able to fit it on your resume, but include samples of your past translation work along with your resume and cover letter. This is a way to prove how skilled you are in translation without just saying it.
When making a resume in our builder, drag & drop bullet points, skills, and auto-fill the boring stuff. Spell check? Check. Start building a professional resume template here for free.
When you're done, our free resume builder will score your resume and our resume checker will tell you exactly how to make it better.
6. Add Language Proficiency to Your Translator Resume
Your language skills on a resume are super important for translation jobs (obviously).
That's why we're placing the language section just under the resume heading, to give it some prime real estate.
Here's how to nail the resume language skills section:
List languages in order of your proficiency level, from highest to lowest.
If there are regional variations of a language, add the one in which you are familiar in parentheses, e.g., Arabic (Egyptian), German (Swiss).
Pro Tip: Language skills are skills, but don't group them with your other translation skills. List languages in their own section to ensure they get the viewing time they deserve.
7. Add Other Sections to Your Translator Resume
You have all the basics and necessities on your translation resume template.
However—
If you really want to stand out as a translation job applicant, add some extra sections.
There are several good options for a translator resume:
Language or translation memberships
Translation projects
8. Attach a Translator Cover Letter to Your Resume
Yes.
Most hiring managers want a cover letter for a job application.
So—
Here's how to make a cover letter for translation jobs they'll appreciate:
We've got more on what to include in a cover letter, the perfect length of a cover letter, and more of the best cover letter advice.
Have a look!
Pro Tip: As you prepare for a job interview, remember to follow up on the job application two or three days you send it in.
Plus, a great cover letter that matches your resume will give you an advantage over other candidates. You can write it in our cover letter builder here. Here's what it may look like: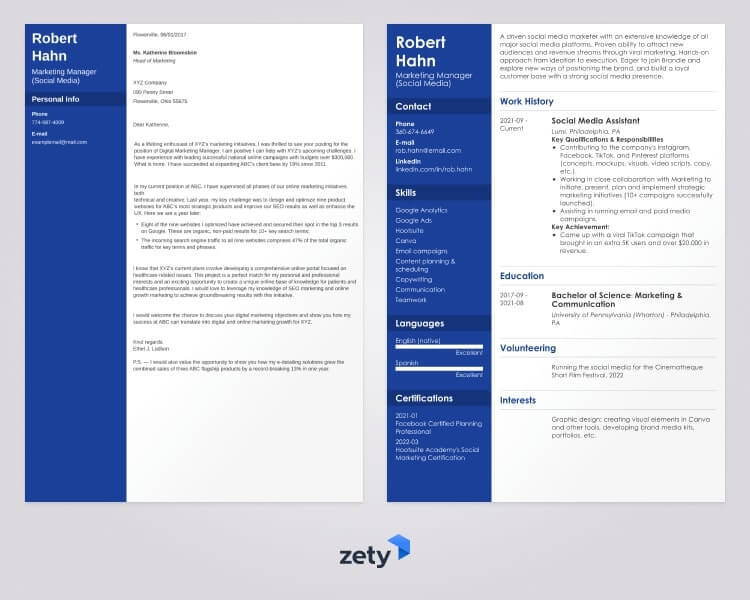 See more cover letter templates and start writing.
Do you have any questions on writing a translator resume? Having trouble with your sections on language skills, translation certifications, or job experience? Get at us in the comments below, and thanks for reading!
About Zety's Editorial Process
This article has been reviewed by our editorial team to make sure it follows Zety's editorial guidelines. We're committed to sharing our expertise and giving you trustworthy career advice tailored to your needs. High-quality content is what brings over 40 million readers to our site every year. But we don't stop there. Our team conducts original research to understand the job market better, and we pride ourselves on being quoted by top universities and prime media outlets from around the world.
Sources