Our customers have been hired by:
You know well that it's better to be safe than sorry. It applies to pretty much every aspect of your job! So why not apply it to the job-changing process? Rule number 1: Learning to write a safety manager resume will perhaps allow you to land your future job safely!
Our guide will help you understand what you can put in a resume for a safety manager to make your future employers feel safe with hiring you immediately!
This guide will show you:
A safety manager resume example better than 9 out of 10 other resumes.
How to write a resume for a safety manager that will land you more interviews.
Tips and examples of how to put skills and achievements on a safety manager resume.
How to describe your experience on a resume for a safety manager to get any job you want.
Want to save time and have your resume ready in 5 minutes? Try our resume builder. It's fast and easy to use. Plus, you'll get ready-made content to add with one click. See 20+ resume templates and create your resume here.
Sample resume made with our builder—See more resume examples here.
Looking for other jobs? See some matching resumes here:
Safety Manager Resume Sample
Damien Stilton
Safety Manager
dan-stillton@gmail.com
544-432-9323
linkedin.com/in/dstillton
Summary
Perfectly organized safety manager with outstanding attention to detail and 10+ years of experience. Led health & safety programs for over 1,000 foreign workers while overseeing safety across offices in 10 different states. Looking to benefit the next top organization by improving and ensuring workplace monitoring and full compliance with all applicable OSHA standards as well as reducing all safety hazards to a minimum.
Work Experience
Safety Manager
WorkED, Madison, WI
March 2017–Present
Maintained and updated safety plans for 50+ working sites around the world.
Provided safety training and information to over 3,000 workers.
Reduced safety hazards by 10% across all working sites.
Environmental, Health, Safety, and Security Specialist
Crimson INC, Madison, WI
July 2010–March 2017
Performed safety audits and inspected facilities in 10+ offices.
Led lead facility surveys and audits.
Identified probable safety hazards and created 5+ training programs.
Education
M.S. in Risk Control and Safety Management
University of Wisconsin-Stout, Menomonie, WI
September 2006—July 2011
Skills
Risk Management
Training & Development
Maintenance
MS Office
Problem-Solving
Communication
Stress Management
Certifications
Certified Occupational Safety Specialist – COSS®, Alliance Safety Council, 2015
General Industry Safety Professional, Mid-America OSHA Education Center, 2012
Languages
American English—Native
French—Conversational
That's one of the amazing safety manager resume examples. Someone with such a document can definitely feel safe about their application process!
Now, let's see how to write a resume for safety manager jobs step-by-step:
1. Select the Ideal Format for a Safety Manager Resume
Safety managers develop and execute health and safety plans within organizations. They create training programs, conduct inspections and preventative care, lead safety meetings, and identify safety hazards to ensure workers know how to follow established rules and regulations.
You need to understand your responsibilities to create your safety manager resume correctly. As you can see, there's a lot to cover, and your resume needs to show that you are a responsible, precise, and meticulous safety manager! So let's start with some steps to help your recruiters understand that you pay great attention to the details.
How to properly format a resume for a safety manager?
1. Resume header (that includes your name, contact information, and current position)
2. Summary statement or career objective
5. Relevant skills
6. Additional sections (i.e., certifications, conferences, hobbies, languages, voluntary work)
Learn how to organize the parts of your resume and what each resume part should include. Read more:Parts of a Resume in 2023
2. Write an Ideal Safety Manager Resume Objective or Summary
According to the Bureau of Labor Statistics, about 14,500 openings for health and safety specialists and technicians are projected yearly. That's why your resume must captivate your recruiter from the start! And there's an amazing place that allows you to make sure that your candidacy doesn't go unnoticed.
We're talking about a summary statement or career objective. They are a great way to starting your resume. But first, let's learn which one you should choose:
How to write your summary statement for a safety manager resume? Follow this formula:
Adjective + Job Title + Years of Experience + Achievements + Skills + What You Want to Do for the Employer
However, if you decide that your experience might not be that impressive, it is better to write a resume objective following this formula:
Adjective(s)/Certificate(s) + Your Job Title or Degree + seeking employment as + Position Name at + Company Name + to apply my + Your Relevant Skills + to help + What Do You Want To Help The Company Achieve
That's how you can easily draw your recruiter's attention to your resume. But the real hazard comes when you don't put your work experience correctly. So let's get rid of that hazard once and for all!
Want to learn more about resume profiles? Check here: What Kind of Resume Profile Works Best?
3. Construct an Ideal Safety Manager Resume Job Description
You deal with corporate safety, so your work requires precision of the highest standard. Being able to be precise is something you might want to show in your resume. Listing your work experience correctly and with great care is one way of proving that you're the man for the job!
How to create an excellent work experience section on a safety manager resume?
Showing great and relevant work experience on a resume is important. But let's not forget about your background, AKA your education!
Pro tip: Avoid including your work experience from more than 10 years ago. That's how far back a resume should go.
4. Show Your Education on Your Resume for a Safety Manager
To properly create your education resume section, you need to follow some basic rules. But let's face it: you're great at following rules. That's how you keep everyone safe, right?
How to create a perfect education section for a safety manager resume?
Experience and education are great for showing your history. But showing your skills can be just as important in impressing your future employer!
When making a resume in our builder, drag & drop bullet points, skills, and auto-fill the boring stuff. Spell check? Check. Start building a professional resume template here for free.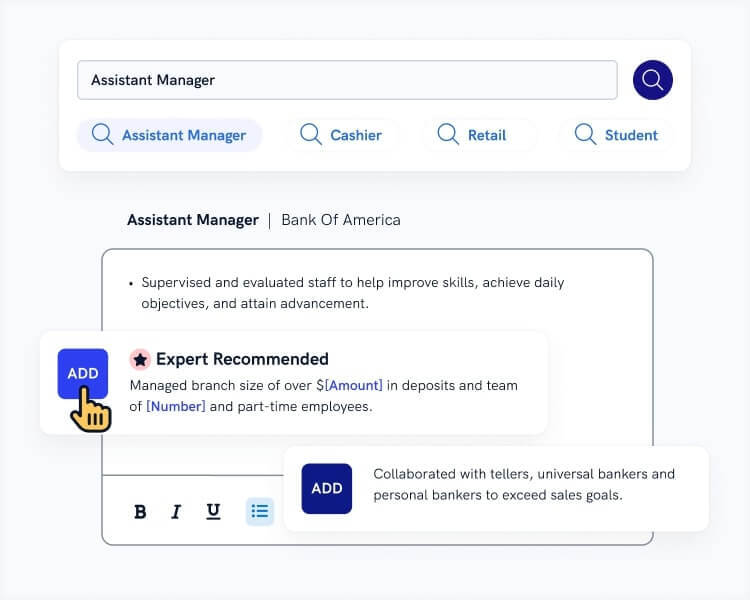 When you're done, Zety's resume builder will score your resume and our resume checker will tell you exactly how to make it better.
5. Impress Your Recruiter with a Great Set of Skills on Your Safety Manager Resume
Your set of skills on a resume can easily distinguish you from other candidates. And since you want to be remembered and have a resume that's not generic, listing them correctly might just do the trick!
How to put your skills on a resume for a safety manager?
Create a master list of all the skills you have.
Decide which hard and soft skills are the most relevant for the job you're applying for. To do that, visit your future employer's website or revisit the job ad.
Include up to 10 skills on your resume.
Let's take a look at some examples!
Safety Manager Resume Skills
Risk Management
Training & Development
Maintenance
Stress Management
Workplace Safety
Safety Management Systems,
Incident Investigation
Accident Investigation
OSHA Compliance
Safety Trainings
Safety Protocols
Some people finish their resumes here. But you're not a risk-taker! So let's find out what else we can include in your document to help you land the job!
There are more skills you can use in your resume. Find out what are they: Top Skills Employers Look For in 2023
6. Include Additional Sections to Your Resume for Safety Manager
Putting some additional information on a resume might boost your chances of getting hired. Just think about it this way: something worth including might make the recruiter go: "Hey! Wow! That's the perfect candidate for the job!". So let's not gamble on that and brainstorm what else you can include in your resume for a safety manager!
What should you put in additional sections on your safety manager resume?
And now your resume is ready. But, just as you double-check some potential hazards, you might want to double-check it with our resume checker. And lower the risk of not getting employed by creating a cover letter!
Pro Tip: Wondering how many pages should your resume be? Sticking to a one-page resume seems like a good idea. However, since you're a manager, you might have a lot of experience to highlight. In that case, create a two-page resume.
7. Attach a Cover Letter to Your Resume for a Safety Manager
You manage risks daily. It's important to remember that 83% of recruiters claim that a cover letter is important in the application process. Risking 17% is a lot, isn't it? Let's not do that and have a perfectly written cover letter!
How to write a perfect cover letter for a safety manager?
There are many things you can include in your cover letter. Read our guide and learn which to choose: What to Include in a Cover Letter
Plus, a great cover letter that matches your resume will give you an advantage over other candidates. You can write it in our cover letter builder here. Here's what it may look like: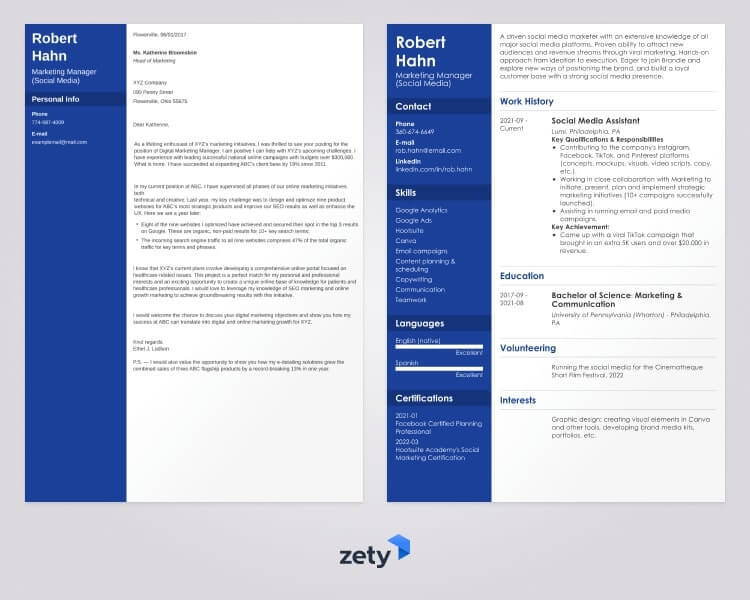 See more cover letter templates and start writing.
Whether you're about to write a food safety manager resume, a construction safety manager resume, or any other safety-related resume, now you're ready. Your recruiters will immediately feel way safer having your resume on their desks. And once they do, they will want to know you!
Thank you for reading our guide! Have you got any questions? Let's talk in the comment section below!
About Zety's Editorial Process
This article has been reviewed by our editorial team to make sure it follows Zety's editorial guidelines. We're committed to sharing our expertise and giving you trustworthy career advice tailored to your needs. High-quality content is what brings over 40 million readers to our site every year. But we don't stop there. Our team conducts original research to understand the job market better, and we pride ourselves on being quoted by top universities and prime media outlets from around the world.