Our customers have been hired by:
Restaurant kitchens feel like a second home to you. You are passionate about cooking, complicated recipes, and culinary trends. Your dream is to become a chef one day, but you know you have to work your way up there. The first step? A kitchen hand job.
Now, you have to write a kitchen hand resume to get invited to a job interview. But what do you start with? They don't teach that in a culinary school. Our tip? Don't worry and read our guide.
In this article, you will find:
A kitchen hand resume sample that will secure you a job interview.
Guidelines on how to write successful job description and skills sections.
Useful rules for formatting your document.
Tips on how to include hobbies and additional activities in your kitchen hand resume.
Want to save time and have your resume ready in 5 minutes? Try our resume builder. It's fast and easy to use. Plus, you'll get ready-made content to add with one click. See 20+ resume templates and create your resume here.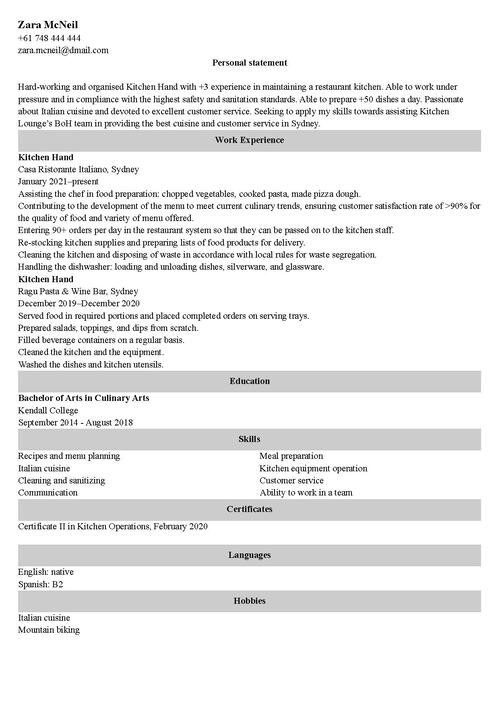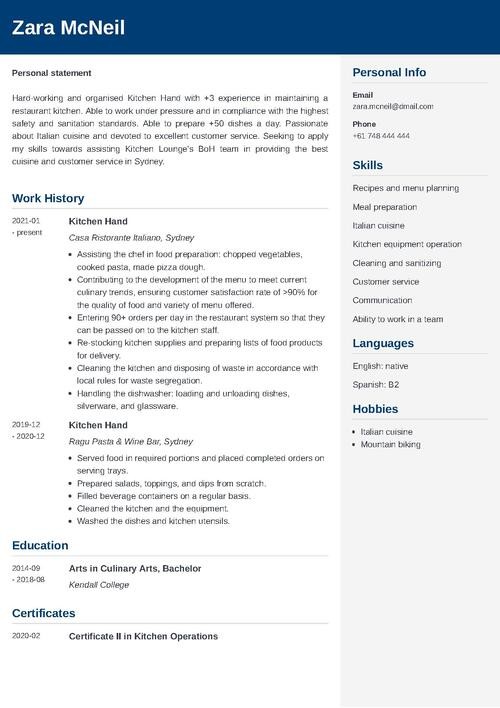 Sample resume made with our builder—See more templates and create your resume here.
Interested to see more resume examples? Check out the articles below:
Kitchen Hand Resume Sample
Zara McNeil
(748) 444 4444
zara.mcneil@dmail.com
Personal statement
Hard-working and organised Kitchen Hand with +3 experience in maintaining a restaurant kitchen. Able to work under pressure and in compliance with the highest safety and sanitation standards. Able to prepare +50 dishes a day. Passionate about Italian cuisine and devoted to excellent customer service. Seeking to apply my skills towards assisting Kitchen Lounge's BoH team in providing the best cuisine and customer service in Sarasota.
Work experience
Kitchen Hand
Casa Ristorante Italiano, Sarasota, FL
January 2021–present
Assisting the chef in food preparation: chopped vegetables, cooked pasta, made pizza dough.
Contributing to the development of the menu to meet current culinary trends, ensuring customer satisfaction rate of >90% for the quality of food and variety of menu offered.
Entering 90+ orders per day in the restaurant system so that they can be passed on to the kitchen staff.
Re-stocking kitchen supplies and preparing lists of food products for delivery.
Cleaning the kitchen and disposing of waste in accordance with local rules for waste segregation.
Handling the dishwasher: loading and unloading dishes, silverware, and glassware.
Kitchen Hand
Ragu Pasta & Wine Bar, Sarasota, FL
December 2019–December 2020
Served food in required portions and placed completed orders on serving trays.
Prepared salads, toppings, and dips from scratch.
Filled beverage containers on a regular basis.
Cleaned the kitchen and the equipment.
Washed the dishes and kitchen utensils.
Education
Associate Degree in Culinary Arts
Keiser University
September 2016 - August 2018
Key skills
Recipes and menu planning
Meal preparation
Italian cuisine
Kitchen equipment operation
Cleaning and sanitizing
Customer service
Communication
Ability to work in a team
Certificates
Certificate II in Kitchen Operations, February 2020
Languages
English: native
Spanish: B2
Hobbies
Italian cuisine
Mountain biking
Did you like this resume for a kitchen hand? Find the perfect formula below:
1. Format Properly Your Kitchen Hand Resume
A kitchen hand assists the chef in cooking, helps to keep the kitchen clean and organised, and makes sure it's regularly re-stocked. The purpose of a kitchen hand resume is to demonstrate to your potential employer that you're the best candidate for the job.
But—
Recruiters read hundreds of resumes every day, the majority of which are pretty plain. In order to get recruiters' attention, you need to make sure that your resume format is one step ahead of your competition. To get your kitchen hand resume format right, follow the rules below:
Add your contact information (name, surname, telephone number, email address) at the top of your document. Feel free to add the links to your professional social media profiles, such as LinkedIn.
Use a chronological order of jobs to let your experience shine through.
Set the resume margins to 1 inch on each side and the line-spacing to 1–1.15.
Remember to left-align the text, don't use justification.
Use a professional, 12-point resume font such as Arial, Calibri, or Helvetica.
Save your resume in the PDF format.
Pro tip: Simple resume templates are a great and time-saving solution for the applicants who find it difficult to format their resume manually. All you need to do is fill out a template for your kitchen hand resume with information on your professional experience, education, and skills, and you're all set!
2. Write a Catchy Summary for Your Kitchen Hand Resume
A resume summary, also called a personal statement, is a short paragraph at the top of your document providing an overview of your professional experience, qualifications, and skills. You want to nail this section, as a well-written kitchen hand resume summary may convince the hiring manager to move forward with your candidacy.
This is how to write it:
Start with your strongest character traits—to decide which ones to put in your kitchen hand resume summary, read your job ad and see which qualities are desired by your potential employer.
Provide your current job title and professional experience.
List your professional accomplishments, describe the results of your actions, and show your impact with numbers.
If you want to write a resume for a kitchen hand with no experience, opt for a resume objective rather than a resume summary. This is how to do it:
Again, start with your strong traits and add 2—3 key skills.
Describe your professional goals and briefly explain what you'd like to do for the company (remember to use the company's name).
Don't get too verbose—2 to 3 sentences will be just fine.
Remember to avoid first-person pronouns.
Don't write generic resume objectives—always tailor them to the company you're applying to.
3. Prepare an Unforgettable Job Description Section for Your Kitchen Hand Resume
Job description is one of the most important sections in your resume, so make sure to prepare it properly. This is where you provide a description of your duties and try to show the best of your qualifications to a hiring manager.
Follow the tips below to showcase the best of your duties in your kitchen hand resume:
Start with your most recent position first, and follow with previous work experience.
Provide a job title, a company name, and dates worked for every position mentioned in your kitchen hand resume.
Your professional experience should be described in no more than 6 bullet points for each position. The more recent your position is, the more bullet points you add to a resume.
Start each bullet point with a powerful action word for more impact.
List your relevant experience only, discuss measurable achievements, and use quantifiable data (numbers, percentages).
Read more: How to List Professional Achievements in Your Resume and Get a Job
4. Write and Education Section for Your Kitchen Hand Resume
Some may say that you either have a natural talent for cooking, or you should stop looking for a job in the restaurant industry. They couldn't be more wrong! Schools, particularly culinary ones, are a very important step on your way to professional success, so don't take the education section in your resume for a kitchen hand for granted.
If you are an experienced candidate, include your highest degree only, provide the school name and dates attended.
If you are writing a resume for a kitchen hand with no experience, list your highest degree and add information about academic awards, honours, extracurricular activities, or projects to show that you have acquired a variety of skills that can be useful to do the job.
Read more: How to Write a Resume for Any Job
When making a resume in our builder, drag & drop bullet points, skills, and auto-fill the boring stuff. Spell check? Check. Start building a professional resume template here for free.
When you're done, Zety's resume builder will score your resume and tell you exactly how to make it better.
5. Show the Best of Your Skills in You Kitchen Hand Resume
There you are—ready to showcase the best of your abilities to a recruiter. But you are not sure which skills to choose. Here is the answer:
Read your job ad and identify the skills preferred by the company. List both hard and soft skills.
Look at the list, and think which of those skills you actually have.
Include these skills in your kitchen hand resume.
Kitchen Hand Resume Skills
Preparing meals
Assisting the chef in cooking
Menu planning
Serving food in correct portions
Stocking supplies and food
Cleaning kitchen work surfaces
Disposing of trash and waste
OHS
Dishwashing
Read more: List of Skills to Put in a Resume (with Examples & Tips)
6. Add Other Sections to Your Kitchen Hand Resume
Do you have any language skills, relevant coursework, or certificates you want to brag about? This is your moment to shine, as you can list the following in your resume for a kitchen hand:
Awards for special achievements
Pro tip: Do not forget to state your language proficiency. You can use the CEFR levels for this purpose.
7. Write a Cover Letter for a Kitchen Hand Resume
You have just finished writing your resume for a kitchen hand and might be tempted to think that your application is now done. You couldn't be more wrong. To increase your chances of getting invited for a job interview, you should write a compelling cover letter to accompany your resume for a kitchen hand.
Do it as follows:
Choose a professional cover letter format that will match your resume.
Provide your personal contact information and specify the recipient at the top of the document.
Tell the recruiter who you are in the first paragraph of your cover letter.
In the middle paragraph, demonstrate your relevant experience and discuss specific achievements.
In the third paragraph, explain your motivation and how you can benefit the company.
Finish your cover letter with a call to action.
Write no more than 3–4 paragraphs.
Save your cover letter in a PDF format.
Read more: A Step-by-Step Guide to Writing a Perfect Cover Letter for Your Resume
Plus, a great cover letter that matches your resume will give you an advantage over other candidates. You can write it in our cover letter builder here. Here's what it may look like: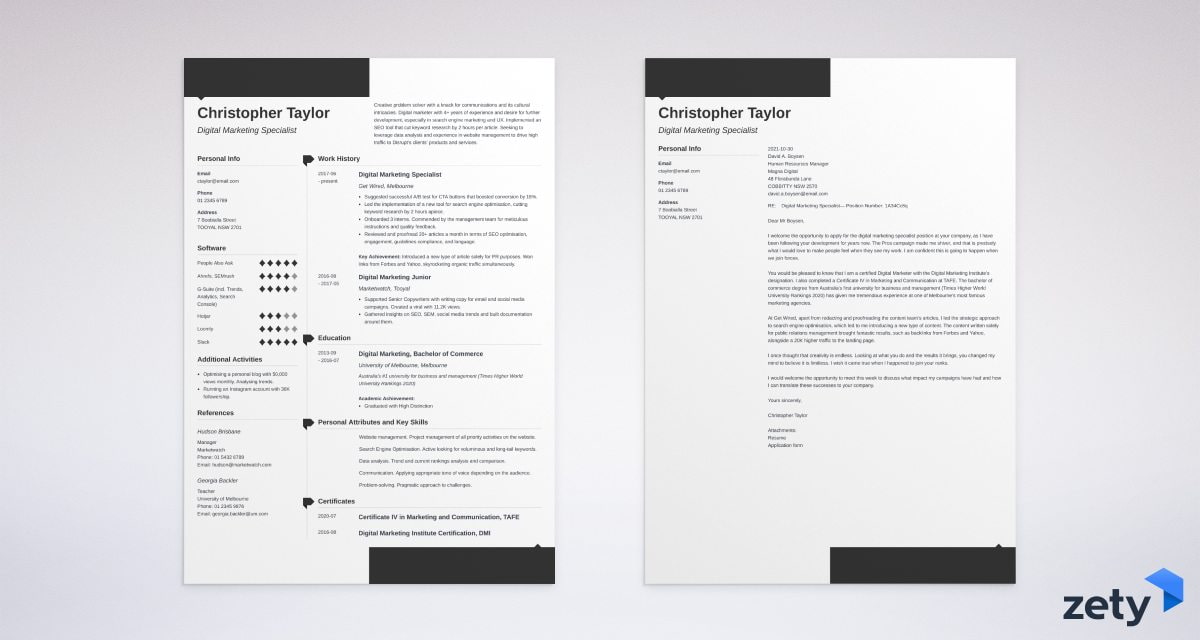 See more cover letter templates and start writing.
That's all you need to know to write a perfect resume for a kitchen hand.
Do you have any questions or comments about writing a successful kitchen hand resume? Let us know in the comments section!
About Zety's Editorial Process
This article has been reviewed by our editorial team to make sure it follows Zety's editorial guidelines. We're committed to sharing our expertise and giving you trustworthy career advice tailored to your needs. High-quality content is what brings over 40 million readers to our site every year. But we don't stop there. Our team conducts original research to understand the job market better, and we pride ourselves on being quoted by top universities and prime media outlets from around the world.