Our customers have been hired by:
Trading stocks and assets is your first nature—cause saying "second" just doesn't do it justice. Warren Buffett would take one look at you and trust you with his life savings. You're just that good.
But all of that knowledge and intuition won't do you much good if you do your market research. Not on the stock market—the job market.
There's lots of competition around, and a subpar trader resume will make the recruiter dump you in an instant. Don't let that happen.
This guide will show you:
A trader resume example better than 9 out of 10 other resumes.
How to write a trader resume that will land you more interviews.
Tips and examples of how to put skills and achievements on a trader resume.
How to describe your experience on a resume for a trader to get any job you want.
Want to save time and have your resume ready in 5 minutes? Try our resume builder. It's fast and easy to use. Plus, you'll get ready-made content to add with one click. See 20+ resume templates and create your resume here.
Sample resume made with our builder—See more resume examples here.
See these articles if you want to invest in another career path:
Trader Resume Example
Earl Ray
Trader
574-542-3733
EarlRay@zetymail.com
Linkedin.com/in/1Earl.Ray
Summary
Effective professional trader with 7 years of experience. Contributed over $30 million in value through asset allocation and market timing. Generated revenue based on FX forwards for G10 currencies. Reviewed information to always make or escalate critical but risk-controlled decisions.
Experience
Trader
Grade A Investment, Lone Tree, CO
February 2016–October 2021
Implemented model updates and automated order generation on a bi-weekly basis.
Ensured 100% daily order completion for 27 personally overseen accounts.
Utilized a more active approach to trading strategy and increased cost savings by 16%.
Designed a range of innovative processes and flows to increase trading efficiency, directly increasing revenue generation by 1.6% per year.
Trading Operations Associate
Morgan Stanley, New York, NY
October 2014–January 2016
Documented detailed business requirements and functional specifications.
Communicated as liaison between IT, Finance, and Operation departments to close information gaps and streamline communication.
Created basic and advanced user manuals, training documents, and reference materials.
Education
Bachelor's Degree in Business Administration, Finance & Entrepreneurship
University of Colorado, Boulder
September 2010–June 2014
Skills
Market Strategizing
Analytical Thinking
Computer Skills
Risk Management
Patience and Discipline
Working under Pressure
Communication
Teamwork
Certifications
Leading with Finance Course, Harvard Business School Online, 2019
Certified Fund Specialist (CFS), ICFS, 2018
Activities
Pilates, yoga & mindfulness de-stressing activities
Cryptocurrency trading
This is how to write a trader resume worth its weight in gold:
1. Write Your Trader Resume Using the Best Format
As a day trader, you buy and sell stocks and other financial instruments on behalf of your investors. The skills necessary to score a job include market analysis and prediction, sales orientation, communication, and networking. All of these assets need to appear front and center on a trader resume.
So, is it that easy? Is that all the risk you need to take into account?
Not at all.
Even if you can prove all that we mentioned above, how you go about displaying it plays just as important a role.
Make sure you're not going to be left holding the bag with a poorly-formatted resume, and follow these resume writing tips:
Pro Tip: Resumes are best sent as PDF files, since those display the same on every device. Meanwhile, Word files can be too volatile.
2. Prepare a Jaw-Dropping Resume Profile
Management will not care about the results on your resume, not even if you can triple the value of their equity funds.
Why?
Because they simply do not have the time to entertain the hundreds of applicants they have.
Your toughest task involves presenting your assets in a clear and concise way. Think elevator pitch.
The resume profile is your most valuable commodity here.
Here's how it works:
One of your options is a resume summary. With 2+ years on the stock market, mention the most impressive accomplishments, talk up your game with numbers, and emphasize how your dedication, drive, and reliability will propel their growth charts onwards and upwards.
Resume objectives work better for rookie traders. Capitalize on your ambitions, past job successes, and transferable skills to prove your lack of experience doesn't mean you're not a pro.
Read more: How to Start a Resume
3. Tailor Your Work Experience Section on the Trader Resume
On to the work experience section of your resume—arguably the most important part of any job application. If you successfully captured the reader's attention with your profile, it's now imperative to keep them reading with engaging job descriptions that show your true potential. Here's how:
List past work going backward in time. Mention the job title held, the years you worked, and the name of the company.
Then, in 3–6 bullets (older jobs getting less), describe relevant experience, your duties and responsibilities, and important achievements.
All of these should use lots of numbers. They keep recruiters engaged.
Likewise, you want to use action verbs for that same reason.
Tailoring your resume is the only way to guarantee success. A targeted resume shows effort, dedication, attention to detail, and so much more!
Read more: How Far Back Should Your Resume Work Experience Section Go?
4. Squeeze the Most out of Your Education Section
While you technically do not need an education to be a trader, most professionals choose to at least go to college. Many firms will also expect you to show a degree if they are to accept your application.
Needless to say, skipping your resume education section is a no-go. Do it, and the value of your resume would crash harder than the stock market in 2008.
Fortunately, the breakdown here is actually quite simple:
Less than 5 years of experience? Talk about your school achievements like relevant coursework, your GPA (if it was 3.5 or higher), honors on the diploma, degree obtained, extracurricular activities, and anything else that's worth bragging about.
More than 5 years of experience? Okay, champ, in that case you want to just mention the school name, obtained degree, and graduation year.
Pro Tip: Listing high school on your resume is only a good idea if it's your highest completed degree. If you have one from college or university, you don't need to go back that far.
When making a resume in our builder, drag & drop bullet points, skills, and auto-fill the boring stuff. Spell check? Check. Start building a professional resume template here for free.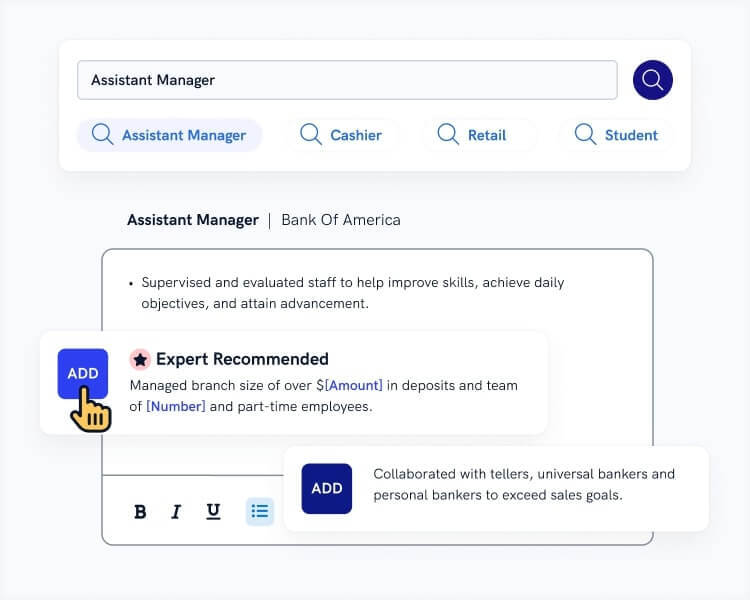 When you're done, our easy resume builder will score your resume and our resume checker will tell you exactly how to make it better.
5. Demonstrate Proper Trader Skills
Asset classes, trading investments, stock market knowledge—a great trader resume needs to show it all.
Or does it?
Your profession is complicated (obviously), and a lot will be demanded of you.
However—
Flooding your resume's skills section with virtually every single skill under the sun is not the solution here.
Instead, you want to thoughtfully pick out the same key skills that they mention in the job ad.
Doing that while including a healthy mix of technical skills, hard skills, and soft skills is the only way forward, as it makes for an impactful and ATS-friendly resume.
And don't spread yourself too thin. About 10 skills is definitely enough.
Enough theory. Check out these practical trader skills for a resume:
Trader Resume Skills
Patience & Discipline
Adaptability
Mental Fortitude
Risk Management
Knowledge of Stock Market
Predicting Trends
Preparing Reports
Online/Phone Trading
Capturing Leads
CRM Software
OBV, ADX, RSI
Informing Supervisors
Negotiation Skills
Networking
Sales Skills
Working under Pressure
Cost Reduction
Research
For some brownie points, it's always a great idea to put extra skills outside of this section, by cleverly weaving them into the sentences of your work experience section.
Pro Tip: With AI solutions getting progressively better at handling the technical aspects of trading, soft skills are more important than ever. Make sure to include plenty of evidence of your human side on your resume.
6. Add Bonus Sections to Your Trader Resume
Your resume's looking good!
But let's take stock, and be real—
The other candidates likely have the same sections, the same spacing, the same format… how can you make sure they remember your application and forget the rest?
By showing your personal, passionate side.
Here's how:
Read more: What to Put on a Resume
7. Match Your Trader Resume With an Appropriate Cover Letter
Do you have to write a cover letter?
Yes, every time, if you don't want to get on the bad side of roughly every other recruiter.
Plus, writing a cover letter is not as hard as you think.
First, format your cover letter so that it actually resembles, well, a letter. Use the right spacing and a nice cover letter font.
You always want to address the cover letter directly to the recruiter by name, if possible. Look it up on their website, Google, or LinkedIn. Don't use a generic opener like "To Whom It May Concern", it just won't land.
Opening the cover letter with an effective, flashy (but meaningful) statement is key.
Then, the middle section needs to include more details about your successes and achievements. The goal is to convince them you're the only reasonable choice.
Finish the cover letter by making an enticing offer, and promising to spill the beans in-person during the interview.
Pro Tip: Your cover letter length shouldn't go past one page, and ideally, 250 words.
Plus, a great cover letter that matches your resume will give you an advantage over other candidates. You can write it in our cover letter builder here. Here's what it may look like: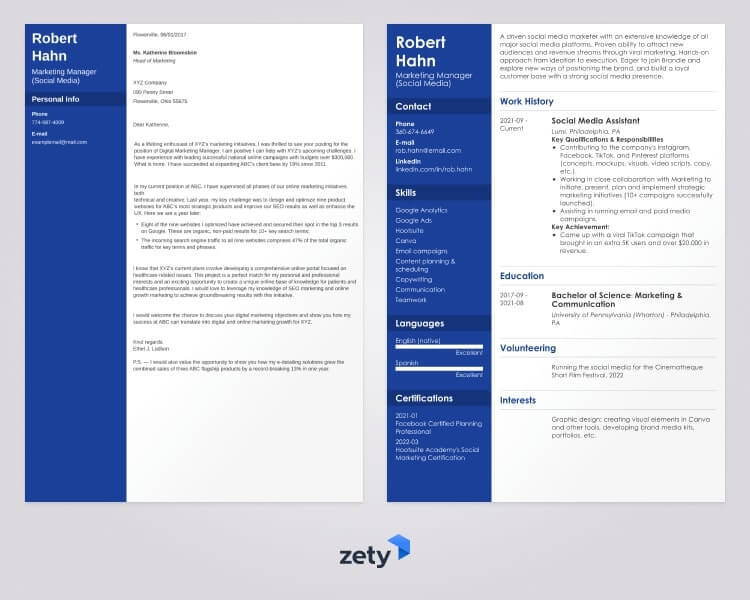 See more cover letter templates and start writing.
Thanks for reading. Do you have any lingering questions about trader resumes? Are you still unsure about the proper way of listing trader skills or job experience? Hit us up in the comments!
About Zety's Editorial Process
This article has been reviewed by our editorial team to make sure it follows Zety's editorial guidelines. We're committed to sharing our expertise and giving you trustworthy career advice tailored to your needs. High-quality content is what brings over 40 million readers to our site every year. But we don't stop there. Our team conducts original research to understand the job market better, and we pride ourselves on being quoted by top universities and prime media outlets from around the world.