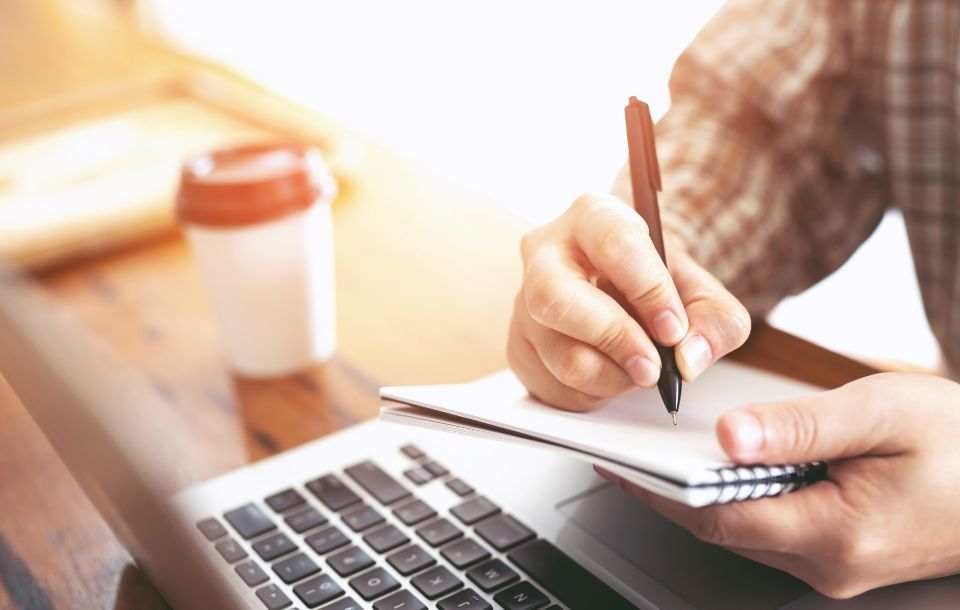 Aged Care Resume: Sample & Tips [Also for No Experience]
It's time for a change. You'd like to move on to a new facility, or maybe become self-employed? Well, there's nothing you can't do with a great aged care resume.
You come to work every day so that seniors can age with dignity and grace. You support, listen and stay compassionate in the hardest of times and situations. You deliver the best care, have the qualifications, and deserve the best job out there because of that.
Not sure how to translate that into a perfect aged care resume? We're here to help.
This guide will show you:
An aged care resume sample better than 9 out of 10 other resumes.
How to write an aged care resume that will land you more interviews.
Tips and examples of how to put skills and achievements on an aged care resume.
How to describe your experience on a resume for aged care to get any job you want.
Want to save time and have your resume ready in 5 minutes? Try our resume builder. It's fast and easy to use. Plus, you'll get ready-made content to add with one click. See 20+ resume templates and create your resume here.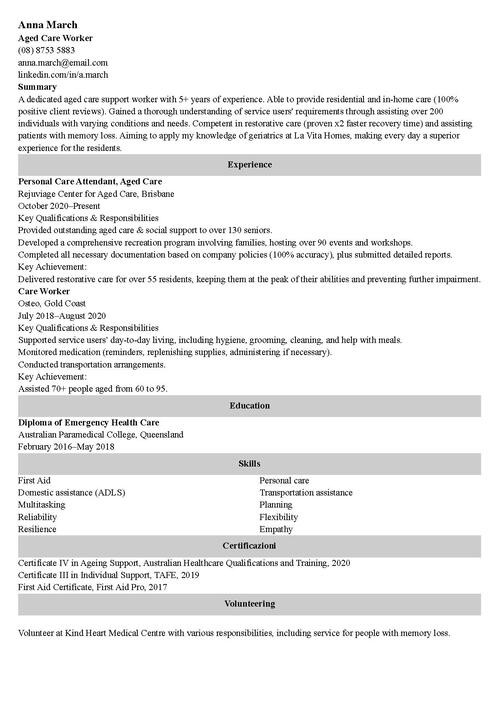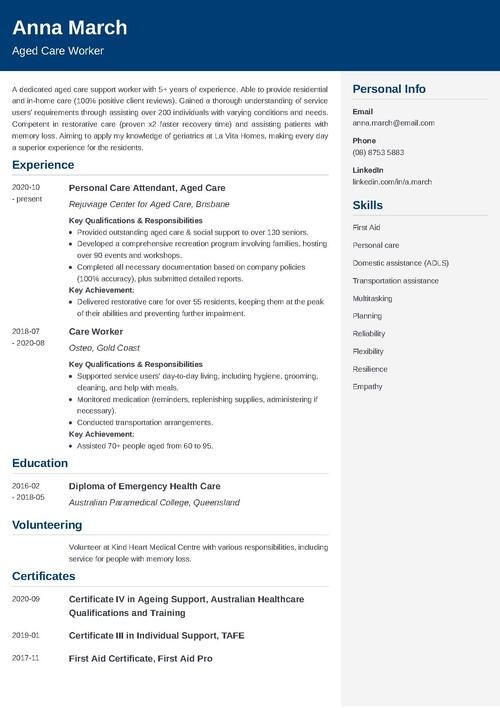 Sample resume made with our builder—See more templates and create your resume here.
Looking for other resume examples in healthcare? Check the guides below:
or check our collection of resume examples to find more!
Aged Care Resume Sample
Anna March
Aged Care Worker
(08) 8753 5883
anna.march@email.com
linkedin.com/in/a.march
Summary
Dedicated aged care support worker with 5+ years of experience. Able to provide residential and in-home care (100% positive client reviews). Gained a thorough understanding of service users' requirements through assisting over 200 individuals with varying conditions and needs. Competent in restorative care (proven x2 faster recovery time) and assisting patients with memory loss. Aiming to apply my knowledge of geriatrics at La Vita Homes, making every day a superior experience for the residents.
Experience
Personal Care Attendant, Aged Care
Rejuviage Center for Aged Care, Atlanta, NJ
October 2020–Present
Key Qualifications & Responsibilities
Provided outstanding aged care & social support to over 130 seniors.
Developed a comprehensive recreation program involving families, hosting over 90 events and workshops.
Completed all necessary documentation based on company policies (100% accuracy), plus submitted detailed reports.
Key Achievement:
Delivered restorative care for over 55 residents, keeping them at the peak of their abilities and preventing further impairment.
Care Worker
Osteo, Atlanta, NJ
July 2018–August 2020
Key Qualifications & Responsibilities
Supported service users' day-to-day living, including hygiene, grooming, cleaning, and help with meals.
Monitored medication (reminders, replenishing supplies, administering if necessary).
Conducted transportation arrangements.
Key Achievement:
Assisted 70+ people aged from 60 to 95.
Education
A.A.S. in Paramedic Emergency Health Science
Union College, NJ
September 2016–May 2018
Skills
First Aid
Personal care
Domestic assistance (ADLS)
Transportation assistance
Multitasking
Planning
Reliability
Flexibility
Resilience
Empathy
Certifications
Nurse Aide in Long Term Care Facilities Training and Competency Evaluation Program, July 2018
First Aid Certificate, First Aid Pro, December 2017
Volunteering
Volunteer at Kind Heart Medical Centre with various responsibilities, including service for people with memory loss.
Here's how to write an aged care resume, step by step:
1. Choose a Good Aged Care Resume Format
Aged care workers assist the elderly, making sure they receive the necessary medication and can cope with daily activities and domestic duties. They can perform both in-house and residential services. The purpose of an aged care resume is to reflect that a person is fit to provide this kind of support and has the knowledge and skills required.
A good aged care resume always starts with formatting. To make sure your resume delivers the right message, follow these steps:


You can also choose a simple template for your resume that will take care of the formatting. Once you're done, make sure you download the file as a PDF so that it doesn't look shoddy when opened on different devices.
Pro Tip: If you're unsure how long an aged care resume has to be, aim at 2–4 pages with 11–12 pts text size.
2. Compose a Resume Summary or a Resume Objective
According to the UN World Population Ageing Report from 2019, the number of older persons in the U.S. is expected to grow by 48% by 2050. A similar report indicates that ageing will have a more pronounced impact in the coming decade than in the past due to the retirement of the baby boomer generation.
The demand for aged care services will only increase, and so will the number of job applicants. That means that your aged care resume should have more than good looks to stay competitive, and the opening paragraph can really make it or break it.
Experienced aged care professionals compile a professional summary for their aged care resume. To write a strong one, follow these tips:
Brainstorm a "master list" of your prominent accomplishments.
Compare it with the description of the position you are applying for, and single out matching points.
If you have no experience, write a career objective for your resume. The approach will be slightly different:
Think of relevant transferable skills you've acquired previously.
Make it clear why you'd like to work in this specific field and organisation and why you'll be good at it.
Refer to the job description as well, using it as a basis for your search for ideas.
That also applies if you're switching careers.
Pro Tip: It might make sense to leave this section for the end of your resume-writing process. This way, you'll have all the info in front of you, making it easier for you to summarise.
3. Write Targeted Aged Care Duties on Your Resume
Once you're done with your opening statement, you need to make sure to support your claims with a solid description of your previous work. Approach it this way:
Begin with your most recent position (if you went with reverse-chronological order).
Include the job title, name of the organisation, dates of employment, and 3–6 bullet points.
Start each bullet point on a resume with a power verb (like "demonstrated", "maintained", or "fulfilled").
Show results. Focusing on aged care duties on your resume might be tempting, but it's important to pair them with measurable achievements.
Keep things relevant. As before, keep an eye on the position description to make sure you match the expectations.
Even if you're writing an aged care resume with no experience in the field, this still applies. Tailor your resume entries to the job ad, and describe experiences that support your career objective.
4. Feature Your Education on a Resume for Aged Care
You're absolutely required to have a degree and/or training to work in aged care, so you have to list it right to make sure it's easy to notice. There are usually two scenarios:
For an aged care resume for an experienced candidate, list your degree, the name of your college/uni, its location, and the time frame.
For an aged care resume with no experience (a recent graduate, for example), mention your academic achievements: a high GPA, relevant publications, some practical experience you've acquired, etc.
You'll also have a chance to accentuate extra education or certifications in the additional sections of your aged care resume—more on that below.
When making a resume in our builder, drag & drop bullet points, skills, and auto-fill the boring stuff. Spell check? Check. Start building a professional resume template here for free.
When you're done, Zety's resume builder will score your resume and tell you exactly how to make it better.
5. Single Out Relevant Skills on Your Aged Care Resume
It might seem hard to decide which key skills to put on your resume. After all, don't the hard skills matter more?
Not necessarily. Being an aged care professional is a very emotionally challenging job, so soft skills are just as important as hard skills or training. Highlight them on your aged care resume by following these tips:
Start by making a list of your strong suits.
Pick out the ones that are relevant to the job and would reinforce your application.
Once you're done, your skills section might look something like this:
Aged Care Resume Sample—Skills
First Aid
Personal care
Domestic assistance (ADLS)
Mobility and dexterity assistance
Transportation assistance
Responsibility
Compassion
Calm under pressure
Maintaining a positive attitude
This list starts with the required hard skills and then mentions equally important personal characteristics. Maintaining good relationships with service users and engaging with their families is a crucial part of your work, just like medical knowledge, so do mention it.
Want more ideas? Read our guide: How to Write a Resume
6. Elevate Your Resume for Aged Care With Additional Sections
You might not see these in every aged care resume sample, but that doesn't mean they can't be a great bonus.
Use extra sections to feature:
An aged care resume with no experience can greatly benefit from such additions as well, making up for what the candidate is missing work-wise.
7. Add an Aged Care Cover Letter to Your Application
For your application to be complete, your resume for aged care should be paired with a cover letter. This is a wonderful chance to demonstrate who you are as a person and a professional and explain your motivations for applying (especially if you don't have a lot of experience).
The process is similar to that for your aged care resume:
Maintain a good cover letter format.
Use a similar template.
Keep it precise (under 1 page) and tailored to the position requirements.
In your aged care cover letter:
Address the hiring manager with their name (avoid old clichés like "To Whom It May Concern").
Single out your key achievement and mention it in the opening cover letter paragraph.
Describe your professional experience and show the hiring manager you understand the role (and will be a good fit).
Talk about why you chose the place/client, why you'd be a good addition to the team, or why you're the right choice based on your values.
Close your letter with a call to action, saying you'd be happy to schedule a call or a meeting. Mention that you'd like to share some ideas about the work and your potential input.
If you don't get a response right away, make sure to follow up. Things tend to fall through the cracks, and some hesitation does not always mean "no".
Need more tips? Read our full guide: How to Write a Good Cover Letter
Plus, a great cover letter that matches your resume will give you an advantage over other candidates. You can write it in our cover letter builder here. Here's what it may look like: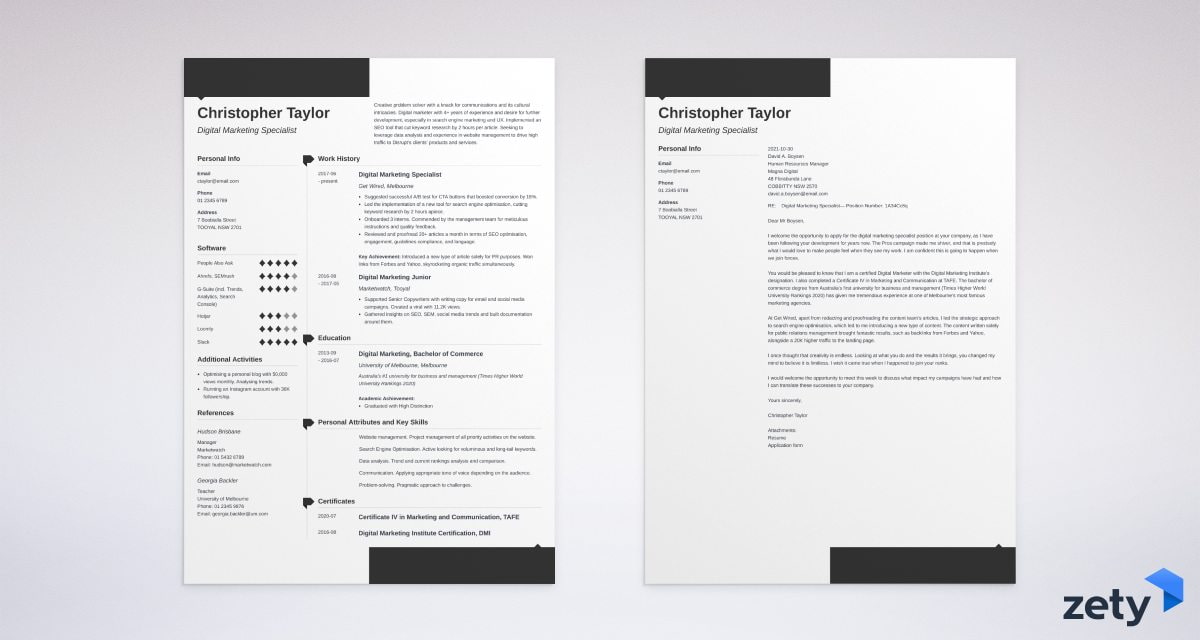 See more cover letter templates and start writing.
That's about it! Hope you found our guide on writing an aged care resume informative and useful.
Any extra tips we should include? Was the aged care resume sample helpful? Let us know in the comments!
About Zety's Editorial Process
This article has been reviewed by our editorial team to make sure it follows Zety's editorial guidelines. We're committed to sharing our expertise and giving you trustworthy career advice tailored to your needs. High-quality content is what brings over 40 million readers to our site every year. But we don't stop there. Our team conducts original research to understand the job market better, and we pride ourselves on being quoted by top universities and prime media outlets from around the world.
Sources