Chick-fil-A Resume: Example, Job Description, Skills
Want to score a job at Chick-fil-A? Got to make sure your Chick-fil-A resume isn't missing any star ingredients first.
Any schmuck can find a job at a fast-food joint.
…is exactly the wrong mindset to have. Reports show Chick-fil-A is the #1 chain in America for 5 years running. Try submitting the resume equivalent of a grease-stained napkin, and you'll be in for a sad surprise.
No, what you need is a Chick-fil-A resume that delivers better than their drive thru.
This guide will show you:

A Chick-fil-A resume example better than 9 out of 10 other resumes.
How to write a Chick-fil-A resume that will land you more interviews.
Tips and examples of how to put skills and achievements on a Chick-fil-A resume.
How to describe your experience and education on a resume for positions at Chick-fil-A.
Want to save time and have your resume ready in 5 minutes? Try our resume builder. It's fast and easy to use. Plus, you'll get ready-made content to add with one click. See 20+ resume templates and create your resume here.
Sample resume made with our builder—See more resume templates here.
Looking for other service jobs? See these related articles:
Chick-fil-A Resume Example
Christie Beard
Team Member
409-719-4972
christiebeard@zetymail.com
Summary
Friendly line cook/cashier with 2+ years of experience in fast food restaurants looking for a part-time position at Chick-fil-A. Previously employed at General Crunchy-Fry, received 95% customer satisfaction score. Worked during peak times with customer turnover of 350/hour and confidently maintained 0% rate of order mistakes.
Work Experience
Cashier/Line Cook
General Crunchy Fry, Louisville, KY
June 2019–September 2021
Prioritized tasks appropriately during busy hours to ensure customer waiting time did not exceed 5 minutes.
Accurately counted up orders for billing, received payments, gave out change while maintaining a friendly yet professional attitude.
Ensured full 100% consistency of products and guests' experience with brand culture and excellence standards.
Performed the job to the best of my ability while standing for periods of up to 4.5 hours.
Key achievement:
Worked during peak times with customer turnover of 350/hour; maintained 0% rate of order mistakes.
Volunteer
Louisville Northeastern Public Library
July 2017–April 2018
Assisted patrons with locating, selecting, and placing holds on library materials.
Conducted scheduled library tours to guests.
Handled financial transactions according to County policy.
Education
High School Diploma
Louisville Girls High School, Louisville, KY
2011–2015
Key Skills
Customer Service
Register Operation
Cleaning
Friendly Attitude
Math Skills
Cooking
Working under Pressure
Maintaining Sanitary and Quality Standards
Other Activities
Avid rock climber, hiker, and outdoor activities fan.
Lead singer in pop/glam rock band.
Here's how you can write your own Chick-fil-A resume:
1. Format Your Chick-fil-A Resume Correctly
Chick-fil-A employees prepare and deliver food products to their clients. Depending on your position, you may be responsible for customer service, working in the kitchen, or driving. Make sure to add the right skills to your Chick-fil-A resume, while also proving customer focus and dependability.
Furthermore, it's essential that your resume is fully up to modern standards, even if you're only applying for a part-time job over the summer or some such.
Follow these resume formatting steps to make your application more appealing than the number 1 chicken sandwich (with the lemonade):
Pick a good resume format. You have a couple of options, like the functional resume, but you'll likely find the reverse-chronological format to be your best bet.
Yourresume margins should be set to 1" on every side.
Use proper spacing and save enough white space to not make reading through your resume a slog like a never-ending drive-thru queue.
Choose a professional resume font, like Arial, Garamond, or Cambria. Size 12 or 11 for normal text, and 1 to 2 points larger for the headings ofyour resume sections.
Try to fit everything on one page: that's the ideal resume length for non-managerial roles.
When you're ready, save your resume file as a PDF, unless the job ad specifies a different file format.
Read more: What Should a Great Resume Look Like? Expert Advice & Examples
2. Choose Between Writing a Chick-fil-A Resume Objective or Resume Summary
According to surveys, working in fast-food is not as bad as some people think.
The resume introduction, also known as a resume profile, helps the recruiter understand the outline of your career.
It's important you write one, as most recruiters won't spare more than a few seconds to read your resume.
Good turnaround time for Chick-fil-A orders, not so much for your success chances.
A resume summary will work best for you if you've accrued more than 2 years of experience in the food service industry. List a couple of your best achievements that make you a desirable employee.
On the other hand, if you're writing your Chick-fil-A resume with no experience, a resume objective will perform better. Interest them with the knowledge and skills you already have, and express your desire to put them to the test.
Read more: 30+ Best Job Ideas for Teens
3. Create a Perfect Work Experience Section for Your Chick-fil-A Resume
How you present your experience on a resume can determine if you get hired, or get sent home to watch the Chick-fil-A Classic.
These are the steps you should take to write the perfect Chick-fil-A job description for resumes:
List your most recent job, and add previous ones in reverse chronological order.
Add job titles, company names, and years worked.
Use 5 or 6 bullet points to describe your important achievements and results.
Don't just write, show them! Use action words and quantify your accomplishments with numbers wherever possible to secure their attention.
Read more: How to Write a Resume with No Work Experience: Guide & Examples
4. Mention Your Education (It Matters!)
Don't need a master's degree from Chick-fil-A University to work their fast-food joint, that's obvious. But despite that, you still need to show education on your resume.
Worked a similar position before? Great, mentioning your highest degree of schooling, school name and location, plus graduation year should suffice.
If it's your first paid gig, though, include highlights from your school years to demonstrate value. Think things like a GPA of 3.5 or higher, extracurricular activities, favorite classes or subjects, or student club memberships.
Pro tip: No experience whatsoever? Swap the order of your education and work sections to approach them with your best foot forward.
When making a resume in our builder, drag & drop bullet points, skills, and auto-fill the boring stuff. Spell check? Check. Start building a professional resume template here for free.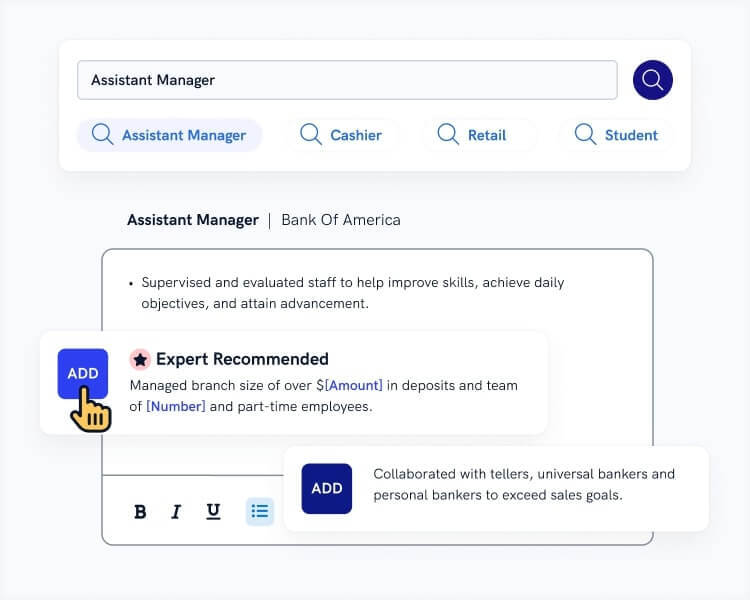 When you're done, Zety's resume builder will score your resume and tell you exactly how to make it better.
5. Choose the Right Skills for Your Chick-fil-A Resume
What skills do you need for a Chick-fil-A resume? Let's show you a great starting point:
Chick-fil-A Resume Skills
Washing and Cleaning
Cooking Skills
Friendly Attitude
Conflict Resolution
Closing & Opening the Venue
Working the Register
Math Skills
Keep in mind, though, this list will depend on what specific position you're applying for. It's your task to convince them you're well-suited for it the most, else they'll get you to clean the parking lot.
It's not difficult to do, either.
Take a look at the job posting. Scan it for the right resume keywords—these will tell you exactly the skills they value the most. Things like 'team player' or 'good communicator' that you'll usually find under the 'Requirements' section or similar.
Next, use those on your resume (if you have them, of course, no lying on a resume!)
With a resume skills section prepared like this, they'll immediately know why they should hire you.
Pro tip: Chick-fil-A makes its employee handbook available online. If you've got the time, taking a look through ahead of time can definitely come in handy to help you understand what they expect from their employees.
6. Add Extra Sections to Your Chick-fil-A Resume
There could be hundreds of other applicants. Picture the hiring manager having to make a choice:
A resume with nothing special, or one written by someone with a bit of flair and uniqueness.
Immediately, the latter is more appealing as a co-worker.
That's why you need additional sections on your Chick-fil-A resume to send those good vibes about yourself.
Here are some great potential additions:
Read more: Teenager Resume Examples: How to Write a Resume as a Teen
7. Attach a Cover Letter to Your Resume for Chick-fil-A Jobs
Do you need to write a cover letter?
Yes, you seriously do. Every other recruiter won't respect a resume without one, no matter how good.
Not sure how to write a cover letter, though? Let's get you up to speed.
Read more: Restaurant Cover Letter: How to Write + Examples
Plus, a great cover letter that matches your resume will give you an advantage over other candidates. You can write it in our cover letter builder here. Here's what it may look like: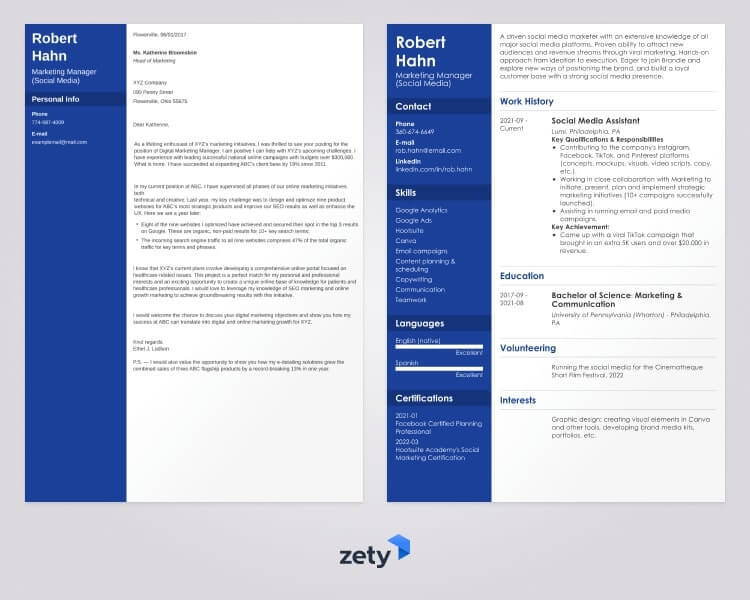 See more cover letter templates and start writing.
What do you think? Ready to jumpstart your Chick-fil-A career? If you're not sure about any aspect of your Chick-fil-A resume, though, the comments welcome you with open arms.
About Zety's Editorial Process
This article has been reviewed by our editorial team to make sure it follows Zety's editorial guidelines. We're committed to sharing our expertise and giving you trustworthy career advice tailored to your needs. High-quality content is what brings over 40 million readers to our site every year. But we don't stop there. Our team conducts original research to understand the job market better, and we pride ourselves on being quoted by top universities and prime media outlets from around the world.