TikTok Resume: Unique Tips to Apply to Your Job Application
TikTok Resume was a pilot project, but can any of its features work for a traditional resume? Let's find out how you can leverage TikTok resume tips.
POV: You found out that a TikTok resume is a thing and are now contemplating if you need to rush and create your own TikTok video resume right away.
Do you? Probably not; they wrapped up the campaign already. But can you incorporate some TikTok resume tips into your job application? Yes, if you want to make it stand out from the rest.
Let's spill the tea, shall we?
This guide will show you:
What a TikTok resume format is and how it was used.
TikTok video resume pros and cons.
How to write a resume using TikTok resume tips and ace the job hunt.
Not ready for the video format and don't think a TikTok resume is something you would try? Create a job-winning resume with our builder—you'll love how fast and intuitive it is. See 18 resume templates and create your resume here.
Sample resume made with our builder—See more resume examples here.
Looking for resume guides for similar jobs? Check these out:
Here are some of the things to take away from TikTok 60-second resumes:
What Is a TikTok Resume (And Do You Really Need It)?
A TikTok resume is a 60-second video acting as a job application for entry-level positions for major brands (Target, Chipotle, Shopify, and a couple of others). While the recruitment lasted through July 2021 only, it gave a taste of what the job hunt could look like in the future.
Would the TikTok resume format work for you?
Yes, if you're working in a creative industry and would like a more illustrative way to show off your portfolio and key achievements.
Yes, if you know how TikTok operates and how to work with video in general.
The downsides of the TikTok video resume:
The campaign is aimed at specific brands and industries only.
The format performed best for entry-level resumes (based on TikTok's core demographics).
With hashtags like #careertok and #jobsearch, TikTok has moved way beyond entertainment and funny viral challenges. To get an idea of a TikTok resume, search under #TikTokResume.
But if TikTok resumes are kind of not relevant anymore, is there any point in analyzing them? Yes, there is! Let us break down how you can apply TikTok resume tips during your job hunt.
Top TikTok Resume Tips
1. Leverage Your Resume Momentum
A TikTok resume is basically an elevator pitch. You have 60 seconds to impress, and all your relevant experience should be covered.
Your resume isn't much different. According to statistics, 40% of hiring managers allocate less than a minute per traditional resume. Low-key terrifying, but at least you know what to do:
Don't experiment too much with resume templates. According to experiments carried out by career experts on TikTok, resume templates that are too creative reduce your recruitment chances by up to 60%.
According to Zety (and TikTok) experts, the following is the perfect resume structure:
Resume header with contact information
Resume summary
Work experience
Education
Skills
Additional sections (if needed)
This corresponds to a traditional reverse chronological resume that recruiters prefer to see.
Want more in-depth insights? Read more: How to Make a Good Resume
2. Grab Attention, TikTok Resume Style
If you know how TikTok works, you know it's "seize your audience's interest or get scrolled." Engagement is key.
The same applies to your resume summary. It should work as an attention grabber, so think strategically about what skills and achievements you would like to bring out first. If you're entry-level, write a resume objective and prove you're the CEO of pretty much everything (preferably based on the job description).
TikTok Resume: Summary Example
RIGHT
An unconventional social media marketer specializing in video format (TikTok, Reels). Launched 5 viral promotional campaigns with over 200K new accounts reached and an 80–350% increase in user count. Proven track record of achieving 10–12% TikTok engagement rates. Willing to join the team @ Flaunter to ideate truly original and creative marketing concepts and bring them to life.
TikTok Resume: Objective Example
RIGHT
A passionate beginner social media marketer with a great understanding of trends and internet virality. Developed a personal TikTok account to reach 8K followers and 10–25K views per video within 1,5 years. Eager to join the team at CyberX to bring in fresh content-generation ideas and an out-of-the-box Gen Z perspective.
Are those examples precise and to the point? Yes. Do they highlight truly outstanding results? They do. Are the results backed up by numbers? They sure are! And that's the recipe for a great resume introduction.
Get more ideas here: Resume Introduction Examples
When making a resume in our builder, drag & drop bullet points, skills, and auto-fill the boring stuff. Spell check? Check. Start building a professional resume template here for free.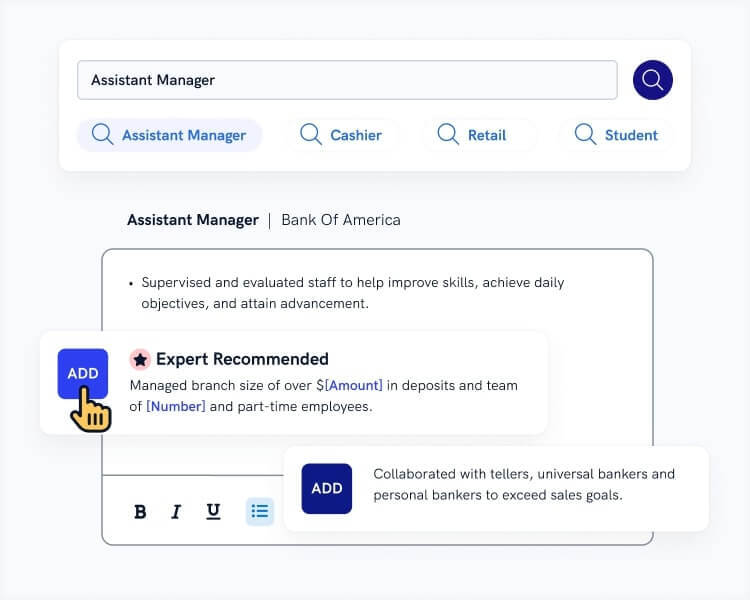 When you're done, our easy resume builder will score your resume and our resume checker will tell you exactly how to make it better.
3. Use TikTok Resume Tricks to Describe Experience
Things on TikTok circle a lot around hashtags. But they are basically keywords! And your resume can benefit from those as well.
Tailor your resume to the desired position, using the right resume keywords derived from the job ad, and give the recruiters exactly what they're looking for.
TikTok Resume: Work Experience Example
RIGHT
Social Media Marketer
ZodiacAds, Louisville, KY
November 2019–Present
Key Qualifications & Responsibilities
Initiated 17 SMM campaigns across multiple platforms (Instagram with a heavy emphasis on Reels, TikTok, Pinterest).
Built a database of over 100 influencers who collaborated on multiple projects with ZodiacAds.
Conducted market research, resulting in branding pivots for a number of clients that increased their sales by 20-30%.
Key Achievement:
Generated over $500,000 in revenue for clients through successful marketing strategies.
TikTok Resume: Work Experience Example for Entry-Level
RIGHT
Social Media Assistant (Intern)
HypeFlow, Louisville, KY
July 2019–October 2019
Key Qualifications & Responsibilities
Developed the company TikTok account, acquiring 5K users within 3 months.
Conceived a set of characters for brand TikToks, causing several videos to go viral (30K+ views).
Key Achievement:
Viral TikTok videos received a shoutout from the local news channel, increasing brand awareness and leading to a partnership with 4 local influencers.
What gives these examples extra greatness? Measurable achievements. Because in SMM, just like in many other fields, numbers speak louder than words!
Pro Tip: Your potential employers might want to verify your claims and look around online. Don't forget to clean up your online presence!
5. Mention Your Education Briefly
No need to be extra here. Just state the name of your degree and university, plus the duration of your studies, like so:
TikTok Resume: Education Example
RIGHT
Bachelor of Science in Marketing
Western Kentucky University
September 2015–May 2019
For unfinished degrees or a resume with no experience, add 1–2 bullet points citing your most prominent academic successes, like so:
TikTok Resume: Education Example for Entry-Level
RIGHT
Bachelor of Science in Marketing
Western Kentucky University
Expected graduation in May 2023
Enrolled with a TopDollar Scholarship.
Reached an average GPA of 3.5.
6. Put Strong Emphasis on Relevant Skills
Best way to show them you're #hotfire? Show you have the right professional skills.
Here's how to pick them out:
Create a list of your top soft and hard skills.
Cross-reference them against the position description.
Avoid repeating the work experience section, but make sure the skills elevate it.
Make up for lack of experience with transferable skills.
Here are some ideas of skills you could use:
TikTok Resume: Skills Examples
Hard Skills and Software Skills
Google Workspace
Graphic Design
Adobe Photoshop
Canva
CMS
Salesforce
Project Management
Performance Tracking
Reporting
SEO/SEM/SMM
Content Creation
Soft Skills and Interpersonal Skills
Read more: How to Choose Skills for Your Resume
7. Add a Personal Touch to Your Resume
Don't worry, we're almost done here.
One of the greatest benefits of a TikTok resume is the level of personalization it allows. You can show so much of who you are, which can be difficult to duplicate on paper.
Well, that's exactly what additional resume information is for!
Use them to highlight:
TikTok Resume: Additional Resume Section Example
RIGHT
Hobbies & Interests
Promoting personal Instagram and TikTok pages (5+ years) on social media marketing, with 8K and 17K followers, respectively.
Graphic design (received a Google UX Design Professional Certificate): prototyping, creating wireframes and mockups using Figma.
You can see the interests mentioned correlate with the job (thus are relevant), are quantifiable, and supported by tangible evidence.
Confident your efforts will pay off? Get ready to pass that interview with our guide: Video Interview Tips
8. Attach a Cover Letter (Yes, You Need to Do That)
A TikTok video resume would demonstrate your motivation and overall excitement about getting a job visually, but with a regular job application, you'll have to convey it with words. This is what a cover letter is all about. And according to studies, over 80% of recruiters believe that a great cover letter improves your chances of winning that dream job. So here's how you write it:
Aim at 1 page, 2–3 paragraphs.
Show your eagerness to join the company. Do some research to mention some of its specific values or characteristics you most relate to.
Explain why you're the best candidate for the position.
For more instructions, read this article: How to Write a Cover Letter
Plus, a great cover letter that matches your resume will give you an advantage over other candidates. You can write it in our cover letter builder here. Here's what it may look like: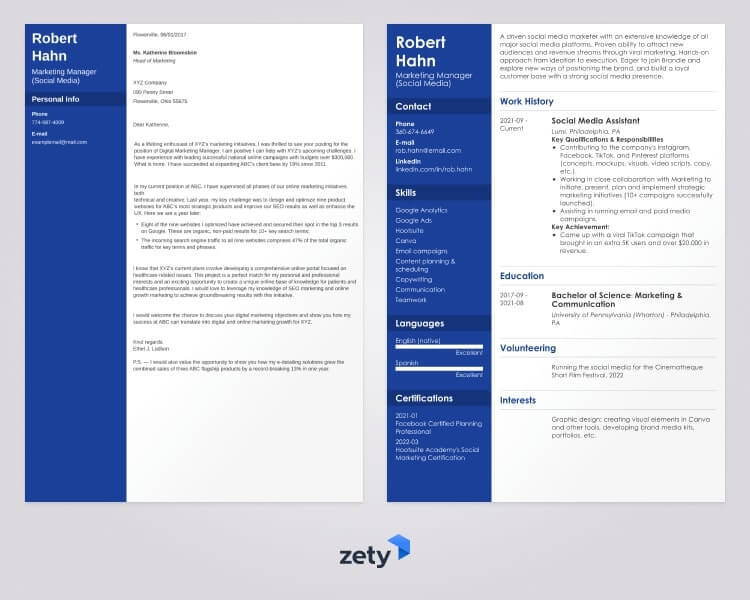 See more cover letter templates and start writing.
Key Takeaway
Let's go over it once again.
Here's a breakdown of TikTok resume tips that will work for any type of resume:
Make sure the layout of your resume is coherent and well-organized.
Keep it brief and to the point, like you only have seconds to impress (which is true).
Focus on experience, achievements, and skills that are relevant to the position you're applying for (study the job ad like there's no tomorrow).
Show a bit of your personality with your resume and the matching cover letter.
You're ready to slay.
Would you like us to add anything about the TikTok resume? Do you have any questions? Comment below, and let's chat! Thanks for reading!
About Zety's Editorial Process
This article has been reviewed by our editorial team to make sure it follows Zety's editorial guidelines. We're committed to sharing our expertise and giving you trustworthy career advice tailored to your needs. High-quality content is what brings over 40 million readers to our site every year. But we don't stop there. Our team conducts original research to understand the job market better, and we pride ourselves on being quoted by top universities and prime media outlets from around the world.