Our customers have been hired by:
The responsibility you carry is immense. If your school bus driver resume doesn't hold much water, you'll be seen as the driver most likely to send 50+ kids careening off the side of a hill. How do you prevent that?
A good-looking resume template is a start. Then, you kick things into high gear by checking the right boxes in the right places on your school bus driver resume.
Fasten your seatbelt and scoot over to the passenger seat. We'll get you where you need to go.
This guide will show you:

A school bus driver resume example better than 9 out of 10 other resumes.
How to write a school bus driver resume that will land you more interviews.
Tips and examples of how to put skills and achievements on a school bus driver resume.
How to describe your experience on a resume for a school bus driver to get hired at any school you pick.
Want to save time and have your resume ready in 5 minutes? Try our resume builder. It's fast and easy to use. Plus, you'll get ready-made content to add with one click. See 20+ resume templates and create your resume here.
Sample resume made with our builder—See more resume examples here.
Targeting other driving jobs? Check the resume samples below:
School Bus Driver Resume Example
Bryan Cog
School Bus Driver
bryan.cog@zetymail.com
692-771-4963
Linkedin.com/in/1bryan.cog
Summary
Reliable and proven bus driver of 6 years with no accidents on record. Maintained healthy, friendly and respectful relations with students at Caramel High. Seeking to bring experience and 100% punctuality to contribute to Astron High School's esteemed reputation.
Work Experience
School Bus Driver
Caramel High, Alexandria, MN
February 2013–April 2019
Maintained healthy and respectful relations with roughly 75 students on standard route.
Received commendation from vice-principal for excellent driving record and delivering children on-time.
Maintained a 100% punctuality record, raising the average among Caramel High bus drivers & inspiring others to be more punctual.
Performed daily checks, necessary repairs and cleaning of operated bus.
Chauffeur
Private Contractor, Alexandria, MN
March 2011–January 2013
Transported my client and their family to their destination using the best route possible, adjusting for traffic and weather conditions.
Provided a safe environment for passengers.
Adhered to all DOT rules and regulations.
Education
High School Diploma
Pine Hill High School, Alexandria, MN
2000–2004
Skills
Driving Skills
Punctuality
Road & Passenger Safety
First Aid
Communication
Friendly Attitude
Licenses
CDL License
Master School Bus Technician, ASE, 2015
First Aid, CPR and AED Licensed Instructor, American Red Cross, 2014
This is how to write a school bus driver resume to get hired:
1. Format Your School Bus Driver Resume Correctly
School bus drivers drive kids to and from school, adhering to safety measures on the roads, being on time, and maintaining a friendly attitude. Your school bus driver resume needs to show you're confident but not cocky on the road, can pay attention to detail, and are a well-organized individual.
Add to that a moderately growing demand for school bus drivers, and you've got a pretty tough task ahead of you. But don't worry, we'll go through it stop-by-stop… I mean, step-by-step.
The first stop on your route is getting your resume in proper shape:
Read more: What Should a Resume Look Like?
2. Work on Your School Bus Driver Resume Profile
Picking a resume profile requires some thought. After all, it's one of the most decisive factors when it comes to your success. How? Recruiters will, on average, spend just 7 seconds looking through your application.
As the saying goes, if it doesn't catch their eye, you can kiss your job goodbye.
To prevent that, write a resume summary if you've been a school bus driver for more than 2 years already. Highlight achievements such as an accident-free record or commendations from the principal, and drive home the point that you're a seasoned veteran behind the wheel.
If it's your first time applying for a job like this, the choice to go with in that case is a resume objective. Mention the skills you acquired in other jobs, and other advantages that work in your favor, such as punctuality or friendly attitude.
Pro Tip: Writing a resume introduction often causes a mental traffic jam. You may want to take a detour and proceed with writing the other sections first, then coming back here.
3. Invest in a Proper School Bus Driver Work Experience Section
Writing your resume's work experience section is easy.
Writing a great work experience section is a bit of a trickier road to navigate.
Here's how to do it the right way:
Following reverse chronology, include your most recent job first, and count back from there.
State your past job titles, company names & dates worked there. For each entry, in up to 5 or 6 bullet points, describe your tasks and major achievements.
Avoid listing irrelevant experience. That's like running a stop sign by a school zone.
Your descriptions should contain powerful, engaging verbs like "performed", "increased", or "limited", and include numbers to give extra context.
Each time you decide to send an application, tailor your resume to the job ad and the school at hand. Never send generic resumes!
Pro Tip: Your resume bullet points should also ideally refer to the skills you're about to include in a separate section (we're getting to that).
4. Mention Your Education on Your Resume
Driving a school bus doesn't require a doctorate from the School Bus Driver's college, sure.
But you still have to mention something. Skipping it altogether is a no-go.
If you're really experienced, you can limit yourself to just the school name, graduation year of attendance, and your highest completed degree.
With less than that, you're sure to benefit from elaborating on your resume education section. That is, including major high school/university wins, such as student association memberships, competitions you'd won, or other, similar things. Mention your GPA on your resume only if it was 3.5 or higher.
Read more: How to Put Your Degree on a Resume
When making a resume in our builder, drag & drop bullet points, skills, and auto-fill the boring stuff. Spell check? Check. Start building a professional resume template here for free.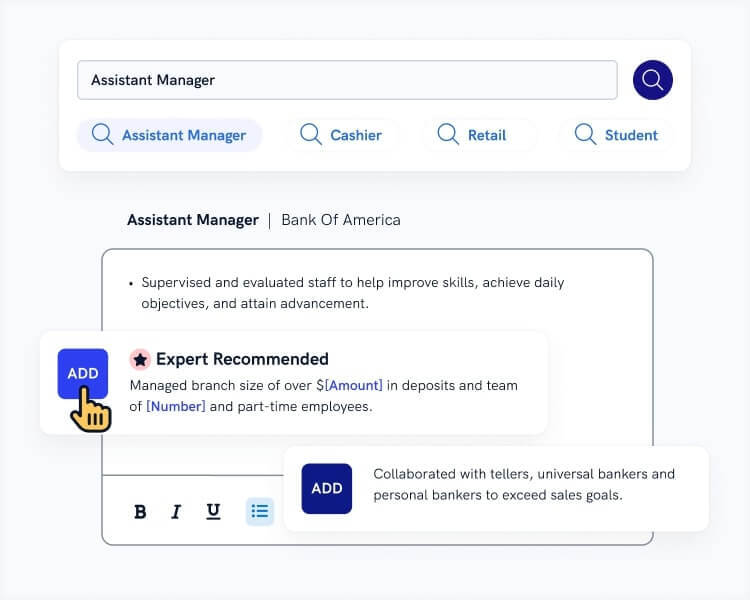 When you're done, our easy resume builder will score your resume and our resume checker will tell you exactly how to make it better.
5. Demonstrate Valuable School Bus Driver Skills
Getting the most out of your skills section involves both tailoring it to the school's particular needs and cleverly weaving them into your job description, as referenced before.
Knowing what skills actually to put in there should never be a guessing game, though. Here's how to go about it:
Here's a referential list of school bus driver skills that doesn't skip a beat:
School Bus Driver Resume Skills
Safe Driving
Adjusting Route to Current Traffic & Weather
First Aid
Vehicle Safety & Maintenance
Repairs
Disciplining Children
Hand-Eye Coordination
Bus Conduct
Record Maintenance
Knowledge of Traffic Laws
Accident-Free Record
Punctuality
Politeness & Friendly Attitude
Reliability
Read more: Top Traits that Employers Look for When Hiring New Employees
6. Mix It Up With Extra Resume Sections
Your resume should show plenty of character and passion. That's a good way to elevate your standing in the eyes of the school recruiting staff.
They don't want a grumpy old bore taking kids to school!
Things that you can include on your resume for that purpose include ideas such as hobbies and interests, special achievements or projects, volunteer work, awards received, or language skills.
In particular, remember that you have to have been granted a Commercial Driver's License (CDL), which, among many tests and evaluations, will be required of you.
Pro Tip: A great section to separate from all others involves certifications for the operation of other types of vehicles. Even if their main purpose has little or nothing to do with passenger transport!
7. Include a Cover Letter with Your School Bus Driver Resume
Everyone, school bus drivers included, needs a cover letter to increase chances of success.
However, a scruffy cover letter written on your lap at the back of the bus like 11th grade English lit homework will only get you an F.
This is how to write a proper cover letter:
That's it, really. And if you're curious about the best cover letter length to go with, it's suggested to stick to one page and no more than 4 paragraphs.
Plus, a great cover letter that matches your resume will give you an advantage over other candidates. You can write it in our cover letter builder here. Here's what it may look like: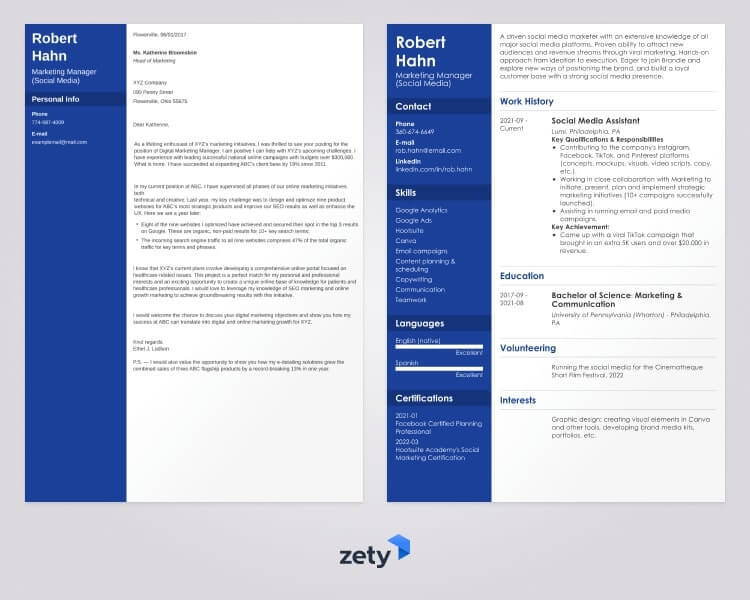 See more cover letter templates and start writing.
And we've arrived!
Nobody's going to skim over a school bus driver resume that good!
Thanks for reading. Still not sure about something to do with writing your school bus driver resume? Need some advice on the finishing touches on your school bus driver job description? Let us know in the comments section below, we're ready to chat!
About Zety's Editorial Process
This article has been reviewed by our editorial team to make sure it follows Zety's editorial guidelines. We're committed to sharing our expertise and giving you trustworthy career advice tailored to your needs. High-quality content is what brings over 40 million readers to our site every year. But we don't stop there. Our team conducts original research to understand the job market better, and we pride ourselves on being quoted by top universities and prime media outlets from around the world.
Sources