Team Leader Resume: Examples, Job Description & Skills
A leader turns a team's worth into more than the sum of the individual parts. And that's exactly what you need to do with your team leader resume.
A team leader is more than a project manager or supervisor. You guide, inspire, provide expertise, and a sage word of advice. And you don't just become the team lead overnight. It takes hard work on the lower rungs to prove you've got a leader's chops.
What if you can't prove that well enough on your team leader resume?
Don't worry—
This guide will show you:

A team leader resume example that's better than 9 out of 10 other resumes.
How to write a team leader resume that will land you more job interviews.
Tips and examples of how to put skills, education, and achievements on a team leader resume.
How to compose a team leader job description for resumes that shows off your true potential.
Want to save time and have your resume ready in 5 minutes? Try our resume builder. It's fast and easy to use. Plus, you'll get ready-made content to add with one click. See 20+ resume templates and create your resume here.
Sample resume made with our builder—See more resume examples here.
Take a look at our articles for similar positions here:
Team Leader Resume Example
Alice Cannon
Team Leader
208-290-4704
aliciacannon@zetymail.com
linkedin.com/in/9alice.cannon
Summary
Reliable team leader with 7+ years of experience coordinating a team of 12 professionals constituting an escalation taskforce. Utilized effective leadership to motivate and coach team members, avoiding potential litigation of up to $40 million in total. Implemented a CX-oriented policy, resulting in 42% increase in customer retention rates over a period of 2 years. Seeking to apply my leadership and organizational skills towards driving efficiency and facilitating productive teamwork at BTD Solutions.
Work Experience
Team Leader
Henry Schein Insurance, Brockton, MA
October 2018–present
Provided overall direction, set goals for the escalation department, and established norms and standards of practice.
Responded to crisis and emergency situations with patience and proper communication, resulting in a successful de-escalation in 83% of cases.
Coached, onboarded, and gave special negotiation training to internal and external staff, training a total of 350 Henry Schein employees.
Provided feedback based on established KPI metrics to help realize overall business goals.
Key Achievement: Received personal commendation from board of directors for direct contribution to the company's revenue increase of 23% over 2 years.
Customer Service Coordinator
MITC, Frederick, MD
June 2015–July 2018
Assured completion of monthly financial transactions by running detailed scheduled reports.
Resolved escalated customer service and billing issues.
Managed meetings and communications for customer service team members, establishing critical improvement areas and defining goals and strategies.
Education
Bachelor's Degree in Administration
University of Maryland, College Park, MD
2008–2012
Key Skills
Negotiation
De-escalation
Customer Service
Goal-oriented Leadership
Collaboration & Teamwork
Excellent Organization
Conflict Resolution
Coaching
Feedback Sessions
Team Building
Certifications
Certified Team Leader, GAQM, 2020
Microsoft Office Specialist (Word + Excel), Microsoft, 2018
Achievements
Excellent Performer Award from Henry Schein Insurance for remarkable contribution to company prosperity, 2019
Negotiation Mastery, Cornell Certificate Program, 2019
Let's show you how to write a team leader resume:
1. Format Your Team Leader Resume Correctly
Team leaders coordinate the tasks done by a group of people. Their specialization will depend on the industry, of course, but on the whole, a team leader resume needs to prove good teamwork and management skills, plus sufficient knowledge in the right field.
Regardless of industry, however, one thing remains the same:
A poor resume isn't worth the trouble.
If you fail to observe that, you will experience getting snubbed by recruiter after recruiter first-hand.
Don't let that happen to you, and format your resume the right way:
And hey—
As a team leader, you may need to coordinate and delegate than take care of all the minutiae yourself. Consider using a modern resume template that's already formatted and ready to fill in.
Pro Tip: One of your most important skills should be time management. Show them you're adept at it by sending in an efficient job application—keep your resume length down to one page.
2. Write a Team Leader Resume Summary or Objective
If you want something done right, better do it yourself.
I'm sure there are times when you wish you could just copy yourself and run a team of you's.
Sadly, no can do. And even though you really want the recruiter to read your resume from top to bottom for themselves, there's no guarantee they actually will. In fact, our HR stats show they're far more likely to skim it, sparing it just a few seconds of their time.
On the contrary, actually—our HR stats show that they might only spend a few seconds on it, at best.
The trick?
Making them read it all with a great resume profile—a 3–4 sentence paragraph at the top that shows how much of an all-star you are.
Resume objectives work best for newcomers with no more than 2 years of experience leading others. Emphasizetransferable skills and exceptional performance in other jobs while stressing how that could translate to team leading.
Team leads with experience will instead prefer a resume summary. Paint as full a picture of your professional skill set as you can, but focus on showing team leader achievements and use numbers to convey the true meaning more effectively.
Pro Tip: Save yourself the trouble of stressing over this section if you're drawing blanks. Your resources are best diverted to the other sections first, and you can always come back and finish later on.
3. Write an Outstanding Team Leader Job Description for Resumes
You could be leading teams to success with expert problem-solving and leadership.
Slashing budgets, always on time, a shining beacon of true productivity.
But—
Present all of that work experience inadequately, and you'll look like a green-faced noob.
Here's how to write the perfect team leader job description:
State your job title as you list your past jobs.
In reverse chronological order, list where you worked and for how long.
For each one, try to include up to 6 bullet points of relevant experience. Keep it interesting, though: focus on professional achievements rather than listing every responsibility you had. Show your performance, not a list of duties.
Utilize action words to their maximum potential and synergize them with numbers that quantify your achievements.
Use the PAR (Problem-Action-Result) formula to show you can identify, solve, and future-proof problems in one fell swoop.
Pro Tip: Look, if there's one thing you need to take away from this, it's that tailoring the resumeevery time is your number one priority. Recruiters read hundreds of resumes, and if you look and sound generic, your application will only lead the way to the trash can.
4. Make the Most of Your Education on a Team Leader Resume
When applying for team leading roles, it's true that your work experience will matter a lot more than your education. But don't mistake that for an excuse not to have an education section on your resume.
Even if you're applying for jobs that don't require a specific degree, it's best practice to always show your education.
Are you a fresh team leader, with less than a few years of professional experience? Elaborate on your education by adding items such as extracurricular activities, your majors and minors, or relevant coursework. The idea is to show your relevant skills, like leadership and communication.
However, with over 5 years of experience, simply listing your school's name, location, and your year of graduation will be plenty.
Read more: How to List a Degree on a Resume
When making a resume in our builder, drag & drop bullet points, skills, and auto-fill the boring stuff. Spell check? Check. Start building a professional resume template here for free.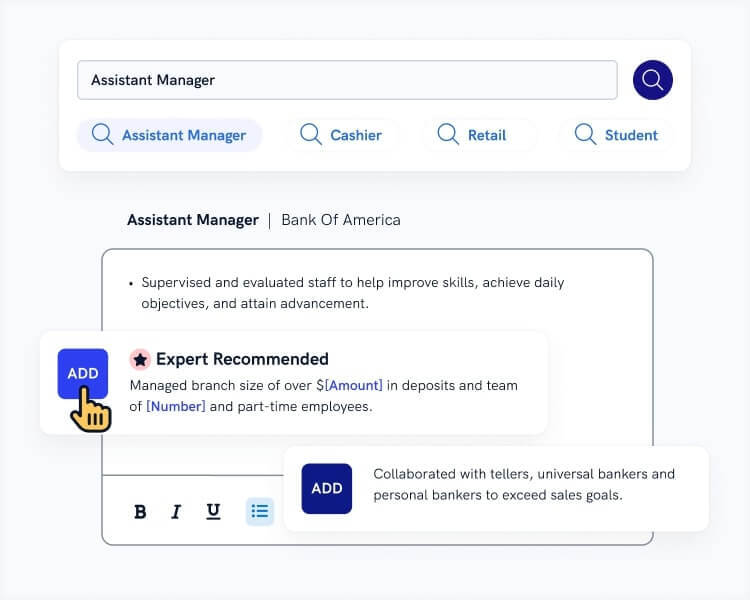 When you're done, Zety's resume builder will score your resume and tell you exactly how to make it better.
5. Present Your Team Leader Skills Adequately
Want to find out what are the best skills for a team leader?
Look no further.
Team Leader Skills—Resume
Approachability
Feedback
Inspiring Others
Fostering Growth
Delegating Tasks
Innovation
Product Knowledge
Industry Expertise
Consistency
Emotional Intelligence
Conflict Resolution
Synergizing Team Members
Establishing Rules
Defining Goals
Coaching & Guidance
Performance Review
Only problem with that is, nobody will believe you if you claim to be a jack of all trades like that.
Take the smarter approach instead, and search out the specific resume keywords the company lists in the job ad. Compare them with all of your own skills, and make sure to only use up to 10 of those that actually match their requirements.
Read more: What Skills to Put on Your Resume
6. Add a Miscellaneous Section on Your Team Leader Resume
A team leader has to inspire, but can you?
If all you do is clock in, work, eat lunch, then clock out, the hiring manager won't be convinced you can lead much of anything (or anybody).
Through the use of extra resume sections, you can avoid making that kind of an impression.
Here are some ideas on what else to include on a team leader resume:
Pro Tip: This section will be highly context-dependent. Applying for a job in an ITSec company? Brag about hackathons, or list the programming languages you know. Want to run logistics? Previous experience as a long-haul trucker will definitely impress.
7. Wrap up by Including a Team Leader Cover Letter
What is a cover letter even for?
Well, it serves as a signal to the recruiter that you care, and shows more of your competencies. So even when you don't have to include it, it's a good idea to send one in anyway.
This is how to write a cover letter for a team leader:
Use a cover letter template that doesn't resemble something from the Stone Age. Ideally, match it with the style of your resume. Identical headers on both documents will make you look professional and organized.
Poke around and find the name of the recruiter responsible for filling the position you're applying for, and then address the cover letter directly to that person. It makes a far better impression than the outdated "Dear Sir or Madam".
Write a cover letter intro paragraph, Lead with an exciting fact about yourself to keep them reading with interest.
In the next paragraph, highlight more of the best parts skills portfolio.
Finish with a cover letter ending that offers something to the company.
Read more: Manager Cover Letter: Writing Instructions + Examples
Plus, a great cover letter that matches your resume will give you an advantage over other candidates. You can write it in our cover letter builder here. Here's what it may look like: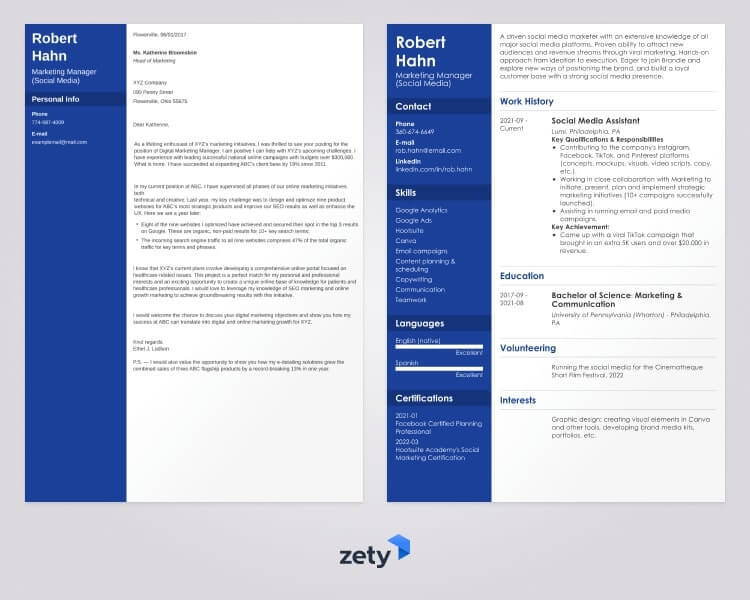 See more cover letter templates and start writing.
That's it!
You just saw how to write a phenomenal team leader resume.
Is any aspect of writing a team leader still lost on you? We'll be glad to help, so please let us know in the comments!
About Zety's Editorial Process
This article has been reviewed by our editorial team to make sure it follows Zety's editorial guidelines. We're committed to sharing our expertise and giving you trustworthy career advice tailored to your needs. High-quality content is what brings over 40 million readers to our site every year. But we don't stop there. Our team conducts original research to understand the job market better, and we pride ourselves on being quoted by top universities and prime media outlets from around the world.