Maintenance Supervisor Resume: Sample and Complete Guide
A perfectly crafted maintenance supervisor resume doesn't require constant (and major) fixing. Make it work and get the job you're after with a little hand from our expert!
"The copy machine is making that weird noise again!"
"Help! The air conditioner went mad!"
"My laptop doesn't want to cooperate a fourth time this week, and it's only Wednesday!"
You're the one who saves the day because you're a natural problem-solver, able to make everything work. That's handy! But there are times when you need a helping hand. Like, when you want to switch jobs. And when trying to craft a perfect resume for a maintenance supervisor, who YOU gonna call?
Fear not. We've got you covered.
This guide will show you:
A maintenance supervisor resume example better than 9 out of 10 other resumes.
How to write a maintenance supervisor resume that will land you more interviews.
Tips and examples of how to put skills and achievements on a resume for a maintenance supervisor.
How to describe your experience on a maintenance supervisor resume to get any job you want.
Want to save time and have your resume ready in 5 minutes? Try our resume builder. It's fast and easy to use. Plus, you'll get ready-made content to add with one click. See 20+ resume templates and create your resume here.
Sample resume made with our builder—See more resume examples here.
Looking for similar jobs? Find them below:
Maintenance Supervisor Resume Template
Joe Camp
Maintenance Supervisor
joe.bill.camp@gmail.com
546-845-2336
https://linkedin.com/in/JoeCamp
Summary
Scrupulous maintenance supervisor with 8+ years of experience in successful team management in maintenance-related areas. Passionate about minimizing safety hazards and utensils' intermissions. Reduced downtime by 25% during the first year of work in The GreenField Factory. Well-acquainted in troubleshooting and repairing, and currently looking for new challenges and areas to put those to work in a fast-developing startup environment at Techro INC.
Work Experience
Maintenance Supervisor
The GreenField Factory, Lansing, MI
July 2020–Present
Created routine tasks for problem areas, which reduced failure rates by 13%.
Reported 40+ complex damages to supervisor and organized repairs.
Supported money-saving acquisitions that helped save $50,000 by producing pricing information from different sellers.
Key achievement:
Reduced downtime by 25% during the first year of work.
Maintenance Supervisor
GearFactor, Lansing, MI
March 2017–June 2020
Led a team of 10+ maintenance technicians.
Trained technicians on correct machine operation, which decreased repair time by 17%.
Completed over 100 hazard assessments with 95% accuracy.
Education
Bachelor of Science in Engineering
Michigan Technological University, Houghton, MI
September 2010–May 2013
Relevant coursework: Introduction to Energy Efficiency and Management, Technical Mathematics, Developing Mentoring Skills, Project Management, Leadership in Group Environments
Skills
Coaching
Communication
Customer Service
Diagnosing
Management
Problem-solving
Prioritizing
Scheduling
Supervision
Troubleshooting
Languages
American English—Native
Mexican Spanish—Conversational
That's one of the great maintenance supervisor resume examples. Now let's learn how to make your own!
1. Format Your Maintenance Supervisor Resume Perfectly
With a great maintenance supervisor position come great responsibilities!
Maintenance supervisors coordinate technicians' crews and ensure that all establishments are in the right conditions. They are also responsible for safety policies. Proper maintenance supervisor resumes should prove that you have the knowledge, abilities, and experience required for the job.
And what's a better way to make a first impression than with the right resume format?
Follow these rules and learn how to make an ideal resume for a maintenance supervisor:
Header (including your name, position, and contact information)
Summary Statement or Career Objective
Experience Section
Education Section
Useful skills
Extra sections (certifications you received, languages you speak, interests you have, etc.)
Looking for more guidance on creating a perfect resume? Read more: How to Make a Resume
2. Write a Maintenance Supervisor Resume Objective or Summary
You know well the importance of inspecting equipment. That's the only way to ensure that everything works tip-top. The hiring managers do it too with your resume, but they have only 6 seconds to do so. That's why it is crucial to prepare a summary or an objective.
They are both brief paragraphs at the top of your resume. And their goal is to explain why you should be the one the company will hire.
If you've got at least one year of experience, write a professional resume summary. If you have little to no experience, write an objective for a resume.
To start your resume perfectly, choose 2–3 top accomplishments and skills from your resume. Then structure your summary using the following formula:
Adjective + Job Title + Years of Experience + Achievements + Skills + What You Want to Do for the Employer
However, if you decide it is better to write a resume objective, use the formula below:
Adjective(s)/Certificate(s) + Your Job Title or Degree + seeking employment as + Position Name at + Company Name + to apply my + Your Relevant Skills + to help + What Do You Want To Help The Company Achieve
That will guarantee you a great opening for your resume!
Pro Tip: Save your maintenance supervisor's resume in PDF format, as it's accessible on most devices and software packages.
3. Describe Your Experience on Your Maintenance Supervisor Resume
According to the study, 1 in 6 candidates who applied for a job was asked for an interview. And let's face it—it's scarce. So how do you become the 1? By creating an experience section as organized as proper cable routing in a server room.
Here's how you can make a great experience section on your maintenance supervisor resume:
Put your experience in a reverse chronological format. It allows you to highlight your recent activities and achievements. Something the hiring manager wants to know most.
Structure each position like this: job title, company name, and dates. (You can go far back on your resume if it's relevant to the job you're applying for and if you're convinced it can impress the hiring manager.) Add up to 6 bullet points emphasizing your professional accomplishments.
Focus on measurable and quantified achievements. Nothing supports your experience better than precise numbers.
Use action words. They're great for backing up your qualifications.
Tailor your resume to the job you're applying to. Answering requirements in the experience section proves that you're a perfect fit.
Looking for more ideas on how to write the work experience section on your resume? Read our guide: How to Put Work Experience on a Resume
4. Make Your Education Shine on Your Maintenance Supervisor Resume
Did you know that according to the Bureau of Labor Statistics, maintenance jobs usually don't require any formal education beyond high school? The experience might seem way more important in your area than your schooling. But let's not forget that you might win over your competitors with a properly shown education.
How can you do it? Just follow some simple rules and create an amazing education section on your resume:
Have a lot of relevant experience already? List only your highest degree, college name and location, and years. Leave more space for your professional experience, and don't focus on schools too much.
If you haven't finished your college degree, mention your degree program, school name, and expected graduation date if you continue your education.
Include your high school education only if you're still learning or if it's the highest level of your finished education. Include the name of the school, its location, the year you graduated, or the year you plan to graduate.
Consider adding some extra information, such as relevant coursework.
Pro Tip: Your educational background can sometimes be more impressive than your experience. If you've completed technical school but never worked in maintenance, put your education section above your experience section.
When making a resume in our builder, drag & drop bullet points, skills, and auto-fill the boring stuff. Spell check? Check. Start building a professional resume template here for free.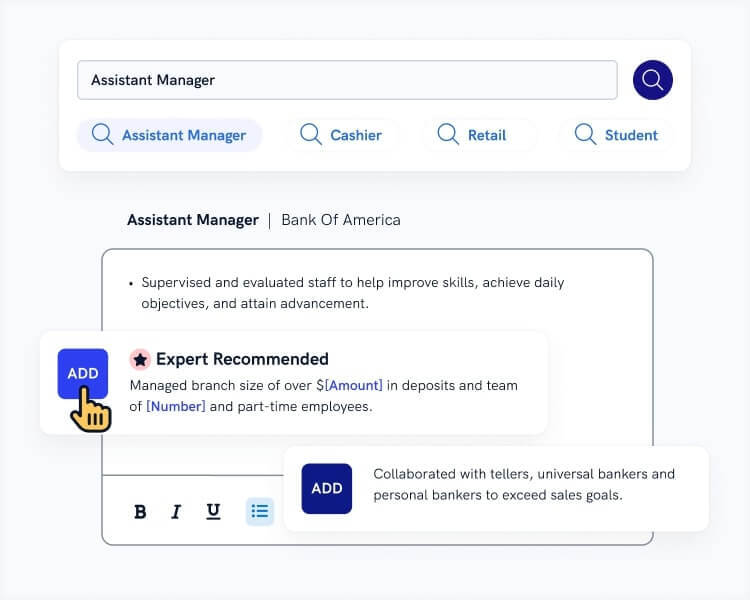 When you're done, our professional resume builder will score your resume and our resume checker will tell you exactly how to make it better.
5. Prove Your Maintenance Supervisor Skills on Your Resume
Whether you're in need of a fleet, mechanical, or apartment maintenance supervisor resume, you also need a specific set of skills that will get the job done. Otherwise, nothing will be fixed, and everything might crumble and fall!
How to list your skills on a resume?
Build a master list of all the key skills you have before you start writing down all the skills you have on your resume for a maintenance supervisor.
Think not only about your technical skills. You require some soft skills that will make supervising less stressful for everyone. Try also thinking about transferable skills that might be useful in this job.
Pick up to ten most relevant to the opening that can be mirrored in your experience and education sections. These are the ones you want to include in your maintenance supervisor resume.
Now have a look at the most desired skills for a maintenance supervisor resume:
Maintenance Supervisor Resume Skills
Coaching
Customer Service Skills
Diagnosing
Prioritizing
Scheduling
Supervision
Troubleshooting
Maintenance
Preventive Maintenance
Engineering
Equipment Maintenance
Electrical Wiring
Looking for more skills to add? Read more: List of Hard and Soft Skills for a Resume
6. Put Other Sections to Your Maintenance Supervisor Resume
Many people might think that their resume is ready at this point. But not a maintenance supervisor! You know well that if something works okay, it'll soon need some adjustments. So it's better to make it work perfectly the first time. And to do it, you should aim to deliver all the information the recruiter might need to make the right decision.
There sure is some extra info you want to mention on your resume that will help you land the job. And the best place to highlight them can be an extra section in your resume.
Here are some you might include in your document:
Pro tip: There are many things to add as an extra section to your resume. Choose what the most suitable for the company you're applying for and the most convincing to the hiring manager is.
And that's how you write a perfect resume. Definitely easier than conducting follow-ups on all maintenance and repair work, right? But we're not done yet.
7. Attach a Cover Letter to Your Resume for the Maintenance Supervisor
You might ask yourself, "Do I need a cover letter?". The answer is: yes, you do.
Who do you think has a greater chance if there are two candidates and one writes a cover letter while the other doesn't? Almost 50% of hiring managers also think it's the one with a cover letter. So let's not take that risk!
To write an excellent maintenance supervisor cover letter, simply follow these guidelines:
Pro Tip: Write the addressee's e-mail address last. Sending a half-ready cover letter by accident is never a good idea.
Plus, a great cover letter that matches your resume will give you an advantage over other candidates. You can write it in our cover letter builder here. Here's what it may look like: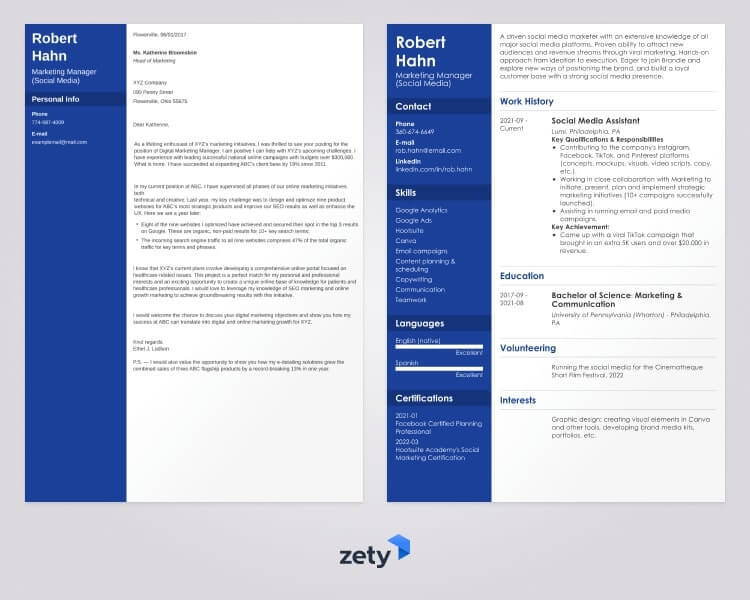 See more cover letter templates and start writing.
And that's it!
Now you know how to make a resume for a maintenance supervisor. Good luck with landing the job!
Thanks for reading! And if there's anything you'd like to discuss further, let's talk in the comment section below!
About Zety's Editorial Process
This article has been reviewed by our editorial team to make sure it follows Zety's editorial guidelines. We're committed to sharing our expertise and giving you trustworthy career advice tailored to your needs. High-quality content is what brings over 40 million readers to our site every year. But we don't stop there. Our team conducts original research to understand the job market better, and we pride ourselves on being quoted by top universities and prime media outlets from around the world.