Our customers have been hired by:
You'd think getting an OT job was easy. After all, there are more patients than ever. But the truth is… getting a good OT job is a bit more difficult. You have to have outstanding qualifications, a vast professional network, considerable experience… or at least a resume that clearly highlights your strengths.
As a medical professional, you're way too busy to spend hours looking for resume writing advice. So we've put together the only guide to writing an occupational therapy resume you'll ever need.
This guide will show you:
An occupational therapy resume example better than 9 out of 10 other resumes.
How to write an occupational therapy resume that will land you more interviews.
Tips and examples of how to put skills and achievements on an occupational therapy resume.
How to describe your experience on a resume for an occupational therapist to get any job you want.
Want to save time and have your resume ready in 5 minutes? Try our resume builder. It's fast and easy to use. Plus, you'll get ready-made content to add with one click. See 20+ resume templates and create your resume here.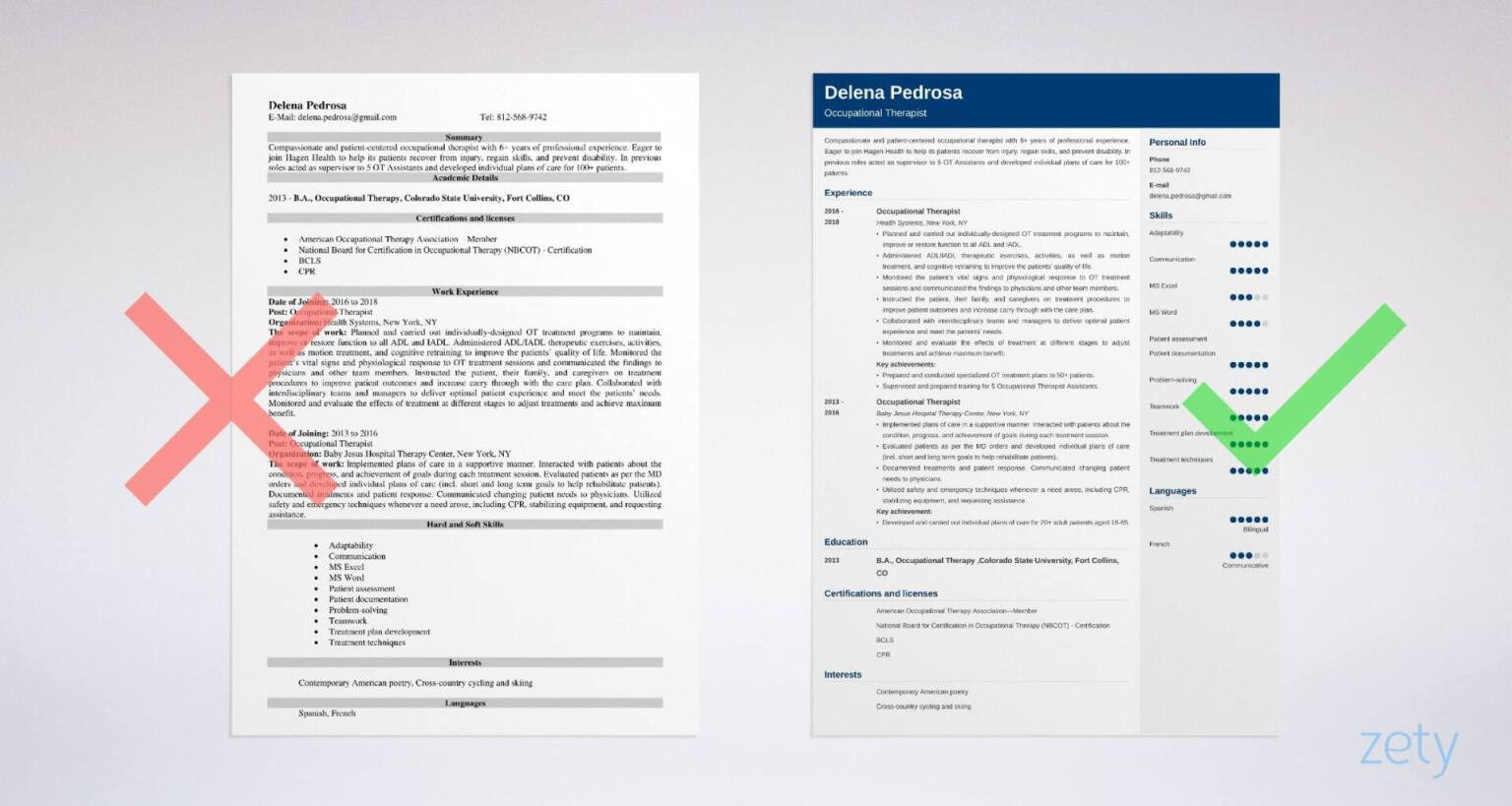 Sample resume made with our builder—See more resume examples here.
Looking for other jobs in medicine, healthcare, or wellbeing sectors? Check out our guides:
Occupational Therapist Resume Sample
Delena Pedrosa
delena.pedrosa@gmail.com
812-568-9742
Objective
Compassionate and patient-centered occupational therapist with 6+ years of professional experience. Eager to join Hagen Health to help its patients recover from injury, regain skills, and prevent disability. In previous roles acted as supervisor to 5 OT Assistants and developed individual plans of care for 100+ patients.
Work Experience
Occupational Therapist
Health Systems, New York, NY
2016–2018
Planned and carried out individually-designed OT treatment programs to maintain, improve or restore function to all ADL and IADL.
Administered ADL/IADL therapeutic exercises, activities, as well as motion treatment, and cognitive retraining to improve the patients' quality of life.
Monitored the patient's vital signs and physiological response to OT treatment sessions and communicated the findings to physicians and other team members.
Instructed the patient, their family, and caregivers on treatment procedures to improve patient outcomes and increase carry through with the care plan.
Collaborated with interdisciplinary teams and managers to deliver optimal patient experience and meet the patients' needs.
Monitored and evaluate the effects of treatment at different stages to adjust treatments and achieve maximum benefit.
Key achievements:
Prepared and conducted specialized OT treatment plans to 50+ patients.
Supervised and prepared training for 5 Occupational Therapist Assistants.
Occupational Therapist
Baby Jesus Hospital Therapy Center, New York, NY
2013–2016
Implemented plans of care in a supportive manner. Interacted with patients about the condition, progress, and achievement of goals during each treatment session.
Evaluated patients as per the MD orders and developed individual plans of care (incl. short and long term goals to help rehabilitate patients).
Documented treatments and patient response. Communicated changing patient needs to physicians.
Utilized safety and emergency techniques whenever a need arose, including CPR, stabilizing equipment, and requesting assistance.
Key achievement:
Developed and carried out individual plans of care for 20+ adult patients aged 18-65.
Education
B.A., Occupational Therapy
Colorado State University, Fort Collins, CO
2013
Key Skills
Adaptability
Communication
MS Excel
MS Word
Patient assessment
Patient documentation
Problem-solving
Teamwork
Treatment plan development
Treatment techniques
Certifications and licenses
American Occupational Therapy Association—Member
National Board for Certification in Occupational Therapy (NBCOT) - Certification
BCLS
CPR
Languages
Spanish—Bilingual
French—Communicative
Interests
Contemporary American poetry
Cross-country cycling and skiing
Here's how to write an occupational therapist resume that will put every recruiter in the right shape:
1. Choose the Best Format for Your Occupational Therapy Resume
You know that doing simple activities can amount to achieving great results.
The same is true about your OT resume—
Follow these simple steps to make it truly outstanding:
Learn how to make good resume headers. You don't need to put your full address in a resume, it's enough to include your phone number and e-mail address.
Make sure you know which parts of a resume are obligatory and which are optional.
Pick out the right resume model for your situation. 99% of the time the chronological resume format will be just right. It highlights your recent achievements and experience.
The resume fonts you use must be legible. Stay away from those fancy-looking ones.
Don't write your entire life story. Pick out the relevant experience, and treat white space as a friend.
A PDF resume is a way to go. Unless the job offer clearly states you must submit an MS Word file.
2. Write an Occupational Therapy Resume Objective or Summary
Your document should start with a professional profile for a resume.
What's this?
A resume profile is a short paragraph that brings together the best bits from your resume. Use it to introduce yourself to the recruiter in the form of a written elevator pitch.
You have two options to choose from:
A professional summary works for candidates with at least 2 years of experience. A summary underlines your experience and achievements.
A career objective statement will be great for your entry-level occupational therapy resume. It draws attention to the skills that make you a great candidate.
One more thing—
To boost your resume profile's impact, add numbers that illustrate your experience and skills.
Pro Tip: It's the section that starts your resume, but you can write it at the very end. Why? When everything is ready, it will be much easier for you to identify the stuff you want to show off.
3. Create the Perfect Occupational Therapy Job Description for a Resume

Here's the thing:
If the recruiter likes your intro, they'll go straight to your work experience resume section.
And this is where you must convince them—
You're the next Eleanor Clark Slagle.
How?
Tailor your resume to the job posting:
Put your latest position up top. Then add the previous one, and so on.
Each entry should have your job title, the name of the company, location, and dates worked.
Don't describe your experience in long paragraphs. Opt for bullet points instead. List 5 to 7 bullet points per position.
Start your bullet points with strong resume words, such as collaborated, developed, monitored, supervised, etc.
Pick out the relevant experience. Avoid listing everything you've ever done.
Pro Tip: If you're unsure you got everything right, read our resume dos and don'ts guide.
4. Make Your Occupational Therapy Resume Education Section Look Healthy
No detail is too insignificant. Both in your job and on your OT resume.
That's why your education qualifications in a resume must get the right treatment:
If you have 5+ years of experience, your degree, school name, location, and graduation year will do.
Less experienced candidates should consider adding information on relevant extracurricular activities, academic achievements, and coursework.
All your professional certifications and licenses deserve a dedicated section to make them visible.
Pro Tip: If you're preparing an occupational therapy resume as a new grad, or you graduated no later than three years ago, you may also include your GPA if you scored more than 3.5.
5. Highlight Your Occupational Therapy Resume Skills
It's no secret:
Your skills are just as important as experience.
The list below will help you identify your strengths as an occupational therapist:
Occupational Therapy Resume Examples of Skills
Clinical skills
Exercise Physiology
Exercise Science
Fiscal skills
MS Excel
MS Word
Patient assessment
Patient documentation
Treatment plan development
Treatment techniques
Here's how to pick the best skills for your occupational therapist resume:
Make a comprehensive list of all your resume skills. Think of all your soft skills, hard skills, and also make a technical skills list.
Take another look at the job listing to see what skills the employer is after.
Go back to your own list and pick out the skills listed in the job offer.
These are exactly the skills you want to give prominence to on your OT resume.
Select up to 10 of your strongest skills and put them in a key skills section.
Place your skills across your entire resume. Mention some in your resume profile, and pepper your job description with them.
Remember: focus on your top skills. Don't mention the ones you've got an elementary knowledge of. This way you'll avoid falling victim to the presenter's paradox.
Pro Tip: Make sure the skills you show off match the position. A pediatric occupational therapy resume will highlight slightly different skills than a school-based occupational therapy resume.
When making a resume in our builder, drag & drop bullet points, skills, and auto-fill the boring stuff. Spell check? Check. Start building a professional resume template here for free.
When you're done, our free resume builder will score your resume and our resume checker will tell you exactly how to make it better.
6. Add Other Sections to Your Occupational Therapy Resume
If you really want to stand out from the crowd, you must show off all the things that turn you into an invaluable asset.
Think about adding the following sections to your occupational therapist resume:
7. Attach an Occupational Therapy Resume Cover Letter
Yes, they are important to half of the recruiters.
Yet, half of the candidates fail to deliver them.
So—
A cover letter is an opportunity to please half of the recruiters, and instantly beat 50% of the applicants.
Follow these tips to write a job-winning cover letter:
See to it that you know how long your cover letter should be.
Pro Tip: Follow up on your job application to boost your chances.
Plus, a great cover letter that matches your resume will give you an advantage over other candidates. You can write it in our cover letter builder here. Here's what it may look like: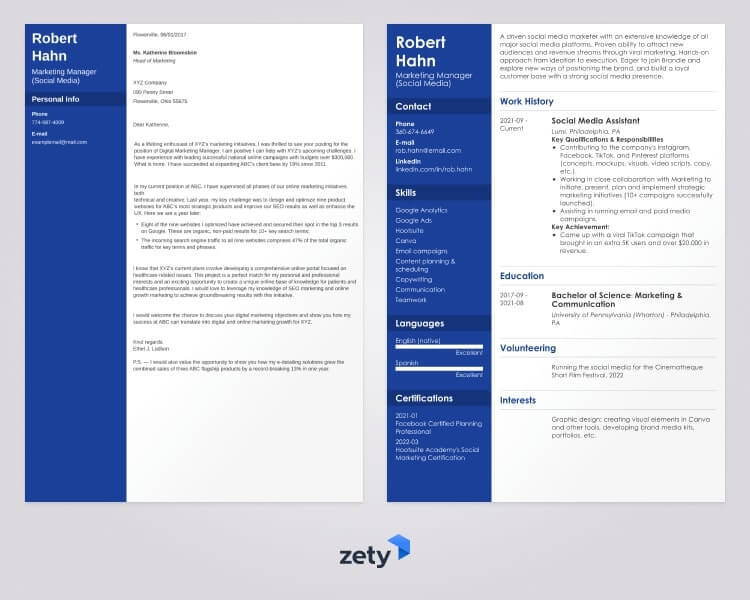 See more cover letter templates and start writing.
This is it!
This is how you make a job-winning resume for occupational therapist positions.


Are you writing an occupational therapy resume for the first time? Or perhaps you're a seasoned pro eager to help the rookies out? We'd love to hear from you, leave your comment below!
About Zety's Editorial Process
This article has been reviewed by our editorial team to make sure it follows Zety's editorial guidelines. We're committed to sharing our expertise and giving you trustworthy career advice tailored to your needs. High-quality content is what brings over 40 million readers to our site every year. But we don't stop there. Our team conducts original research to understand the job market better, and we pride ourselves on being quoted by top universities and prime media outlets from around the world.
Sources