Our customers have been hired by:
For the past decades, more and more employers have started to recognize the importance of introducing diversity, equity, and inclusion practices into their operations. Just within 2016–2021, employee growth in the sector of was registered at over 60%.
To secure a DEI job in a workplace that really cares about positive impact, you need a diversity and inclusion resume that shows your strongest sides, skills, and contributions. Let's take a look at how to write one.
This guide will show you:
A diversity and inclusion resume example better than 9 out of 10 other resumes.
How to write a diversity and inclusion resume that will land you more interviews.
How to describe your experience on a resume for a diversity and inclusion manager to get any job you want.
Tips and examples of how to put skills and achievements on a DEI resume.
Want to save time and have your resume ready in 5 minutes? Try our resume builder. It's fast and easy to use. Plus, you'll get ready-made content to add with one click. See 20+ resume templates and create your resume here.
Sample resume made with our builder—See more resume examples here.
Looking for a different article? Try these:
Diversity and Inclusion Resume Sample
Maria Badger
Diversity and Inclusion Manager
847-718-6526
maria.badger@email.com
linkedin.com/in/maria.badgerr
Summary
An authentic and insightful Diversity and Inclusion Manager with over 7 years in the field. Convinced that diversity doesn't work without inclusion and that combating hidden biases is the responsibility of every individual. Proven track record of seamlessly integrating DEI principles into company policies, programs, and activities. Eager to join the team at IMPH to advance DEI, company culture, and employee engagement through research and new initiatives.
Experience
Diversity and Inclusion Manager
WhoBrand, Chicago, IL
January 2020–Present
Key Qualifications & Responsibilities
Developing a diversity and inclusion strategy that aligns with the company vision.
Working closely with HR to ensure inclusive recruitment and selection practices and achieve diversity of candidate pools and workforce.
Creating educational materials around the topics of ESG and DEI (over 50 hours of lectures delivered).
Maintaining inclusive practices through the COVID-19 pandemic, retaining 100% of diversity, equity, and inclusion goals.
Key Achievement:
Achieved 95–99% employee satisfaction with inclusion practices consistently over the course of 2 years, according to monthly surveys.
Diversity, Equity, and Inclusion (DEI) Specialist
Utterbook, Chicago, IL
May 2015–November 2019
Key Qualifications & Responsibilities
Defined and tracked key success metrics for DEI programming and initiatives.
Collected feedback via various channels (interviews, surveys, polls) to ensure compliance.
Built solid relationships with key stakeholders to maintain open lines of communication and cultivate commitment and advocacy, and served as a primary point of contact for all DEI-related issues.
Key Achievement:
Organized over 20 corporate events to promote diversity and inclusion in the workplace, with 10/10 positive reviews.
Education
Bachelor of Science in Sociology
Southern Illinois University Edwardsville
August 2008–September 2012
Skills
Managing DEI programs and initiatives
Knowledge of EEO laws and regulations
Employee engagement
Employee training & education
Event planning
Community outreach
Organizational development
Problem-solving
Communication
Certifications
SHRM Inclusive Workplace Culture Specialty Credential, SHRM, 2019
Diversity, Equity, and Inclusion Certificate, Cornell University, 2015
Awards
DEI Leadership Award, Educause, 2022
Memberships
Member of DEI Board since 2012
Delivered a series of workshops on Best DEI Practices in the Workplace during the 2017 DEI Conference in San Francisco.
Languages
French—Native
English—Native
Follow these simple steps to write a diversity and inclusion specialist resume:
1. Unify the Format of Your Diversity and Inclusion Resume
A diversity and inclusion manager is responsible for promoting and maintaining diversity, equity, and inclusion initiatives within an organization. A good diversity and inclusion resume reflects your expertise and shows how your vision aligns with the organization's mission.
Any DEI resume starts with proper formatting:
Pro Tip: Research other resume formats if you're writing for a non-average professional scenario—for example, a career change resume or one containing employment gaps.
2. Take Time With Your Resume Objective or Resume Summary
Crafting a diversity statement for a company requires discretion and diligence. If done wrong, it can very much backfire, according to studies: a message lacking substance and sounding insincere does way more harm than good.
The same applies to your diversity and inclusion resume summary. The opening statement you create for your resume should represent what you believe in, what you've achieved, and what you'd like to bring to the table for the potential future workplace—not just be a placeholder.
To utilize this important "real estate" of your resume for diversity and inclusion jobs, do the following:
Writing an entry-level resume might require a slightly different approach. Check out this guide: 20+ Entry-Level Resume Tips
3. Target Your Diversity and Inclusion Resume Job Descriptions
Here are the job titles commonly found among diversity and inclusion jobs:
Diversity and Inclusion Manager/Diversity Manager/DEI Manager
Diversity and Inclusion Specialist
Diversity and Inclusion Coordinator
Director of Diversity and Inclusion
VP of Diversity And Inclusion
Diversity Consultant
Culture Diversity Inclusion Manager
While the responsibilities vary, the framework for crafting the job descriptions for a diversity and inclusion resume will be similar:
Pro Tip: It's a good idea to tailor your resume to each position you're applying for.
4. Don't Forget the Education Section
Many DEI jobs rely on Human Resources, Personnel Management, or Business Administration degrees. No matter the area, it's recommended to start the education section of your resume with the final (highest) level of studies, going backward (e.g., Masters, then Bachelors).
To list education on your diversity and inclusion specialist resume, go this way:
Add the name of your degree and university, location, and dates studied.
Reference majors and minors, if relevant.
Make up for lack of experience (in entry-level candidates or resumes for internships) by listing significant academic successes and projects.
When making a resume in our builder, drag & drop bullet points, skills, and auto-fill the boring stuff. Spell check? Check. Start building a professional resume template here for free.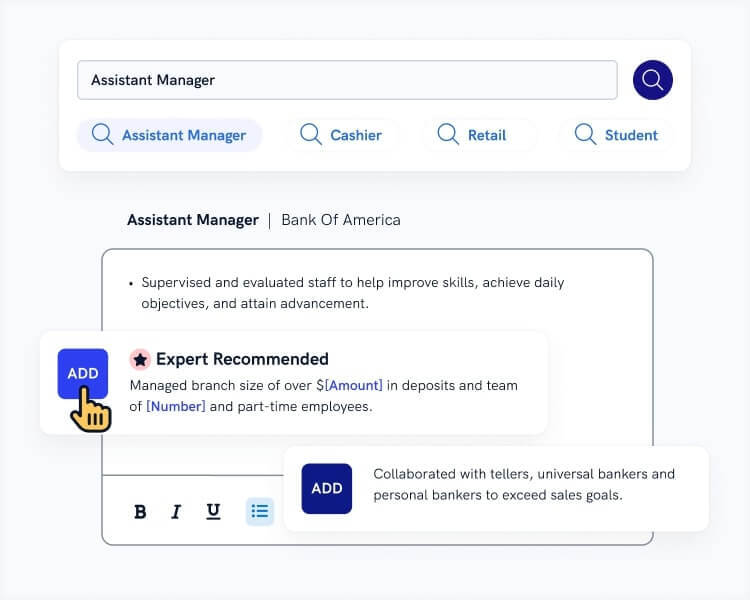 When you're done, our online resume builder will score your resume and our resume checker will tell you exactly how to make it better.
5. Pick Out the Right Soft and Hard Skills
A peculiar feature of diversity, equity, and inclusion jobs is that they heavily rely on soft skills as opposed to hard skills. Because they are more difficult to measure, they have to be supported by your work experience section and training.
All in all, the diversity and inclusion skills on a resume should include both crucial soft skills (like an ability to manage uncomfortable topics such as politics or people skills) and job-specific hard skills (software, regulations, and similar).
Diversity and Inclusion Resume Sample: Skills
Managing D&I programs and initiatives
Employee training & education
Event planning
Knowledge of EEO laws and regulations
Knowledge of global trends
Knowledge of ATS software
Community outreach
Pro Tip: Make sure all parts of your resume work in sync, but don't repeat one another. For example, your professional statement (i.e., summary or objective) has to be verified by the job descriptions but not use the same ideas and wording. The same applies to professional skills.
6. Add Other Sections Relevant to Diversity and Inclusion Jobs
There are many ways to mention diversity and inclusion on a resume, and one of them is through additional information.
Here are some ideas for the extra sections of your diversity manager resume:
Side projects that have special significance
Volunteer and pro bono work
Would you like to get some more general information about resume-writing best practices? Read our guide: How to Make a Great Resume, Step by Step
7. Write a Complementary Cover Letter
Do you even need a cover letter? You do if:
The job ad specifically asks for one.
You want to strengthen your diversity and inclusion resume by providing more insight into your experience and values.
You'd like to introduce yourself to the hiring manager on a more personal level or add some essential details that the resume has no space for.
Here are the things to consider when writing a diversity and inclusion cover letter:
Read more: How to Write a Cover Letter for a Job
Plus, a great cover letter that matches your resume will give you an advantage over other candidates. You can write it in our cover letter builder here. Here's what it may look like: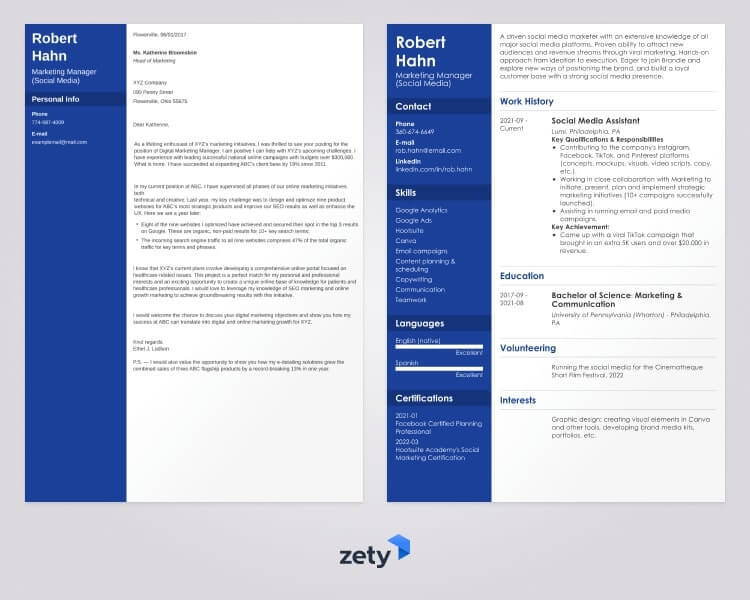 See more cover letter templates and start writing.
Done? Proofread your diversity and inclusion resume, and you're ready to send.
If you have any additional tips or thoughts about how to make a great diversity and inclusion resume, please share them with us! We'll be happy to hear from you in the comments below.
About Zety's Editorial Process
This article has been reviewed by our editorial team to make sure it follows Zety's editorial guidelines. We're committed to sharing our expertise and giving you trustworthy career advice tailored to your needs. High-quality content is what brings over 40 million readers to our site every year. But we don't stop there. Our team conducts original research to understand the job market better, and we pride ourselves on being quoted by top universities and prime media outlets from around the world.