Mortgage Underwriter Resume: Examples & Tips
Writing a mortgage underwriter resume has you feeling stuck between voided contracts and defaulted loans? Worry no more with our perfect mortgage underwriter guide!
The banking sector is still one of the least trusted in the world. Kind of for a good reason, given all the MBS's and other semi-fraudulent instruments of the past.
But we can fix that, brick by brick. Educated professionals constitute one of those.
To get into the field and start building up both your reputation and your career, your mortgage underwriter resume needs to be rock solid. Literally too good to fail!
This guide will show you:

A mortgage underwriter resume example better than 9 out of 10 other resumes.
How to write a mortgage underwriter resume that will land you more interviews.
Tips and examples of how to put skills and achievements on a mortgage underwriter resume.
How to describe your experience on a resume for a mortgage underwriter to get any job you want.
Want to save time and have your resume ready in 5 minutes? Try our resume builder. It's fast and easy to use. Plus, you'll get ready-made content to add with one click. See 20+ resume templates and create your resume here.
Sample resume made with our builder—See more resume examples here.
Take a look at these related guides as well:
Mortgage Underwriter Resume Example
Tracy Martin
Mortgage Underwriter
978-792-8427
tracy.martin@zetymail.com
linkedin.com/in/7tracy.martin
Summary
Diligent mortgage underwriter with 8+ years of industry experience, including 2 years at Navy Federal Credit Union. Received "Employee of the Quarter" award in 2019 and 2021. Approved roughly 50 loans per month while keeping error rate under 4%.
Work Experience
Mortgage Underwriter
Navy Federal Credit Union, Pensacola, FL
March 2019–present
Reviewed loans for possible internal/external fraud and maintained error rate under 4%.
Performed constant benchmarking and trend analysis to improve process efficiency by 15%.
Generated $200K in monthly revenue.
Elevated service performance and increased quality of member experience, in turn raising satisfaction quota by 0.2 points in comparison to colleagues.
Loan Processor
CitiBank, Davie, FL
April 2014–June 2017
Created document checklists for loan modification processes.
Optimized business process flow, increasing successful loan applications by 70% over a period of 1.5 years.
Processed ~25 refinance loan requests daily.
Education
High School Diploma
Lindley High School, Greensboro, North Carolina
2006–2010
GPA: 3.9
Relevant Coursework: Home Economics, Information Technology
Member of the DECA Marketing and Business student club
Key Skills
Loan risk & fraud analysis
Customer service
TMO/Diamond software
MS Office
Analytical skills
Attention to detail
Decision-making skills
Communication skills
Problem-solving
Certifications
FHA Direct Endorsement Authority Training, 2017
Additional Activities
Part-time volunteer financial analyst in local homeless aid organization
Now, check out these seven steps to a supreme mortgage underwriter resume:
1. Use the Best Mortgage Underwriter Resume Formatting Template
A mortgage underwriter's chief task is to pass judgment on a borrower's financial situation to determine whether they can be lent the money. Critically, a mortgage underwriter resume has to show risk assessment, examining documentation, and attention to detail as major skills.
First thing the hiring manager will want to appraise? Your resume structure:
How long should a resume be? One page, in the vast majority of cases. A two-page resume is only a good idea if you have 10+ years of experience and lots of relevant accomplishments to share.
Read more: Best Resume Types for Success
2. Write a Mortgage Underwriter Resume Objective or Summary
A client's suspicious credit history sets off alarms for you, doesn't it?
Well, recruiters look at overly lengthy resumes the same way. When things don't add up, applications get deleted. Nobody wants to get tangled up in a bad investment.
How do you avoid that unfortunate fate?
With a resume profile.
A resume objective or a resume summary, to be precise.
Write a resume summary if you've got a few years of experience as a mortgage underwriter. It will show the juiciest parts of your history in real estate in an easily digestible form.
Otherwise, a resume objective will serve you well if you threw your graduation cap in the air only recently, or are new to the profession in general.
If you get stuck, don't worry—just write your resume profile at the end, once you've finished the other sections. It'll be much easier.
Read more: How to Start a Resume: Strategies and Examples
3. Describe Your Experience as a Mortgage Underwriter
If you're gunning for that job at Fannie Mae or Freddie Mac interview you're dreaming of, your resume experience section needs to be more appealing than a no-risk high-return. Get it right with a stellar mortgage underwriter job description:
Read more: How Far Back Should a Resume Go
4. Make the Most out of Your Mortgage Underwriter Resume Education Section
A strong resume education section is a must if you want to start handing out those home loans and—more importantly—getting paid for it.
If you've been underwriting mortgages for a while, write the name and location of your school, graduation year, and the highest degree you obtained.
Conversely, with less than 5 years of real experience in the field, you'll want to up your credit score with the employer first. This means adding more details to your resume like extracurricular activities,relevant coursework, or diploma honors.
Doing so highlights your ability to learn and excel no matter your experience. Mortgages are complicated things with their various clauses, so the employer needs to know you've got your wits about you.
Now, let's talk about your skills.
Pro tip: Great, you've written both the experience section and the education section. Try to compare them and see which one is more impressive. Entry-level mortgage underwriters should typically list education first, as their experience may still be lacking.
When making a resume in our builder, drag & drop bullet points, skills, and auto-fill the boring stuff. Spell check? Check. Start building a professional resume template here for free.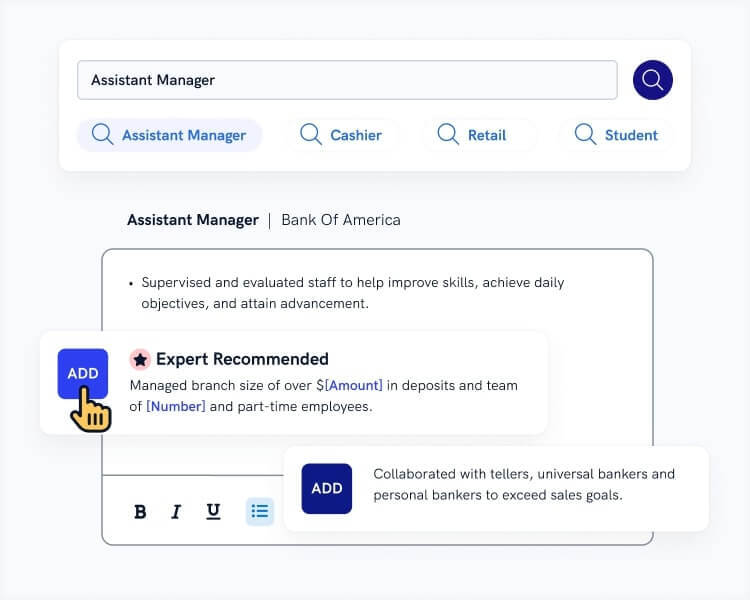 When you're done, our professional resume builder will score your resume and our resume checker will tell you exactly how to make it better.
5. Tailor the Skills Section to Their Expectations
Here's a sample list of skills for a perfect mortgage underwriter resume:
Mortgage Underwriter Resume Skills
Loan Risk Analysis
VA/FHA/USDA/RHS Loans
Reviewing & Verifying Documentation
Automated Underwriting Software (Quicken Loans, Desktop Underwriter)
Preparing Reports
FHA Laws
Data Analysis
Assessing Findings
Ensuring Regulation Compliance
Documenting Mortgage Process
Ability to Prioritize
Commitment to Ethics
Honesty
But, if it wasn't clear yet, the devil is in the details and in the fine print—as always.
If the above list of skills isn't you, don't worry. Submitting all of that would have set off fraud alarms anyway.
The better way of going about this is tailoring the skills section to the employer's needs, like so:
Prepare a table or list with all of your soft skills,hard skills and technical skills. They all count when creating a resume, and you need to show a good mix.
Let the job posting guide you. They phrased things a certain way for a reason, meaning you should be able to tell what skills they value.
If you find any matches between those and the list of skills you just prepared, put up to 10 of them onto your resume.
One other thing: the soft limit of skills is 10, yes, but if you design the descriptions of your job duties cleverly, you can sneak even more skills in there!
Read more: What Skills to Put on a Resume
6. Include Extra Sections on Your Mortgage Underwriter Resume
According to the BLS, mortgage underwriters and other money-lending professions are set to stagnate over the next decade.
That does not bode well.
If you let your resume stagnate alongside the rest of them, you're not going to have a good time, because you'll likely be out of a job.
The fix?
Additional resume sections!
They breathe some extra life into your application and they allow the recruiter to see your passion for the job in general.
Here are a few good additions to any mortgage underwriter resume:
Organizations memberships
Read more: Expert Advice on Resume Dos and Don'ts
7. Write a Cover Letter to Go with Your Mortgage Underwriter Resume
So, what's the scuttlebutt on cover letters nowadays? Are cover letters still a thing people actually write and submit?
Short answer: those that get hired do.
But a cover letter is only as good as the intent behind it. Write a poor one, and you'll be worse off than if you never sent it.
Instead, go about it the proper way:
First, know how to format a cover letter. It needs to have the same sleek, professional look as your mortgage underwriter resume.
Second, address the cover letter directly to the recruiter and hook them in the first sentence in a bold cover letter opening statement.
Third, sell yourself in your cover letter. Prove the company could use someone of your skill set, and demonstrate that value using more of your past accomplishments.
Lastly, include a call to action, name the cover letter professionally, and sign off respectfully.
And don't forget that a cover letter shouldn't be too long. One page with 3–4 paragraphs is definitely enough.
Read more: How to Write a Cover Letter: In-Depth Guide + Examples
Plus, a great cover letter that matches your resume will give you an advantage over other candidates. You can write it in our cover letter builder here. Here's what it may look like: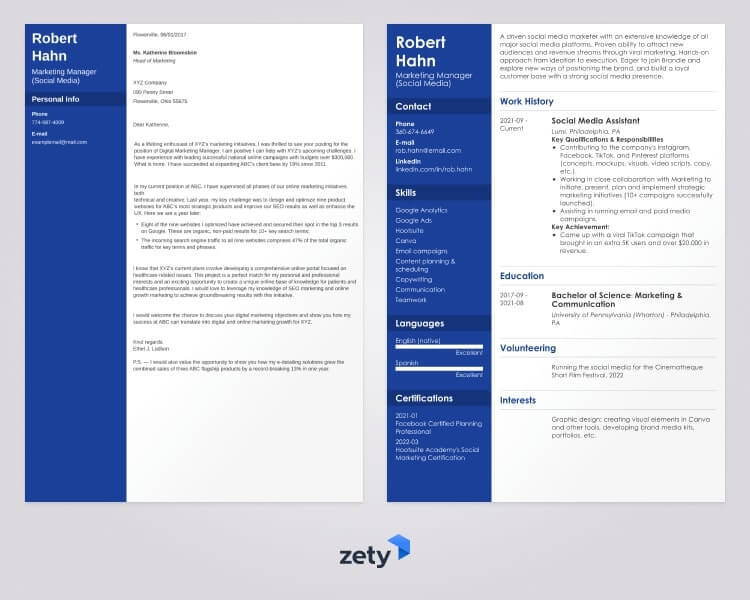 See more cover letter templates and start writing.
Do you have questions on how to write a great mortgage underwriter resume? Struggling with your work experience section? Not sure how to properly describe your skill set? Let's talk about it in the comments!
About Zety's Editorial Process
This article has been reviewed by our editorial team to make sure it follows Zety's editorial guidelines. We're committed to sharing our expertise and giving you trustworthy career advice tailored to your needs. High-quality content is what brings over 40 million readers to our site every year. But we don't stop there. Our team conducts original research to understand the job market better, and we pride ourselves on being quoted by top universities and prime media outlets from around the world.