Respiratory Therapist Resume: Sample and Writing Guide [20+ Tips]
You help people breathe so they can spend more time with loved ones. Convince the hiring manager how much you care with this impressive sample respiratory therapist resume.
Sample Respiratory Therapist Resume Template
Bobby O'Griggs, RRT
bobby.q.griggs@gmail.com
774-420-7991
Professional Summary
Caring respiratory therapist RRT with 2+ years of experience, skilled in life support equipment monitoring and management. Seeking full-time position at ARRH. At BCMC, worked as respiratory therapist on 40-bed burn ward. Commended 5x by charge nurse for coolness under pressure. Received 99% positive peer review scores from staff and doctors.
Work Experience
Respiratory Therapist
BCMC
Feb 2017–March 2019
Worked as respiratory therapist in 40-bed burn ward. Handled life support system management and monitoring. Given 99% positive peer review scores.
Chosen to mentor 3 respiratory therapists who weren't meeting standards. They elevated their KPI scores by an average of 35%.
Conducted lung capacity assessments on 5 patients per week. Commended 5x by charge nurse for efficiency.
Managed respiratory rehabilitation, following plan-of-care for 150+ patients. Received numerous written compliments from patients on my teaching style.
Volunteer Respiratory Therapist
LACH
May 2017–Jan 2017
Volunteered 2x per week as respiratory therapist in 25-bed lung cancer ward. Conducted vital sign assessments of 5+ patients per week.
Read 2+ chest X-Rays per week to assist physicians and nurses in creating plan of care.
Education
2015–2017 Massasoit Community College
Associate's Degree in Respiratory Care with RRT Certification
Excelled in equipment management coursework.
Pursued a passion for patient education study.
Certification
Licensed RRT
Skills
Soft skills:

Teamwork, active listening, compassion, verbal communication, interpersonal skills

Hard skills:

Life support equipment management, patient education, rehabilitation, following plan-of-care
Activities
Weekly cross-fit for fun and fitness
Volunteer dog walker 2x per month
Want to save time and have your resume ready in 5 minutes? Try our resume builder. It's fast and easy to use. Plus, you'll get ready-made content to add with one click. See 20+ resume templates and create your resume here.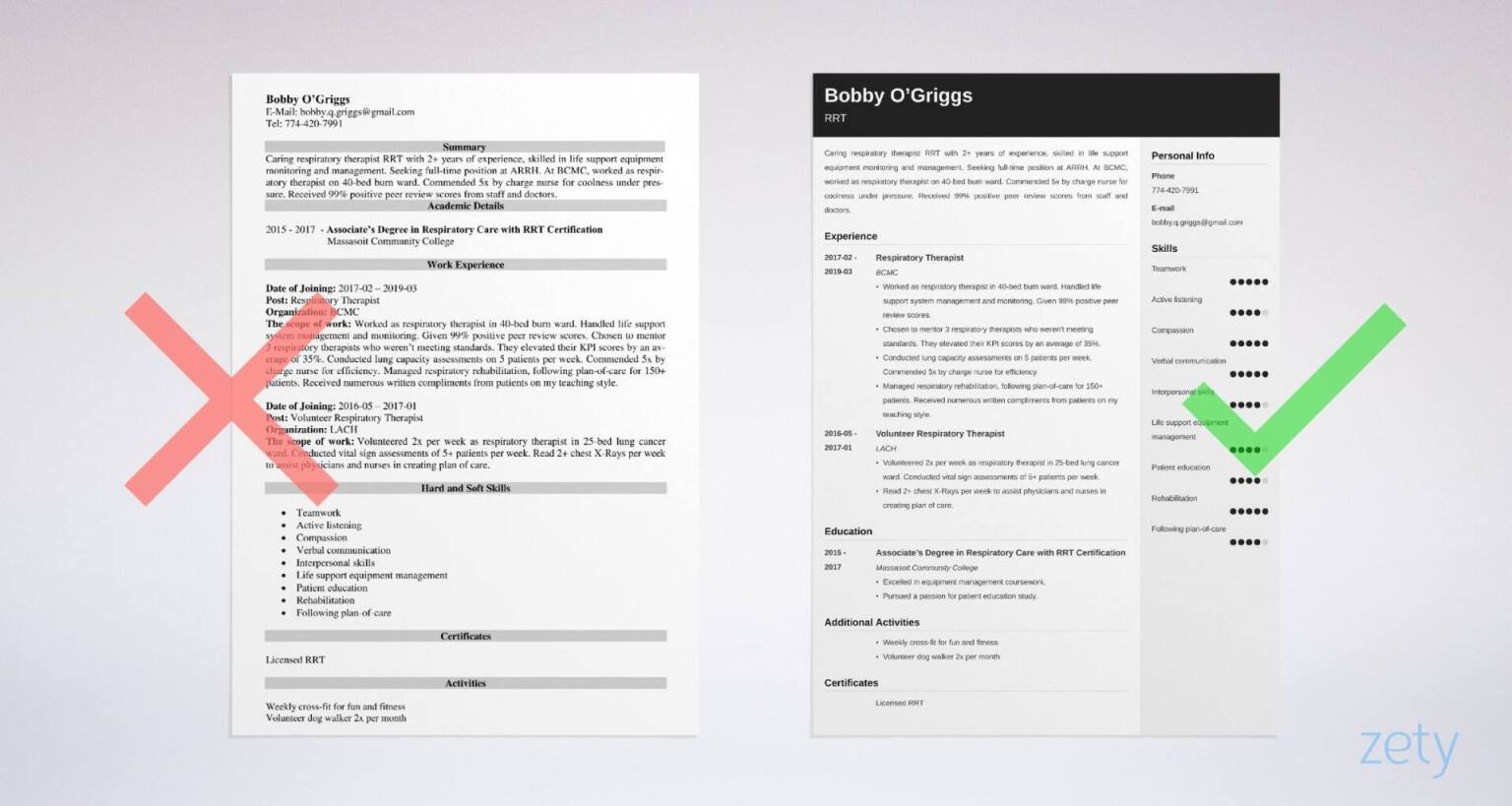 Sample Respiratory Therapist Resume—See more templates and create your resume here.
Here's how to write a respiratory therapist resume that gets jobs:
1. Use the Best Format for Your Respiratory Therapist Resume
Make a messy respiratory therapist resume and they'll think you're messy.
So—
Prove you've got the right stuff.
These steps will get you breathing easy:
Pro Tip: How many pages should you make your resume for respiratory therapist jobs? Go with one. The goal is to show your best moments that fit a single page.
2. Write a Respiratory Therapist Resume Objective or Resume Summary
Why don't you get interviews?
Probably because there's so much competition.
That's why your respiratory therapist resume needs to wow them fast.
How?
With a winning job profile jammed with your professional accomplishments.
Are you experienced? 2+ years means you can write a resume summary. It says what you've done to help your past employers most.
Writing an entry-level resume for respiratory therapist jobs? Start off with a resume objective. The idea there is to share your skills.
Pro Tip: In an entry-level respiratory resume objective, add achievements from other jobs (like waitressing or retail). Use them to show your transferable skills.
3. Make a Glowing Respiratory Therapist Job Description for Your Resume
Who's the better applicant?
Someone who was "responsible for" respiratory therapist duties?
Or an RRT who did it better than anyone?
Your respiratory therapist resume work history section has to show you've done it right.
For each job, list the work title, business name, and dates of work.
Add five bullet points—give or take. What to put in them? Your responsibilities, but also your best accomplishments.
How can you show you're better than the rest? By adding numbers to your "wins," like percents or numbers of patients.
How can you customize your resume to each job you apply to? Look in the job ad. See the skills there? Share your professional accomplishments that prove you've got them.
What about your wording? You need strong resume power verbs to keep employers from dozing off.
4. Write a High-Capacity Respiratory Therapist Resume Education Section
You know your education matters.
But you probably don't know how it can matter even more.
It's simple—
Create a thoughtful education resume section and put lots of school achievements in it.
Each one should prove a soft skill or a hard skill.
Do it like this:
Write your school name and degree.
Add projects, classes you excelled in, and courses you were passionate about.
Include teams or clubs to show your teamwork skills.
Did you walk away with a certification? Put that in a special section right under your education.
Pro Tip: Where does GPA go in respiratory therapist resumes? Nowhere unless it's really high or very recent. In that case, make it one of your bullet points.
5. Show Off Your Respiratory Therapist Skills
Use this respiratory therapist resume skills list:
Respiratory Therapist Resume Skills
Hard Skills:
Life support ventilation system management
Aerosol-based medication administration
Blood O2 analysis
Patient education
Equipment monitoring
Artificial airway management
Lung capacity assessment
Vital sign assessment
Reading chest x-rays
Respiratory rehabilitation
Following plan-of-care
Soft Skills:
Bedside manner
Conflict resolution
Teamwork
Cheerfulness
Stamina
Problem solving
But—
Don't just inject a lot of common skills for resumes and call it good. What did the respiratory therapist job ad say? Did it talk most about reading chest X-rays? You'd better list that then.
Pro Tip: Add skills from other jobs to your respiratory therapist resume. For instance, maybe they need someone with a lot of stamina. You can prove that with lots of other jobs.
When making a resume in our builder, drag & drop bullet points, skills, and auto-fill the boring stuff. Spell check? Check. Start building your resume here.
When you're done, Zety's resume builder will score your resume and tell you exactly how to make it better.
6. Add Other Sections to Your Respiratory Therapist Resume
How can you really shine?
Show your passion and skill carries over to your normal life.
Add sections for:
Activities
Commendations
Continuing education classes
Fitness
7. Attach a Cover Letter to Your Respiratory Therapist Resume
Wow.
Did you know you have to have a cover letter with a respiratory therapist resume?
It's true.
Most hiring managers appreciate a good one.
So—
Make yours one of those.
Pro Tip: After sending a respiratory therapist resume and cover letter, check in on your job application. Give it a few days before you nudge. Then after a week, do it again.
That's it!
That's how to write a resume for respiratory therapist positions.
Still asking how to write a respiratory resume? Got tips for new recruits to get them in the picture? Give us a shout in the comments. We'd love to talk!