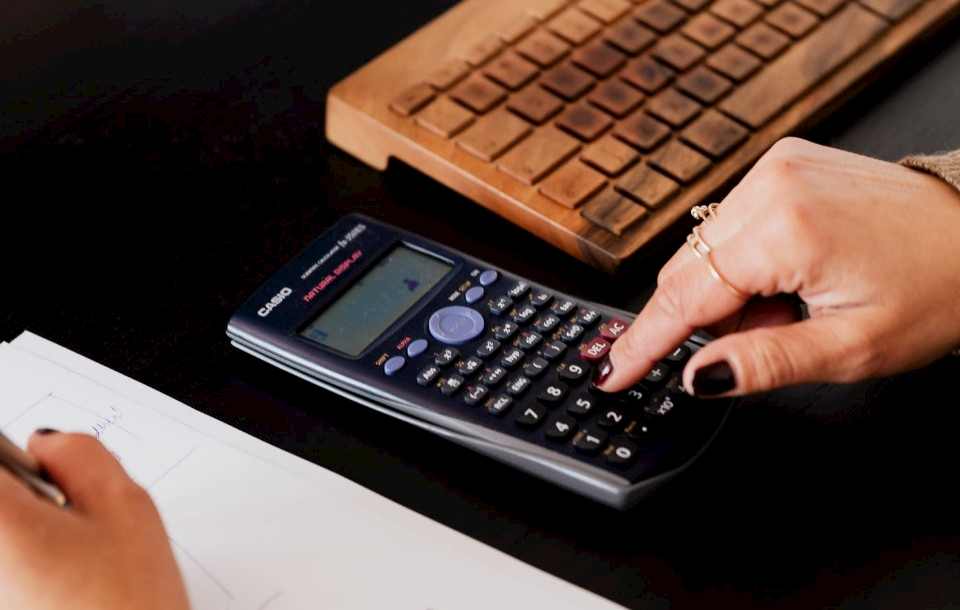 Accountant Cover Letter Examples for a Job in Accounting
A sample accounting cover letter that will make that numbers job yours! Learn how to write a cover letter for accountant jobs, and our accountant cover letter examples will present you as the impressive candidate you are.
You're about to write an accounting cover letter that's pitch-perfect. But think about this, first:
You love numbers. The opposite of black, for you, is red. You refer to your child as Deduction 214.
This accounting gig would be the job of your sheep-counting dreams!
Here's the thing, though: you're competing against dozens of able applicants. You're like one line item in an entire year's worth of expenses.
It's accrual world. How do you stand out and land the accounting interview?
You need a perfect accountant cover letter that puts dollar signs in their eyes.
But, don't freak out.
We'll not only show you how to write a cover letter account managers will love, but we'll walk you through it all the way through.
This accounting cover letter guide will show you:
Great accounting cover letter examples better than 9 out of 10 other cover letters.
How to write a cover letter for accounting that will land you more interviews.
Tips and examples of how to grab the recruiter's attention on an auditor's cover letter.
How to sell your candidacy on a cover letter for accountants to get any job you want.
Want to write your cover letter fast? Use our cover letter builder. Choose from 18 professional cover letter templates that match your CV. See actionable examples and get expert tips along the way.
Accounting Cover Letter for a CV—See more cover letter templates and create your cover letter here.
See our full selection of cover letter examples for every career: Best Cover Letter Examples.
1. What's the Best Accounting Cover Letter Structure?
Imagine that accounting cover letter example above is the one you sent to the finance department manager.
That poor soul was falling asleep at their desk until they picked yours up.
Now they're rubbing their eyes in happy surprise—
—because your accounting cover letter was just what they've been waiting for.
But, just as there's a way to itemize everything in the ledger the right way, there is a suggested layout to follow.
Here's what you should include on an accounting cover letter:
your contact info,
the addressee's details,
a greeting/salutation,
an attention-getting intro statement,
why you're ideal for the finance department,
why this accounting position is perfect for you,
closing statement,
complimentary close and your name,
a postscript.
That's our recommended CPA cover letter format. For more, see this article: What to Include on a Cover Letter
2. How to Address Your Accounting Cover Letter
As when creating a client's invoice, the heading area goes on top where you'll put your personal information and theirs.
Its design depends on the cover letter template that you choose.
Your Details
First, add your info at the very top of the cover note.
Your name, email address, phone number, and a LinkedIn profile URL are musts. Optional items are your mailing address, branding statement, or professional title.
Your details can be aligned to the left, centre, or right, but stick with the same design as your accounting CV template.
Pro Tip: Don't add the rest of your social links, profile URLs, and portfolio information with your contact details as you did on your accountant CV, unless the template you chose includes an area for them. This is true whether it's an entry-level cover letter or one with years of experience.
The Date
Would you forget the date when entering a line in the books?
Don't skip it on your CPA cover letter, either:
Yeah, it's that easy!
The Company's Details
Add the addressee just below the date.
This will be the financial company you're applying at, but try to find the specific name of the hiring manager or HR director - that'll make it way more personalized and much more compelling (and you want that!).
Add the hiring manager's name, followed by the company's name, and finally their address.
Here are some good cover letter examples of what the address area could look like: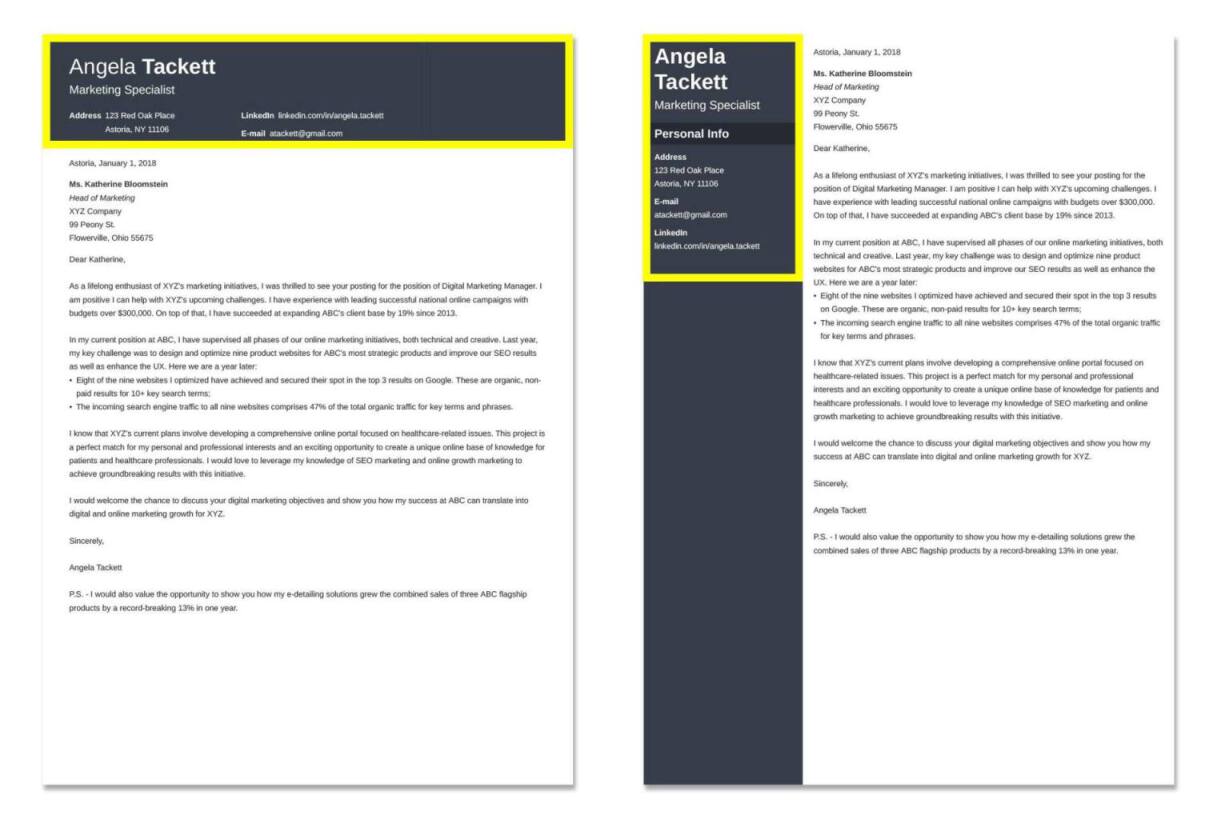 Make sure the address section on your letter of interest is as accurate as your numbers: How to Address a Cover Letter & Who to Address It To
3. Starting Off on the Right Foot
Want to score the most eye time on your cover letter?
Then start strong right out of the gate, like sorting your balance sheet in descending order.
Greeting / Salutation
As an accountant, you're going to have to bust some chops to get properly-detailed invoices.
Do the same on your accounting cover letter.
Find the hiring manager's name so it feels personalized rather than like it was mass-sent to the entire postcode.
"Dear Ms. King," works, or use their first name: "Dear Suzanne ,".
Dear is a tried-and-true salutation, but there are other great cover letter starters out there: How to Start a Cover Letter [20+ Opening Line Examples]
Introductory Statement
That opening paragraph—You've got to make it count.
Basically, it should feel like the emotional opposite of the general ledger.
Let's look at an example of a great sample cover letter for accounting opening:
As a long-time customer of Willms Group's peerless cloud offerings, I was excited to see the opening for a senior accounting manager. With my experience as an award-winning tax accountant for APC, I know I can use my skill set and knowledge to become a valuable member of the Willms Group finance department and team.
See that simple covering letter example?
This tailored opening gives them an enticing taste as to why you'd be the perfect addition to their finance team. This will definitely make them want to delve deeper.
There are other ways how to open a cover letter, as long as they are immediately irresistible. For more ideas, see: How to Write a Cover Letter: A Complete Guide
When making a CV in our builder, drag & drop bullet points, skills, and auto-fill the boring stuff. Spell check? Check. Start building your CV here.
When you're done, Zety's CV builder will score your CV and tell you exactly how to make it better.

4. You + Company = Perfect Partnership
Now we get to some fancy arithmetic - you've got to show them how you plus them equals one kick-ass working arrangement.
It's time to sell them on why you're the perfect candidate. As our HR statistics show, you need to shine out of those 250 candidates.
The odds don't seem to be in your favour, no matter how you crunch the numbers.
But don't worry.
You're Number 1, and these next two areas on your motivational letter for jobs in accounting give you plenty of room to make your case. And you can take that to the bank.
Why You're Perfect for Them
You've caught their attention with your strong intro, now don't let it go!
Keep their interest on your junior or senior accountant cover letter by showing how you're the perfect fit for their finance department.
Here's what a number-crunching applicant might say on a sample accountant cover letter:
In my current position with APC, I've had many responsibilities and achievements that would serve me well as the senior accounting manager at Willms Group. APC offers similar services available to their clients, and this would make it a much shorter learning curve than usual. On top of that, my cost reduction projects there have always been successful winners, and I'm sure that I could garner similar results at Willms Group, such as:
Enhanced accounting practices to save over 600 department hours per year.
Identified missing balance sheet entries, saving over $300,000 in two years.
See that example cover letter paragraph?
You show your skills and experience make you the ideal new hire, whether it's for finance internships or accountant jobs. And, you prove it to them with numbers to help them visualize it, because that's what you do best.
You look like the best cash flow forecast year-to-date!
Why They're Perfect for You
Think they only care about how you'll benefit them?
Think again.
Any successful relationship is a two-way street. Same goes when applying to account auditor positions.
You've told them on your CV cover page why you're the best possible future analyst, so now explain they are the perfect choice for you:
Obtaining the senior accounting manager position at Willms Group would be a dream come true. I've long been an admirer of your products, and there's no company that I'd rather work for. I know, should I be honoured with being given this position, I'd be the envy of my peers!
How about that example of a cover letter body?
That catches their interest like finding a brand new tax deduction!
We've got a bank vault's-worth of tips on these two middle paragraphs and on writing a senior or junior accountant cover letter that will let you stand out: 14 of the Best Cover Letter Tips to Know
5. A Compelling & Strong Finish
You're almost there.
You've shown them that you can be audit you can be if they would only give you a shot.
Now, finish with the best cover letter closing statement to briefly sum up:
I would welcome the chance to discuss your current finance and accounting objectives and show you how my successes at APC can translate into cost savings at Willms Group.
That's money.
You perfectly summarized your accounts receivable cover letter and then left the ball in their court.
Now that's closing the books with a surplus!
Complimentary Close
Add a closing sentiment and your name and/or signature, and then you can hit the bar to expense a beer for your accomplishment:
Not much to that sample job cover letter close, right?
That closing sentiment ("Sincerely" in this case) is called a complimentary close (or complimentary closing), and is then followed by your name.
This is the best way to end, whether it's an actuary cover letter or financial planner cover letter.
An attention-grabbing beginning is useless without a powerful close. Read this for more examples: How to End a Cover Letter [20+ Sign Off Examples]
6. A Postscript to Seal the Deal
I know I said that was all, but let me briefly sell you this.
Adding a P.S. isn't necessary, but it's a great hack when writing an investment banking cover letter or financial analyst cover letter:
P.S. I'd love the opportunity to sit down with you and go over how I can bring similar results (12% increase in cost savings) to your office, as well.
What do you think?
Accounting execs have a keen eye for spotting details. That P.S. (postscript) at the bottom of your cover letter for CVs in accounting always draws the attention of the reader, even if they skip the rest of it.
It's a clever way to writing a good cover letter and getting one last word in edgewise.
Key Takeaway
You probably came here thinking that writing a cover letter was as bad as getting an insufficient funds notice from your bank.
Hopefully you see now writing a cover letter is not as complicated as you thought.
Follow these key points for an accounting cover letter that's one hot number:
Start with a bang - Knowing how to start a covering letter determines if the accounting manager reads on.
Show you belong together - Use the application letter body area to make sure they know you're a perfect fit for each other.
Finish strong - End with a strong closing statement so they'll want to move on to your finance CV.
With these accounting CV cover letter tips, they'll see that you're the greatest accountant without a tax loophole named after yourself. You'll soon be on your way to your bookkeeping interview.
Good luck, we're accounting on you!
Have any questions on how to write an accountant or account intern cover letter? Not sure how to start your body paragraphs or end your cover letter for jobs in accounting? Get at us in the comments below, and we'll answer your question. Thanks for reading!
About Zety's Editorial Process
Our editorial team has thoroughly reviewed this article to ensure it follows Zety's editorial guidelines. Our dedication lies in sharing our expertise and providing you with actionable career advice that offers you real value. Every year, the quality of our content attracts 40 million readers to our site. But that's not all – we conduct original research to gain a detailed understanding of the labour market. We take pride in being cited by top universities and leading media outlets in the UK and worldwide.