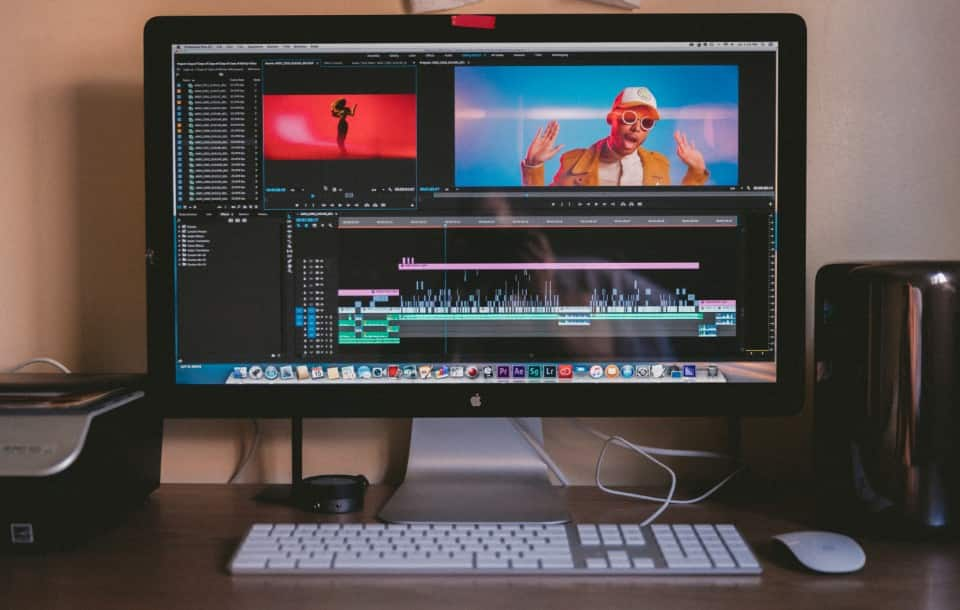 Video Editor CV Example (Template & Guide)
The way you stack those tracks is magic. How will your next employer know that? Because you'll use this top-flight video editor CV sample to prove you're a Premiere pro.
Moving images fascinated you since you were a kid. You spent days and nights watching films. Then you moved on to making your own videos. You learnt to add music and special effects. And at some point, you realized this could actually be your job.
Nowadays, you work with freelancers as well as pro filmmakers. You cut commercials, restore old VHS tapes, edit videos for YouTube, and condense hours of footage into watchable content. But you're hungry for more. You want to get better editing jobs, so you can really use your skills.
It's time to write a video editor CV that gets you to the next level of video production.
This guide will show you:
A video editor CV example better than 9 out of 10 other CVs.
How to write a video editor CV that will land you more interviews.
Tips and examples of how to put skills and achievements on a video editor CV.
How to describe your experience on a CV for a video editor to get any job you want.
Want to save time and have your CV ready in 5 minutes? Try our CV builder. It's fast and easy to use. Plus, you'll get ready-made content to add with one click. See 18 CV templates and create your CV here.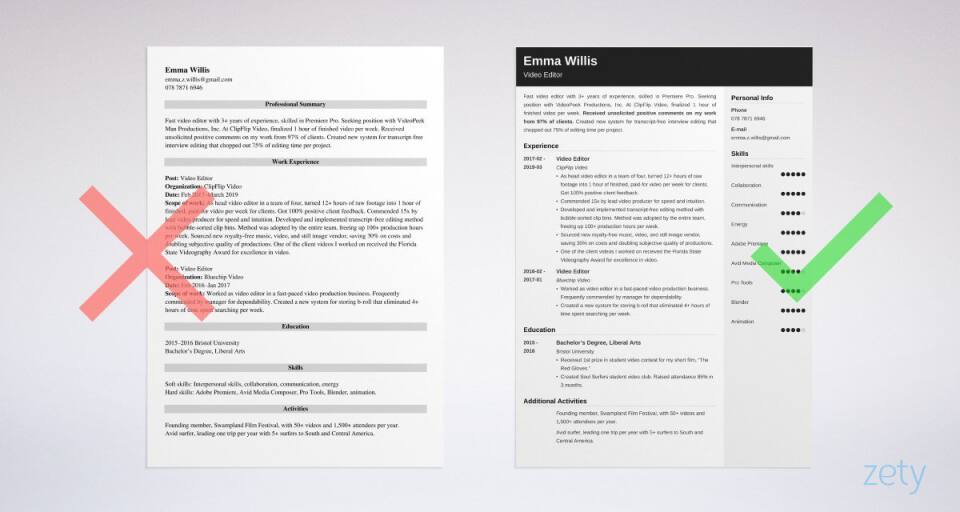 Sample Video Editor CV—See more CV examples here.
Sample Video Editor CV Template
Emma Willis
emma.z.willis@gmailz.com
078 7871 6946
Professional Summary
Fast video editor with 3+ years of experience, skilled in Premiere Pro. Seeking position with VideoPeek Man Productions, Inc. At ClipFlip Video, finalized 1 hour of finished video per week. Received unsolicited positive comments on my work from 97% of clients. Created new system for transcript-free interview editing that chopped out 75% of editing time per project.
Work Experience
Video Editor
ClipFlip Video
Feb 2017–March 2019
As head video editor in a team of four, turned 12+ hours of raw footage into 1 hour of finished, paid-for video per week for clients. Got 100% positive client feedback.
Commended 15x by lead video producer for speed and intuition.
Developed and implemented transcript-free editing method with bubble-sorted clip bins. Method was adopted by the entire team, freeing up 100+ production hours per week.
Sourced new royalty-free music, video, and still image vendor, saving 30% on costs and doubling subjective quality of productions.
One of the client videos I worked on received the Florida State Videography Award for excellence in video.
Video Editor
Bluechip Video
Feb 2016–Jan 2017
Worked as video editor in a fast-paced video production business. Frequently commended by manager for dependability.
Created a new system for storing b-roll that eliminated 4+ hours of time spent searching per week.
Education
2015–2016 Bristol University
Bachelor's Degree, Liberal Arts
Received 1st prize in student video contest for my short film, "The Red Gloves."
Created Soul Surfers student video club. Raised attendance 85% in 3 months.
Skills
Soft skills: Interpersonal skills, collaboration, communication, energy
Hard skills: Adobe Premiere, Avid Media Composer, Pro Tools, Blender, animation.
Activities
Founding member, Swampland Film Festival, with 50+ videos and 1,500+ attendees per year.
Avid surfer, leading one trip per year with 5+ surfers to South and Central America.
Here's how to write a video editor CV that gets jobs:
1. Choose the Best Format for Your Video Editor CV
A haphazard video editor CV is like FCPX: half-baked.
Show them you're more like Joss Whedon with a lean, mean CV template:
Pick the chronological layout for CVs. Hiring managers love this CV format. It shows your new and relevant features first.
Start the header of your CV with contact details. Skip your address, though.
Add lots of white space and use readable CV fonts.
Debating between a PDF CV or a Word CV? Pick PDF unless they say not to.
Pro Tip: Wondering how long a CV ought to be for video editor jobs? Make it one page unless you're one of the Coen brothers in disguise.
2. Write a Video Editor CV Objective or CV Summary
Here comes the fear:
Nobody will read your video editing CV. Unless—
You hook them hard in the first few seconds.
Do that with a clear CV profile.
Write a CV summary if you've got 2+ years of experience. It's short—just 3–4 sentences of skills and video editing achievements.
Write a CV objective if you're entry-level. Zoom in on your skills, but add powerful accomplishments from non-video editor jobs.
Pro Tip: Skip the video editor CV profile at first. Fill in your other sections, then go back. Pick all the coolest moments from your CV to build a winning profile.
3. Create the Perfect Video Editor Job Description for Your CV
This'll help:
If you show them you've already nailed the job, you're hired.
That's where tailoring your CV comes into play.
Create a video editor CV work experience section that looks just like the job ad.
Put your newest position first.
List your job's title, name of the business, and start and end dates.
Plug in 3–5 bullet points. Pack them with accomplishments that prove key skills.
Prove those achievements are del Toro-sized by adding numbers like % and $.
Begin your bullets with action language so hiring managers stay riveted.
Pro Tip: The top of your film editor CV experience section should have more bullet points. Jobs lower down should have less. That way you stay relevant and snappy.
4. Write a Compelling Video Editor CV Education Section
Do great video editing CVs need much education?
Nope.
But writing a good one can be the trick that gets you hired.
The secret sauce? Cram your CV education section with achievements that show your good side.
Add achievements that prove you had the video editing bug back in school.
If you weren't into editing back then, prove transferable skills.
Include projects, sports teams, or clubs.
Should you show your GPA? Yes, if it's new or high.
Pro Tip: An entry-level CV for video editor jobs may lack experience. That's okay. Split your education section up so it looks like lots of jobs. Show classes you did well in, projects, and groups.
5. Highlight Your Video Editor Skills
Use this video editors CV skills list for your CV:
Video Editor CV Skills
Hard Skills:
Editing
Premiere Pro
Adobe CS6
Avid Media Composer
Blender
Pro Tools
Animation
Logging clips
Trimming
Transcription
Quick & dirty edits
News editing
Music video editing
Nature video editing
Voice-overs
Backing up and organizing stock footage
Soft Skills:
Personal skills
Collaboration
Attention to detail
Energy
Efficiency
Dependability
Cheerfulness
Time management
But—
Don't just copy-paste those job skills into your video editing CV. Select the few most prized by the employer.
So:
Use the video editor job posting as your bible.
List hard skills plus soft skills.
For each skill you list, prove it with an accomplishment somewhere in your CV.
Pro Tip: Is your video editing experience still in the capture phase? Don't fret. List some transferable skills you got from non-video editor jobs.
When making a CV in our builder, drag & drop bullet points, skills, and auto-fill the boring stuff. Spell check? Check. Start building your CV here.
When you're done, Zety's CV builder will score your CV and tell you exactly how to make it better.
6. Add Other Sections to Your Video Editor CV
This will help you massively:
More professional accomplishments = a stronger video editor CV.
So—
How can you fit more accomplishments?
By adding more sections, of course.
But don't just toss in window-dressing.
Add sections with achievements:
Activities
Awards & Honours
Languages skills
Pro bono work
Publications
Professional associations
Conferences
Pro Tip: Already rocking a one-page CV? Don't need "other" sections? Don't use them. That is—unless it's the only way to show your flashiest accomplishment.
7. Attach a Cover Letter to Your Video Editor CV
Surprising, but—
You should write a cover letter.
Most hiring managers love them.
But it's got to be meaty:
Pro Tip: Make a note to follow up on your job request and video editor CV. The employer might be busy. It's your job to keep from falling through the cracks!
That's it!
That's how to write a CV for video editor positions.
Plus, a great cover letter that matches your CV will give you an advantage over other candidates. You can write it in our cover letter builder here. Here's what it may look like: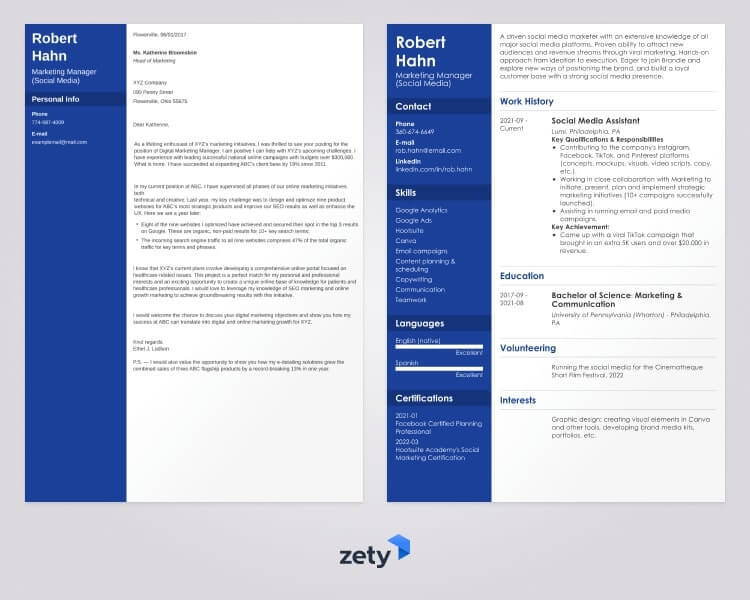 See more cover letter templates and start writing.
Still scratching your head about how to write a professional video editors CV? Or maybe you've got some tips for the Johnny-come-latelys out there? Give us a shout in the comments. We'd love to talk!
About Zety's Editorial Process
Our editorial team has thoroughly reviewed this article to ensure it follows Zety's editorial guidelines. Our dedication lies in sharing our expertise and providing you with actionable career advice that offers you real value. Every year, the quality of our content attracts 40 million readers to our site. But that's not all – we conduct original research to gain a detailed understanding of the labour market. We take pride in being cited by top universities and leading media outlets in the UK and worldwide.