Tired of everyday high school drama? Pocket money doesn't cover your needs? Can't wait to start making your own money?
If the answer to those questions is a big YES, we've got great news for you. You can get a job. Like an adult! Forget about spending free time with boring classmates and their gossip. Instead, use that time to gain serious life experience.
But there's one important step you need to take first. It's your high school resume. And you need to write it better than any school essay.
This guide will show you:
A high school resume example better than 9 out of 10 other resumes.
How to write a high school resume that will land you more interviews.
Tips and examples of how to put skills and achievements on a high school resume.
How to describe your experience on a resume for a high school student to get any job you want.
Want to save time and have your resume ready in 5 minutes? Try our resume builder. It's fast and easy to use. Plus, you'll get ready-made content to add with one click. See 20+ resume templates and create your resume here.
Sample resume made in our builder—See more templates and create your resume here.
Sample High School Resume Template
Govind Jain
High-School Senior
+91 73 69792856
govind.jain@zetymail.com.in
linkedin.com/in/govind.jain8
Date of birth: 1.02.2005
Marital status: single
Nationality: Indian
Objective
English-speaking high school senior with shop assistant and social media experience. Keen to support back-office operations at Nasella with my Excel and Word skills as an Office Assistant Intern.
Experience
Shop Assistant
YoYo Copy Shop, Jamshedpur, Jharkhand
August 2021–present
Key Qualifications & Responsibilities
Operated Xerox machines and printers to make copies, scans, and prints for 20+ customers daily.
Managed the cash register and handled cash from customers.
Monitored printing supplies inventory and placed weekly orders.
Key Achievement:
Created a Facebook page for the shop and invented a promotional campaign with a discount code that helped to get 150 new clients within a month.
Education
Loyola School, Jamshedpur, Jharkhand
2019–present
Awarded Best English Language Essay in 2021
Managed the school's Facebook profile
Created content for the school's YouTube channel
Skills
Social media content
Video creation
Creative writing
Editing and proofreading
Communication skills
Teamwork
Word, Excel, PowerPoint
G-Suite
Languages
Hindi—Native
English—Advanced
German—Intermediate
Interests
Reading biographies of young entrepreneurs
Volunteering
Tutoring neighbours' children in English and Maths
Declaration: The information stated above is true to the best of my knowledge and belief.
Let's quickly learn how to write a high school resume:
1. Use the Best High School Resume Format
You might be the top student at your school. But if you show up in jeans and a T-shirt instead of your uniform, you'll get in trouble. Your professional appearance is important.
It's the same way with a resume. Recruiters will dismiss your application if it looks sloppy. Formatting your high school resume is the first step you must take.
Here are the key rules to creating a professional high school resume template:
List your full name, contact information, date of birth, marital status, and nationality at the top of your high school resume
Add a professional photo with a neutral background.
Follow the reverse-chronological order when describing your experience.
Use easy-to-read resume fonts such as Verdana, Times New Roman, Calibri, or Helvetica.
Add white space with even 1-inch margins on all sides and 1–1.15 line spacing.
Use bullet points and combine the information in sections.
Keep your resume length to one page only.
Save your high school resume in PDF format (unless the job ad specifies a different file type).
If you want to be 100% sure your resume looks great, use a template. Read more: 20 Free Resume Layouts in PDF and Word Formats
2. Add a High School Resume Summary or Objective
Don't you hate it when people assume you're clueless?
Being young doesn't mean you don't know anything. You've got some knowledge and skills. And when you look at adults around you, they don't necessarily seem smarter than you. Just older.
You want to be treated seriously by your family and your teachers. And when looking for that first job, you want to be treated seriously by the hiring manager.
It's time to convince them that young doesn't mean unprofessional. Write a resume summary or a resume objective and highlight your best qualities.
Write a resume summary if you already have work experience. It's not very likely for a high school student, but maybe you're one of those teenage entrepreneurs who established their businesses at 14 years old. Or you started helping at your family's restaurant as soon as you learnt to walk. Here's how to write a resume summary:
Start with a strong adjective.
Mention your last job and years of experience.
Show off your best work achievements.
Say how you can support the company.
Most high school students don't have any work experience—that's why they should write a resume objective. Just follow these steps:
Use a strong adjective and mention you're a student.
Add some of your best skills.
Mention valuable educational achievements or extracurricular experiences.
Tell them how you can fit in the role and help the business.
Easier than the science class.
Want to see more tips for writing a resume for freshers? Check this Freshers' Resume Guide with Resume Objective Examples
3. Describe Your Work Experience in a High School Resume
I know. You don't have any work experience yet. Or the part-time jobs you've had weren't very serious.
But this section doesn't necessarily have to be about work. You can also mention other types of activities you've done. Anything that proves you're not a dreamer who thinks money grows on trees.
Did you help your younger cousins with homework? That's a serious tutoring experience. It developed your communication skills and taught you patience.
Do you help prepare and print a school newspaper? That's not only beginner journalism but also a good example of teamwork and time management.
No matter what kind of experiences you choose to describe, there are some guidelines you must follow:
List the most recent work experience or activities first.
Include a job title or the name of your role, then add the name of the company or school/organization, and months and years worked.
In 4–6 bullet points, describe your responsibilities and accomplishments.
Use action words to start each bullet.
Add numbers, facts, and percentages to support your claims.
Remember that this section must be tailored to the job ad. For example, if you apply for a shop assistant position, don't mention you're a great cook. Instead, prove you're good with Maths, you are well organized, and you've got a friendly personality.
Pro Tip: You might feel worried that you don't have work experience yet. If you feel tempted to leave school permanently and go to a full-time job, think twice. Such decisions can influence the rest of your life. In 2019, the secondary school dropout rate in India was over 17%. Many high school students have no choice but to find a job to support their families. If getting a job is not a necessity for you, focus on finishing school.
4. Highlight Your Education in a High School Resume
Ahhh, school. 90% of drama, 10% of fun. Or, as others say, 60% of boredom, 40% of terror.
No matter how you feel about school, it's easy to admit that it's a major part of your life. It's the place where you learn—not only about Physics, History, and other subjects, but also about life. Here, you practice teamwork, keep deadlines for assignments, organize your time to handle school work and household chores, and learn to perform well under pressure.
Guess what—all of those skills are useful at work, too!
And in the education section of your high school resume, you get to describe them in detail:
If you already have work experience, you may keep this section short. Just add the name of your secondary school, location, years of study, and most relevant achievements.
But if you're writing a first job high school resume, add more info. Your academic strengths. School clubs you joined. Events and contests you participated in. Projects you worked on. Just pick 4–6 pieces of info that are most relevant to the job you want.
Pro Tip: Remember that there are laws and regulations regarding adolescent work. The minimum age for work is 14 in India, and the minimum age for hazardous work is 18. Children aged 14–18 are entitled to 1 day of leave for every 15 days of work. State Labour Departments are responsible for monitoring the working conditions.
When making a resume in our builder, drag & drop bullet points, skills, and auto-fill the boring stuff. Spell check? Check. Start building a professional resume template here for free.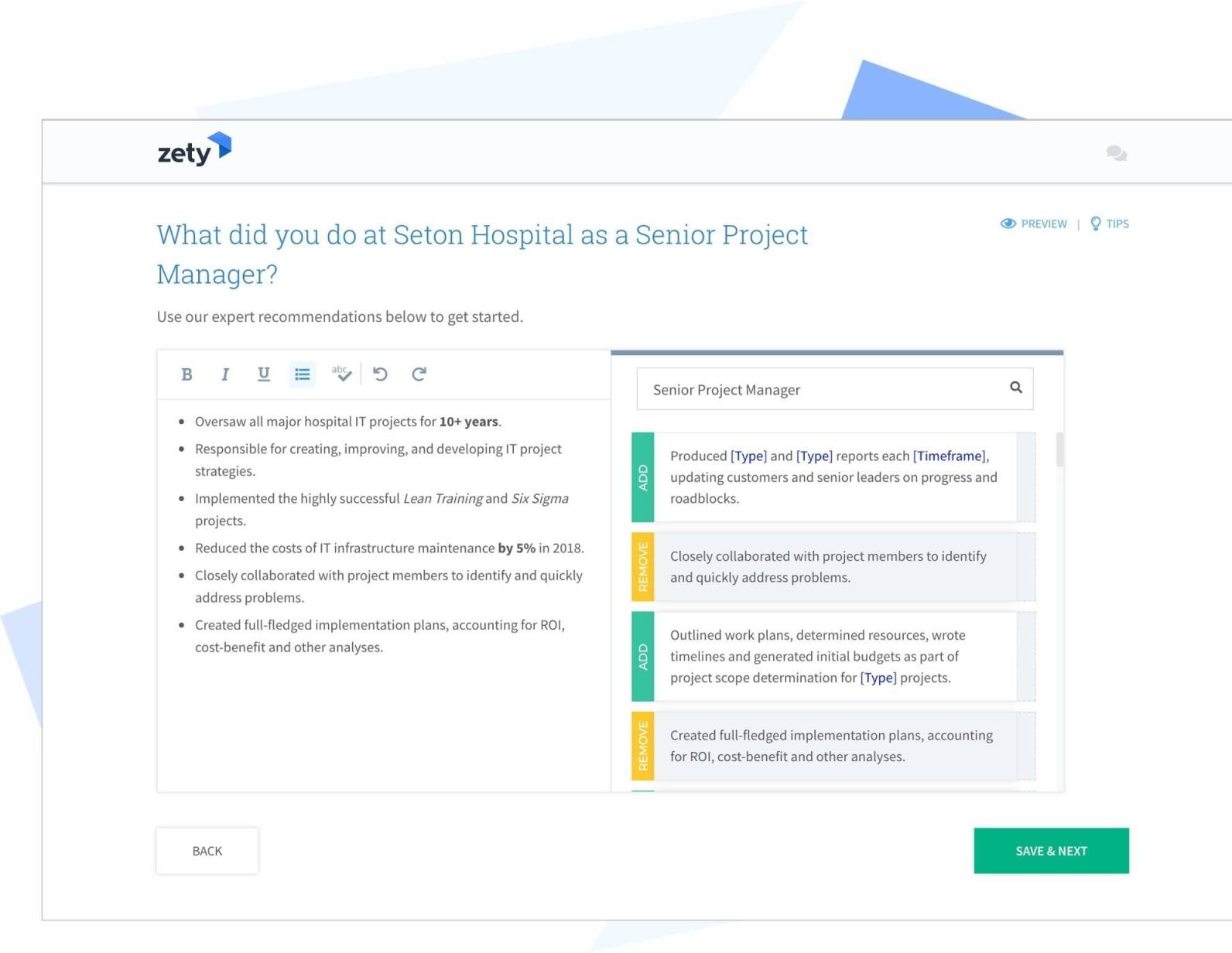 When you're done, Zety's resume builder will score your resume and tell you exactly how to make it better.
5. List Your Skills in a High School Resume
Maybe you've heard of Sreelakshmi Suresh, the youngest CEO in the world who set up her web design company at the age of 10.
Or you've heard of Ritesh Agarwal, who became the world's second-youngest self-made billionaire after starting his hotelling business at 17.
These inspiring role models show that it's possible to be successful at a very young age. And there's one major thing needed to achieve success.
Having valuable skills.
Skills can be more important than college degrees.
Let's see how to put them on your high school resume to make you a great candidate for that first job:
Create a long list of any job skills you have by combining hard skills, soft skills, technical skills, and anything else that comes to mind.
Select 7–10 skills that are most relevant to the job ad. Make sure they also match your education and experience sections.
Skills in a High School Resume Example
Social media content
Video creation
Creative writing
Editing and proofreading
Communication skills
Teamwork
Word, Excel, PowerPoint
G-Suite
Are you great with technology? Spark your application with specific computer skills. Read more: Computer Skills: Examples for a Resume
6. Choose Other Sections for Your High School Resume
You're more than your secondary school grades. Show it by adding extra sections to your resume!
Add languages: English is a must for many office jobs, and other languages can be a great advantage. Remember to list your proficiency (Elementary, Intermediate, Advanced, Fluent, etc.)
List certifications: You'll be surprised, but you can find many free certification courses online. Spend part of your free time on gaining valuable skills and get certificates to boost your application!
Mention volunteer work: Volunteering is a great way to gain professional experience. You can teach younger kids, take care of homeless dogs, help to organize events, and much more.
Brag about interests: But only ones that fit the job. For example, when applying for a part-time job at a library, mention how much you love reading Sherlock Holmes stories.
Pro Tip: Beware of job scams. Unfortunately, many people prey on teenagers. Always research the companies you apply to, and avoid those that look shady. If the job sounds very easy and the salary looks very high, it's most likely a scam. Go to job interviews with an older friend or family member for safety. And never agree to pay anything to recruiters or job agencies.
7. Finish Off Your Application with a Cover Letter for a High School Student
This is the last step of preparing your work application! And it's much easier than memorizing and reciting The Bhagavad Gita. Your cover letter can help to explain to the recruiter that despite your young age, you can be a valuable addition to their company.
You can write a cover letter quickly by following these guidelines:
Use a professional and easy-to-read cover letter format.
Grab the reader's attention with a strong sentence at the beginning.
Show how your experience and skills match the job description.
End your cover letter with a promising offer and a call to action.
And you're ready to start your career!
Need more tips on writing a cover letter? Learn How to Write a Cover Letter with Examples. If you're applying for an internship, check this Internship Cover Letter Guide with Samples
A great cover letter that matches your resume will give you an advantage over other candidates. You can write it in our cover letter builder here. Here's what it may look like: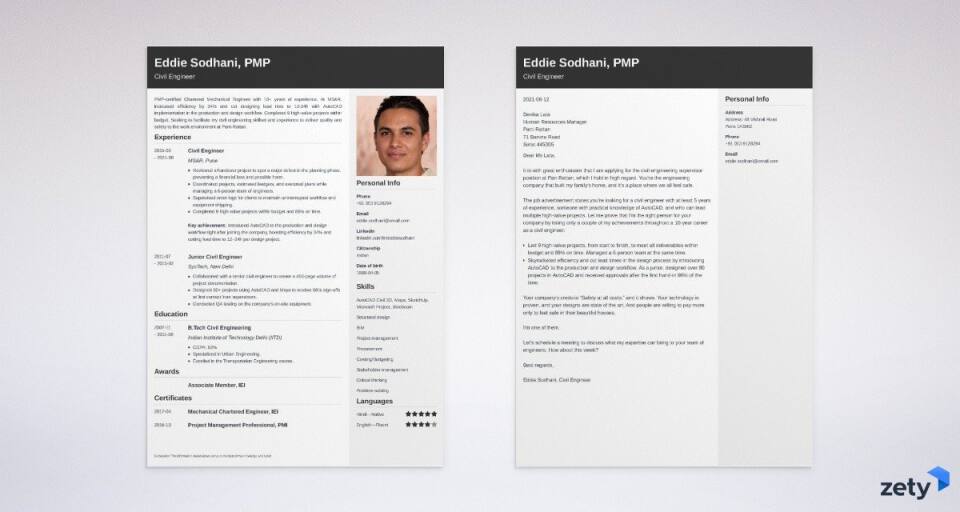 See more cover letter templates and start writing.
Your high school resume is ready. Time to apply for that first job and learn why adults complain about Mondays.
Got some advice for other teenagers writing a high school resume? Are any parts of the high school resume not clear for you? Let me know in the comments!