You've got your perfect CV.
Reads like a John le Carré novel. Looks like an HMRC form.
Eek!
That's not what you're after, is it?
Time to give your CV a little bit of a makeover.
How about some CV icons for starters?
This article will show you:
Links to the best websites with free CV icons.
Tips and hints on how to make the best of each CV icon on your CV.
Online CV builder with 100+ ready-to-use icons for a CV.
Want to save time and have your CV ready in 5 minutes? Try our CV builder. It's fast and easy to use. Plus, you'll get ready-made content to add with one click. See 20+ CV templates and create your CV here.
Sample CV made with our builder—See more CV examples here.
And once you've upped your icon game, we've plenty of other CV tips and templates too:
Icons for CV Example
Andy Powell
Ph: 07777 777777
Email: apowell_zety@gmail.com
Experienced assistant manager in luxury tea and coffee retail. Key areas of expertise in high-end coffee blends. Accomplished in offering educational and promotional tea and coffee tasting experiences to customers. Looking to further my knowledge of premium beverage sales with Tea for Two.
Work Experience
Assistant Manager
Bentons Tea and Coffee Merchants, Wimbledon, London
August 2018–Present
Exceeded sales targets by 10%+ in every month of employment.
Spearheaded monthly tea and cake making and tasting evenings that generated ticket sales of £500 plus per month.
Upsold accessories with high profit margins, boosting profitability by 15%.
Mentored and trained 6 new starters in product knowledge and company standards and customer service.
Retail Assistant
Whole Foods, Clapham, London
October 2016–August 2018
Developed a passion for responsibly sourced foods completing a program of advanced product knowledge training in two months, compared to an average of six months.
Met sales targets in every month of employment and hit threshold for sales bonus on ten separate occasions.
Achieved a score of 95% plus on four separate mystery shopper assessments.
Education
Arts and Sciences BASc, September 2015–June 2018
University of Roehampton
Skills
Customer Service. Provided flawless customer service to a discerning clientele.
Point of Sale. Operated point of sale systems, carried out end-of-shift reconciliations and processed online payments.
Product knowledge. Developed a detailed knowledge of tea and coffee types, blends, producers and sources.
Teamwork. Provided temporary cover for staff absences for other Benton locations in the London region.
Visual merchandising. Created visually appealing displays for all product lines and maintained a safe and inviting shop floor.
Awards
Bentons Salesperson of the Year 2019
1. Best Websites with Free CV Icons and Symbols
It's no secret:
The Internet is replete with websites offering free icons.
Since the choice is so vast, we decided to make life a little bit easier by selecting the choicest few.
Here's our selection of top 5 websites with free CV icons: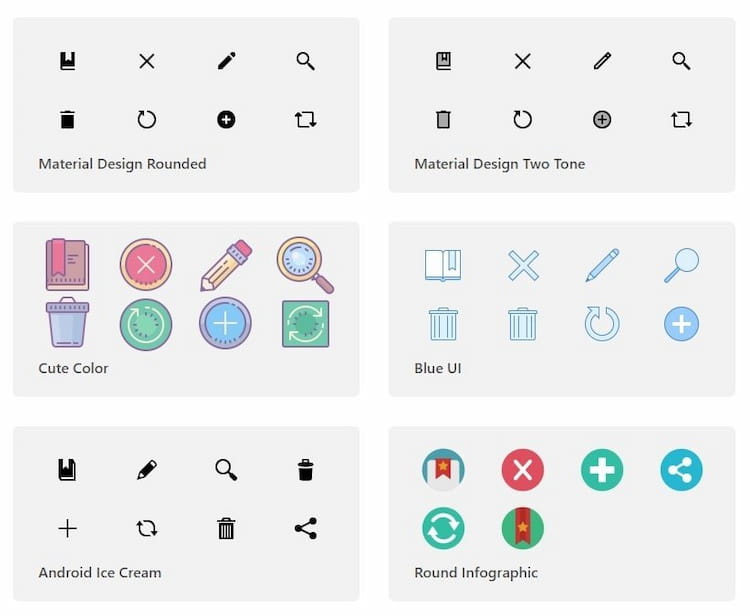 This website offers a wide variety of CV symbols you can use to make a perfect CV.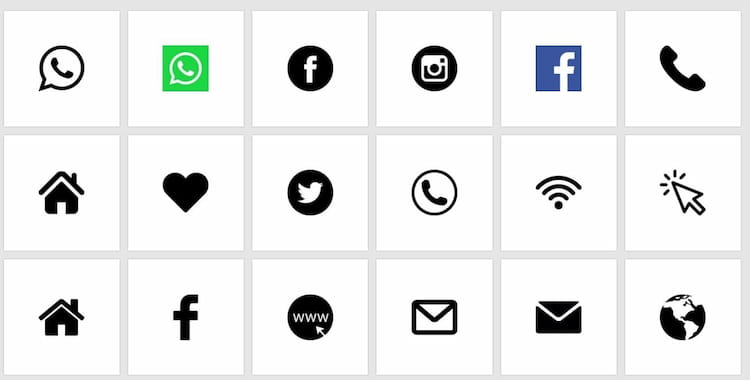 You can find here a large selection of free vector icons for a CV. They will match any CV style you choose, from creative to modern to infographic.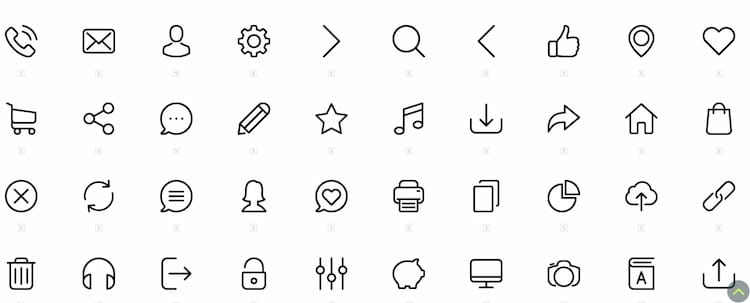 This website offers one of the largest galleries of flat icons for CVs. All CV icons you can find here are available in PNG, SVG, EPS, and PSD formats among others. Plus, you can customize them to match your free CV template.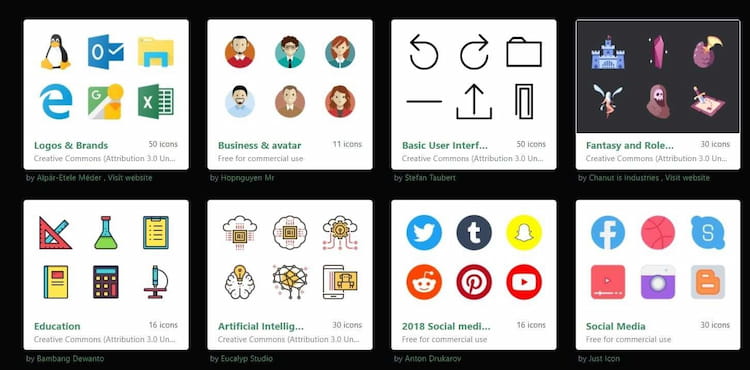 Iconfinder is a great source of free icons for CVs. Especially if you're making a CV for creative or cultural fields, such as an artist CV, graphic designer CV, or photographer CV.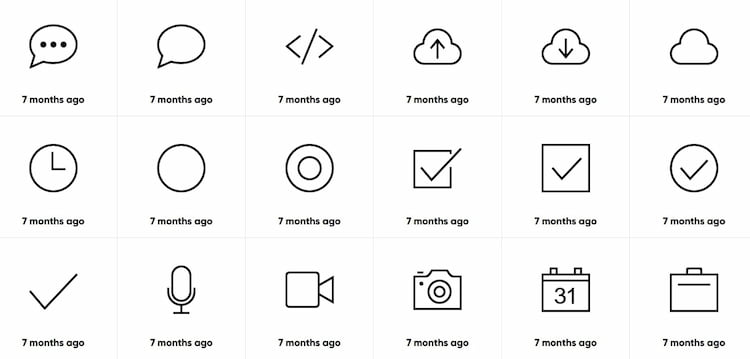 This website offers a plethora of free CV icons for Word CV templates, or Open Office CV templates. Most of them will be a perfect complement to any simple or basic CV design.
CV icons aren't everything. Learn to make a job-winning CV with our guide: How to Make a CV for a Job [from Application to Interview in 24h]
2. Sample CV Templates with Icons
Picking the right icons doesn't even get you halfway. You still need to make the pictograms look good on an actual document and, unless you're a graphic design pro, it will be a nightmare. So—why not let Zety do the job for you?
Our builder has some of the finest templates, using icons to bring the most important information to recruiters' attention. And you don't have to worry about formatting or design, our software will make sure your CV with icons looks perfect. Just have a look at some of these templates.
1. Primo
Primo uses small icons for all key sections, making it easier to locate every bit of information. Plus, you get a cool logo with your initials at the top, adding a bit of personal branding and making your application much more memorable.
2. Diamond
In Diamond, you can diamond-shaped icons for section headings, charts illustrating your skill levels, and little diamond-like dots on the left-hand side timeline, indicating every past position, educational institution, and a skill item. This template is the perfect mix of formal and creative.
3. Newcast
Not the flashiest CV template out there, but one of the most balanced and eye-pleasing. Tons of white space will give recruiters some breathing room, icons next to section titles will make them pay attention to what matters most.
4. Cubic
Wait, why are there no icons on this one? In short, there's no need for them. The three-colored design is enough to give this template a dynamic look while making every section stand out visually. Use the side column for skills and personal information and the middle part of a CV for work experience, education, and extra activities.
5. Nanica
Finally, the simplest CV design we've ever created. True, it doesn't feature icons or fancy formatting, but—it might be what you actually need. Skip the icons, graphics, or other images if you're applying for a traditional corporate job. Go for a basic template and let the contents of your CV do the talking (however tempting the icons might appear).
When making a CV in our builder, drag & drop bullet points, skills, and auto-fill the boring stuff. Spell check? Check. Start building your CV here.
When you're done, Zety's CV builder will score your CV and tell you exactly how to make it better.
3. What Icons to Use on Your CV
Here's the thing:
CV icons can make your CV really stand out
But—
They can also make your CV look like you've caked on too much make-up to cover something up.
Remember:
Too much of a good thing is not such a good thing.
Here's how you can make CV icons work to your advantage:
You can add a CV icon to section headers (experience, skills, education, etc.)
Use them in the personal details section. For example, add a LinkedIn icon to your LinkedIn CV handle. You can add other icons as well: a phone icon, email icon, etc.
The same applies to your other social media profiles. All profile handles could be accompanied by appropriate icons.
Make sure the CV symbols you choose match the style of your entire CV.
If you pick a minimal CV template stick to similarly styled icon packs.
Started to write your CV and your mind went blank? Not to worry. Here's a selection of guides that will help:
4. Make Your CV in 5 Minutes With Our Icon Pack
Here's the secret:
It's not enough to simply download free CV icons.
You'll also have to use a word processor or graphics editor to paste them into your CV—
Which can be a real pain in the... neck.
Especially—
If you want to make your CV quickly and painlessly.
Our CV builder has built-in icon packs that work seamlessly with our CV templates.
So:
There's no need to look for anything anywhere else
Your CV's formatting will always look great
Zety CV builder has 100+ CV icons that you can add or replace with a click.
We have icons you can use in the personal information section: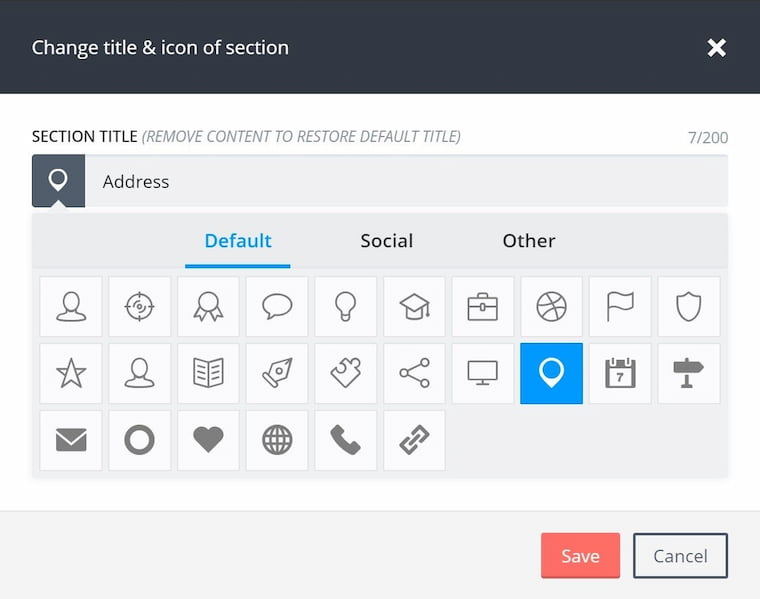 There's a dedicated CV icon pack for different social networks that includes a LinkedIn icon for a CV.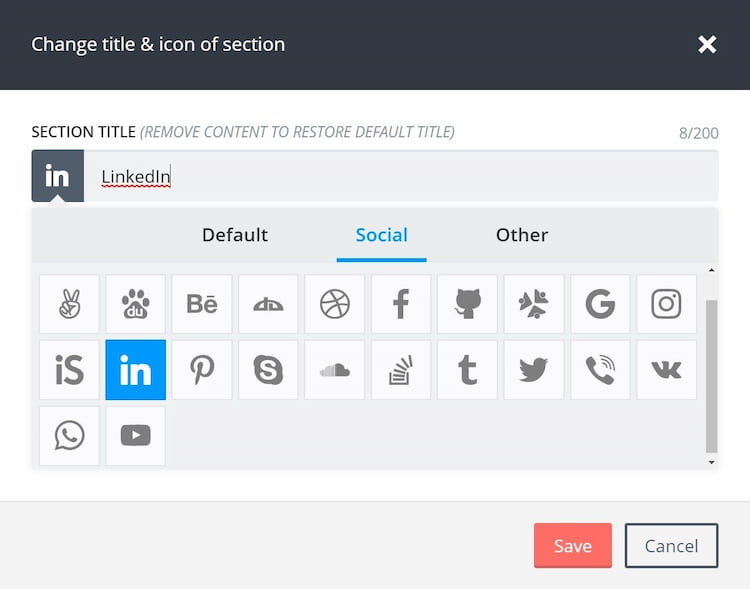 You can choose from three different categories of icons. Just find the ones that best suit your individual style: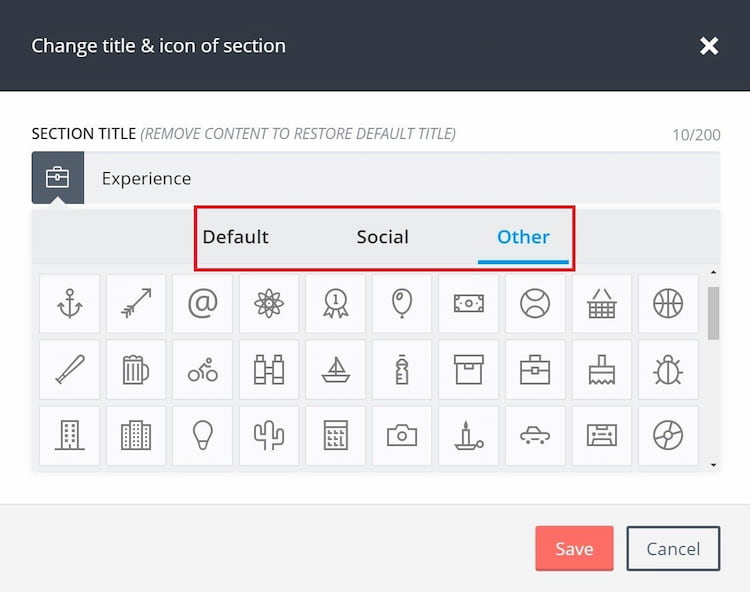 Plus—
You can easily change the experience icon or skills icon on your CV and rearrange all the sections with a simple drag and drop: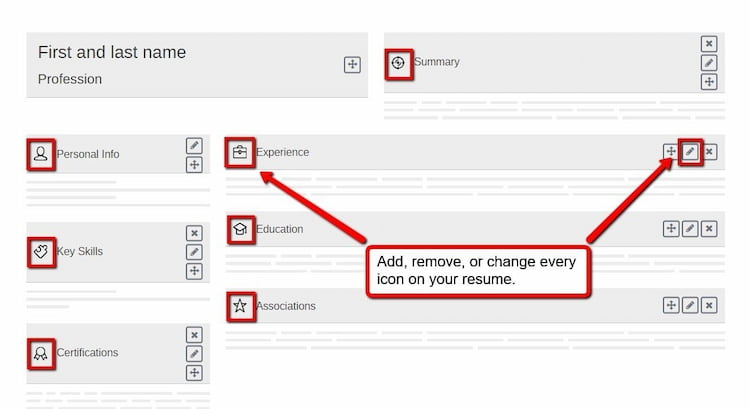 And finally—
You can give your CV a whole new look by changing its color pattern with a simple click.
If you got bored with your standard dark gray CV icons, go for a set of blue icons on your CV: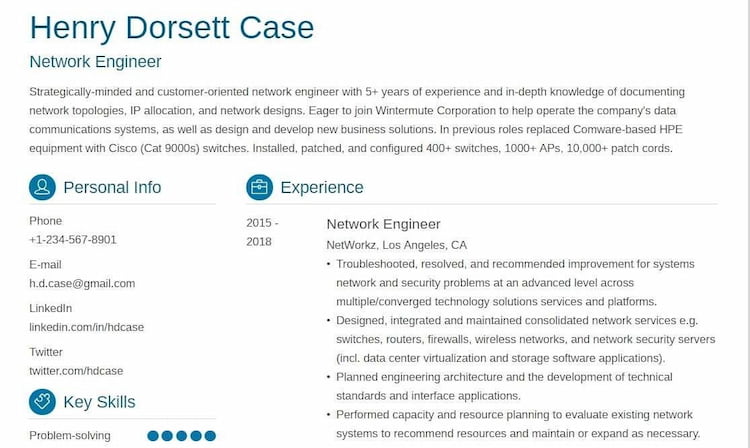 Remember:
Your formatting will never get messed up!
CV Icons—Zety CV Builder



Plus, a great cover letter that matches your CV will give you an advantage over other candidates. You can write it in our cover letter builder here. Here's what it may look like: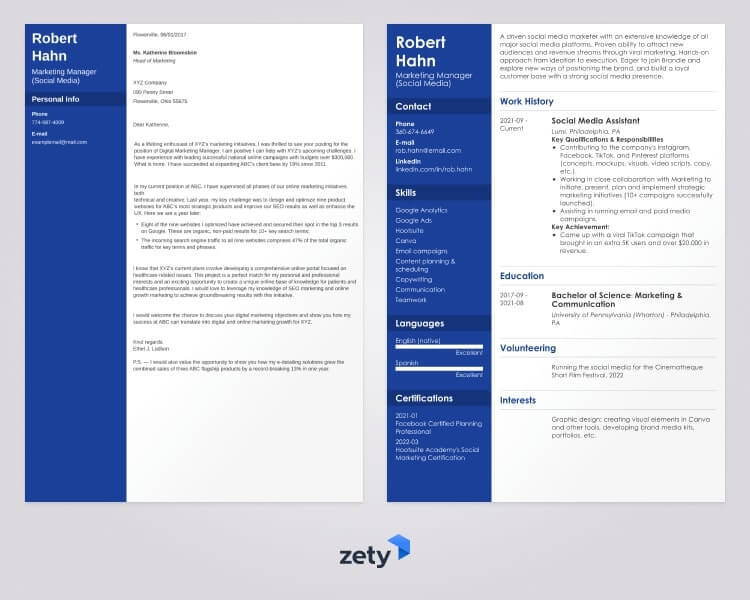 See more cover letter templates and start writing.
Key Takeaways
The Internet is full of free CV icons.
There are several websites offering professional-looking free CV icon packs you can use on your CV.
A caveat: your document might be difficult to format.
Our CV builder comes packed with 100+ icons for all sorts of CVs and helps you create your CV quickly and hassle-free.
Wondering if your CV would benefit from adding some CV icons? Do you like the selection we presented here? Give us a shout out in the comments below! We'd love to hear from you.
About Zety's Editorial Process
Our editorial team has thoroughly reviewed this article to ensure it follows Zety's editorial guidelines. Our dedication lies in sharing our expertise and providing you with actionable career advice that offers you real value. Every year, the quality of our content attracts 40 million readers to our site. But that's not all – we conduct original research to gain a detailed understanding of the labour market. We take pride in being cited by top universities and leading media outlets in the UK and worldwide.