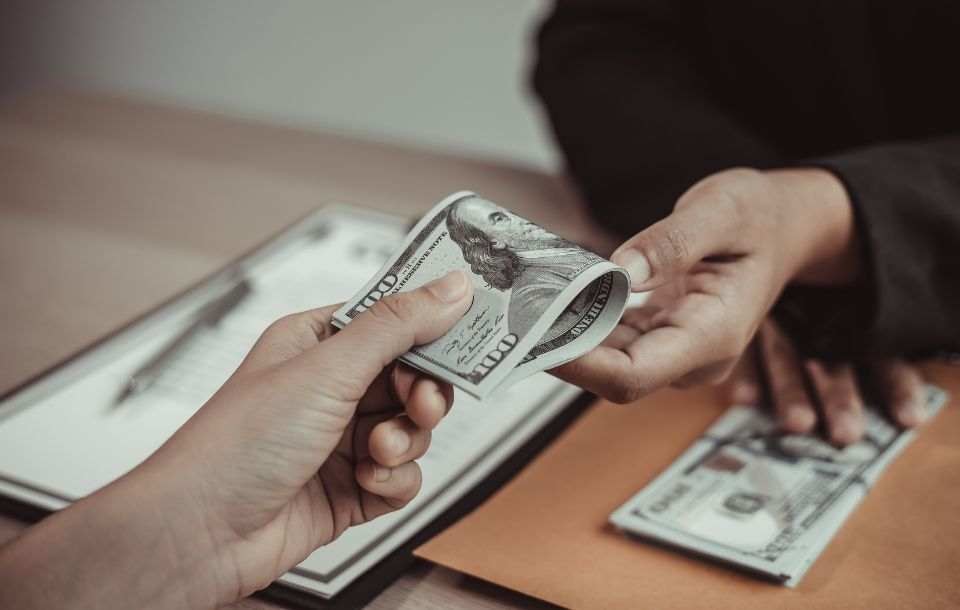 Gender Gap at Work: 2022 Study
Is gender inequality in the workplace yesterday's story? Here's what people really think about the current situation of men and women at work.

The year 2022. Here we are.
With 102 years of women's suffrage. And full gender parity 132 years away.
Sexism, glass ceiling, mansplaining. For many, it's a sad workplace reality. For others, it's crazy feminists making a fuss.
Can we treat workplace inequality as a thing of the past? Are people getting way too sensitive about everything? Or is the gender gap at work still a barrier and a source of oppression to be overcome?
Where does the truth lie? Let's explore this in more depth.
First up, let's be clear. It's been objectively proven that there are still gender gaps at work between the way men and women experience the workplace. Have a look at some studies on the topic in question:
According to the 2022 WEF Global Gender Gap Report, it will take 132 years to achieve gender parity.
In the Pew Research Center's study on women in leadership, 52% of female respondents said a major reason more women are not in top business leadership positions is that women are held to higher standards and have to do more to prove themselves.
McKinsey's 2021 Women in the Workplace study, reveals that although women leaders are stepping up to support employee well-being and diversity, equity, and inclusion efforts, that work is not getting recognized.
The situation is even worse for black women, LGBTQ+ women, and women with disabilities. They are much more likely than women overall to experience microaggressions as professionals.
In 2022, amid multi-layered and compounding crises, including the rising cost of living, the ongoing pandemic, the climate emergency, and large-scale conflict and displacement, the progress toward gender parity is stalling.
These findings aren't optimistic. Women make up half of the world's population. But the facts don't lie, the gender gap is still there. But what about public opinion? Do workers recognize the reality we face?
That's where our study comes in. Find out how it feels to be a woman and a man in the workplace. We surveyed over 1,000 employees to examine:
perceptions and attitudes towards gender in the workplace
first-hand experience with workplace sexism
relations between gender, parenthood, and work-life
gender-based stereotypes
the public image of men and women doing certain jobs
the way both genders subjectively feel about their work, and how they're treated by others
Keep reading to discover what our study revealed on these burning issues.
Gender in the workplace
First up, the biggest question of all. Does gender matter at work? At first, the answers didn't reveal much—49% of survey takers agreed, while 51% did not. Almost a dead heat. Yet, digging deeper shed light on some interesting differences within demographic groups.
Work experience: 3–10 years—53% agreed vs. 1–2 years—39%.
Industry: business & finance—56% agreed vs. software/IT—43%.
Company size: 1–50 employees—52%agreed vs. 501+ employees–39%.
Political affiliation: Democrats—54% agreed vs. Republicans—42%
So Republicans, employees of large companies, IT workers and people who are new to the labor market are all less likely to say that gender matters at work.
Other worthwhile research findings to mention:
More than 7 in 10 (73%) respondents said there was no relationship between gender and workplace skills.
71% of survey takers believed gender stereotypes were still alive in the workplace. What's worth noting, such a view was shared by 75% of women and 68% of men.
A gender stereotype is a generalized view or preconception about attributes or characteristics, or the roles that are or ought to be possessed by, or performed by, women and men. A gender stereotype is harmful when it limits women's and men's capacity to develop their personal abilities, pursue their professional careers and/or make choices about their lives.
Our respondents were also asked whether finding a job is easier for men or women.
More than half (54%) claimed gender didn't matter in finding a job. But 30% of respondents believed job hunting was easier for men and 16% said the same for women.
There was a disparity between answers given by ethnic minority women and white women.
Only 34% of ethnic minority female respondents said gender didn't matter. At the same time, as many as 42% of them believed that it was easier for men to find a job. On the other hand, 56% of white female survey takers said gender wasn't important in the recruitment process. And 28% of them agreed that men could find a job easier than women.
Clearly, women from ethnic minority backgrounds are experiencing higher levels of discrimination. A theme that continued throughout our findings.
When it comes to the question of whose work life is easier, overall the answers were as follows:
It is easier to be a female employee than to be a male employee—20%.
It is easier to be a male employee than to be a female employee—34%.
It's just as easy to be a female employee as it is to be a male employee and vice versa—46%.
But again, there were differences in answers given by women representing ethnic minorities and white women. Almost half (45%) of women of color declared that it was easier to be a male employee than to be a female employee. Only 32% of white women shared that view.
But there might be a way to help narrow that particular gap. Digression time.
Scientists from Harvard University and the University of Pennsylvania conducted research on women and racial/ethnic minorities at work. They suggested it was worth mentioning your identity in requests for help in the work environment.
Women and racial/ethnic minorities remain underrepresented in many organizational contexts in the United States, particularly in leadership positions. One contributing factor is that bias and discrimination can cause underrepresented group members to receive less instrumental help, including advice, feedback, and assistance on work-related tasks. Receiving help can make or break a career, but women and racial/ethnic minorities do not always receive the support they seek. We test whether women and racial/ethnic minorities benefit from explicitly mentioning their demographic identity in requests for help, for example, by including statements like "As a Black woman…" in their communications. [...] The research findings suggest that deliberately mentioning identity in requests for help can improve outcomes for women and racial/ethnic minorities.
Let's get back to Zety's study now. We also asked our helpful survey takes if they had ever experienced workplace sexism. Their answers revealed that:
47% of the respondents overall had been discriminated against on the basis of their sex. The same answer was given by 51% of women and 42% of men.
The highest percentage of respondents who had experienced workplace sexism (56%) were people working in business & finance, while the lowest (40%) were those from the software/IT field.
Digging deeper into research findings, we also discovered an interesting correlation between answers given in the first question of the survey ("Does gender matter in the workplace?") and first-hand experience with workplace sexism.
Almost 7 in 10 (69%) of the respondents who agreed that gender mattered at the workplace had experienced discrimination based on their sex at work.
Conversely, there were just 25% of respondents who experienced workplace sexism among those who believed that gender didn't matter at work.
Rhyme time. You don't believe it's true until it happens to you. The numbers speak for themselves. And what they reveal is far from a mood booster.
Workplace sexism in practice

Let's focus on our respondents' first-hand experience with workplace sexism. Below is the list of statements followed by the percentage of how many survey takers agreed with them:
I have been fired because of my gender—34%.
[39%—men vs. 30%—women]
I haven't got a pay rise because of my gender—41%.
[47%—respondents aged 40 or younger vs. 36%—respondents aged 41 and older;
46%—democrats vs. 38%—republicans]
I haven't been promoted because of my gender—42%.
[58%—ethnic minorities vs. 40%—white respondents;
55%—business & finance industry vs. 36%—software/IT industry;
46%—democrats vs. republicans—39%]
I haven't been hired for a job because of my gender—46%.
[61%—ethnic minorities vs. 47%—white respondents;
57%—business & finance industry vs. 43%—software/IT industry]
My competencies have been questioned because of my gender—51%.
[57%—respondents with work experience of over 11 years vs. 28%—respondents with work experience of 6–10 years]
On a (slightly more) positive note, when asked about money, 63% of the respondents (61% female vs. 66% male) declared their income was on par with people at the same seniority level as them.
Let's move on to the most disturbing issue. Sexual harassment.
Sex harassment includes conduct that is sexual in nature, such as sexual jokes, photos, or touching, or requests for sexual favors, and non-sexual conduct that is based on gender, such as comments that men or women don't belong in certain jobs, or comments questioning men's or women's skills or abilities.
We have asked the surveyed if they had ever experienced sexual harassment at work. The study findings were as follows:
36% of respondents had experienced workplace sexual harassment. Interestingly, the percentage was exactly the same for women and men.
There were disparities within other demographic groups, though. 43% of survey takers aged 40 or less had been subjected to sexual harassment. At the same time, it had happened to 31% of those over 41 years old. Such differences were also observed among Democrats and Republicans (42% vs. 31%) as well as the white and ethnic minorities (35% vs. 43%).
36%. Almost 4 in 10 employees. Both women and men. Them too. So far, not so good.
Shouldn't work be a safe place where you can grow, share your knowledge, and use the skills you possess? Time to take off the rose-colored glasses.
Opinions on gender equality at work
Respondents were asked to tell us, in their own words, about how they thought men and women were treated differently at work. Some were lucky enough not to have noticed or experienced any workplace inequality based on gender.
"Personally, I treat both sexes similarly. How other individuals treat each other is their own business. How do I think they are treated? Unless I see otherwise, equally. We're all there to do a job."
At the same time, many pointed out that gender double standards still seemed to be a big problem in many workplaces.
"Men are seen as dominant, progressive leaders who 'get things done' when they act assertively. However, women are seen as whiny or pushy when they act in the same manner."
"Men usually get a pass on most things, even the clothes they may wear. When it comes to a woman, they get judged way more on what they wear or how they operate in that work setting. I personally find it unfair, even as a man."
"There is more emphasis on the outer appearance of women employees, even when it doesn't matter. It can be simple comments like 'you look nice' that stands out when it's said to women, because it's never or rarely said to men. Also, women are treated as being more sensitive and weak."
Some survey takers also noted that men were treated with greater respect. Male voices are better heard, it seems.
"I think men are given more seniority and are listened to more. Women have to fight to be heard and get their ideas taken seriously. Men are seen as strong-willed and like a boss, women are seen as emotional and bossy."
"In most of my previous work positions that did involve both genders, I felt that men were given more credibility than women, and men were assigned to positions that had more authority than women, so the men were always paid more. I got the impression that the owners were careful not to put women in charge because they believed it would cause friction for a man to take orders from a woman."
"I have experienced that men are often given more chances or are more readily trusted to take on responsibilities. It often feels like there's a boy's club."
On the other hand, there were opinions that, in fact, women's work-life was a bed of roses. Some respondents claimed female employers were handled with kid gloves.
"I think women can sleep their way to the top. Men have to work like dogs, usually!"
"Men are more discriminated against today than women. They are last in line for promotions or hiring when women and/or minorities or other protected classes are applying for or seeking promotion. I have experienced this firsthand at a company where the diversity and inclusion push means that white men are the least likely to be hired or promoted. I left that job due to discrimination."
It's not all black and white, though. The way women and men are treated at work depends on different factors, including job type, industry, and more.
"It really depends on the type of work and if it is blue-collar or white-collar. It's subjective."
"My industry [business & finance] is male-dominated. Women aren't often hired simply because it's a boy's club."
Still, most survey takers agreed gender stereotypes were present in the workplace.
New world, old assumptions. Same harm.
"There's no doubt in my mind that women experience persistent discrimination and negative stereotypes in the workplace. These days, it mostly takes the form of microaggressions and implicit bias/associations with traditional gender roles. As a man, I don't face discrimination, but there are assumptions made about my lifestyle and preferences that aren't always welcome."
"While working at a gun store, when I showed knowledge about guns, a customer asked me if my husband has guns. Like I could not possibly own my own or be interested in such a topic on my own."
Workplace sexual harassment was also considered a real problem, especially for women, who were more likely to experience it than men.
"Women are objectified and harassed."
"Men normally don't have to worry about being sexually harassed on a daily basis, as women do. They don't need to worry about being seen as incompetent because of what gender they are."
There were also views that family life might be the reason why women were less likely to get a pay rise or promotion.
"I think that there are just some preconceived ideas about women and men in the workplace. For example, some employers feel that women are not as hard-working or as reliable or as committed to the job as men are. This might be because the employer believes that women shoulder child care or elder care responsibilities more than men, and they may require more time away from work because of this. As a result, women are oftentimes not paid as well as men for the same work and not promoted to critical roles as often."
"Men generally do not have family situations or obligations to look after children. So, in my opinion, they get job opportunities based on the idea that they will work with full attention and efficiency."
Talking about combining work-life and family, let's move on to the situation of working parents.
Working parents' struggles

Parents made up 74% of all survey takers. Stereotypically, it's women who bear the impact of juggling work and childcare. But does this match up with our respondents' experiences?
To find out, we asked them a few questions about the impact of parenthood on their career.
More than half (56%) of respondents claimed that they had felt their parenthood might cause problems for a potential employer. Both mothers and fathers reported the same concerns.
Such recruitment process-related fears were mostly relatable for people working remotely (71%) and those earning less than $25,000 (67%).
Working from home with a little one on board is a tightrope walking. You can't leave your private life at home. Background noises—from joyful laughter to nerve-wracking shrieks—are just the tip of the iceberg.
Digging deeper:
Overall, 43% of respondents believed that their parenthood might cause problems with their current employer.
Almost half (46%) claimed that being a parent could cause problems with their work colleagues.
72% of the respondents (76% females vs. 68% males) found combining parenthood and work life challenging.
62% of survey takers (67% females vs. 57% males) felt they didn't spend enough time with their child/children because of work.
More than half (55%) of respondents believed they neglected their work duties because of parenthood.
A full 56% agreed that prospering professionally was incompatible with being a good parent.
Overall, the software/IT sector was viewed as the most family-friendly, while business & finance as the least.
Companies hiring 500+ employees seemed to be a better place to work for parents than smaller companies.
The life of a working parent is not a piece of cake, to put it mildly. And while women experience a greater impact than men, a majority of male respondents also reported issues with combining parenting and work.
It's a constant struggle. It often involves staying late at night to work, doing a hundred things at once, and taking unplanned days off that you would rather spend on an exotic holiday.
But—
For most parents, there is no greater reward for all the effort and sacrifice than the endless love they feel. One bright smile from your baby and you are ready for a new workload.
No matter if you are a mother or a father.
Workplace jury
Human behavior at work is subject to gender stereotypes too. A demanding man might be described as assertive and confident. A woman with the same traits is often dismissed as a ball-breaker. But which characteristics are typically male, and which are typically female?
We decided to investigate what character traits are typically associated with men and women in the workplace. We asked survey takers to share their experiences and answer a few questions on how they had been described by their colleagues or manager ["Have you ever been described as _____ at work?"].
Men were more often described by their colleagues or manager as competitive, aggressive, and analytical than women. Look at the detailed research findings below:
Competitive—58% of respondents (52% female vs. 63% male)
Aggressive—44% of respondents (41% female vs. 48% male)
Analytical—67% of respondents (63% female vs. 71% male)
Also, surprisingly enough, men are more likely to be labelled as emotional and incompetent.
Emotional—48% of respondents (44% female vs. 49% male)
Incompetent—40% of respondents (38% female vs. 43% male)
Other characteristics gave us a fairy even split. Check them out yourself:
Weak—40% of respondents (41% female vs. 40% male)
Stupid—35% of respondents (34% female vs. 36% male)
Smart—78% of respondents (77% female vs. 78% male)
Competent—77% of respondents (77% female vs. 78% male)
Confident—77% of respondents (76% female vs. 78% male)
Compassionate—66% of respondents (67% female vs. 64% male)
Role model—76% of respondents (78% female vs. 74% male)
Leader—74% of respondents (73% female vs. 76% male)
Going against stereotypes, it's comforting to see almost the same amount of women and men labelled as leaders. Also, compassion turns out to be considered unisex, not "a girl thing."
The conclusion seems to be simple. We are all human. Gender comes next.
Does leadership have gender?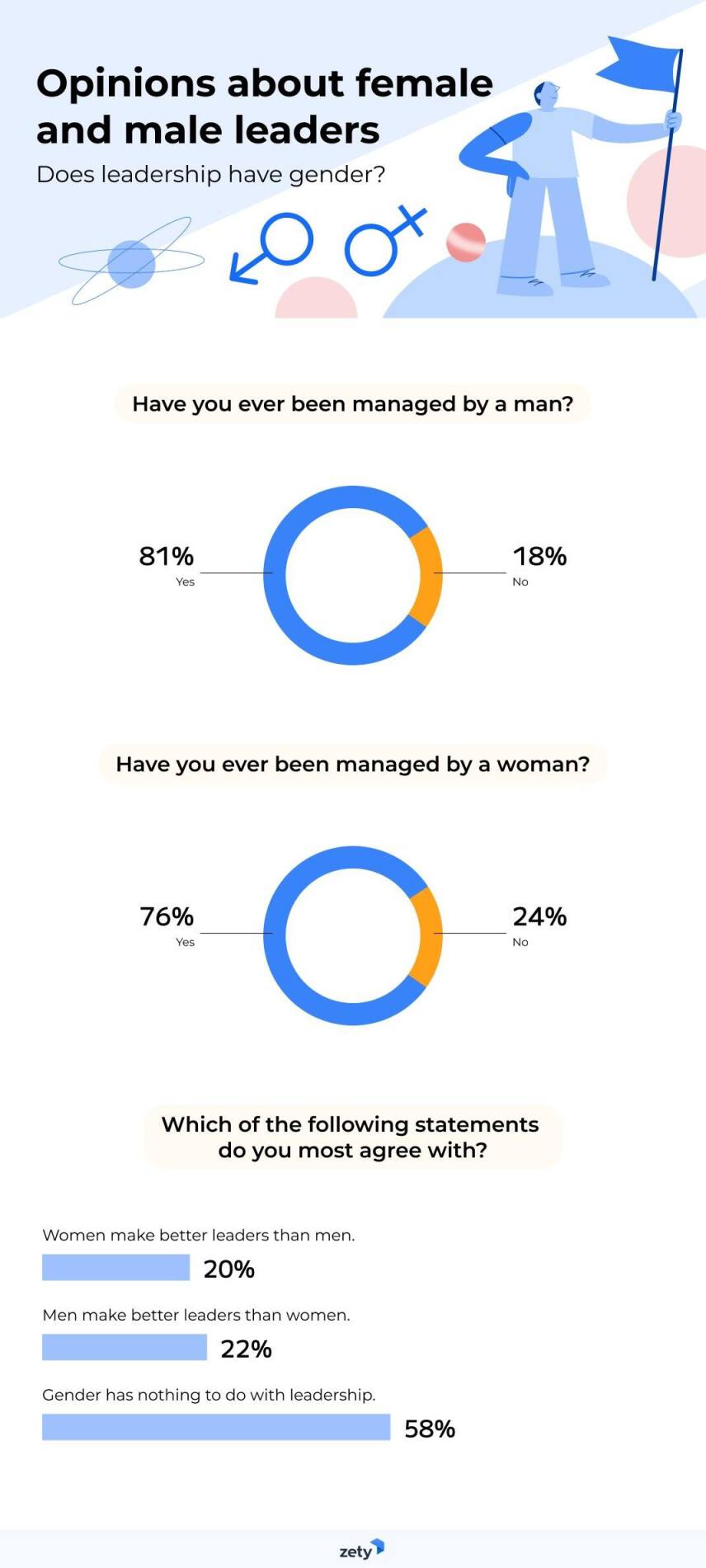 Let's have a closer look at leadership.
We asked respondents a few questions on their experience with men and women in managerial positions. Here's what the study revealed:
More than 7 in 10 (73%) respondents had ever been a manager/leader. There were no noticeable differences between answers given by men and women.
82% of survey takers had ever had a man as a leader, while 76% had been managed by a woman.
Around 6 in 10 respondents (58%; 61% females and 55% males) claimed leadership had no gender. At the same time, 20% believed that women made better leaders than men. Conversely, 22% were of the opinion that men performed better in managerial positions than women.
Intelligence, creativity, and ambition have no gender. Nor does leadership.
Times when being a leader depended on physical strength are long behind. Left in the caves, where they belong. These days, better qualifications, knowledge, and skill set are way more important than who can hunt. Comforting perspective, isn't it?
Different, but the same?
We also asked our respondents a series of questions on who makes better employees, work colleagues, team players, and "relation builders"—women or men? The results bring back hope in equality.
In most cases, respondents claimed that gender had nothing to do with how good an employee (70%), a colleague (64%), a team player (66%), and a "relation builder" (61%) a person was.
The differences between perceptions of females and males at work were minor. Going into details: better employees—16% women vs. 14% men, better colleagues—19% women vs. 17% men, better team players—17% women vs. 17% men
Women were believed to be slightly better (23%) at building relationships at work than men (16%).
Diversity is a workplace blessing. It facilitates unlocking the full potential of each gender at work and beyond. Differences create a greater variety, more perspectives, and human resources within our reach. The sooner society understands it, the better for everyone.
When organizations build a culture that values all dimensions of diversity – one that provides equitable opportunities for people to grow, learn and advance – it creates an environment where everyone thrives and where people can experience a true sense of belonging.
Moving on, let's investigate how certain professions are socially perceived.
Who does it better?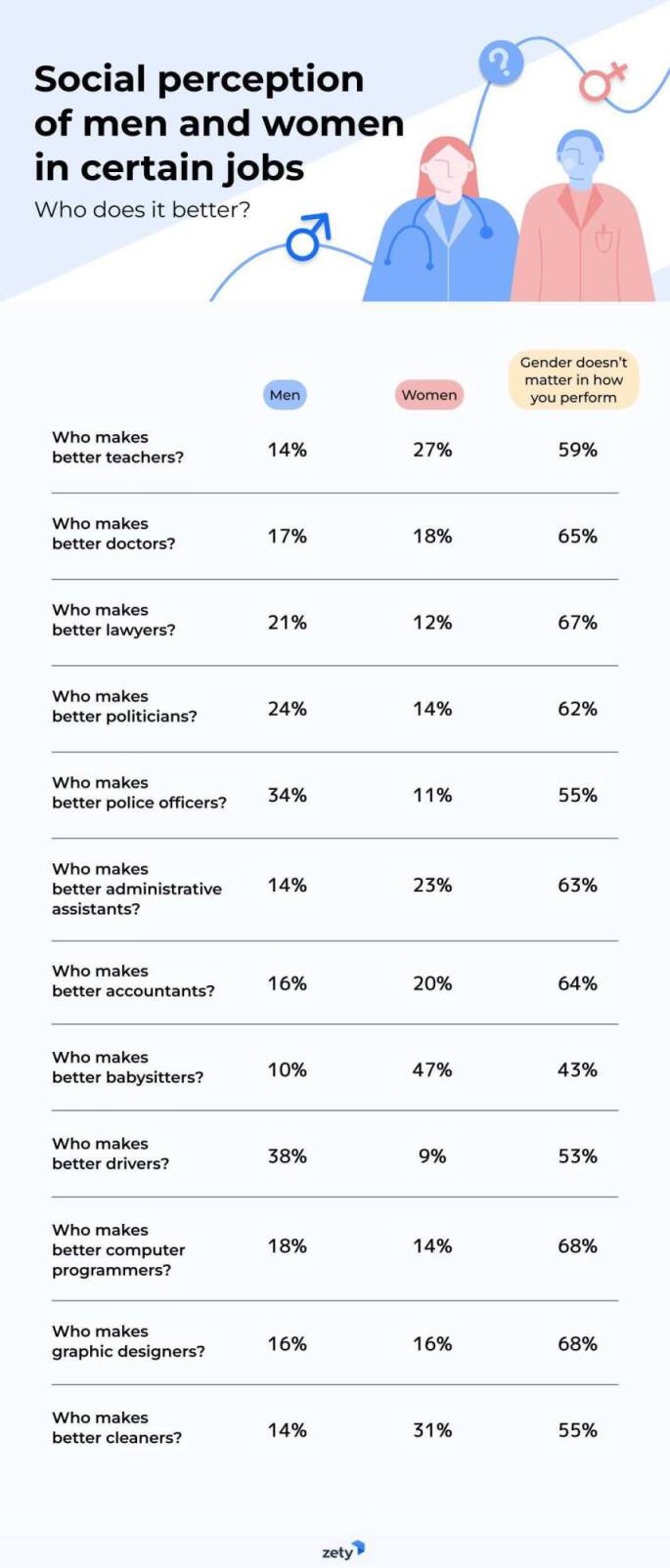 Are there any "female" or "male" jobs? In theory, there are not. Professions should be about one's competencies, right? Well, in practice, gender stereotypes haven't become extinct yet.
Our respondents were asked who performed in a certain job better—female or male employees.
In general, for most respondents, gender didn't matter in how one performed in a given job.
But, men were believed to be better lawyers, politicians, police officers, drivers, and computer programmers than women.
Conversely, respondents claimed that women performed better than men as teachers, doctors, administrative assistants, accountants, babysitters, and cleaners.
Interestingly, the perception of women being better doctors has a basis in fact. A 2017 study by the Harvard School of Public Medicine found that female physicians' patients tend to have lower mortality rates.
The detailed percentage difference is presented in the infographics above.
Final opinion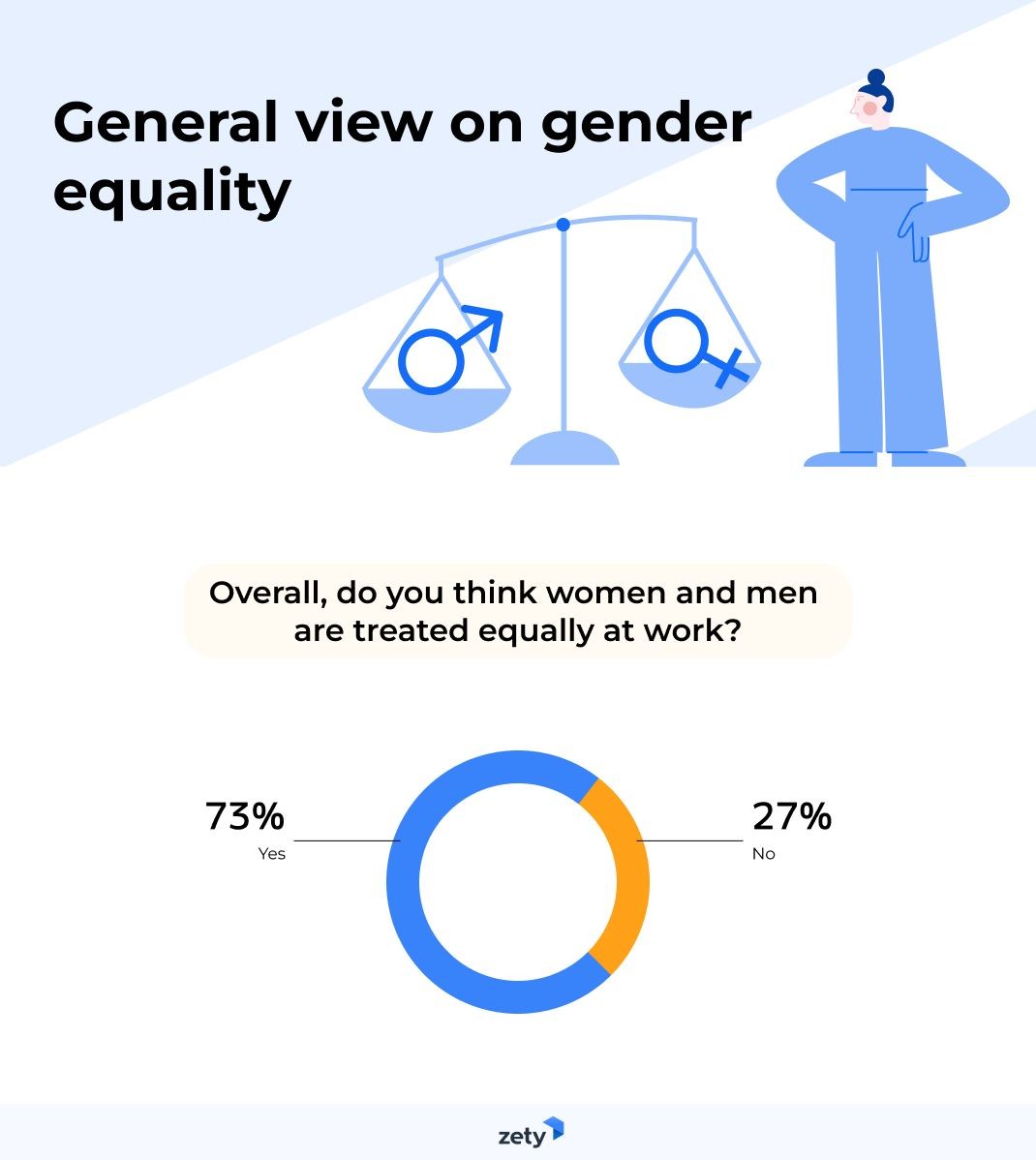 We'll keep it short and sweet.
When asked if, overall, respondents thought women and men were treated equally at work, 73% agreed, while 27% did not.
What does it tell us? There is no one correct answer and, well, it all depends on the person's ethnicity, age, profession, and countless other factors. It also tells us we might be being lulled into a false sense of security when it comes to the gender gap at work.
A substantial majority of our respondents don't see any gender gap at work, but independent data suggests it most certainly does exist.
Food for thought on gender
In 2014, award-winning author Chimamanda Ngozi Adichie gave a speech "We should all be feminists", which started a worldwide conversation about modern feminism. Adichie views it as a direct way to a different, fairer world—of happier men and women who are truer to themselves.
Gender is not an easy conversation to have. It makes people uncomfortable, sometimes even irritable. Both men and women are resistant to talk about gender, or are quick to dismiss the problems of gender. Because thinking of changing the status quo is always uncomfortable. Some people ask: "Why the word feminist? Why not just say you are a believer in human rights, or something like that?" Because that would be dishonest. Feminism is, of course, part of human rights in general—but to choose to use the vague expression human rights is to deny the specific and particular problem of gender. It would be a way of pretending that it was not women who have, for centuries, been excluded. It would be a way of denying that the problem of gender targets women. That the problem was not about being human, but specifically about being a female human. For centuries, the world divided human beings into two groups and then proceeded to exclude and oppress one group. My own definition is a feminist is a man or a woman who says, yes, there's a problem with gender as it is today and we must fix it, we must do better. All of us, women and men, must do better.
In the workplace, gender should be just a feature. That's where competencies, work style, and skill set matter. It's our mutual responsibility to prove that the gender gap doesn't need to get any wider. Enough is enough.
Key takeaways
Almost half (49%) of respondents agreed that gender mattered at work.
7 in 10 (71%) survey takers believed gender stereotypes were still alive in the workplace.
More than half (51%) of respondents, declared that their competencies had been questioned because of their gender. And the answers were similar for both men and women.
41% of survey takers believed that because of their gender, they hadn't got a pay rise. 42% declared that they hadn't been promoted for the same reason. Also, almost half (46%) viewed their gender as a reason why they hadn't been hired. And again, answers were almost identical for both men and women.
Women of color felt much worse in the workplace than white women. A comparison of the overall answers given by ethnic minority women showed they're much more likely to see discrimination
Men were more often described by their colleagues or manager as competitive, analytical, and aggressive than women.
Most survey takers (58%) believed that gender had nothing to do with leadership.
Men were believed to be better lawyers, politicians, police officers, drivers, and computer programmers than women. Conversely, survey-takers claimed that women performed better than men as teachers, doctors, administrative assistants, accountants, babysitters, and cleaners.
Business & finance seemed to be the least female-friendly industry. Conversely, the software/IT sector was the most gender-neutral one.
Methodology
The findings presented were obtained by surveying 1008 American respondents. They were asked questions relating to their views and attitudes toward the situation of men and women at work. These included yes/no questions, scale-based questions relating to levels of agreement with a statement, questions that permitted the selection of multiple options from a list of potential answers, and a question that permitted open responses. All respondents included in the study passed an attention-check question.
Limitations
The data we are presenting relies on self-reports from respondents. Each person who took our survey read and responded to each question without any research administration or interference. We acknowledge there are many potential issues with self-reported data like selective memory, telescoping, attribution, or exaggeration.
Sources
Fair use statement
Want to share the findings of our research? Go ahead. Feel free to use our images and information wherever you wish. Just link back to this page, please—it will let other readers get deeper into the topic. Additionally, remember to use this content exclusively for non-commercial purposes.
About Zety's Editorial Process
This article has been reviewed by our editorial team to make sure it follows Zety's editorial guidelines. We're committed to sharing our expertise and giving you trustworthy career advice tailored to your needs. High-quality content is what brings over 40 million readers to our site every year. But we don't stop there. Our team conducts original research to understand the job market better, and we pride ourselves on being quoted by top universities and prime media outlets from around the world.