Criminal Record at Work [2022 Study]
Should ex-offenders be reintegrated into society by getting employed? Here's what people really think about second-chance hiring.
Old sins cast long shadows. Old habits die hard. You can't teach an old dog new tricks.
Same old story.
Is there any place for new then? A new beginning, for example.
Let's find out.

Second-chance hiring is about making it possible for ex-offenders to leave the past behind and start a new life. Its aim is to give the man a fishing pole, not a fish.
Having a job helps people with criminal records get back on track and turn their backs on crime.
The desire to have a job does not go hand in hand with getting hired, though. Ex-offenders face huge obstacles to finding stable employment.
A Brookings Institution study on work before and after incarceration revealed that 45% of formerly imprisoned people report no earnings for the first year after their release. Arguably, a direct result of the fact that employers are often unwilling to hire criminal record holders.
With few job offers, ex-offenders are often forced to take temporary, part-time, or under-the-table work. What's even worse, local laws may restrict their access to occupational licenses and other credentials.
The price to pay for old sins is high. And the spirits get low. To add some cheer-up accent, we can say that dead ends often turn out to be new beginnings. But not when there is no one to stand by you.
Helping hands
According to public-policy experts, ex-convicts' struggle to get hired often reflects racial bias and public perception.
ReNika Moore, director of the ACLU's Racial Justice Program, claims that:
The Prison Policy Initiative Mass Incarceration 2022 report proves that disparities within the judicial system are especially harsh for Black Americans, who make up 38% of the incarcerated population despite comprising 12% of US residents.
These findings are worrying.
The good news is that we could see a glimmer of light at the end of the tunnel.
There are companies that take pride in second-chance hiring. And their number is growing.
Timpson is a successful British family retail business and foundation specializing in the recruitment of marginalized groups within society. They are now one of the largest employers of ex-offenders in the UK and approximately 10% of their workforce is made up of people who have criminal convictions.
Being fearful of hiring people with difficult backgrounds is a dated and loss-making concept. We wouldn't be the biggest and best in our field without them.
In this special workplace, they believe in giving everyone a second chance. Instead of judging people on what they have done in the past, Timpson's team prefers to focus on what they can do in the future.
As Timpson's slogan says, they provide "great service by great people".
So—
If you desire a change and want to live a new life, your criminal record has no power to deprive you of that greatness. At Timpson, at least.
An American company that shares the vision of a society where everyone gets a second chance is Goodwill Industries International. This non-profit social enterprise's mission is to help people achieve their full potential through providing the support they need, learning, and the power of work.
Goodwill Industries International offers formerly incarcerated people job-placement assistance.
We're not only giving someone a great opportunity to move forward in their life, we're giving ourselves the opportunity to learn about the world and to create a richer work environment.
Enthusiastic voices on second-chance hiring heard from such big fish as Timpson and Goodwill sound promising. Is working with criminal record holders a bed of roses then? Well, dfferent people have different opinions.
Keep reading to get a multi-angle perspective..
Ex-offenders in the workplace

For many ex-offenders, employment is a chance for a fresh start. They need a job to keep them on the straight and narrow.
Second-chance hiring has an influence not only on the hired, but also on employers and on other employees.
Almost 8 out of 10 respondents have first-hand experience with second-chance hiring.
77% of them claim that they have worked with an ex-offender, 18% have not, while 5% do not know.
When asked "If you were an employer, how likely is it that you would hire a person with a criminal record?", the majority of the surveyed (57%) declared that it would be likely or very likely, 28% remained neutral, and only 15% perceived employing a former criminal as unlikely or very unlikely to happen if they were responsible for the decision.
What does it tell us? Not that much, to be honest.
Let's dig deeper then. How does it feel to work with ex-offenders?
81% of respondents claim all ex-offenders should be risk assessed before being offered employment.
Almost 8 out of 10 (78%) surveyed people find it hard to trust ex-offenders.
73% of the surveyed think that offenders should work individually rather than as a part of a team.
On the other hand, respondents believe that ex-offenders…
changing their lives can be a good example for others to follow. (87%)
are as capable of being good employees as people without criminal records. (81%)
tend to work harder than people without criminal records. (76%)
are more loyal to their employers than people without criminal records. (75%)
There are two sides to every story, it seems.
Criminal records in numbers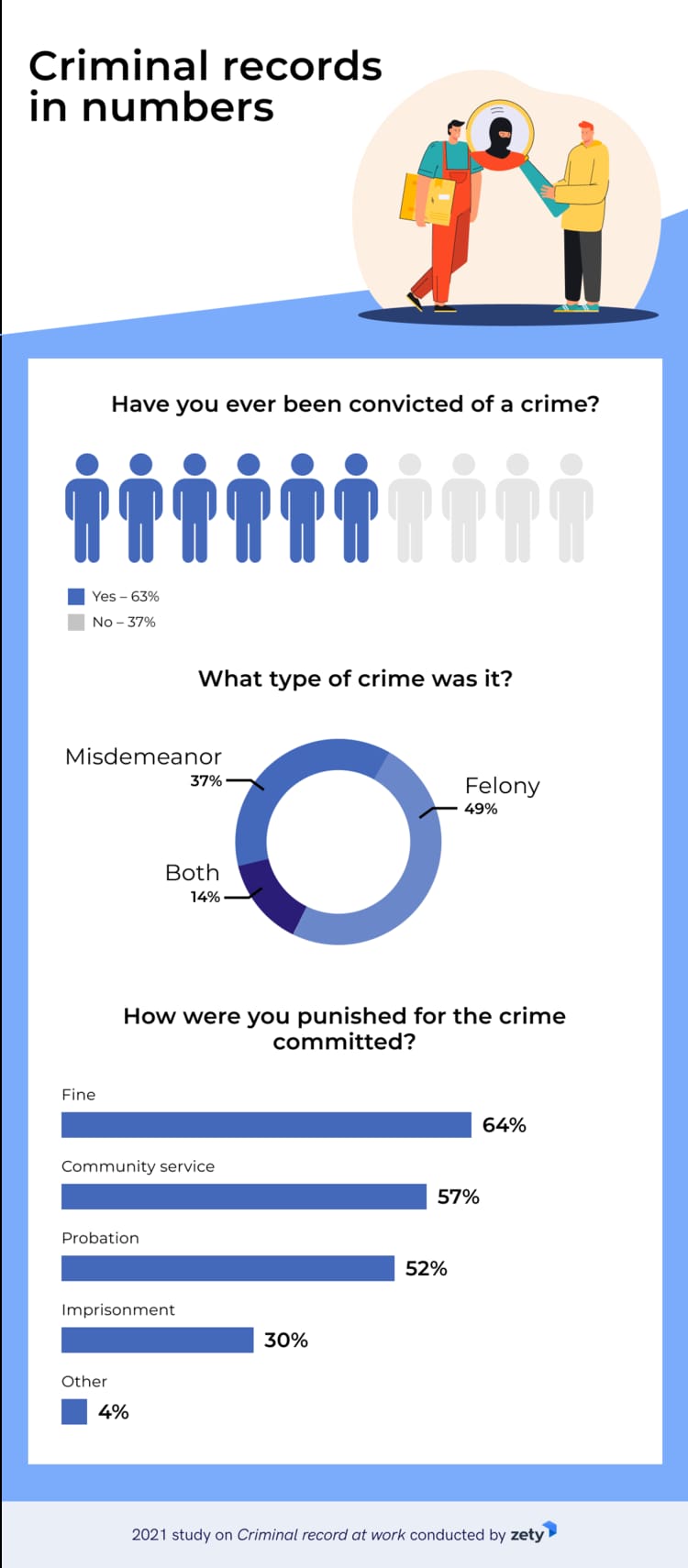 Numbers speak louder than words. Dropping the mike. Have a look at the research findings.
6 out of 10 (63%) of our respondents say they've been convicted of a crime.
Almost half (49%) of the surveyed have been convicted for felony, while 37% for misdemeanor, and 14% for both.
At this point, we need to acknowledge that the number of respondents with a criminal record seems high. This could partly be because respondents who identified with the survey topic were more likely to choose to complete it.

However, it's also worth noting that a crime isn't always a serious, violent act. In fact, a parking violation or speeding ticket can also be a crime. Here's the strict definition, which covers everything from the dramatic to the mundane.
Crime is behavior, either by act or omission, defined by statutory or common law as deserving of punishment.
So not all of our respondents who say they've been convicted of a crime have committed serious offences. Obviously, "crimes" on the lowest end of the scale won't always have a bearing on employment. But this high number of responses did let us examine some other interesting datapoints.
When it comes to the punishment for the crime committed, the answers were as follows:
community service– 57%
probation– 52%
imprisonment– 30%
other – 4%
The formerly incarcerated ones were also asked how long they have been imprisoned. If it happened more than once, we wanted to know what their longest prison sentence was. And here's what we got:
less than a month – 5%
1-6 months – 22%
1-3 years – 18%
3-5 years – 20%
5-10 years – 8%
10-20 years – 2%
20+ years – 0%
Some other research findings to highlight:
Almost all respondents who did time in prison work now (99,4%).
For 9 out of 10 the formerly incarcerated ones, it was obligatory to inform the employer about their criminal record.
Time to get a deeper insight into how it feels to be an ex-offender in the workplace.
Old sins cast long shadows?

The workplace doesn't always feel as heaven on earth for ex-convicts.
A criminal record is like a permanent scarlet letter, as they report.
85% of respondents who have committed a crime feel somehow stigmatized in the workplace.
Exactly as many of them (85%) believe they need to work harder than other employees.
8 out of 10 ex-offenders surveyed don't feel trusted both by an employer, and by other employees.
Having these numbers in mind, it is easy to imagine why 92% of former offenders prefer co-workers not to know about their criminal record, while 85% would also be happy to keep employers in this state of blissful ignorance.
At the same time, the role of employment in ex-convicts' lives is hard to overstate.
As many as 90% of the respondents with criminal records claim that employment saved their lives.
Work is for them a matter of to be or not to be.Or rather, whether to stay on a crime-free path or not.
Views on second-chance hiring
It seems our respondents have hearts of gold. Cheers to them! Enjoy these feel-good findings revealed by the survey.
A crashing majority of the surveyed (89%) believe that ex-offenders deserve a second chance.
87% of respondents are convinced that employment can change ex-offenders' lives for good. Fingers crossed for you, guys.
8 out of 10 interviewees would be happy to work with an ex-offender, while almost as many (78%) consider it positive when a company has a policy of hiring ex-offenders..
It is obvious for 79% of respondents that ex-offenders deserve the same employment opportunities as non-offenders.
Following the principle of "to each according to his merits", 82% of the survey takers agree with the statement that employment opportunities given to ex-offenders should differ depending on the crime they were convicted of.
How heartwarming these are. There is hope in this life.
Everybody wins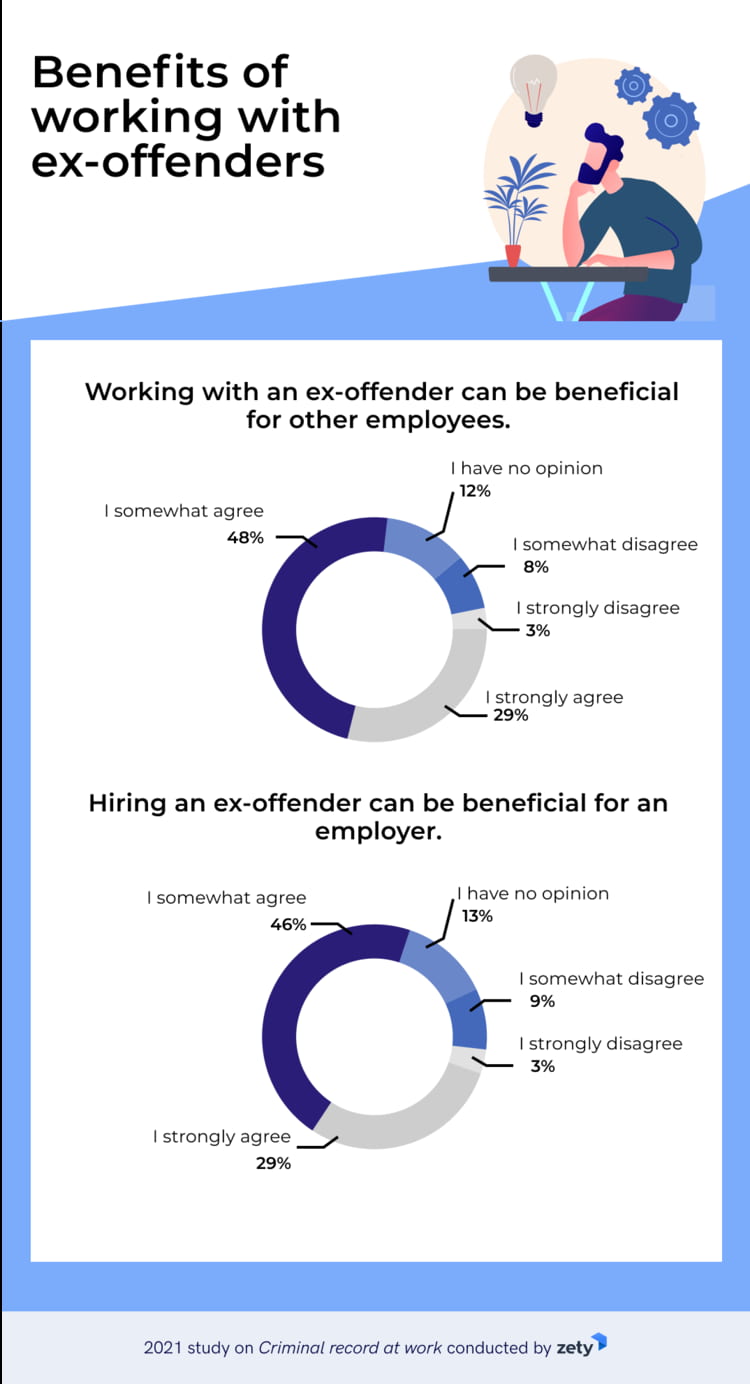 Various studies have proven employment to be the single most important factor in decreasing recidivism.
Still, criminal record holders are not the only ones who take advantage of second-chance hiring. In fact, it is a perfect example of a win-win situation.
And again, it seems our friends across the pond are leading the way.
The New Futures Network, as a specialized part of Her Majesty's Prison and Probation Service, the British Ministry of Justice, brokers partnerships between prisons and employers in England and Wales. The data gathered by them leaves no doubt that businesses can benefit from second-chance hiring in a number of ways.
Solving skills shortages. Ex-offenders and former prisoners gain a wide range of skills and qualifications that suit almost any sector. Workshops they participate are often run by external businesses. Criminal record holders can make perfect job-ready candidates and fill the skills gaps.
Reduced recruitment cost. Thanks to opening recruitment up to ex-convicts, vacancy filling costs are reduced.
Reduced staff absence and increased staff retention. For people with criminal records, employment can be a life-changing circumstance. Therefore, many of them are ready to go the extra mile to keep their job. They tend to take less time off than other workers who are, for example.
Ex-offenders often turn out to be more loyal employers. It is because of the higher value they place on having a job and staying out of prison.
Awareness that you, as an employer, make a change in someone's life feels great. Having a job helps ex-offenders stay out of trouble, appreciating the chance they were given.
Three-quarters of our respondents view hiring an ex-offender as beneficial for an employer. What is more, almost that many (77%) agree that working with an ex-offender can be beneficial also for other employees. Everybody wins.
In your own words
In the last section of the survey, respondents were asked to give their final, brief opinion on hiring former offenders.
For some, it is just fair and morally right to welcome and accommodate ex-convicts in the workplace. Answers provided by this group of people revealed a genuine belief in the power of
reintegration of criminal record holders into society. Employment serves as a path leading to a new life, free from misconduct.
I think that it is a good idea to hire former offenders because they can contribute to society and make a positive impact on any company and provide different perspectives and thoughts that can help everyone.

Hiring an ex-offender can make an enormous change to their lives and enable them to pursue a life free of the temptation to re-offend. The denial of employment to those who have been convicted of crimes is a leading cause of recidivism.

It can be beneficial for the ex-offender and for the company, and it's a good way for a company to invest in the local community that it operates in, as employing ex-offenders reduces the likelihood that they'll re-offend.

People with criminal records are no more likely to be fired for misconduct than people without records. They're also statistically less likely to quit, which saves employers a considerable amount in turnover costs.

I think that it is beneficial to society to integrate these people back into the workforce and utilize their skillsets. They have paid their debts and need to start living life after reformation again, which is positive in nature.

Actively hiring former prisoners is proven to reduce re-offending. Most of these people want the opportunity to turn their back on crime and having a job helps them stay on that path.

I see no problem hiring former offenders as long as you think the position is right for them and work and help them to grow and develop. Some of them do want to change their lives.

They need jobs to provide for themselves and to keep them on the straight and narrow.

Offenders have done their 'time' and that is enough. Continuing to punish them throughout their lives is cruel and pointless.

I think everyone deserves a second chance, especially when they have had consequences for their actions.
At the same time, the other group of respondents takes a more balanced approach to second-chance hiring. They are not against it but claim that everything depends on the crime and ex-offenders themselves.
It all depends on the crime.

Depending on the type of crime committed, I would not be against hiring a former offender becauseit is faulty thinking to insist on the past as a predictor for the future.

I feel that depending on the crime determines if they should be hired for a specific job. Everything has to be looked at as a whole. Ex-offenders do need to work, so they need to be hired somewhere. I would feel comfortable working with one, depending on what the crime was that they committed.

I think hiring former offenders is the only way to ensure their reintegration into society, but I do think the job should depend on what kind of crime they committed. For example, a person convicted of fraud should not be able to work in a bank, and might even be untrustworthy, working a register.

I think it depends on the crime and the person's willingness to work. I also think the job itself depends on what the person was convicted of. I wouldn't want a sex offender in a school, for example.

I fully believe in giving people a second chance, as long as it doesn't endanger anyone else. For example, let's not hire child molesters in schools, or people convicted of violent crimes in gun stores.

I can see it as a beneficial step for the ex-offender. However, it would really boil down to what their offense was and could they cause harm to my current employees.

It really depends on the offender. Some ex-offenders are people who just made bad decisions but some are an absolute detriment to whomever they work for or around. It is hard to say one way or another without knowing the specific ex-offender. Most should be given a chance, but not all.

I think it fully depends on each circumstance. I would have to determine it for each individual.
There are also respondents to whom hiring ex-offenders seems too risky.
They believe that a criminal record is a signal that a person who holds it cannot be trusted and may cause problems in the workplace.
I don't think they can be trusted and if I was in the position to hire employees, I wouldn't take that chance. I think people come out of prison worse criminals than when they went in. I think they are worse people coming out and would cause chaos in the workplace.

When you are looking for a worker, a criminal record is usually a huge red flag… The challenge is big.

It seems risky considering offenders are likely to be repeat offenders.

They can bring danger into your workplace.

A large proportion of former prisoners have low levels of educational attainment and work experience.

I think that hiring former offenders is a terrible idea since it introduces too much risk into the workplace. The ex-offender could always relapse.
One of the respondents wrote:
"I have no real opinion [on hiring ex-offenders]; they are people, just like everyone else."
And that is it. Second-chance hiring sees a person, not a criminal record holder.
Wouldn't the world be a better place if we all could take such a nonjudgmental perspective?
Treating the past as a predictor for the future is a double-edged sword. Do not get in that trap.
One day you judge, the other you are judged.
Yesterday is history, after all.
Let's keep it a source of lessons learned rather than reasons to form critical opinions or prejudices.
Key takeaways
A few words before you go.
Not every former criminal makes employee material. And not all jobs are suitable, depending on the crime committed. Yet, for the vast majority, employment serves as a fresh start.
In many circumstances, ex-offenders prove to be more reliable and loyal employees than those without criminal records. Feeling that employment is their chance for a better–free from crime and misconduct– future, former convicts seem to better appreciate what they have.
It has been proven that criminal record holders with a job are less likely to reoffend. Good news for you, society. Feel protected as a whole.
Second-chance hiring also benefits the economy, having ex-offenders actively contributing. They get, they give. Seems fair.
All in all, it seems that taking a balanced view on ex-offenders is good common sense with far-reaching positives. Open minds of employers and vacancies open to ex-offenders are a key to close the criminal chapter of many up there.
Methodology
The findings presented were obtained by surveying 1032 American respondents. They were asked questions relating to their views and attitudes toward second-chance hiring and working with people who have criminal records. These included yes/no questions, scale-based questions relating to levels of agreement with a statement, questions that permitted the selection of multiple options from a list of potential answers, and a question that permitted open responses. All respondents included in the study passed an attention-check question.
Limitations
The data we are presenting relies on self-reports from respondents. Each person who took our survey read and responded to each question without any research administration or interference. We acknowledge there are many potential issues with self-reported data like selective memory, telescoping, attribution, or exaggeration.
Sources
Fair use statement
Want to share the findings of our research? Go ahead. Feel free to use our images and information wherever you wish. Just link back to this page, please—–it will let other readers get deeper into the topic. Additionally, remember to use this content exclusively for non-commercial purposes.
About Us
With Zety, you can revamp your job application with professional CV templates and elegant cover letter designs. Our career blog shares expert tips on the best CV formats and the importance of hard skills.
About Zety's Editorial Process
This article has been reviewed by our editorial team to make sure it follows Zety's editorial guidelines. We're committed to sharing our expertise and giving you trustworthy career advice tailored to your needs. High-quality content is what brings over 40 million readers to our site every year. But we don't stop there. Our team conducts original research to understand the job market better, and we pride ourselves on being quoted by top universities and prime media outlets from around the world.