How Do Employees View Workplace Surveillance? [2022 Study]
Feeling controlled? Today's workplace surveillance is a digital playground. Employers can track employees' every move. Here's what people really think about Big Brother watching them.
Big Brother is getting even bigger. And more eager to watch you. All the time.
Workplace monitoring and surveillance keep growing stronger. Find out how American employees perceive this phenomenon.

Smile, you're on camera.
Actually, you can stop smiling now. This isn't a joke.
Today, workplace surveillance is more common than ever. And thanks to new technologies, employers can literally track your every move.
It's not only CCTV anymore. Employers are using a wide range of tools to monitor their staff. Checking mailbox and phone register? Old school.
Ok, so what about web browsing patterns, screenshots, and keystrokes. Not enough? How about tracking social media activity, private messaging apps, and even face-to-face interactions with colleagues?
Nope, it's not a new, futuristic version of "The Office" coming soon to Netflix. Sorry.
But get your popcorn anyway. Reality goes beyond fiction.
Isn't it crossing the line? How far can companies go? And how do employees accept workplace monitoring and surveillance as a new office normal? We've surveyed over 1000 Americans on these burning issues.
Keep scrolling to find out more.
Every step you take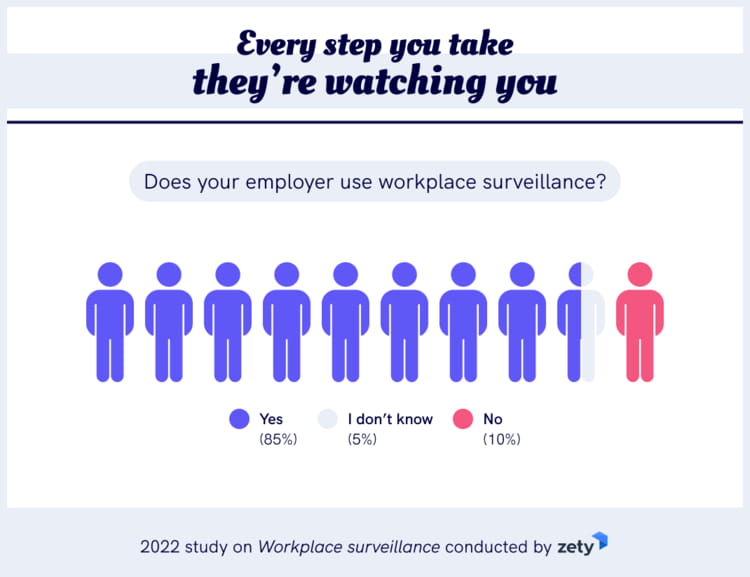 85%. Almost 9 out of 10. That's how many employers use workplace surveillance. So if you're reading this on a work device, chances are you're being watched.
Let's see. What are the reasons why companies decide to use these solutions?
To prevent insider trading and data leaks.
To protect office assets.
To control staff productivity.
To monitor Human Resources violations (e.g. discrimination, sexual harassment, and any other inappropriate behavior).
Sounds impressive and very professional, doesn't it? Like a safe workplace dream come true.
Employees are not convinced, though. They believe that surveillance is not necessarily for their own good. And that it works not for them but against them.
What's the employers' perspective?
If you are a parent and you have a teenage son or daughter coming home late and not doing their homework you might wonder what they are doing. It's the same as employees.
Hold on for a second. As a matter of fact, you are not my dad, dear boss. And I am here to do work, not homework. Isn't it kind of obvious? Not exactly.
Trust issues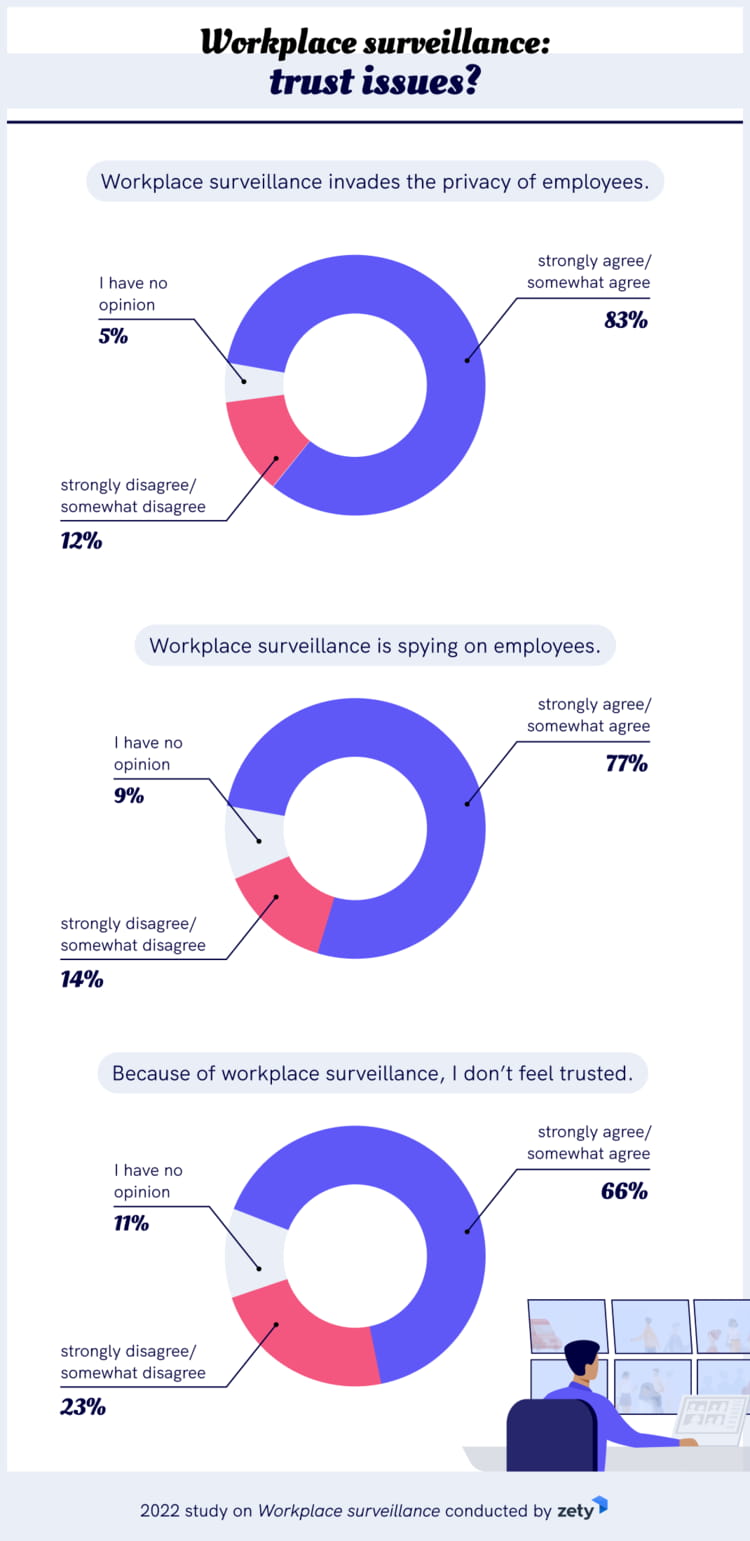 "Secret of a happy, long-lasting relationship? We don't trust each other." Said no one ever.
The employer-employee relationship is like any other, which keeps evolving and calls for constant actions. That's the reason why it requires continuous care, support, and understanding to be happy and healthy.
Lack of trust has never been a solid base. It just doesn't work. Especially at work.
Still, employees associate workplace surveillance with violation of privacy and being distrusted. Our survey results made it clear.
More than 8 out of 10 respondents believe that workplace surveillance invades their privacy, while 77% go even further and consider it as a form of spying.
Surveillance makes as many as 66% of the interviewees feel that they are not trusted.
On the other hand, as inconvenient as it feels, employees seem to be aware that not all of us are honest by nature. 68% suspect that without workplace surveillance, people would be more likely to cheat on their employers.
So if you work honestly and have nothing to hide, workplace surveillance shouldn't bother you. That's at least what almost three quarters of our respondents claim.
We're not the first ones to examine workplace trust issues. Elements Global Services, a global tech company, conducted a study focused on identifying gaps within the employer-employee relationship. Their findings revealed that:
75% of remote workers are concerned about their employer tracking when and how much they work.
More than half of the respondents admitted to deleting slacks and/or other messages so their employer couldn't see them.
64% of the employees surveyed have deleted their browsing history to hide lack of productivity.
Why do employees take such steps then? Is a quick Facebook checkup a crime?
This need to hide things from the employer may be a result of fear. As simple as that. Many employees worry that any information can be used against them. They are afraid of being either fired or overwhelmed with the workload.
Rick Hammell, CEO of Elements Global Services, suggests that businesses should change their attitude toward employees.
This erosion of trust provides organizations and companies ample opportunities to rebuild their relationships with employees by trusting and allowing employees to be accountable for missteps or miscues in the workplace. CEOs and HR managers need to trust their hiring process and that the employees they've hired are the right employees for the job at hand.
With more and more companies adapting to the global workforce, it seems that remote work is here to stay. It should be, therefore, crucial for employees to create a trust-based, friendly work environment. Employees need solutions, which enable work autonomy and increase their productivity.
Love-hate relationship?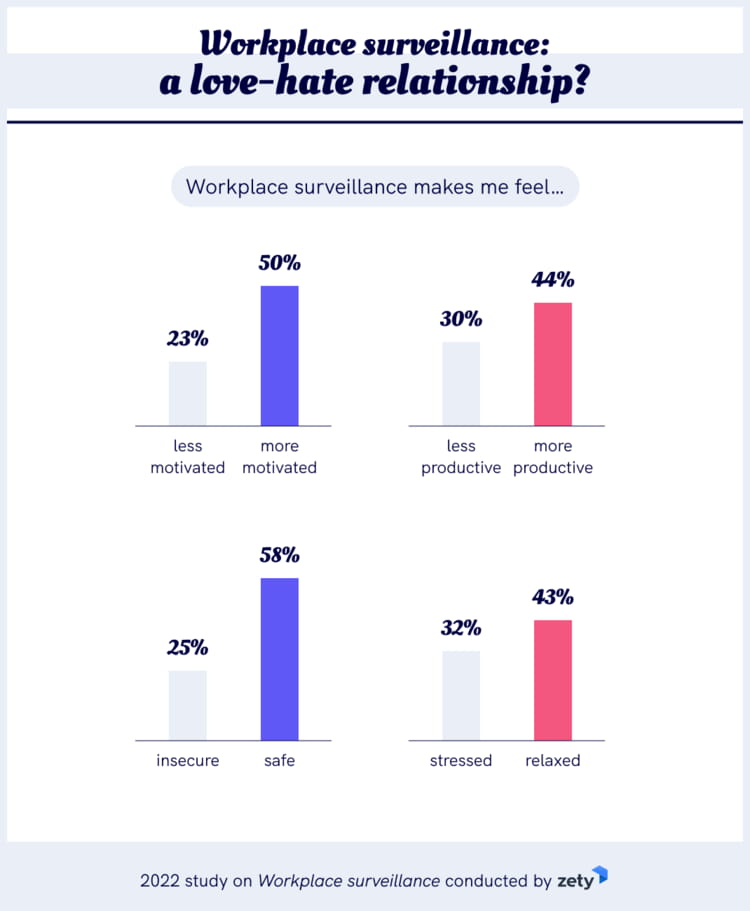 As you can imagine, workplace surveillance raises questions about employees' well-being.
To find out more, we asked our respondents how it affects their mood, motivation, productivity, and sense of security. Here's how workplace surveillance makes them feel:
less motivated—23% vs. more motivated—50%
less productive—30% vs. more productive—44%
insecure—25% vs. safe—58%
stressed 32% vs. relaxed—43%
Well, consistency of views is not a must.
Our respondents complain about what a pain the whole surveillance thing is, but also feel more motivated, productive, relaxed, and secure thanks to it.
How does the saying go? A wise man changes his mind, a fool never will. Fair enough.
Big Brother's toys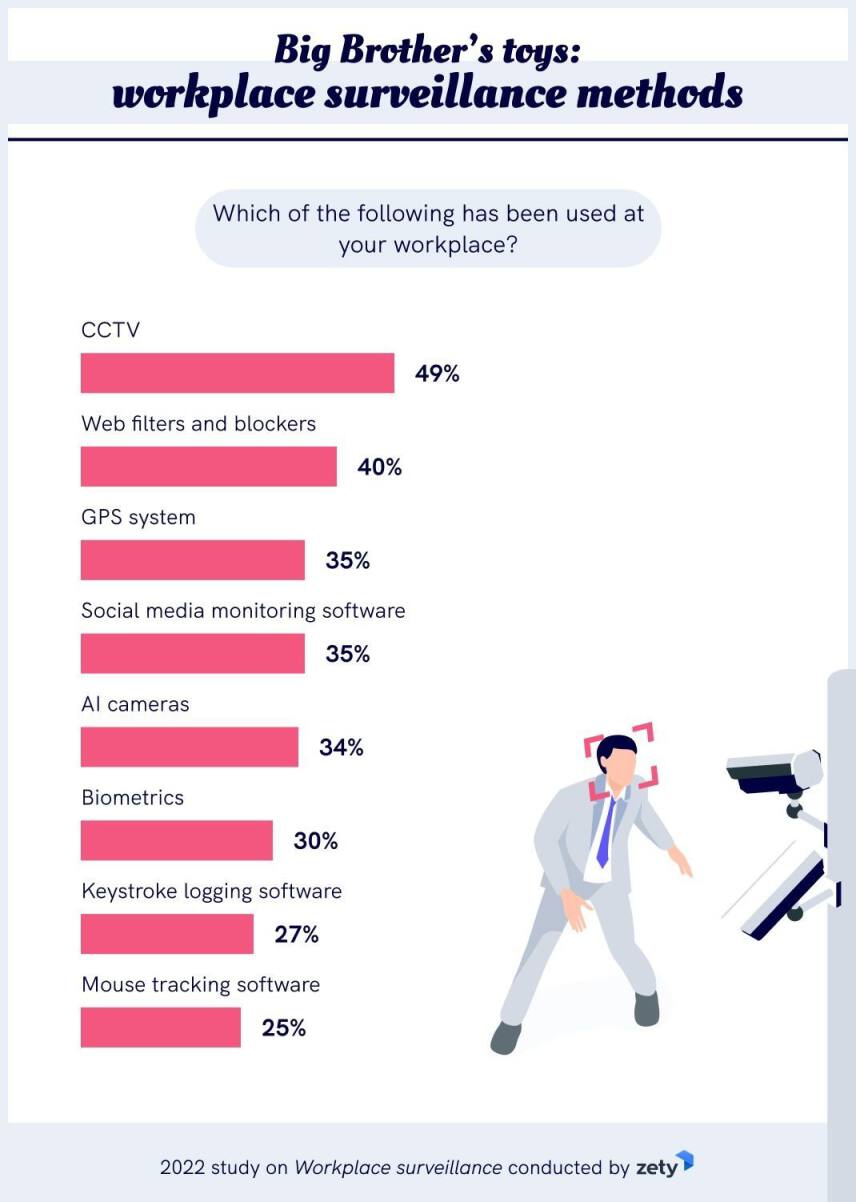 Let's dig into Big Brother's toy chest and see what's in.
Our interviewees were asked: "Which of the following do you know to have been used by your workplace?" Here's what they answered:
CCTV – 49%
Web filters and blockers – 40%
GPS system – 35%
Social media monitoring software – 35%
AI cameras – 34%
Biometrics – 30%
Keystroke logging software – 27%
Mouse tracking software – 25%
CCTV, an evergreen in the world of surveillance. Still, it has company. Many to choose from…
Employees can keep an eye basically on everything their employees do. Although workplace monitoring has always existed in some form, technology opened the door to more intrusive and exploitative forms.
It truly is Big Brother—or "Big Boss", to be more precise—watching you. And the fun doesn't here. With such a growing trend, we can only wonder what the feature brings.
The best is yet to come?
It all depends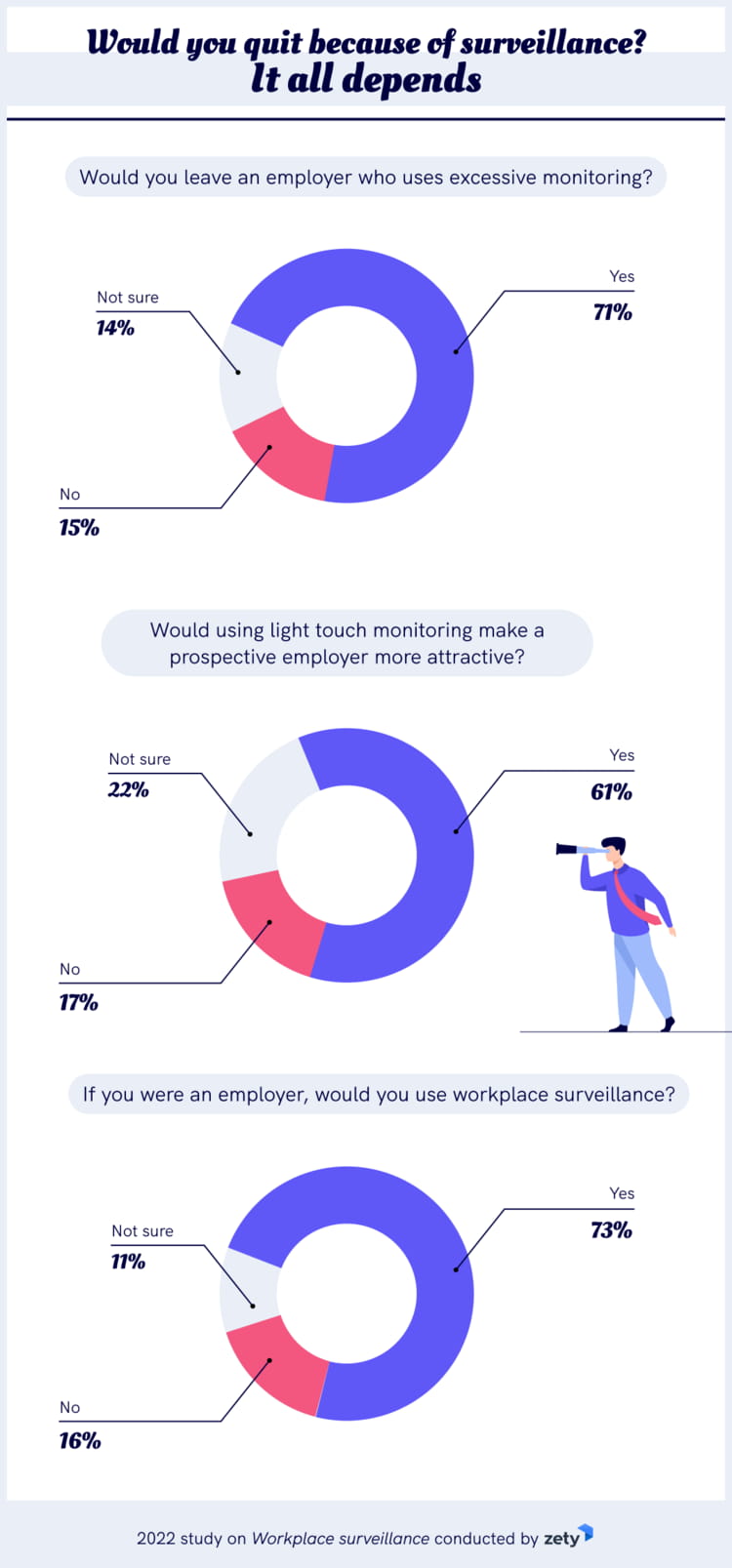 Where you stand depends on where you sit. Nice saying. But what does it have to do with our survey?
It turned out that our perspective on surveillance is determined by the position we are in.
As an employee—71% of respondents claim they would leave an employer who uses excessive monitoring.
As a jobseeker—using light touch monitoring makes a prospective employer more attractive for 61% of the interviewees.
As an employer—almost three quarters of the surveyed employees would use workplace surveillance if they were an employer.
Why is that so? The answer seems pretty obvious. It is way easier to feel distrusted than to trust someone else. Human nature, they call it.
Judged by a cover (photo). Social media screening
Surprise, surprise.
Even if you're not an employee, you may still be subject to surveillance.
How come? Pre-employment social media screening is the answer. And it's gaining in popularity.
Say hello to the technology used to check potential job candidates' social media accounts by the recruiters.
According to a CareerBuilder survey:
70% of employers use social media to screen candidates during the hiring process.
Nearly half of employers check up on current employees on social media.
34% of employers have reprimanded or even fired an employee based on content found online.
Story from a job interview, shared by Bored Panda user.
When I was 19, they asked about what I liked to do outside of work. Gave my answer. They then slid a photo of me holding a beer from SOMEONE ELSE'S FB and said I "didn't match their values."
Everything the Internet knows about you may end up being used against you by your employer. No matter how ridiculous and unfair that fact is.
So—
Make sure to keep your social media clean. Better safe than sorry.
The more you see, the more you know
Although answers given in the survey weren't significantly varied when it comes to such factors as gender, education, earnings, geographical location, or religious affiliation of the respondents, our research revealed an interesting correlation between the interviewees' responses and their work experience.
People with work experience of up to 2 years and those who have been employed for more than 20 years have the most contrasting views on workplace surveillance.
The differences are visible in most answers. Have a look at some examples with detailed findings:
Workplace surveillance invades the privacy of employees.
Work experience 1-2 years—86% agree, 5% disagree.
Work experience 20+ years—71% agree, 26% disagree.
Workplace surveillance deprives employees of work autonomy.
Work experience 1-2 years—84% agree, 5% disagree.
Work experience 20+ years—62% agree, 31% disagree.
I am afraid of being fired because of workplace surveillance.
Work experience 1-2 years—81% agree, 13% disagree.
Work experience 20+ years—22% agree, 66% disagree.
Would using light touch monitoring make a prospective employer more attractive?
Work experience 1-2 years—74% yes, 11% no.
Work experience 20+ years—26% yes, 55% no.
If you were an employer, would you use workplace surveillance?
Work experience 1-2 years—76% yes, 14% no.
Work experience 20+ years—47% yes, 31% no.
It's kind of obvious that most people with 20+ years work experience are also older than those with less than 2 years experience. We may get the impression that work experience goes hand in hand with life experience.
The more you see, the more you know. But you care less.
You're just doing your job, being observed or not.
Stockholm syndrome?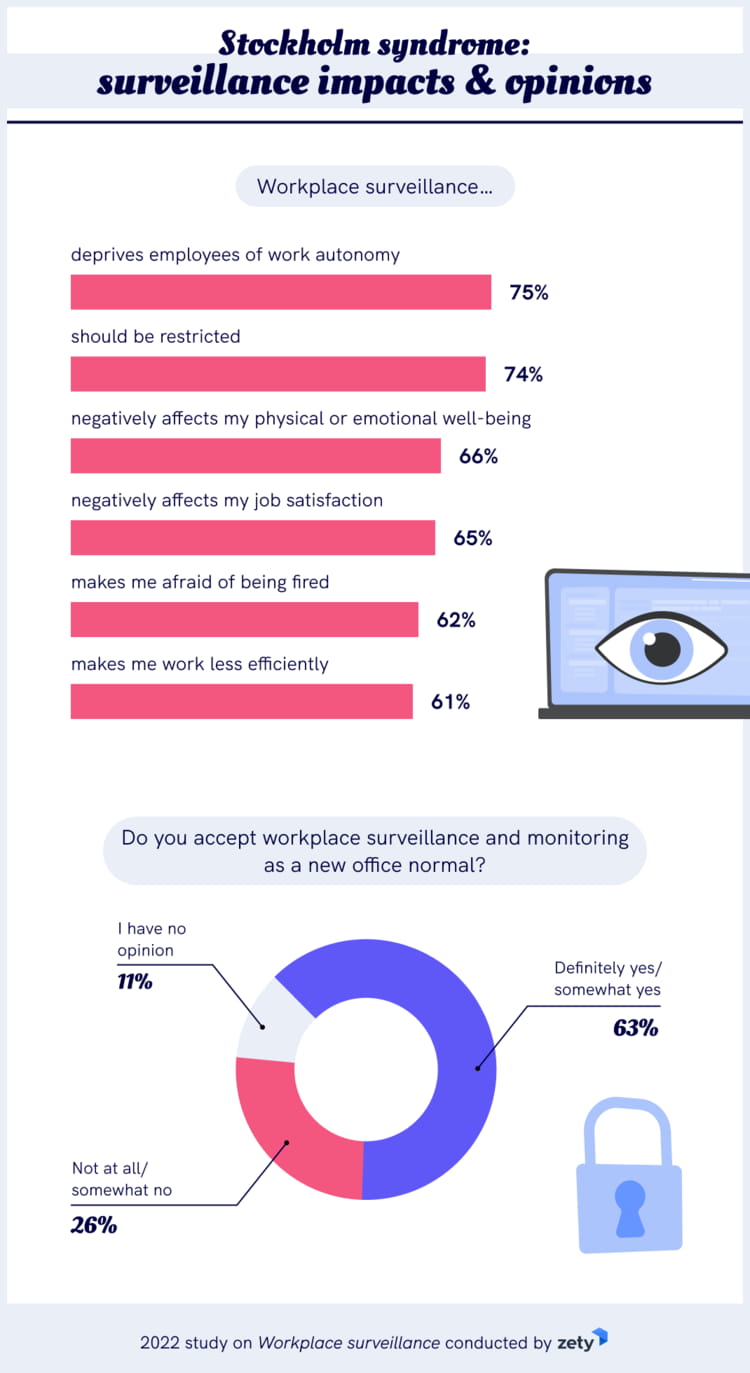 We encouraged the respondents to imagine Big Brother's over party.
They were asked to finish the sentence: "Without workplace surveillance, employees would…" Here are some of their suggestions.
Be able to do their absolute best at what they do, however, they do it without the little thought in the back of their minds thinking I'm being watched right now. When I'm being watched, I get very clumsy and self-conscious.

Get along just fine. We don't need workplace surveillance, everyone does their job.

Be much more comfortable that every little thing they do isn't being scrutinized. People need to be allowed to do their job without being constantly monitored. If you are going to do that, and not trust people, just don't hire them in the first place. That's no way to run a business.

Not feel the pressure of Big Brother watching.

Be more focused on being able to get work done.

Feel trusted and valued.

Have better morale and the belief that their employer trusts them to do their job.

Feel less stressed. Work is already stressful enough without adding this additional layer of stress. The workplace is beginning to feel more and more like a prison.

Feel more motivated to work and have more autonomy.

Be able to be themselves, learn to trust each other in an atmosphere that promotes trust in each employee.

Manage their time and work-life balance more effectively.
Manage their time and work-life balance more effectively.
It seems that American employees won't be friends with workplace surveillance any time soon.
Let's check how many respondents claimed that they somewhat agree or strongly agree with the following statements.
Workplace surveillance…
deprives employees of work autonomy—75%
negatively affects my physical or emotional well-being—66%
negatively affects my job satisfaction—65%
makes me afraid of being fired—62%
makes me work less efficiently—61%
Not the happiest conclusions.
But—
At the same time, 63% of the interviewees claim that they accept workplace surveillance and monitoring as a new office normal. Or shall I rather use new office abnormal?
Maybe there are more than just two sides of the same coin.
Even if it defies all natural laws. And logic.
Sure cure needed
Eagle-eye Big Brother will keep on watching. Whether we like it or not, workplace surveillance will not magically disappear. Even the Genie from the bottle and the golden fish can't grant this wish, sorry.
Is there any chance for work happily ever after, though?
Here comes the good news. Yes, companies can track your steps. But they can also take steps to make you feel better.
Employers do not only have many monitoring tools, but also many ways to normalize workplace surveillance. And, therefore, make it far easier to accept by their employees.
Dear employers, it's especially for you. A beginner's guide to implementing surveillance harmlessly. Enjoy.
Take a balanced approach.
Use surveillance for protection, not for invigilation.
Explain your reasons and elaborate on potential risks of not using surveillance.
Be transparent about your actions and monitoring tools used.
Show that you value your employees' work and trust them.
Keep healthy relations at the workplace.
Or to cut to the chase.
Keep an eye on your employees. But do it to make sure they are happy and satisfied.
Methodology
The findings presented were obtained by surveying 1050 American respondents. They were asked questions relating to their experiences and attitudes towards workplace surveillance and monitoring. These included yes/no questions, scale-based questions relating to levels of agreement with a statement, questions that permitted the selection of multiple options from a list of potential answers, and a question that permitted open responses.
Sources
Fair use statement
Want to share the findings of our research? Go ahead. Feel free to use our images and information wherever you wish. Just link back to this page, please—–it will let other readers get deeper into the topic. Additionally, remember to use this content exclusively for non-commercial purposes.
About Us
On Zety, you'll discover how to approach job applications and prepare for interviews. Pick from top resume templates for Word, learn what goes on a resume and if you should include interpersonal skills, find out how to tackle situational interview questions, and so much more.
About Zety's Editorial Process
This article has been reviewed by our editorial team to make sure it follows Zety's editorial guidelines. We're committed to sharing our expertise and giving you trustworthy career advice tailored to your needs. High-quality content is what brings over 40 million readers to our site every year. But we don't stop there. Our team conducts original research to understand the job market better, and we pride ourselves on being quoted by top universities and prime media outlets from around the world.