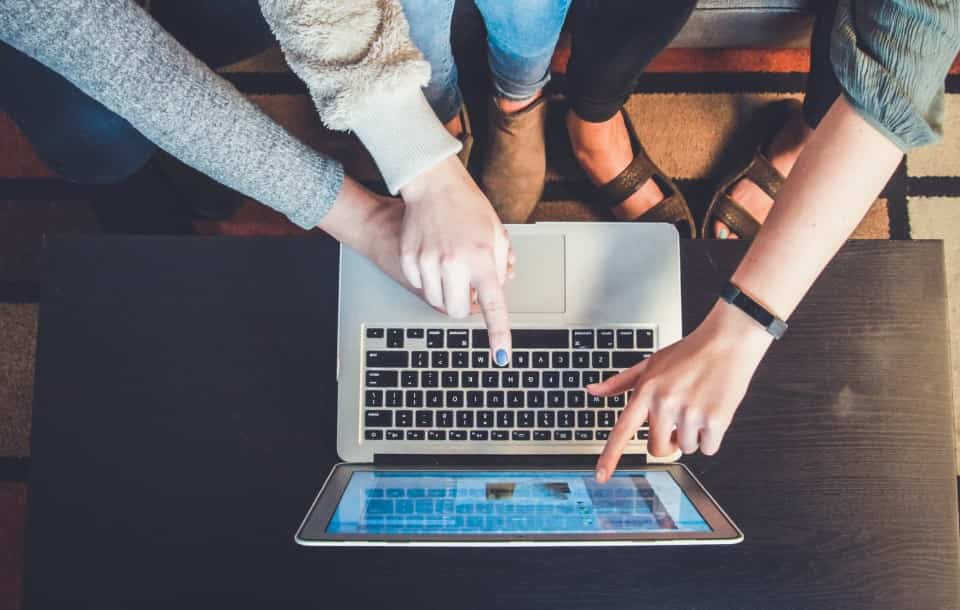 Generation Z vs. The Workplace [2021 Study]
We took the pulse of over 200 US Gen Zers to uncover what they expect from employers, their attitudes toward work, and more.

Millennials took the workplace by storm.
This hyper-connected, tech-savvy generation challenged employers' demands of relentless commutes, work-life balance standards, and profit-first mentality.
But—
Millennials will soon have to make room for a new demographic that's about to take the stage and yet again disrupt the world of work: Gen Z, aka Zoomers.
Born roughly in the years 1996–2012, the older members of this youngest cohort are wrapping up college, filling internships, and charting their career paths remotely.
So, to help companies integrate Gen Zers into their existing multigenerational pot, we surveyed over 200 members of this age group on their expectations, preferences, and work habits.
Scroll on to see our findings.
Gen Z Have Made Their Demands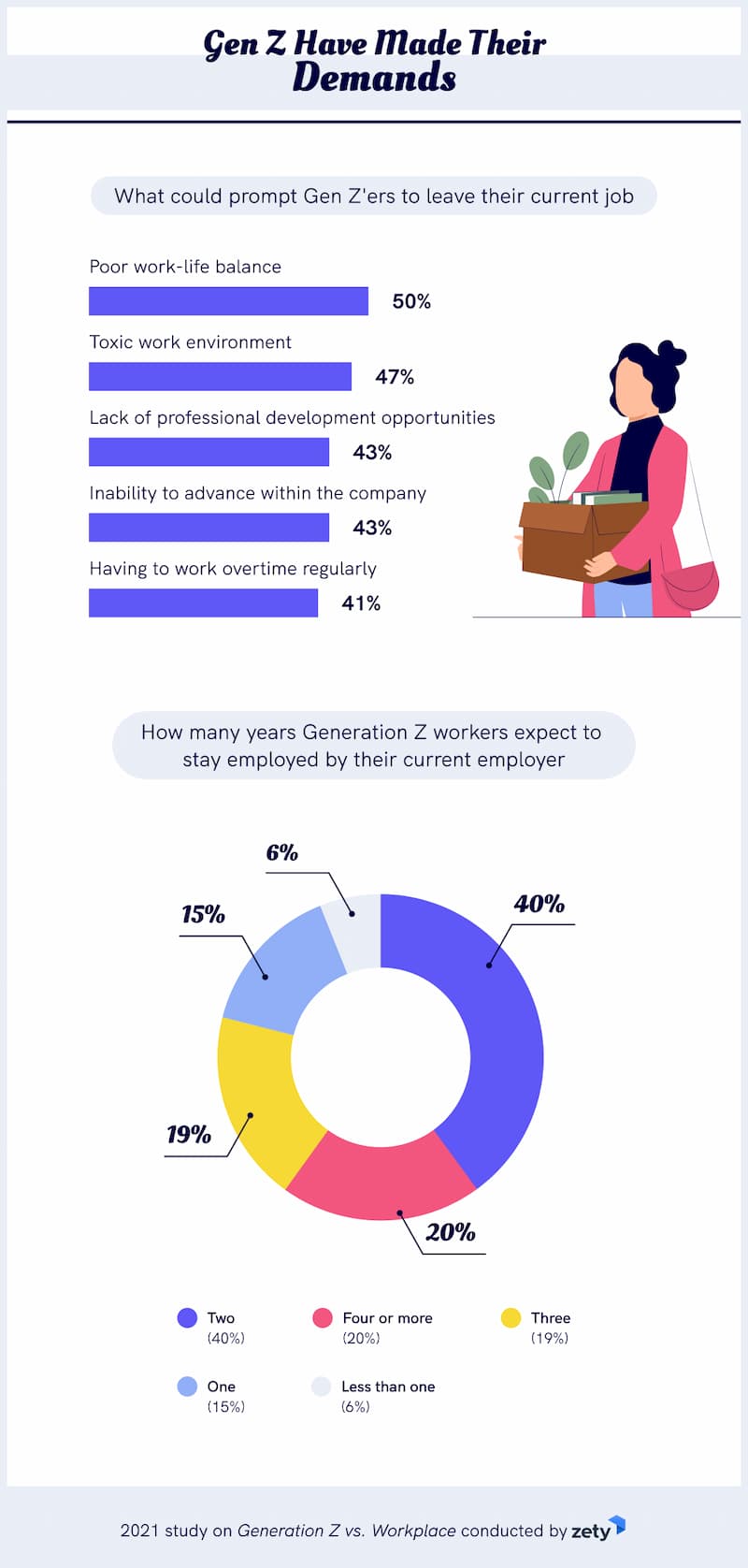 For starters, we asked Gen Zers who've already started their career journeys if they are satisfied with their jobs.
A full 89% said "Yes," with 83% also considering them meaningful.
As a follow-up, we asked young Americans how important it is for their work to have a meaning.
Below is a breakdown of their responses:
Very important (53%)
Somewhat important (42%)
Not important (5%)
As you can see, just like Millennials, most Gen Zers want a job that has a purpose beyond merely making ends meet.
Moving along, we asked Gen Z how long they expect to stay employed by their current employer:
Two years: 40%
Four or more years: 20%
Three years: 19%
One year: 15%
Less than one year: 6%
The above findings took us somewhat by surprise. After all, countless studies claim both Millennials and Gen Zers are the most job-hopping generations ever. Perhaps, COVID-19 has a role in this. After all, it instilled fears about the future and caused millions to spiral down the unemployment vortex, which might have caused many young adults (57%) to experience lay off anxiety, our research finds.
Zapier's 2020 study also found that contrary to popular belief, Gen Z employees plan to be loyal to their employers for a total of 6 years, on average.
But—don't think Gen Zers will stay, rain or shine.
Below are five factors that could prompt this new age group to start looking for greener pastures:
Poor work-life balance: 50%
Toxic work environment: 47%
Lack of professional development opportunities: 43%
Inability to advance within the company: 43%
Having to work overtime regularly: 41%
In this context, we also asked our respondents if they'd consider leaving over a clash of values with their employer on society's pressing issues (e.g., racial justice, gender equality). For 72%, it was a resounding "Yes."
Employers take note!
So—
Gen Zers place a great emphasis on purpose-driven work. On top of it, they seem to want to stay loyal to their organizations for a long time on the condition they can strike a good balance between work and personal life and enjoy growth and promotion opportunities.
What Generation Z Candidates Want When Job-Hunting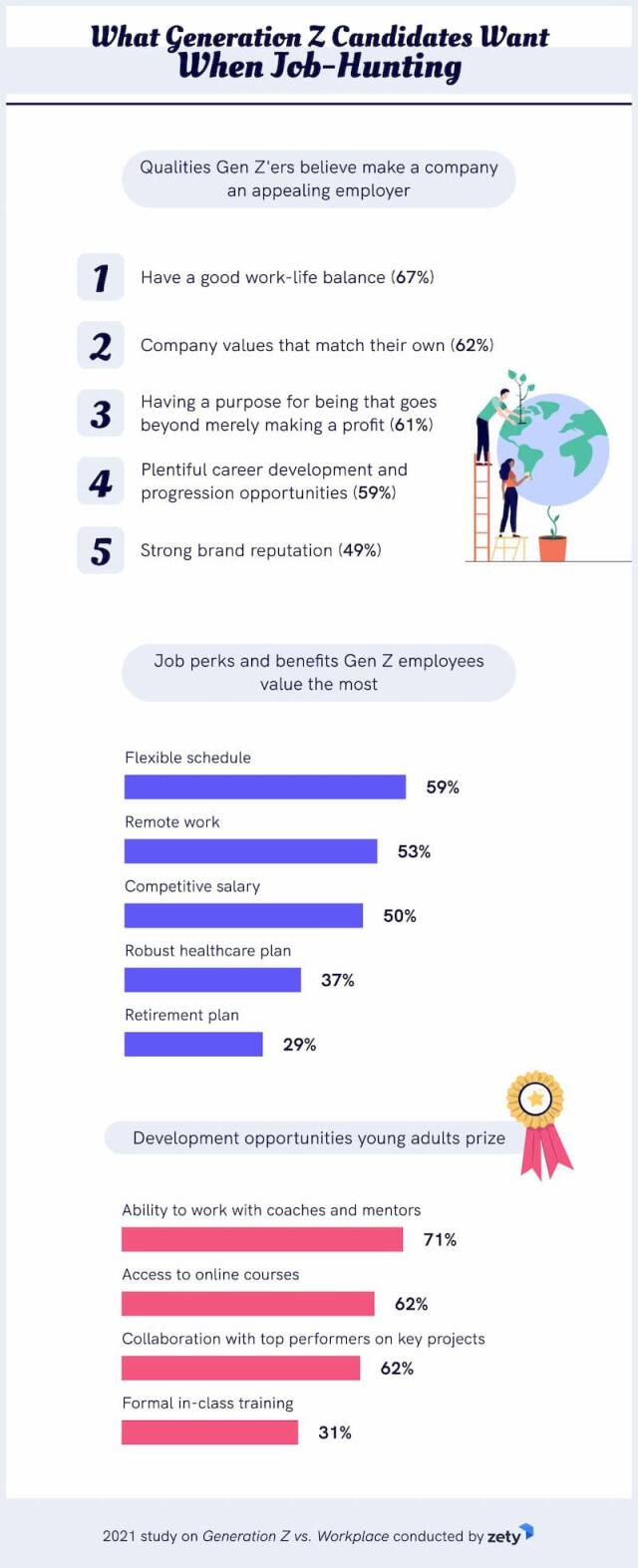 At this point, we decided to ask Zoomers about their preferences in the job search to help employers recalibrate their recruitment strategy and attract more Gen Z employees in 2021 and beyond.
To begin with, we asked our respondents what qualities make a company an appealing employer. Below are their top five:
Good benefits package: 67%
Company values that match one's own: 62%
Having a purpose for being that goes beyond merely making a profit: 61%
Plentiful career development and progression opportunities: 59%
Strong brand reputation: 49%
As you can see, benefits came out on top. So, we then asked Gen Zers what job perks, in particular, they value the most when looking for a job:
Flexible schedule: 59%
Remote work: 53%
Competitive salary: 50%
Robust healthcare plan: 37%
Retirement plan: 29%
Some of the least important perks for Gen Z candidates are a company car (2%), maternity/paternity benefits (10%), wellness programs (13%), free gym memberships (19%), and cash bonuses (26%).
Unsurprisingly, flexible schedule and remote work topped the list of perks Gen Zers look for in employers. After all, a large chunk of this youngest cohort has never worked in a real office or had a water-cooler conversation with a colleague. So, it's only natural for them to prefer companies that stepped away from the traditional "9-to-5" culture.
Lastly, we asked Gen Zers what development opportunities they prize the most in employers, as this job perk also ranked high:
Ability to work with coaches and mentors: 71%
Access to online courses: 62%
Collaboration with top performers on key projects: 62%
Formal in-class training: 31%
To sum up, Gen Z candidates favor employers with a strong set of values and a purpose for being beyond merely making a profit. On top of it, this age group seeks career development and progression opportunities and flexible working arrangements.
Things Gen Zers Look For in a Boss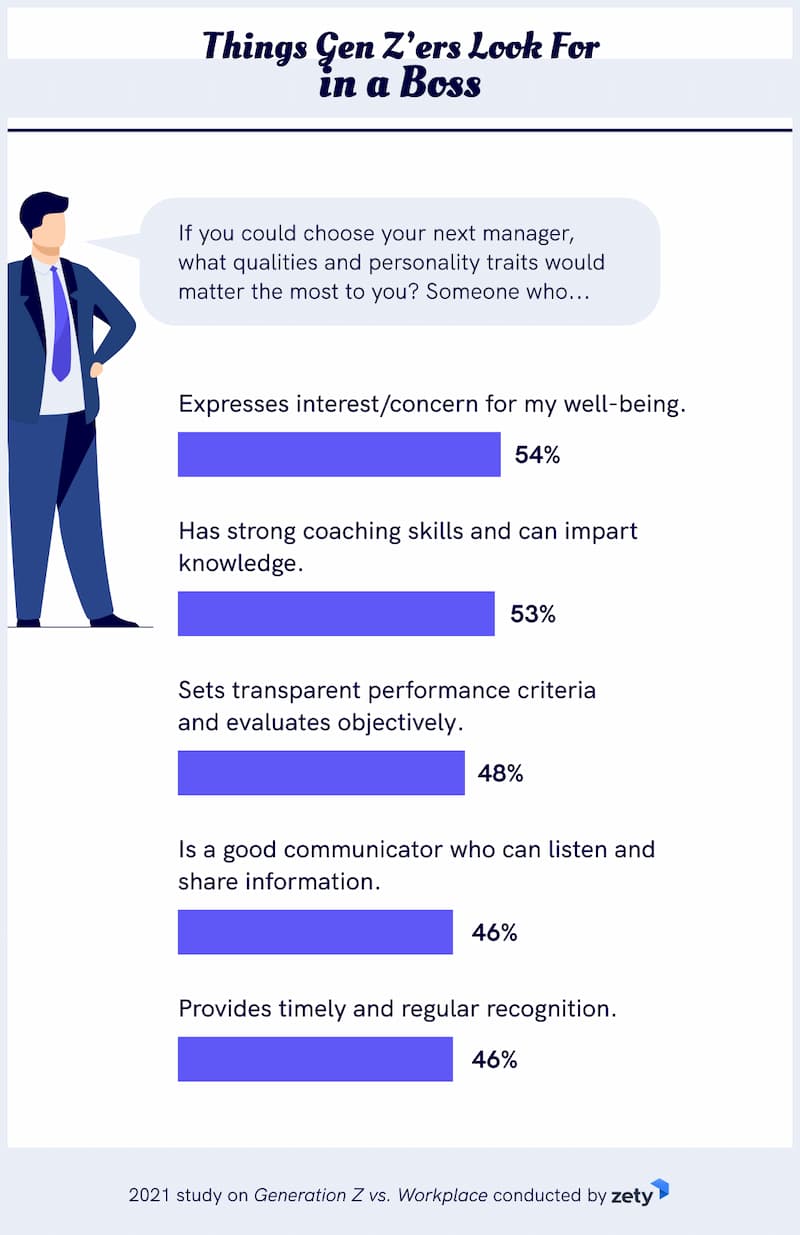 We've all heard the saying:
"People don't leave bad jobs; they leave bad bosses.
As trite as this saying might be, it's true. After all, having a bad boss causes frustration, apathy, and health-related problems such as sleep difficulties, headaches, or even hypertension, a recent ResumeLab study finds.
So—
We asked Gen Zers what qualities and personality traits would matter the most to them if they could choose their next manager. They said they're looking for someone who…
Expresses interest/concern for my well-being: 54%
Has strong coaching skills and can impart knowledge: 53%
Sets transparent performance criteria and evaluates objectively: 48%
Is a good communicator who can listen and share information: 46%
Provides timely and regular recognition: 46%
Is an expert in the field they manage: 37%
Can empower my colleagues and me: 34%
Gen Z: A Changing Workforce

Earlier, we learned that the vast majority of Gen Zers (95%) want a job with a purpose that goes beyond merely making ends meet.
So—
We decided to roll the dice and asked our respondents if they'd take a pay cut to do meaningful work in their current or future employment. It turns out, 71% of Gen Z members would do it.
But it's not all that surprising if you look at Gen Z's long-term career goals:
Have a good work-life balance: 59%
Help make the world a better place: 43%
Work for a company that's one of the best in my industry: 38%
Make a positive impact on my organization: 37%
Pivot my career into a field I'm passionate about: 37%
While "a good work-life balance" somewhat predictably topped the list—which is very important for Gen Zers, as we've learned earlier—"help make the world a better place" came in a close second.
It goes to prove that, unlike previous generations, Gen Z members don't want to work for yet another money-making powerhouse whose sole purpose is to make others shell out buckets of cash. Instead, they prefer empathetic workplaces that cater to the needs of people and the world in general.
And such a perfect job, 84% of Gen Z employees would even be willing to relocate.
How far?
A different city within my home state: 50%
A different city within the US: 34%
Another country: 16%
While on the topic of employment, we also asked how many companies Gen Zers think they'll work for throughout their careers. Below are their responses:
2–4: 43%
4–6: 25%
1–2: 16%
8+: 8%
6–8: 8%
Lastly, we asked the employed survey takers how many vacation days they typically use:
Half of the vacation time or more, but not the full quota: 54%
All of the vacation time: 28%
Less than half of the vacation time: 18%
The interesting takeaway here is that Zoomers are possibly less likely than the general population to use their vacation time. A study by the U.S. Travel Association revealed that 55% of all Americans didn't use all their paid vacation time.

Compare that to 72% of our Gen Z respondents. So much for lazy youngsters with a poor work ethic.
Gen Zers: Born to Be Digital?

At this stage, we wanted to throw Gen Z's work habits under the microscope to help organizations meet the needs of the new workforce.
First, we asked the respondents if they use their own personal device or other tech for work purposes (known as BYOD in tech-speak). After all, Gen Z's are tech natives, and BYOD is gaining ground rapidly.
A full 82% said "Yes." Below is a breakdown of the responses by gender:
Given such tech affiliation, we asked Gen Zers if they think blogging about workplace issues is acceptable. A whopping 75% of the respondents answered positively.
OK, Zoomers—
How about checking work emails after hours? 83% of respondents said they regularly check work emails after a workday is over. So, while Gen Z workers generally strive for a good work-life balance, they don't seem to mind reading letters after logging off.
When it comes to social media use at work, 66% of Generation Z employees browse through popular social networks. Here's how much they average daily:
30 minutes to 1 hour: 53%
30 minutes or less: 21%
1–2 hours: 18%
2+ hours: 8%
Yet, 80% of Gen Zers feel employers should limit social media use. Perhaps, they fear social media could hurt productivity, mainly when you work exclusively from home, as many studies note.
As our penultimate question, we asked the respondents how they prefer to communicate with colleagues. Below are the results:
In-person: 55%
Email: 32%
Slack (or other messaging apps): 8%
Zoom: 5%
Despite being fluent with technology, nearly half of Gen Zers would still opt for a face-to-face conversation. That goes hand-in-hand with ZeroCater's recent research work, which also showed face-to-face communication as the top communication choice for Gen Z.
Lastly, we wanted to understand Gen Z's take on employee monitoring tools. After all, the nationwide shift to remote work in the spring of 2020 spawned a rapid growth in monitoring software. In fact, Express VPN recently surveyed 2,000 employers and found that 78% track employees' performance or online activity.
So, here's Generation Z's opinion about digital surveillance tools:
Somewhat positive: 30%
Neutral: 26%
Positive: 18%
Negative: 15%
Somewhat negative: 11%
As you can see, most Gen Z workers don't seem to mind when employers keep tabs on them.
Now—
It's important to remember that while monitoring tools can work well, according to several studies, employers must be transparent about using them. Otherwise, invasive monitoring could erode staffers' morale, lead to burnout or even create privacy issues.
Stacking It All up
Without a doubt, every generation approaches work differently.
That's why companies must understand what younger workers want from the workplace, their expectations, and how to appeal to them in an ever-competitive job market.
So—
Below is a quick rundown of the study's key findings to help you meet the needs of the new workforce:
Most Gen Zers (95%) want a meaningful job that goes beyond merely making ends meet. A full 71% of Gen Z members would even take a pay cut to do meaningful work.
Among the key reasons Gen Z's quit are a clash of values with an employer (72%), poor work-life balance (50%), and a toxic work environment (47%).
The top two job perks for Gen Zers are flexible schedule (59%) and remote work (53%).
A full 43% of Gen Z employees' long-term career goal is to make the world a better place.
Over 80% of Generation Z workers use their own personal device or other tech for work purposes.
Methodology
We surveyed 231 unique respondents via a bespoke online polling tool. All respondents included in the study passed an attention-check question. The study was created through several steps of research, crowdsourcing, and surveying.
Limitations
The data we are presenting rely on self-reports from respondents. Each person who took our survey read and responded to each question without any research administration or interference. There are many potential issues with self-reported data like selective memory, telescoping, attribution, or exaggeration.
Some questions and responses have been rephrased or condensed for clarity and ease of understanding for readers. In some cases, the percentages presented may not add up to 100 percent; depending on the case, this is either due to rounding or due to responses of "neither/uncertain/unknown" not being presented.
Fair Use Statement
Don't miss the chance to share these findings–you might regret it! If you think your audience will be interested in this information, you can share it for noncommercial reuse. All we ask in return is that you link back to this page so that your readers can view the full study.
Sources
About Us
Zety is designed to give you confidence with your resume. Beat the competition by writing a winning resume with no experience and supercharging it with resume power words, listing your degree on a resume, and mentioning personal interests properly.
About Zety's Editorial Process
This article has been reviewed by our editorial team to make sure it follows Zety's editorial guidelines. We're committed to sharing our expertise and giving you trustworthy career advice tailored to your needs. High-quality content is what brings over 40 million readers to our site every year. But we don't stop there. Our team conducts original research to understand the job market better, and we pride ourselves on being quoted by top universities and prime media outlets from around the world.