Our customers have been hired by:

How much money would you need to consider yourself rich? And what would you do to earn the big bucks?
Or to put it another way, most of us want a fatter wallet, but just how far are we prepared to go to achieve it?
While good ol' hard work and grit are still winners, it turns out many folks are prepared to explore some sketchier earning options.
From the morally questionable to the openly criminal, the temptation of a fat paycheck can lead people down some very dark paths.
We surveyed 1000+ ordinary people and found many of them are willing to do quite extraordinary things to boost their bank balance.
And it turns out that views on what being rich means are pretty unrealistic in the first place.
Here's what we discovered:
What is wealth? How to define being rich
Before we get started on what people will do to bring home the bacon, let's consider what being rich means.
Just how much do you need to join the ranks of the affluent, and how does the average American define wealth?
Here's what our respondents told us.

First up, salaries.
We set the lower end of the scale by taking a look at the median annual income in America. That currently sits at around $50,000 per annum based on the latest stats.
Double that, and we get to $100,000 which has a nice round feel to it.
And it turns out that the "lower" end of the high-income scale is exactly where most people want to be.
The $100,000–$200,000 and $200,000–$300,000 brackets were our most popular answers. 55% of respondents chose those two ranges as their starting point for being rich.
Contrast that with just 18% of respondents who chose an annual income of $500,000 or above to consider themselves rich.
But it turns out they're actually right.
To join the fabled 1%, you've got to earn an annual income of more than $700,000. And the lower end of the scale? In some states, that won't even get you into the top 20%.
For example, in Massachusetts, you'd have to earn at least $171,600 to be in the top fifth.
There's a lot of variation between states though. If you want your $100,000 annual income to go the furthest you might want to consider a move to Mississippi. There, you only need to earn around $95,000 to join the top 20%.
But income isn't the only measure of wealth, and it's not the best one either. Let's face it, the likes of Elon Musk and Jeff Bezos aren't exactly hanging out for that monthly paycheck.
Financial experts agree that the best measure of wealth is actually net worth. It consists of the value of all your assets minus your liabilities.
In simple terms, imagine your assets, all your possessions, are worth $500,000. Now imagine that your liabilities, e.g., mortgage, credit card debt add up to $300,000. You have a current net worth of $200,000.
So we asked our respondents what net worth they'd need to consider themselves rich, and again, their expectations didn't match reality.
A quarter of them thought a modest net worth of $500,000–$999,999 was enough.
Throw in another 28% who plumped for the $1 million–$2 million range, and you account for more than half of our respondents.
Only 10% chose the highest option, more than $5 million. But they might be surprised how much more than $5 million you need in net worth to be rich.
So yes, it does depend on how you define being rich, but being in the true elite is much tougher than most people think.
Now for a couple of other interesting points on perception of wealth, and a chance for you to test your own knowledge.
Which of the following professions earns the highest income on average?
Airline Pilots
Anesthesiologists
Chief Executives
Judges
Psychologists
If you answered "Chief Executives," like 64% of our respondents, you'd be wrong. The correct answer?
According to Bureau of Labor Statistics data, it's actually anesthesiologists who earn the most, with an average annual salary of $261,730. CEOs earn "only" $193,850 on average.
What about the most affluent places to live? Try to guess which state's residents have the highest average income.
California
Colorado
Maryland
New York
Oregon
If you guessed New York, like 50% of our respondents, you'd be wrong. If you guessed California, like 41%, you'd also be wrong.
The correct answer is Maryland, and only 7% got it right. Residents of the Old Line State earned a median income of $86,738 in 2019.
So it's clear we have skewed perceptions of wealth. But short of a career in anesthesiology or a move to Maryland, what will people do to achieve the dream of riches?
How far would you go? What people will do to earn big
Now for the part you've been waiting for, what will people do to get more dough?
We started off with the relatively mundane, asking people if they'd be prepared to work longer hours to earn a higher income.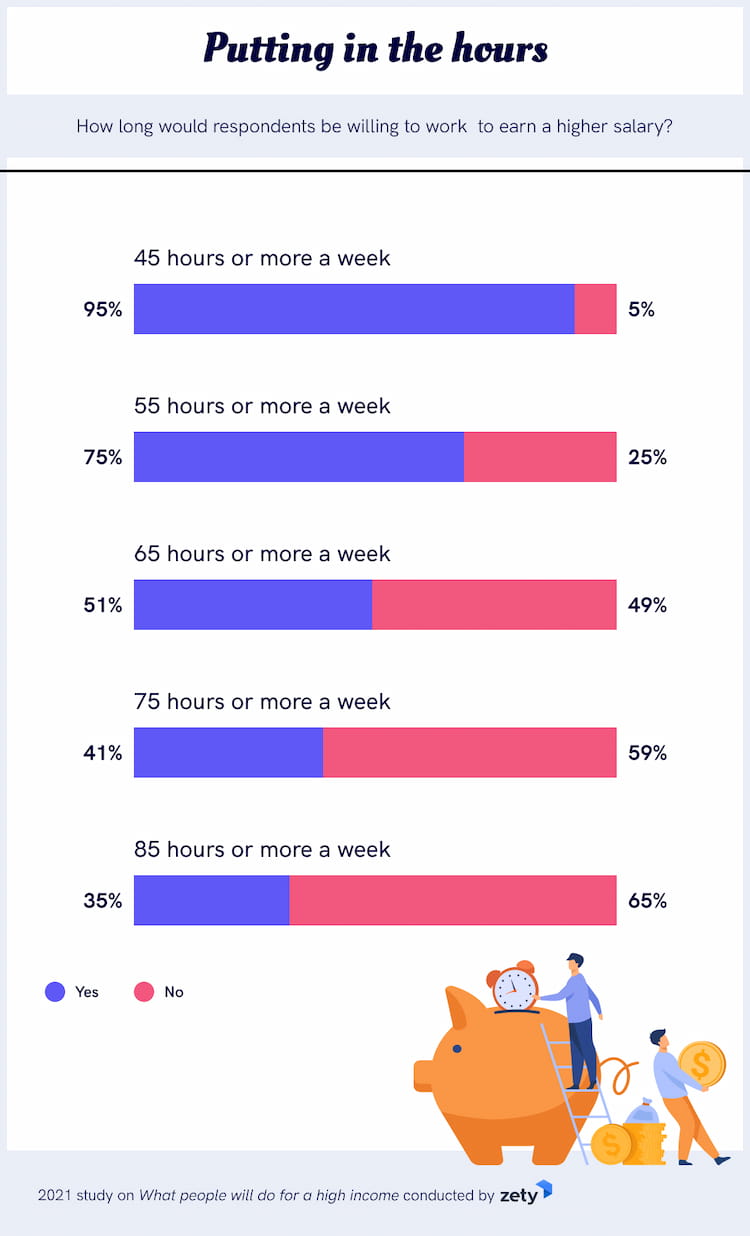 77% of our respondents were prepared to work longer hours to boost their coffers. Interesting splits emerged between generations, though.
Baby boomers were almost twice as likely to say they weren't prepared to work longer hours than Gen Xers, 28% vs. 15%. Perhaps the wisdom of age recognizes the importance of work-life balance.
And the self-employed were also less likely to want to burn the midnight oil. 36% of them weren't willing to work longer hours, compared to 22% of the general population.
As for those who were willing to work longer, their willingness decreased as the proposed number of hours increased.
Most people were willing to work 45 hours or more a week, but opinion was evenly split by the time we got to 65 hours or more a week.
Jump to 85 hours or more a week and 65% of people said they wouldn't be prepared to work that long to earn a higher salary.

But that still means more than a third of people would. Compressed into a 5-day working week, you'd have to work a minimum of 17 hours a day to hit 85 hours.
Even if you worked 7 days a week, you'd still have to clock in more than 12 hours a day.
And as much as some people extol the virtues of hustle culture, working that long just isn't healthy.
They also estimated that 745,000 people died worldwide from the effects of overwork. So for those considering doing overtime to hit the big time, remember that there are no pockets in a shroud.
What if it's someone else's shroud, though? It's tempting to believe that only a tiny minority of people would be willing to kill or commit other crimes to earn big.
Well, I hate to disappoint you, but almost a third of our respondents were willing to break the law to earn a higher income.
This is where it started to get a little scary.
Breaking bad to earn the big bucks
31% of respondents were willing to break the law to earn more. And men were more willing than women, 37% vs. 24%.
Then we asked our potential lawbreakers what sort of crimes they'd be willing to commit in the pursuit of riches:
77% would be happy to pull a Walter White and sell or manufacture drugs.
70% would be willing to steal.
66% would be up for engaging in illegal prostitution.
65% would consider threatening another person.
65% would be willing to physically harm another person.
64% would be willing to kill another person.
And here's the surprising part—
Men were more willing to say they'd break the law. But out of the potential crooks, it was women who were more willing to commit the specific crimes.
The only crime the men were more willing to commit was threatening another person. So it seems it's the ladies you've got to look out for when it comes to the darker side of earning more.
We did find a partial explanation for this. Statistics show that female convicted criminals are more likely to commit property crimes. That explains the stealing.
As for the violent crimes like murder? We're stumped. But it's certainly food for thought.
Finally, let's look at those numbers another way.
It's a lot more than we expected, and a frightening insight into the dark forces that drive us to earn more money, regardless of the means.
Now let's set crime aside and take a look at what else people are willing to do for a higher income.
The morality of money—when dollar signs trump personal beliefs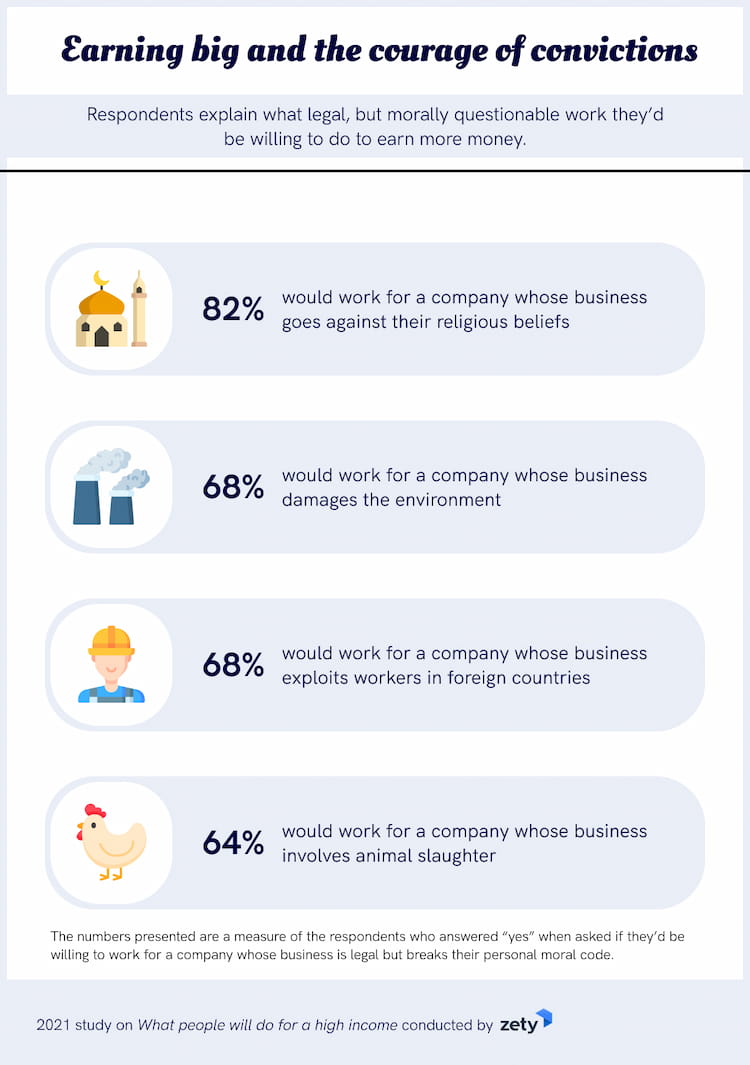 It turned out that 41% of people would be willing to work for an employer whose business is legal but breaks their personal moral code to earn a high income.
So for many, all it takes is to flash the cash to set those personal scruples aside. And again, it was the men who were more susceptible, 47% vs. 36%.
Some interesting generational splits emerged here too. Baby Boomers it seems aren't easily bought, just 26% would break their moral code to earn more.
In comparison, almost half of Millennials and Gen Z would be prepared to do the same, 48%.
Then to test the strength of their resolve, we put some moral dilemmas to the respondents who were willing to break their own code of ethics.
Here's what we found when we asked them to put their money where their mouth is
Religious beliefs were first to fall by the wayside, 82% were happy to set them aside.
As for working for an employer that damages the environment or exploits workers in foreign countries, 68% would turn a blind eye for more dough.
Animal slaughter proved to be the biggest red line, with more than a third of people saying they wouldn't break their ethical code regarding this.
But here's where it gets interesting. Men were more likely than women to set aside their morals for each of the specific scenarios.
This is very much in line with the established science. Studies have shown that men have lower moral standards than women, particularly in competitive situations.
And last, we thought of a few other interesting ways folks might get rich.
Sex, lies, and death—other unconventional money making methods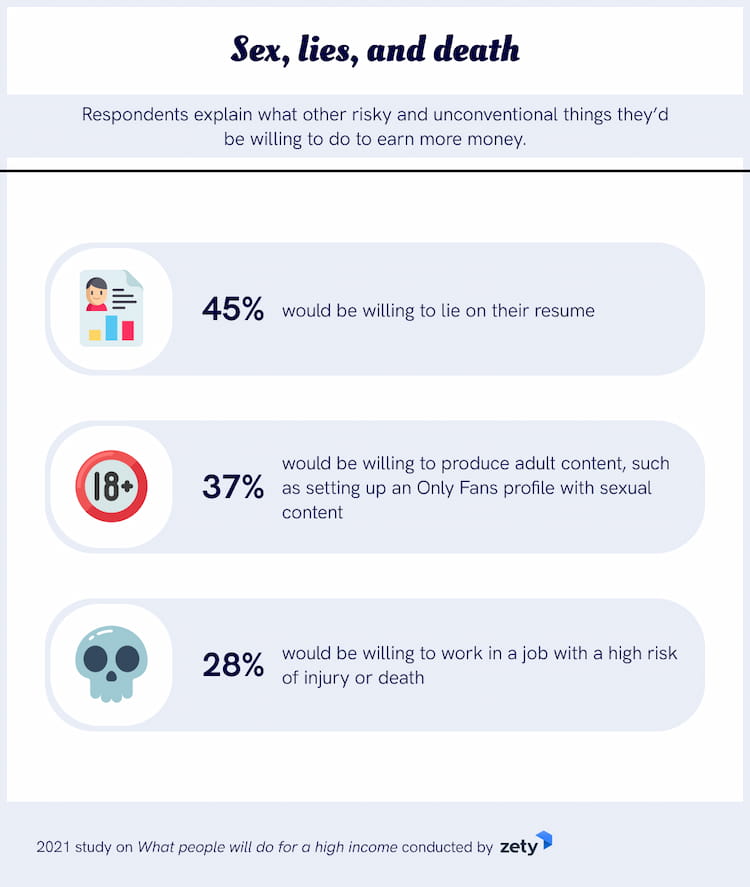 Let's start with that 45% figure for lying on a resume. We're pretty confident that our respondents might have just lied to us about that.
A study conducted by ResumeLab found that 93% of people claim they know someone who lied on their resume. Another, from CareerBuilder, found 75% of hiring managers had caught lies on resumes.
This discrepancy might come down to something called social desirability bias. That's where survey takers tend to deny undesirable traits.
And people also aren't willing to admit that their little "embellishments" are actually lies.
Though, if social desirability bias was at play in the rest of our survey we might actually have a lot more potential murderers out there.
We also established that:
37% of people would be willing to produce adult content to earn more.
28% would be willing to work in a job with a high risk of injury or death.
As you might expect, we spotted some interesting differences between ages and genders.
The men were more gung ho about engaging in risky business, 36% were willing to brave injury or death, compared to 21% of women.
And younger people were much more willing to unleash their inner porn star. 47% of those aged 39 or under were willing to produce adult content, compared to just 16% of those aged 55 or older.
Though, we have to point out that it's younger people who are more in need of a higher income. It's well-established that older Americans are generally wealthier than the young.
Conclusion
We learned that most people don't understand how much wealth they need to join the ranks of the economic elite.

The amount of wealth in the hands of the American 1% is so vast that the benchmark for joining them is rising ever higher.
And it seems the desire to join that exclusive club can drive some people to countenance highly questionable behavior.
We were shocked by how many respondents expressed a willingness to harm or kill another person to earn more money. Or risk their well-being by working dangerously long hours.
So our final takeaway is this. Don't try to pull a Breaking Bad or become a Black Widow-style assassin.
But you might want to consider a career in anesthesiology!
Methodology
The findings presented were obtained by surveying 1063 American respondents. They were asked questions relating to their views on how to define being rich and what they'd be prepared to do to earn a high income. These included yes/no questions, scale-based questions relating to levels of agreement with a statement, questions that permitted the selection of multiple options from a list of potential answers, and questions that permitted open responses.
Sources
Fair Use Statement
Want to boost people's intellectual riches and share our findings? Be our guest. All we ask is that you link back to this page and give full credit to our authors.
About Us
Consult with Zety for all your resume needs and queries. From how to write a resume for a career change or list software skills and language levels on a resume to a collection of resume templates that caters to all kinds of requirements, you'll find what you're looking for.
About Zety's Editorial Process
This article has been reviewed by our editorial team to make sure it follows Zety's editorial guidelines. We're committed to sharing our expertise and giving you trustworthy career advice tailored to your needs. High-quality content is what brings over 40 million readers to our site every year. But we don't stop there. Our team conducts original research to understand the job market better, and we pride ourselves on being quoted by top universities and prime media outlets from around the world.