'What job should I have?'
Most adults asked themselves this question at some point. After all, it's not an easy choice to make. Should you go after your childhood dream of becoming a firefighter or a ballerina? Or should you follow the advice of your parents, teachers, and other people who seem to always know better? What jobs will be well-paid in 10+ years? And what career can turn out a dead end in the future?

You can stop worrying. We'll show you how to choose a career in a few minutes.
This guide will show you:
How to choose a career you'll love.
Why career quizzes and career aptitude tests will always steer you wrong.
The best answer to, "what job should I have" you won't regret 3 years from now.
Why "what career is right for me" might have an easier answer than you think.
There's no prefab career finder that'll pick your perfect career. The quick process in this guide will help you answer what should my career be on your own.
Want to save time and have your resume ready in 5 minutes? Try our resume builder. It's fast and easy to use. Plus, you'll get ready-made content to add with one click. See 20+ resume templates and create your resume here.
Sample resume made with our builder—See more resume examples here.
1
How to Choose a Career? Start with Your Passions
Boy, do I envy you.
You're learning how to choose a career. You've got a clean slate.
If I knew then what I know now, I'd be a millionaire.
Lucky you. I'm about to light a klieg light on your path to riches.
Ready?
Start with Passion
Does that sound cliche?
It is. But only because most people misuse it.
So, don't listen to it.
Wait—what?
The first step in answering what career is right for me is passion. But it's just a step.
Your passion might be knitting on a desert island. Maybe you can do that, write a book, and make a million bucks.
But probably not.
So—start with passion, but don't stop there.
Why Passion Makes a Great Career Finder
Every job has roadblocks. Passion slices through them like a lightsaber through ice cream.
"You can learn most things on the job," says Steve Dalton, author of The 2-Hour Job Search. "The challenge is getting employers to want to do that with YOU."
That means showing interest in the subject matter—and that comes from passion.
"In the end, the heart wants what it wants," Dalton says. "As a chemical engineer by training, it absolutely kills me to say that, but truth is truth."
Do you know your passions?
Sit down and daydream. Grab a coffee or a Buddha bowl. Make it fun.
List everything you love and all the things you'd love to do.
Then move on. In the next section we'll blow the doors off how to choose a career.
Pro Tip: Do you already have a good job you don't like? Don't rush into massive changes. See if you can transform it into something better.
Moving from a career you like to one you love? Turn your experience into a mile-long lever. See our guide: Career Change Resume: Sample and Complete Guide
2
Define Wealth to Duck the Biggest Blunder of Your Life
"I wish I had a million dollars."
You don't have to wish.
As long as people need things, the world is a river of money.
You just have to know where to dip your bucket in.
When you ask, "Which job should I have," or, "what career should I pursue," wealth is a huge part of the answer.
Do you want $200,000 a year? Is $100,000 enough?
Or is wealth something else entirely?
Some people make millions and they're miserable.
So—how to choose a career that makes you happy?
Wealth Might Be:
$100,000 a year
Working 20 hours a week
Living in a fantastic location
City living
Lots of family time
Work you love
Travel
Country living
Working with amazing people
Could it be all of the above? Or something else?
When choosing a career, be very clear at the beginning what you mean by "wealth."
Want more help defining wealth? Joel Litman and Mark Frigo wrote the book on it: Driven: Business Strategy, Human Actions, And The Creation Of Wealth
Pro Tip: Will a career aptitude test answer what career should I have? No. A career quiz or job quiz will ignore your passions. Tests aren't how to choose a career.
Disney fired James Gunn for 10-year-old tweets. It's never too early to start cleaning up your online face. See our guide: How to Check Your Online Presence Before Recruiters Look You Up
3
Build a List of Jobs You Can Love
So far, so good.
You've listed your passions.
You know what wealth means to you.
You're well on your way to knowing how to choose a career.
Next, you need a list of job titles.
There are thousands.
Did you ever think you'd be a:
Chick Sexer
Accent-Reduction Specialist
Director of Sound Design
Orthoptist
Chief Storyteller?
Those are all real jobs.
Start with the biggest list that fits your goals.
Start With a Master List of Job Titles
Google search "list of jobs for" + [YOUR PASSION].
Example
Let's say writing is your passion.
Do a Google search for "list of jobs for writers."
You'll find some big lists of all the careers you never heard of that relate to writing.
Journalist, speech writer, technical writer, executive assistant, acquisitions editor...
Scroll through five lists like that. Build your own mini-list of 10 jobs you think you'd love.
Then, move on to your next passion, and repeat.
Do the same thing with each skill you're good at.
Last, add some dream jobs.
You'll soon have a big list of 20–30 jobs that might just work.
Put them in the first column of a spreadsheet. You can call it, How to Choose a Career, What Career is Right for Me, What Job Should I Have, or just Career Finder.
In column #2, rate each job's passion on a scale of 1–10.
Do the same with "wealth" in column #3.
Pro Tip: It helps to look at the most popular careers. If you're wondering what job is best for me, see our list of resume guides for the most common professions.
Need a big list of career choices? We've got one here: 50 Job Titles that Work on a Resume & Job Hunt [Current & Desired!]
4
Look at Salaries to Dodge the Pauper Zone
When asking what job is right for me, don't say money doesn't matter.
To quote Scholarships.com CEO Kevin Ladd, "You can't buy happiness, but chicken breasts are $3.18 a pound."
Find crossroads where your passion meets with piles of money.
To do that, use:
Both sites make great career finders.
In column #4 of your spreadsheet, add the median salary for each of your 20–30 job titles.
Pro Tip: Use salary as a baseline in your how to choose a career search. But question it. Glassdoor says bloggers make $30,000, but trust me, some make a lot more.
Wondering what major is right for me as well as what career should I have? See our guide: How to Choose a Major: A Complete Guide
5
Skip Dead Ends by Knowing Job Outlook
Congratulations!
You just spent 10 years becoming a master buggy-whip designer.
Now you'll make a million dollars. Right?
Well, no.
Two huge things to think about when asking, "What career is right for me?"
How much training does the job need?
How many jobs are there, and are they growing?
Knowing how to choose a career means understanding job outlook.
Respect Training or It'll Bite You
Architects make $78,470 a year, on average. But—
They need 5–7 years of school, plus 5,600 hours of work experience.
Most earn a lot less than the average.
Is it worth it?
For each job on your list, check how hard it is to get there.
The best way? Google "How to become a" + [JOB TITLE].
Are You Fighting to Get Into a Burning Building? You Might Be
Which would you rather be?
An AI developer or—
A rotary phone maker?
Hmmm...
The Occupational Outlook Handbook says there are 1.25 million software developer jobs. They'll grow at 24% in the next 10 years. (Much faster than average.)
Gee, they also pay a median of $103,560 a year.
Not bad.
Now let's look up rotary phone makers...
Hmm. No results.
For each job on your list, write the years of training in column #5.
Add the job outlook and growth in columns #6–#7 in your How to Choose a Career spreadsheet.
Pro Tip: If you don't find a job title in the Occupational Outlook Handbook, Google it. Chances are, someone else has done the research on salary and job growth.
What job should I have? Your LinkedIn network makes a great career finder. I'll explain in a minute. For now, see our guide: How To Optimize Your LinkedIn Summary & Profile To Get Jobs
6
The Fun Part: Make a Short List of Your Favorite 10 Careers
Here comes the pot of gold.
So far, you've:
Listed your passions
Defined your wealth goals
Written your favorite job titles
Added salary data from Glassdoor and BLS
Included job outlook
Now it's time to narrow down your list.
Peek at your How to Choose a Career spreadsheet. You've got 20–30 jobs.
Pick the 10 with the best passion, wealth, salary, and job outlook.
Figure out where high pay, high demand, goals, and passion meet.
But you're not done yet.
What if you could ask your future self, "Are you happy in this job?"
Well, you can.
I'll show how next.
Pro Tip: When you make your what should my career be spreadsheet, add columns for other criteria you rate highly. You'll get a better answer.
As you zero in on what career is best for me, start networking. Does that sound boring? Read this amazing story: How to Network Your Way Into a $100,000 Job [Real-Life Story]
When making a resume in our builder, drag & drop bullet points, skills, and auto-fill the boring stuff. Spell check? Check. Start building a professional resume template here for free.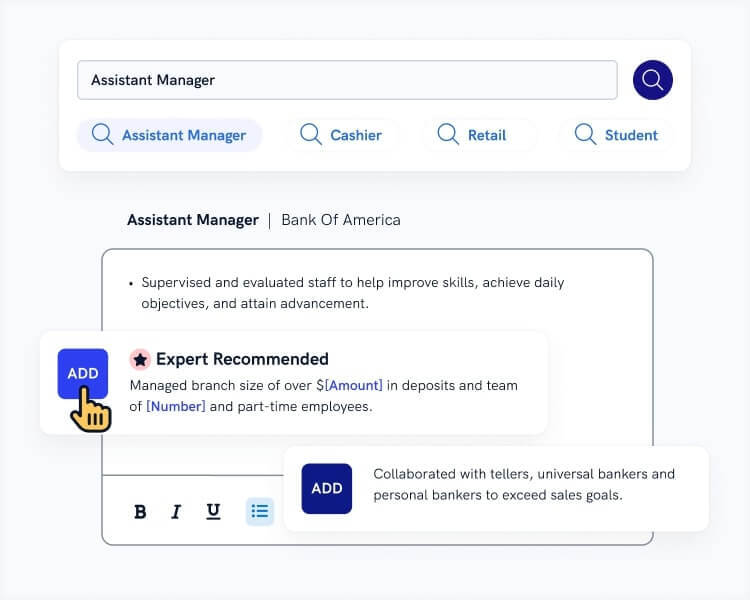 When you're done, our professional resume builder will score your resume and our resume checker will tell you exactly how to make it better.
7
How to See the Future for a Job You'll Really Love
Here's the really fun part.
For the next step in how to choose a career—
Peek at your future with:
Reddit
Informational Interviews
Use Reddit to See Who Loves Your List
For each job on your short list of 10—
Google search:
"What's it like to be a" + [JOB TITLE] + "reddit"
"Do you like being a" + [JOB TITLE] + "reddit"
Example
Let's say "financial analyst" is one of your dream jobs.
So—search, "Do you like being a financial analyst reddit."
You'll get results like, "Is anyone a financial analyst?" and, "What exactly do financial analysts do?"
You also get titles like, "I want to be a financial analyst. Where do I start?"
Boom. You've just opened a direct connection to dozens of people already in your dream job. (Your very own career survey!)
Holy cow, right?
You can do the same trick with Quora.
A word of warning: a lot of Redditors are disgruntled. If 10% of DevOps engineers hate their jobs, they're all on Reddit.
So—don't stop there.
Use the magic of tiny informational interviews.
Use Tiny Informational Interviews to Grab the Treasure
Ready?
Here's the last step in how to choose a career:
Use your Reddit magic to narrow your list down to the top five jobs.
Then, do informational interviews.
Sound tough? It's not.
Go to LinkedIn. In the search box, type your dream job.
In the drop-down menu, click the "people" option.
See where it says, "DevOps in People" in the image below?
When you click it, you'll get a million DevOps engineers (or any career you pick).
Ask 2–3 what they think of their career. Send a short note like:
Hi Santosh,
I'm interested in a career in DevOps.
Could I ask a few questions about what you do?
Best regards,
Shmuel Delarosa
Here's a career finder tip worth money—
You might need to ping 10+ people to get 2–3 who say yes.
When they do, ask:
Do you love your job?
How's the money?
Was it hard to get there?
Would you do anything differently?
You'll get an almost supernatural glimpse into your future.
You'll also build great networking connections to start your new career.
Pro Tip: If your LinkedIn interviews get really interesting, ask to switch to phone calls. You'll learn a lot more and built a deeper connection.
Want to really nail your informational interviews? We've got a guide for that: 15 Best Informational Interview Questions
8
Bonus—The Problem With Career Tests and Career Quizzes
Danger!
Everybody loves career quizzes and career path tests.
Half a million people a month search some variation of:
Career aptitude test
Career quiz
Job quiz
Career tests
How to choose a career test
So—why are they so popular?
It sounds like a great idea! Answer a few questions and out pops your dream job.
The problems?
Job quizzes are incomplete—they give a very narrow range of choices.
Career finder tests ignore your life goals.
Many have incomplete salary and job growth data.
Career quizzes are based on skills and personality types, not passions. They can't help but overlook careers you'd love.
Yuck!
Do you really want to trust your future to something with that many flaws?
Remember:
Only professionally developed career assessments can provide an objective view of your interests, abilities, or personality to help you decide on a career. They enable self-reflection and can give you a sense of direction when you are considering a career or career transition.
In the hands of a trained counselor or coach, professional career tests can help you narrow your career options as you undergo career exploration. They are one piece of the puzzle as you make decisions about your careers and jobs.
Dr. Janet Wall
Want proof?
I took one online test, and it told me I should be a mathematician, programmer, astronomer, or photonics engineer.
It completely ignored my biggest passion—writing!
Why not ask a psychic or a bartender, "Hey, what career is best for me?"
Certainly, use career tests to see if fun ideas pop up.
But please—!
Don't trust your future to an online job quiz. Go for professionally developed assessment tests instead.
Pro Tip: Thinking about easy careers? Think again. According to Mihaly Csikszentmihalyi, author of the bestseller Flow, the best moments of our lives are when we're challenged.
Once you've answered what career is right for me, you'll need to find real jobs. See our guide: Job Sites: 15 Best Job Search Engines and How to Use Them Perfectly
Plus, a great cover letter that matches your resume will give you an advantage over other candidates. You can write it in our cover letter builder here. Here's what it may look like: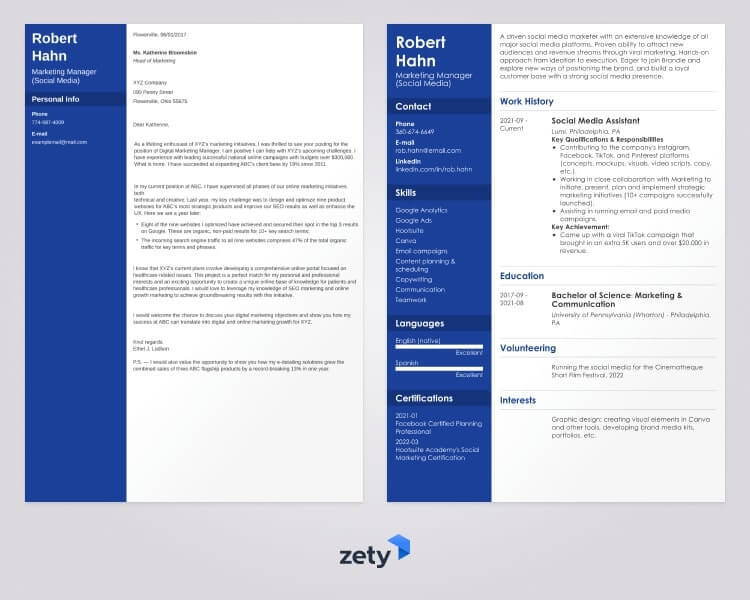 See more cover letter templates and start writing.
Key Takeaway
This guide gives a quick, useful system to answer "what job should I have?"
Here's how to choose a career:
Start with passion. Answering "what career is right for me" is easier if you ask your heart first. Passion smashes through a million bolted doors.
Define "wealth." Do you want a six-figure job, or something else? Freedom? Flexible hours? Family time? Don't assume your happiness has a dollar figure.
Build your list of job titles. Search "list of jobs for" + your passions and skills.
Check salaries and job outlook. Use Glassdoor and the BLS.gov Occupational Outlook Handbook to see how much you'll earn, and how hard it is to get a job.
Don't rely on career aptitude tests. The best career test is one not taken. Don't believe in magic—you won't learn what career is right for you just by filling in a questionnaire.
Ask the people with that job. Go on Reddit and Quora to see if people love each job you're interested in. Last, do tiny informational interviews. They'll give you more hints as to what job you should really have than any test online.
Do you have questions on "what career is right for me?" Still not sure how to choose a career that fits your skills and passions? Give us a shout in the comments! We'd be happy to reply.
About Zety's Editorial Process
This article has been reviewed by our editorial team to make sure it follows Zety's editorial guidelines. We're committed to sharing our expertise and giving you trustworthy career advice tailored to your needs. High-quality content is what brings over 40 million readers to our site every year. But we don't stop there. Our team conducts original research to understand the job market better, and we pride ourselves on being quoted by top universities and prime media outlets from around the world.