Our customers have been hired by:
Have you ever had enough of a stressful job, with its toxic work environment, incompetent manager, or excessive workload? When work becomes unbearable, seeking refuge in a new job is tempting. But should we act impulsively, burning all bridges? Is temporary relief related to taking such drastic steps worth all the risks involved? Let's find out.
In August 2023, Zety conducted a Job Applicant Behavior Survey on over 1,900 U.S.-based workers. The study provided precious insight into how people feel about today's labor market, taking impulsive actions in their job hunting, and different ways of changing careers. Our findings are below!
After Quiet Quitting, Here Comes Rage Applying
Job seekers come from all walks of life and all emotional states. And while some take careful steps on a career-change path, others rage apply.
Rage applying, as the name suggests, is a phenomenon where individuals look for new employment because they are dissatisfied with or angry at their current company or the working environment. A nasty workplace, a dearth of opportunity for advancement, or inadequate management are just a few causes of this.
In other words, if you feel that enough is enough, anger drives you to send out countless resumes and apply for all open positions you find, with the sole dream of leaving your current employer right now, what you're doing is rage applying.
The term "rage applying" first popped up on TikTok in December 2022 in a video uploaded by video and has gone viral since then.
Wanting to know the scale of the phenomenon in question, we asked respondents if they had ever rage applied.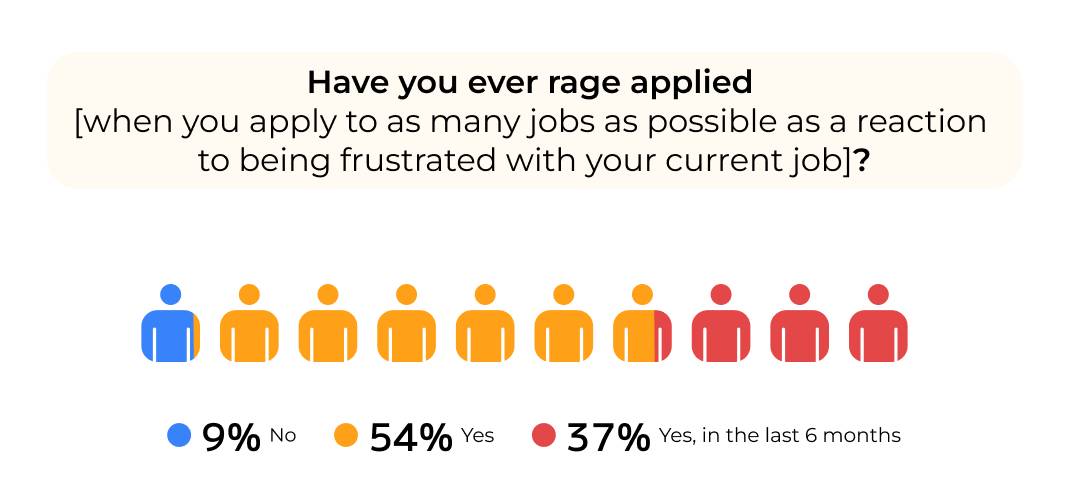 91% claimed they had rage applied in their career. And 37% that they had done it in the last 6 months.
Digging deeper, we discovered that self-employed (99%), participants without a college degree (99%), and part-time workers (98%) reported rage applying most often, compared to other demographic groups.
Let's see how many applications participants typically send before getting one interview.
1–3 – 13%
4–6 – 30%
7–10 – 35%
11–15 – 17%
16–20 – 4%
More than 20 – 1%
There's no point in giving up too quickly, as you see. The greater your efforts, the greater the chances that you'll succeed and start a fulfilling career. Persistence pays off. But does it also apply to rage applying? It is you who decides whether to prioritize quality over quantity or not.
We asked how many different companies respondents typically interviewed with before they found a job.
1–2 companies – 13%
3–4 companies – 41%
5–6 companies – 36%
7 or more companies – 10%
An invitation for a job interview is definitely something job seekers desire. Still, it evokes strong emotions. 63% of respondents claimed that they usually felt very nervous or extremely nervous before a job interview. Only 7% said they were not nervous at all on such occasions, while 47% that they were a little nervous.
These days, people seem lukewarm about the market. More than half (53%) of participants said there were fewer remote job listings advertised today compared to this time last year. Similarly, 52% claimed there were fewer overall listings. Also, 83% claimed that they applied to jobs they were overqualified for, and 74% applied to jobs they were underqualified for. Maybe this is high because the listings are lower in volume.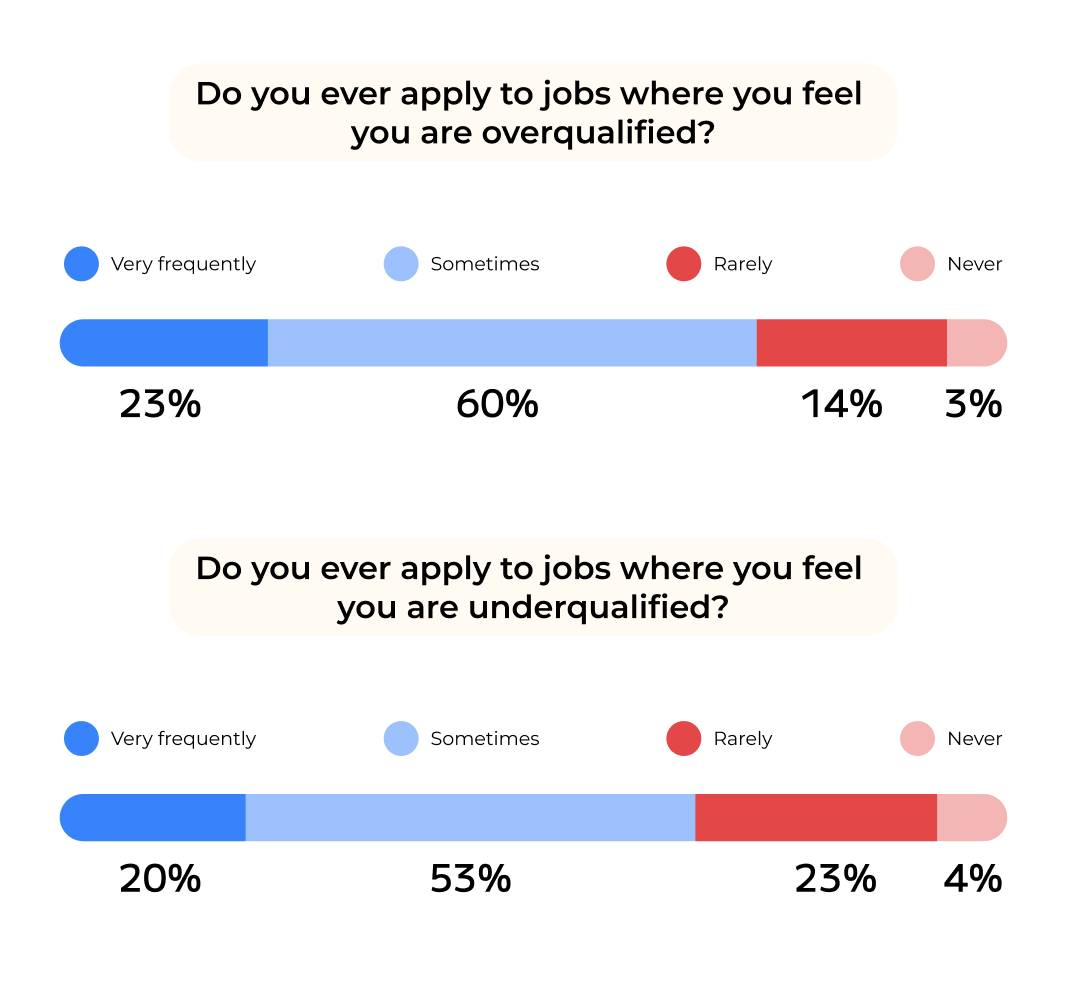 Job Seekers' Biggest Pet Peeves
Frustration related to one's current job may not be the only emotion of that kind you'll experience during your job search.
Asked, "What is your biggest frustration with job searching?" respondents could choose all options that applied to them.
Lengthy submission process – 54%
Requiring qualifications or degrees that may not have an impact on the job abilities – 42%
Formatting for Applicant Tracking System – 41%
Jobs are too low paying – 23%
[women—27% vs. men—18%]
Not being able to identify the hiring manager – 21%
Not finding jobs that I qualify for – 20%
Not hearing back from employers – 17%
Not finding jobs at companies I'm interested in – 17%
[men—19% vs. women—14%]
Not seeing jobs in industries I'm interested in – 14%
Not sure where to look for jobs – 9%
Nothing frustrates me about job searching –8%
Seeing a job reposted that I already applied to – 7%
Other –1%
We also wanted to know what irritates job seekers the most about job postings. Here's the full breakdown of the answers respondents gave:
Providing too much detail about the tasks of the job – 50%
[women—53% vs. men—47%]
Catchy job titles that aren't easily found through keyword searches – 43%
[men—46% vs. women—40%]
Unclear application deadlines – 34%
Not providing enough detail about the tasks of the job – 29%
Being unclear about remote work options –27%
[women—31% vs. men—24%]
Unclear date of when the job listing went live – 27%
Being unclear about the location requirements for the job – 22%
Not including salary or pay information – 21%
Not making it clear what qualifications are required vs. preferred – 20%
Not including the tech tools and programs that might be required – 11%
Not including information about typical work hours and schedule – 11%
Nothing irritates me about job postings – 6%
Other – 1%
The list of what might discourage potential candidates from applying doesn't end there.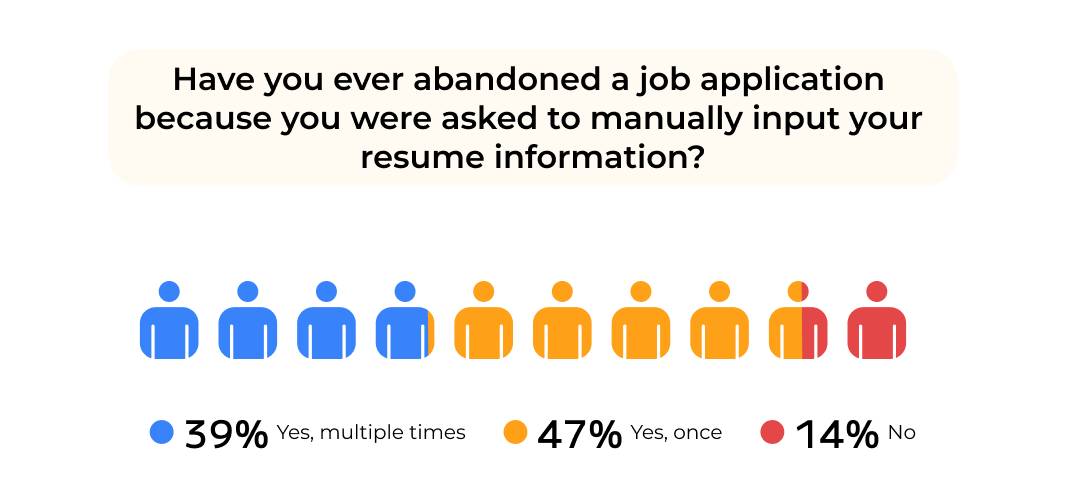 86% of participants claimed that they had abandoned a job application because they were asked to input their resume information manually. And 39% of those said they had done that multiple times. It happened to more than half of self-employed (55%) and MA/PhD degree holders (53%).
The time-consuming application process can be irritating indeed. But job search often puts your patience to the test.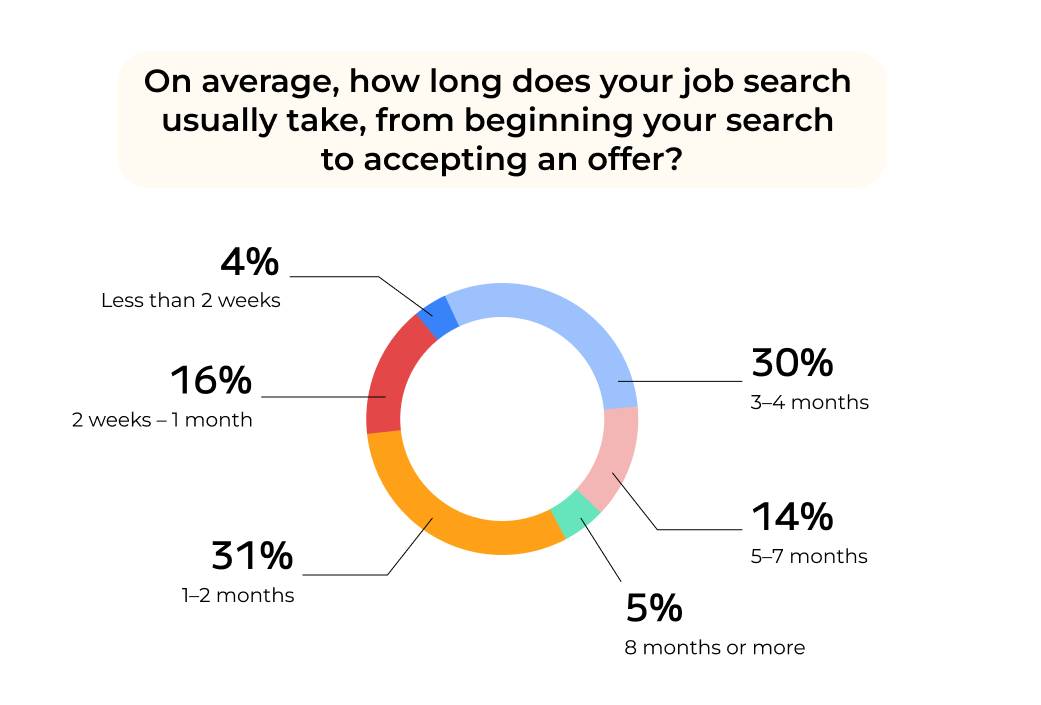 Participants were asked how long, on average, their job search usually took from the beginning to accepting an offer. The answers were as follows:
Less than 2 weeks – 4%
2 weeks – 1 month – 16%
1–2 months – 31%
3–4 months – 30%
5–7 months – 14%
8 months or more – 5%
As you see, only 1 in 5 candidates claimed they landed a job in less than a month.
Job hunting takes time, effort, and a great deal of patience. But if you want to change your work file for good, there's no other way out.
Now, ask yourself if frustration and anger related to rage applying are what you need on this journey.
Why Rage Applying Is Overrated
Jacques Buffett, Career Expert at Zety, commented on the dangers rage applying brings.
"Though rage applying may be a stress relief for a moment, impulsive job-hunting actions can backfire. It's best to make career choices with a clear mind. Think long-term and focus on what you really want from your professional life. Don't lower your expectations just to escape from your current job. Blinded by anger and frustration, you can find yourself in an even worse position," said Buffett. "Additionally, leaving on good terms can benefit your career. You never know what the future holds. Maintaining a healthy, respectful relationship with your previous employer may result in positive references, valuable networking opportunities, and an enhanced industry reputation. No matter what happens next, staying professional and classy during your departure is always a good idea," Buffett concluded.
Rage applying is a double-edged sword, so wield it carefully.
About Zety's Editorial Process
This article has been reviewed by our editorial team to make sure it follows Zety's editorial guidelines. We're committed to sharing our expertise and giving you trustworthy career advice tailored to your needs. High-quality content is what brings over 40 million readers to our site every year. But we don't stop there. Our team conducts original research to understand the job market better, and we pride ourselves on being quoted by top universities and prime media outlets from around the world.