Zety vs. Resume.io—The Ultimate Comparison
Looking for a perfect resume builder that meets your needs? We've made a Zety vs. Resume.io comparison to help you decide (without any regrets afterward).
It's great to know where to go when considering changing jobs. But finding a perfect resume builder is also an excellent idea. You don't want to spend hours creating your resume from scratch and stress about whether you've got everything you need.
There are many resume builders, but at the end of the day, you have to choose one.
This guide compares two popular resume builders—Zety and Resume.io—and will help you understand which is better.
Want to save time and have your resume ready in 5 minutes? Try our resume builder. It's fast and easy to use. Plus, you'll get ready-made content to add with one click. See 20+ resume templates and create your resume here.
Sample resume made with our builder—See more resume examples here.
Have a look at our resume guides:
Why Trust Us
We put your needs first. That's why we always try out the products we review for you so that our first-hand experience can help you make the right choice. Our Certified Professional Resume Writers test all resume builders available on the market to make sure you know the pros and cons of each tool. This approach allows us to create product comparisons that are not only objective but also answer all your questions so that you can create a job-winning resume quickly and easily.
What Are the Key Benefits of a Resume Builder?
Choosing a resume builder over creating a resume in MS Word allows you to use some things this classic program is missing. And hey! It's 2023, so don't miss out on features available in more complex systems!
Using one will probably cost you a few bucks, but you'll save time and find a template that suits your position. You'll check if your resume is written correctly and see some ready-to-use suggestions. And once you have your resume ready, you'll create a cover letter in the same template, showing your attention to detail. And that's a great first impression on any recruiter!
So let's have a quick look at some features that you definitely want your resume builder to have:
1. Professional Templates for All Types of Jobs
Recruiters spend an average of six seconds before they make the initial decision. The right template is how you can wow them in that time! Apart from a selection of templates, a good builder allows you to adjust your resume to your profession easily.
2. Ready-to-use Suggestions for Major Professions
Many builders use pre-written tips that help you list the accomplishments on your resume or skills relevant to the position you're after. And what's perhaps more important, they allow you to tailor your resume to the job description better!
When making a resume in our builder, drag & drop bullet points, skills, and auto-fill the boring stuff. Spell check? Check. Start building a professional resume template here for free.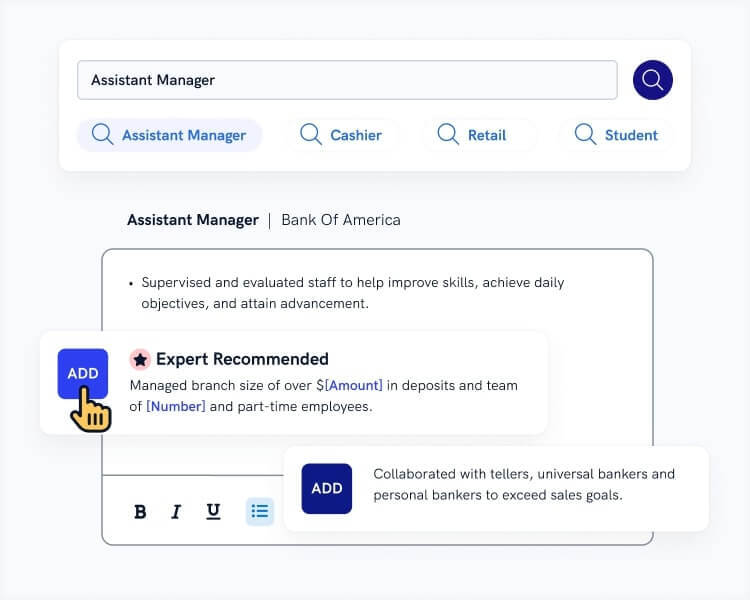 When you're done, Zety's resume builder will score your resume and tell you exactly how to make it better.
3. Ability to Upload and Automatically Reformat Your Old Resume
A good builder allows you to update a resume that's already written. And it's quite an important feature. Adding new sections to your resume or putting a promotion on your resume while using new templates allows you to refresh your document and save a lot of time.
4. Matching Cover Letter Builder
83% of recruiters say having a cover letter with a resume is a must! Some additional information might help you get the job that didn't fit the resume format. Even a short cover letter created in the same template as your resume can be your winning point!
5. Resume Checker
A resume checker helps you with grammar, punctuation, and spelling errors that can disqualify you quickly. It also hints about keywords to mention, enables you to create an ATS-friendly resume, and helps you improve the length of your resume, wording, formatting, and summary statement.
So now that you know some things a good resume builder should have, let's compare two big players in that field—time to look at Zety and Resume.io side by side.
Zety Versus Resume.io: Which One Is Better?
Choosing between these two top resume builders can take time and effort. Each of them has its own unique characteristics. So without further ado, let's focus on some things you might consider looking deeper into before deciding where to create your resume.
Pricing
Resume.io allows you to choose a free plan in which you get access to create one resume and one cover letter that can be downloaded only in TXT format. But there are some other options:
$2.95 for a 7-day trial subscription

$44.95 for a 6-month plan

$74.95 for a yearly plan
All these plans, including the trial, allow you to create unlimited resumes and cover letters with all premium templates and colors.
Zety's philosophy is "Try before you buy, pay when satisfied." It means you can generate your resume or cover letter using all of Zety's templates and see whether you like what you've created before signing up for a plan. The plans you can choose from are:
$2.70 for a 14-day full access
$23.70 per month for full access
$71.40 a year for full access (with an option to pay up-front for yearly access and save 77%)
Just like Resume.io, Zety allows you to download your documents for free in TXT format.
Resume Templates
Both Zety and Resume.io deliver many templates, and you'll find something that works for your position and experience level.
Choosing Zety allows you to pick one of 18 templates, whereas choosing Resume.io gives you 27 options. To navigate Resume.io, you'll find categories. You have to decide whether to make a creative, simple, professional, or modern resume. Some of these templates allow you to upload a photo, which Zety does not support. It's because our experts recommend sending a resume without a photo.
While Resume.io delivers more diverse templates, Zety allows you to play with them more. You can format your resume by bolding, italicizing, and underlining your text or picking fonts, sizes, and spacing. You can adjust it to what precisely you are trying to highlight to the recruiter, whether it's your education, your work experience, or your set of skills.
Tips From Recruiters
You can follow writing tips from recruiters in Zety and Resume.io while creating your resume. Both platforms are doing it well, but there are still some differences.
The first is that in Resume.io, you can mix the suggestions sentence by sentence. It allows you to customize your paragraphs efficiently. However, once you decide on suggested content, you can't change it without deleting them manually.
In Zety, one click adds a text, and the other gets rid of it, which makes the entire process faster. The overall quality of the suggestions is similar, so it can not be a deciding factor when choosing one of these resume builders.
Cover Letter Builder
You can spot more significant differences when looking into cover letter builders.
Here's where Zety takes the lead, allowing you to add sections to your cover letter, such as availability, confidentiality, employment gaps, relocation details, and salary requirements. Each section has a sample text that can be used and modified, making the entire creation process smoother.
Resume.io gives you a simple text tool packed in a cover letter format. The only advantage of choosing Resume.io based on a cover letter builder is the number of templates.
Reformatting Old Files
It's a time-saving feature that allows you to quickly upload your already-written document, which has already won you some jobs, and tailor it to a different job description more easily.
You can try this out with Zety. The software will automatically re-format your old resume and auto-populate the sections with the information available in the document.
Resume.io doesn't offer such an option.
Resume Checker
The resume checker is present in both Zety and Resume.io. And we don't mean simple spelling checkers (also available in both builders!). These features give insights into how and why you should improve your resume.
Zety allows you to use that option from the dashboard, so you can go there straight after creating your resume. It gives tips for what skills and keywords you should mention to get through resume screening software and some extra advice on how to nail every sentence. Unfortunately, it's available only after paying the subscription fee.
When it comes to Resume.io, it can take a while to find a resume checker. You can access it via Career.io. From there, it gives you all the information needed to improve your document. And you do not need to upgrade your account from a trial, which is great.
Now, let's summarize it!
Zety or. Resume.io: Pros and Cons
Before you decide which one you should trust with your resume, have a quick look at the table for the pros and cons of Zety and Resume.io:
Pros and Cons of Using the Zety and Resume.io Resume Builders
Pros
Cons
Zety

Available customization by changing types of fonts, their spacing, and size

Possibility to upload your existing resume and re-format it using one of the 18 templates

Built-in cover letter builder that helps you write your document faster

Expert writing tips along the way

14-day trial for a small amount of money

Fewer templates than in Resume.io

Access to the resume checker only after subscribing to one of the plans

Resume.io

27 templates divided into categories

Chance to upload your photo to some of the templates

Writing tips through the process

Lack of formatting functions

No option to upload your already-made resume

Basic cover letter builder
Key Takeaway
Making a good Zety vs. Resume.io comparison is a difficult task. There are many aspects to consider before choosing the resume builder that will satisfy you. Both Zety and Resume.io have great features to offer.
Yet, despite having more templates and being able to upload your own photo, Resume.io seems to be a bit limited when it comes to a modern resume builder.
Thanks for reading this article!
Do you have any questions about Resume.io? Do you have any experience using their resume builder? Let me know in the comments section!
About Zety's Editorial Process
This article has been reviewed by our editorial team to make sure it follows Zety's editorial guidelines. We're committed to sharing our expertise and giving you trustworthy career advice tailored to your needs. High-quality content is what brings over 40 million readers to our site every year. But we don't stop there. Our team conducts original research to understand the job market better, and we pride ourselves on being quoted by top universities and prime media outlets from around the world.