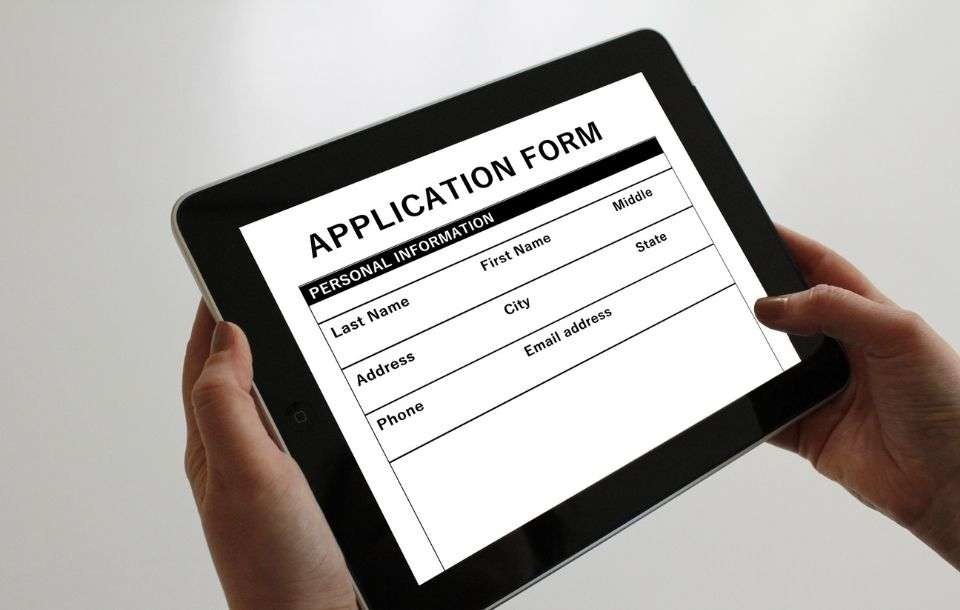 Job Application in Australia: How to Write [With Examples]
A resume? A cover letter? What else is there? I'm glad you're here to ask those questions. Find out what a job application is, what it includes, and how to write one to land a job.
Oh boy…
Trying to get a job? I feel you.
"How to apply for a job?" "Do I have everything?" "Is this everything ready to send?" and thousands of other things.
You can easily get disheartened if you don't know much about a job application.
But worry not.
You'll not only feel ready to apply for a job, but you'll barely recognise yourself with the confidence that you've gained with this article.
This guide will show you:
What a job application is all about in Australia.
How to gather and write the job application documentation necessary to send to recruiters.
Step-by-step instructions on applying for a job: what to think about, what to forget, and why it all comes down to relevancy.
Want to save time and have your resume ready in 5 minutes? Try our resume builder. It's fast and easy to use. Plus, you'll get ready-made content to add with one click. See 20+ resume templates and create your resume here.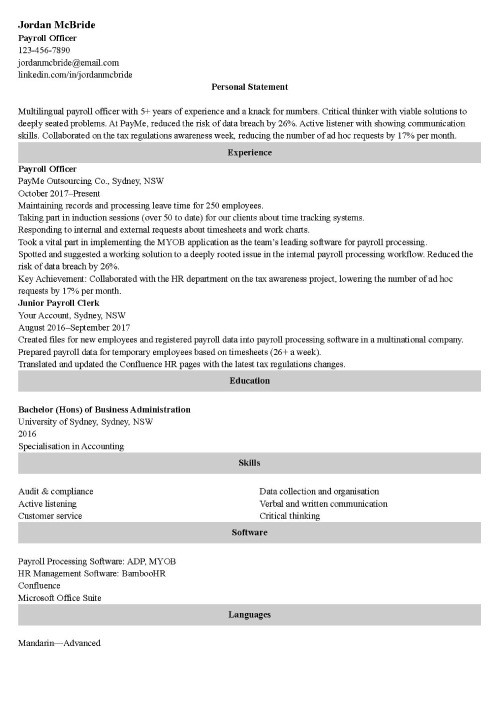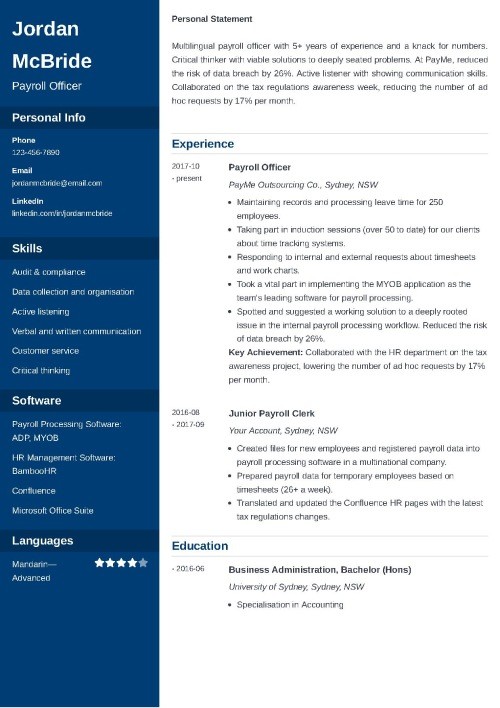 Sample resume made with our builder—See more templates and create your resume here.
Jordan McBride
Payroll Officer
123-456-7890
jordanmcbride@email.com
linkedin.com/in/jordanmcbride
Personal Statement
Multilingual payroll officer with 5+ years of experience and a knack for numbers. Critical thinker with viable solutions to deeply seated problems. At PayMe, reduced the risk of data breach by 26%. Active listener with showing communication skills. Collaborated on the tax regulations awareness week, reducing the number of ad hoc requests by 17% per month.
Experience
Payroll Officer
PayMe Outsourcing Co., Sydney, NSW
October 2017–Present
Maintaining records and processing leave time for 250 employees.
Taking part in induction sessions (over 50 to date) for our clients about time tracking systems.
Responding to internal and external requests about timesheets and work charts.
Took a vital part in implementing the MYOB application as the team's leading software for payroll processing.
Spotted and suggested a working solution to a deeply rooted issue in the internal payroll processing workflow. Reduced the risk of data breach by 26%.
Key Achievement: Collaborated with the HR department on the tax awareness project, lowering the number of ad hoc requests by 17% per month.
Junior Payroll Clerk
Your Account, Sydney, NSW
August 2016–September 2017
Created files for new employees and registered payroll data into payroll processing software in a multinational company.
Prepared payroll data for temporary employees based on timesheets (26+ a week).
Translated and updated the Confluence HR pages with the latest tax regulations changes.
Education
Bachelor (Hons) of Business Administration
University of Sydney, Sydney, NSW
2016
Specialisation in Accounting
Skills
Audit & compliance
Data collection and organisation
Active listening
Verbal and written communication
Customer service
Critical thinking
Software
Payroll Processing Software: ADP, MYOB
HR Management Software: BambooHR
Confluence
Microsoft Office Suite
Languages
Jump through sections with the below list of contents:
What Is a Job Application in Australia?
A job application gathers information about your performance to date, says how your skills and qualifications respond to particular selection criteria, and presents your motivation to join the company. The job application form is usually a letter, email, or online form.
What Does the Job Application Include?
Employers aren't fond of lazy blobs that provide incomplete information in their job applications, so rule number one: always double-check if you've got everything ready.
And that is:
Resume
What is a resume? It belongs to job applications like Vegemite on toast.
Resumes make the sandwich as they hold your relevant qualifications and career progress together, which is precisely the information your potential employer needs to sink their teeth into.
To make your employer go mmmm with their mouth full, follow these simple steps on how to make a resume:
Design a header with your name, phone number, and email address. Keep it at the top of the page as you go along with your second, third, or fourth page. Remember to leave out such information as your date of birth, marital status, religion, and a photo.
Create enough whitespace by proper resume formatting. Set 1-inch margins, line spacing to 1, and use a readable sans serif font, like Verdana or Helvetica.
Choose a reverse-chronological format to write about the most recent events and jobs at the top.
Start with a personal statement summarising your career highlights, relevant experience and skills. If you're inexperienced, a career objective is a better choice.
Follow with the employment section, where in four to six bullet points under each position, you describe your most significant and relevant professional achievements. Use the accomplishments statements formula or simply follow the STAR method.
Include your educational background. If you've got years of experience, include only the highest degree you completed. But if you're only a starter, make sure you mention your academic accomplishments, too.
Describe your personal attributes and key skills that correspond to the job profile.
Add other sections, such as awards, volunteering, or certifications to spice things up and impress your employer even more.
Stay on two to four pages, tops.
ProTip: If the job application needs you to give away referees, two is the go-for number. But first, ask the people you've chosen for being your references whether they're OK with that.
When making a resume in our builder, drag & drop bullet points, skills, and auto-fill the boring stuff. Spell check? Check. Start building a professional resume template here for free.
When you're done, Zety's resume builder will score your resume and tell you exactly how to make it better.
Cover Letter
It's a part of a job application that employers read first, just like one would do with the IKEA assembly instructions (although recruiters can actually figure out what they're working on once they're done).
So—
Employers need to know who they're dealing with. They also need to know what skill set you'll bring along and what benefits they get from having you onboard. That's the reason why you need to make a big entrance with your cover letter.
Do you know how to write such a cover letter? Here's the basic step by step formula:
Mirror the header and template design from your resume.
Double the spaces between paragraphs, and for the rest, follow the same formatting as in your resume.
Open your letter with a gripping narrative, as if you created the background for a success story. It has to be attractive enough to get the reader to read on.
Write about your relevant experience and skills in line with the employer's selection criteria. Plus, explain why you're perfect for the job by discussing why you believe you two are meant for each other.
Close the letter with a call to action and a formal salutation.
Stick to a succinct, one-page cover letter format.
Pro Tip: Include an enclosure to mention the resume and supporting documentation, such as licences, transcripts, or diplomas if your employer's request to see them.
Key Selection Criteria Statement
Selection criteria are knowledge, skills, qualifications, or experience and qualities you must possess to be considered for a position. Your task is to fill out an online form or write a page statement referring to each criterion and explaining how you meet them. Hiring managers used this evaluation tactic to weed out the best candidates out of thousands of job applications.
Now, imagine this—
You're walking into a black-tie event (as noted in the invitation) wearing smart casual, and you think a "sorry" will do?
Not in your dreams, it won't!
Recruiters scrutinise your answers to the key selection criteria to make sure you meet every single of the requirements, which can involve certain knowledge, various types of skills, qualifications, or experience. For example:
Knowledge Criterion: Understanding of the sales funnel.
Technical Skills Criterion: Proficiency in using the Power BI application.
Qualifications Criterion: Preferably a Business Administration degree.
Experience Criterion: A minimum of two or three years experience as a database administrator.
Depending on the kind of job you're applying for—in the public or private sector—you may encounter employers asking for selection criteria statements to be either an individual document or part of an online form.
But worry not—the contents are the same in each case.
Selection criteria set grounds for the entire recruitment process. They can be listed or weaved into the job description. Your job is to find them and respond to EACH using the STAR method that stands for Situation–Task–Action–Result:
Describe briefly the situation (set your answer in context).
Explain what task you had to complete.
Speak about the action you took.
Say what results you achieved.
Follow that pattern with every answer, and you'll be right.
Pro Tip: If you're writing a cold job application email, as in not responding to a particular job posting, make it clear you're available for an interview. Say why you're applying to this specific company and share your contact details in a visible place. Do not duplicate the contents of your cover letter to the email body no matter what.
How to Write a Job Application?
Knowing what a job application involves is one thing.
Writing it is another.
You need to consider several steps when you decide to apply somewhere.
What you need to start with is to—
1. Set on a Career Path
You're still asking yourself: "Who am I?" and the answers aren't showing?
After all, you're not picking a restaurant to go out and eat, so Google listings may not have all the answers this time.
Choosing a career path can be easy if you know the right way to do so.
First, think about all your strengths and consider your weak spots. If you've earned some experience already, keep in mind the situations where you displayed some of it.
Second, ask the others—your family, friends, or a counsellor—what they think. Cross-check how you see yourself with how others see you.
And third—
2. Do the Job Search
Not every job posting will appeal to you.
And that's completely fine!
What counts is that you keep looking and don't let yourself get intimidated by the employer's requirements in the job ad.
You don't have to check all the boxes. But you also may not even realise that you do in the first place!
When doing the job search, try digging deeper into what skillset you've built throughout the years at school, doing voluntary work, having short or long term internships, or just by doing some odd, part-time jobs. Everything counts at an equally important level.
3. Prepare Your Application Documents
Once you're set to pursue several jobs (it's always best to have alternatives), reread the job ads to find keywords.
Here's where selection criteria come into play.
Employers may or may not write them explicitly. If they don't, seek words and phrases that repeat. Those are the qualifications and qualities you need to pay special attention to and address directly with your resume, cover letter, and statement answering the key selection criteria.
The Applicant Tracking System will look for those keywords.
If you don't include them in your job application, recruiters won't have the chance even to take a glance at your documents for a simple reason: you won't pass the ATS test and end up in a black hole of unread applications.
So rule number two: always tailor your job application to the job description.
4. Take Your Employer Instructions to Heart
That'll be quick.
If your potential employer asks you to fill out an online form, don't miss a single field.
If your potential employer asks you about things you don't quite understand, request further instructions.
And if your potential employer asks you to attach a cover letter, just do it.
So that's that.
Pro Tip: Don't scratch your head when one employer asks you to prepare a CV for your job application and the other a resume. They're the same documents in Australia.
Plus, a great cover letter that matches your resume will give you an advantage over other candidates. You can write it in our cover letter builder here. Here's what it may look like: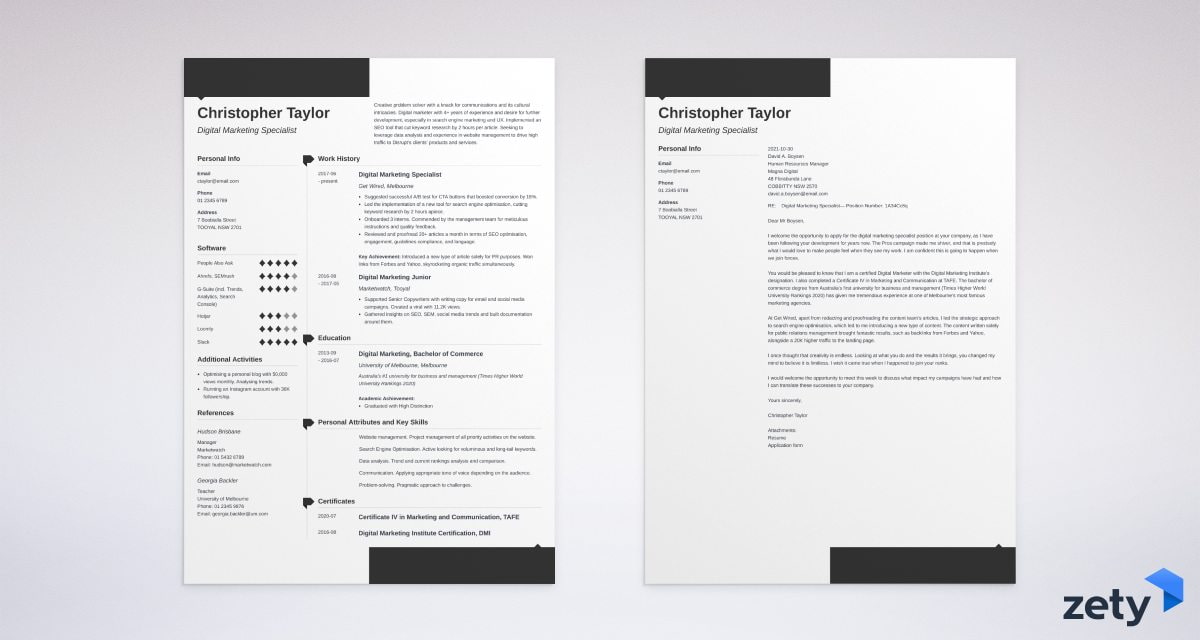 See more cover letter templates and start writing.
Key Takeaway
Prepare for some recap:
Job application is your way to apply and get a job.
You may be asked to send a letter, email, or fill out an online application to apply for a job.
Make sure you have all documents necessary for a complete job application. They're a resume, cover letter, and statements responding to selection criteria.
Use the STAR method to answer selection criteria.
And that's everything about the job application.
Please tell us—
Do you have questions about the job application after reading the article? Do you track your job application and who you sent them to? How do you feel about coming up with answers to selection criteria as part of the job application?
Give us a shout in the comments! Let's get the conversation rolling.