The idea behind the Canadian Common CV was to make things easier. After all, who wouldn't want to provide all their info only once to generate multiple CVs with a few clicks?
But then… something went wrong.
In this article, we'll take a closer look at the Canadian Common CV from the point of view of resume experts.
A brief history of the Canadian Common CV
The Canadian Common CV dates back to 2002. It had a noble goal: to help researchers apply for funding.
Before that, someone applying for funding at several funding organizations had to create several versions of their CV from scratch because each organization required a different resume format.
"So let's make a web app where you only add your data once, and it makes several CVs according to each organization's unique template," they said. "It will work," they said.
Spoiler: It didn't.
Remember that it all happened in 2002 when confusing websites with tiny fonts were the norm. And yet the CCV web app was painful to look at—even in comparison with all the other 20-year-old exhibits that you can admire in the Web Design Museum.
In 15 years, the funding agencies behind CCV announced a redesign after everyone became tired of it.
Spoiler #2: The Canadian Common CV web app still looks like something straight out of 2002. And people still aren't happy with it—just check out the #EndtheCCV hashtag on Twitter to get a brief glimpse of users' feelings.
While we're talking about CV design, just look at what you can create with a modern CV builder.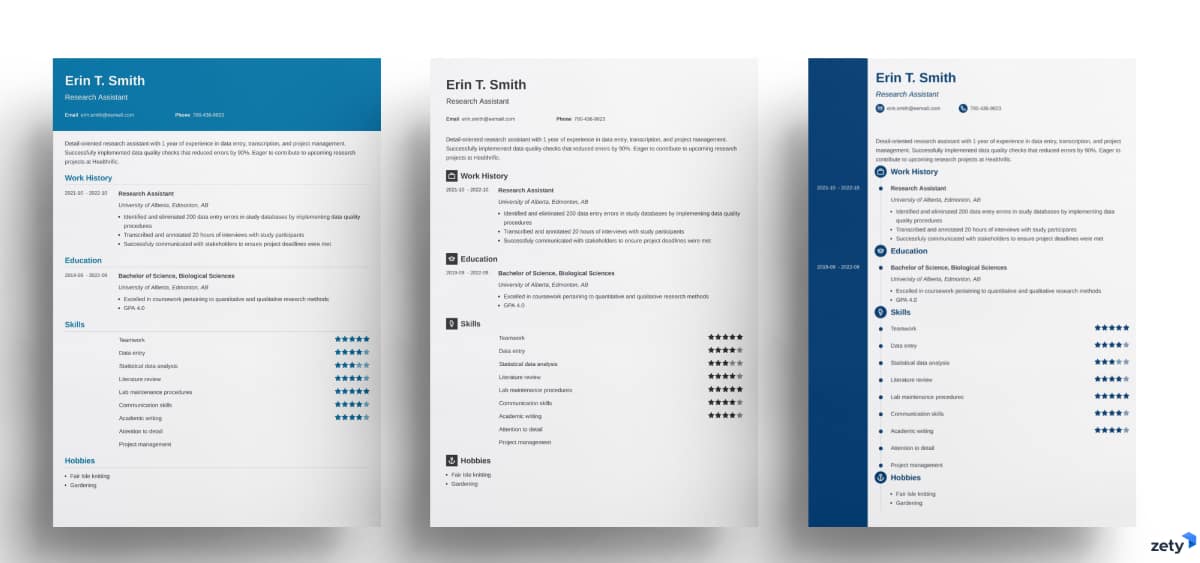 Unless you absolutely need to use the Canadian Common CV, opt for the best CV builder out there. A work CV or resume isn't exactly the same as an academic CV. Still, it's easy to customize any template in the builder to incorporate your publications, awards, and other academic achievements, especially if you apply a single-column CV template.
What's the problem with the Canadian Common CV, then?
Let's be honest: the problems start before you even log in.
The CCV homepage refuses to look usable on a smartphone (we've tried). So if you thought you could polish up your CV on your phone during a train commute, you'd need a full-size laptop for that. And top-notch noise-cancelling headphones so that you can attain the deep focus necessary to figure out the interface.
The interface of the CCV app is clunky with mind-boggling amounts of drop-down lists. So stock up on painkillers because all that scrolling will take a toll on you. It's nothing like a modern CV builder that you can use anytime, anywhere, with minimal effort.
After you finish scrolling, you're exposed to even more difficulties when you find out that you can't reorder entries. And if you accidentally click the tiny trash can next to an entry, it's gone forever.
Oh, and when you see an X that suggests an error, well, it's time to show off your research skills and go through your entire CV to find out what's wrong. Unless you have a special passion for deciphering error messages and re-entering all your stuff over and over again, you're not going to have any fun creating your CV with the CCV builder.
And if you've got a question like "Where do I put an exchange semester on a CCV?" your only source of help is Reddit. But most likely, most commentators won't be able to provide an answer because they're in the same boat. In other words, you're on your own.
So, even after the 2017 redesign, it can easily take an entire day to make up a Canadian Common CV. And remember that, after spending so much time on your CV, you still need to write a cover letter.
Fortunately, you're not bound to a specific app here, so you can go ahead and use our cover letter builder. When we say it'll take only a few clicks, you can be sure it's true this time. Plus, you'll get pre-written suggestions, so if you play it right, you won't have to write a thing.
Find customizable cover letter templates and pro tips that guide you through the entire process.
Why not ditch the Canadian Common CV altogether?
This question keeps quite a few academic minds occupied. After all, the migraine-inducing interface and the frequent crashes make the Canadian Common CV more of a hurdle than a genuinely useful tool.
Well, the original idea behind it—that you only enter your data once, and an intelligent app uses it to generate differently formatted CVs—is great. That's also the idea behind resume builders like ours, where you can change and duplicate resume templates with a single click.
The caveat with simply using a resume builder to write your academic CV is that resume builders are primarily designed for people writing resumes for the job market. That's why some writing tips and pre-written chunks of text in resume builders may not be helpful to academic users. Also, many job resume templates won't work for academic CVs. So a dedicated CV builder for academic users is a market niche waiting to be filled.
We can only hope that the agencies behind the Canadian Common CV undertake another redesign—this time, with open communication between all stakeholders. It would also be beneficial to involve UX/UI designers who've previously created successful resume builders.
In the meantime, most funding institutions in Canada don't accept any other CV formats, so all you can do is suffer in silence, rant on the Internet, or look for funding outside Canada, where you're not bound to a single CV generator.
Key Takeaways
The Canadian Common CV is criticized for its traumatizing user interface and constant crashes. But in many cases, you just can't avoid using it because most Canadian research funding agencies don't accept any other CV formats.
But if you come across an organization that accepts non-CCV documents, it's more worthwhile to make your CV in a hassle-free resume builder.
What's your experience with the Canadian Common CV? Feel free to let us know in the comments!
About Zety's Editorial Process
This article has been reviewed by our editorial team to make sure it follows Zety's editorial guidelines. We're committed to sharing our expertise and giving you trustworthy career advice tailored to your needs. High-quality content is what brings over 40 million readers to our site every year. But we don't stop there. Our team conducts original research to understand the job market better, and we pride ourselves on being quoted by top universities and prime media outlets from around the world.