Canva Resume Builder Review [Templates + Customer Reviews]
Canva seems like a great tool for basic graphic design. But what about Canva Resume Builder? Is it also good? Read our Canva review and find out!
Canva is famous for being a graphic design tool for everyone who isn't a graphic designer. But did you know that you can also use it to create resumes?
Is it worth giving it a shot? Can you create a great resume in Canva? What are the features that this resume builder has, and what can be improved? Look closer and get all the answers you need in this Canva resume builder review.
This guide will show you:
Customer reviews of Canva resume builder.
Pros and cons of using Canva resume maker builder, including their templates.
A review of selected Canva resume templates.
Want to save time and have your resume ready in 5 minutes? Try our resume builder. It's fast and easy to use. Plus, you'll get ready-made content to add with one click. See 20+ resume templates and create your resume here.
Sample resume made with our builder—See more resume examples here.
Looking for some more job-related knowledge? Check out our guides:
Why Trust Us
We put your needs first. That's why we always try out the products we review for you so that our first-hand experience can help you make the right choice. Our Certified Professional Resume Writers test all resume builders available on the market to make sure you know the pros and cons of each tool. This approach allows us to create reviews that are not only objective but also answer all your questions so that you can create a job-winning resume quickly and easily.
Canva Customer Reviews
Canva reviews are quite mixed, and you must remember that it's a complex graphic tool, and resume builder is only one part of it. Just have a look at reviews from Product Hunt, where users rated Canva 4.8 out of 5 stars, which is a nearly perfect score.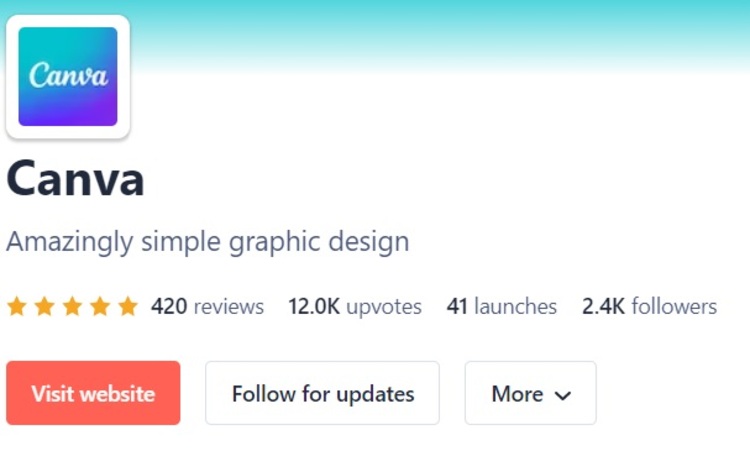 The reviews look completely different on the two other major review sites.
Trustpilot gives it a rank of 2.4 out of 5 stars. Users of this site complain about Canva's customer service, user guide, and quality of files.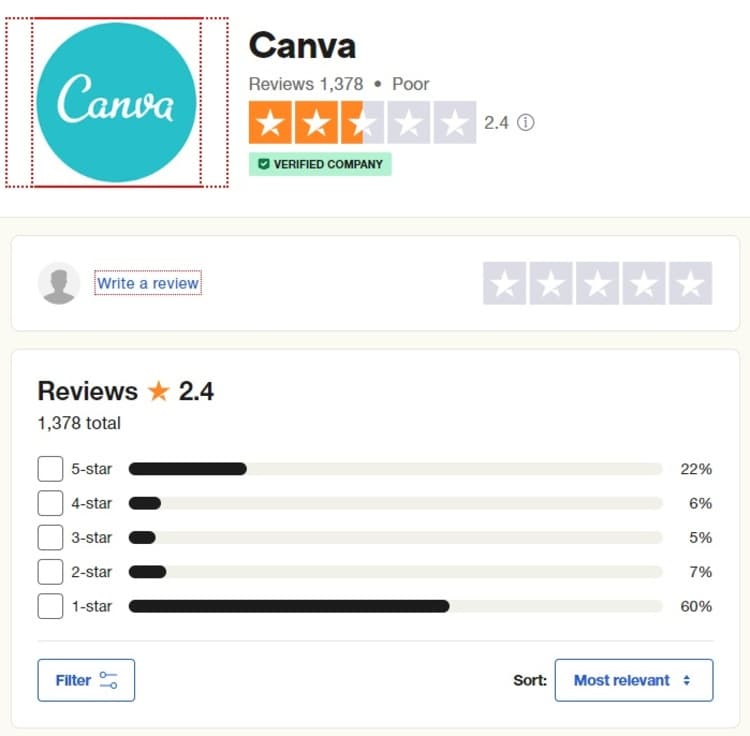 The reviews are quite similar on Sitejabber. The users claimed they lost their work by accidentally clicking somewhere they were not supposed to click during the creation process, and Canva was too detailed.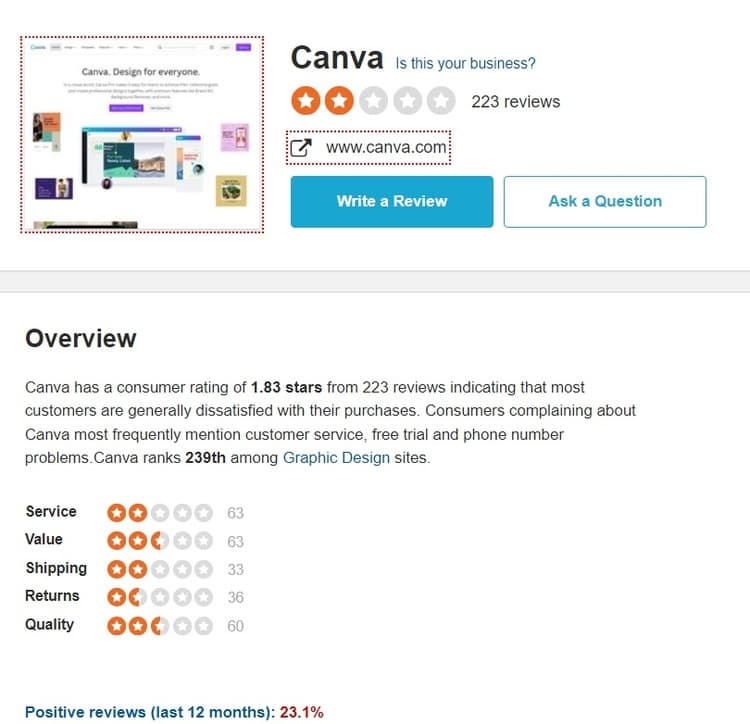 With Canva reviews that are so mixed, it's really hard to tell whether it's a good or a bad product. So we've decided to give it a spin, only to see the options of creating a resume and a cover letter there.
Is Canva Good for Making a Resume?
Canva allows you to create your resume for free, using "hundreds of resume templates". And it might be true since there are 22 (sic!) categories of resume templates to choose from, such as Professional, Modern, Creative, Infographic, Acting, SEEK, and more. One of them is this: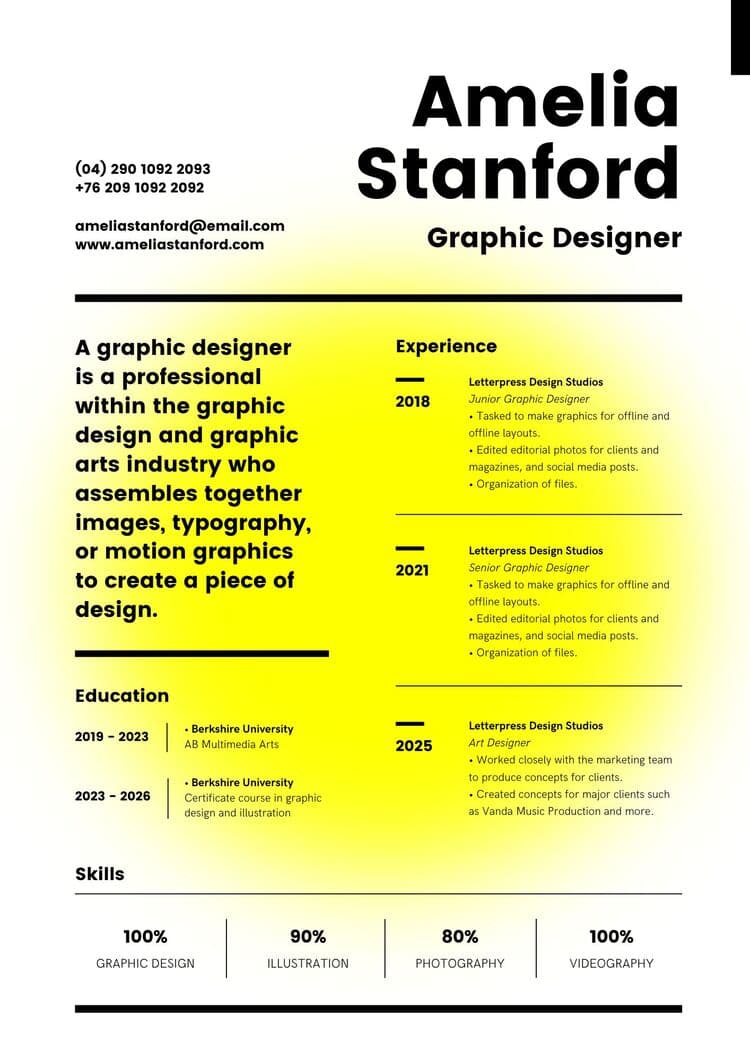 Considering that Canva is a designer's tool, there's no surprise you can basically do anything you want with a given template. And tons of these resumes are completely free. Some of them, however, include premium content, which you learn when you click the Download button. It can be pretty frustrating after spending hours creating a resume…
And what about other options that a modern resume builder has? What about pre-written suggestions, guides, and resume checkers?
Let's take a look at these features while discussing Canva's pros and cons.
Canva Resume Builder—Pros
Many Templates
It's safe to assume that Canva has more resume templates than any other resume builder on the market. Divided into 22 categories, they deliver a plethora of styles, colors, and themes. There's definitely a resume design that fits every need.
Great Formatting Options
Being able to format a resume is crucial. And since Canva is a tool for graphic designers and not only those professionals, there are no surprises here. You can easily move, reshape, change the size, add filters, and adjust every single element of your resume.
Uploading Files
Canva works perfectly if you want to add some changes to your already-existing resume. Uploading it takes seconds, and then you can edit text, as Canva reads where one section of it ends and the other begins. You can, too, add photos, adjust it all, and basically do whatever you want with it.
Canva Resume Builder—Cons
No Writing Tips
Choosing how your great resume template will look is one thing. But you must also fill all the sections with impressive achievements, skills, and sentences that just click with your future employer. Here's where professional writing tips created by resume specialists and writers come in handy. Some resume builders also include already-written content you can add to your document and re-write to make them more relevant to the job ad. Canva supports neither of those options.
Limited Application Tracking System (ATS) Feature
ATSs are software applications that scan resumes (and other job recruitment documents, such as cover letters) for relevant keywords. Creating an ATS-friendly resume is necessary to have your document read by most recruiters. Canva's resumes are filled with graphics, icons, images, charts, and other elements that might be confusing for ATS apps. There is a dedicated section only for ATS-friendly resumes, but for someone with no knowledge about the Applicant Tracking Systems, this section isn't likely to be the first choice. Picking a simple resume template that is created especially to work with these systems can be a better idea.
Little Space for Your Contribution
Choosing from hundreds of resume templates can feel like an embarrassment of riches. Many of those resumes look nice but don't necessarily work well in terms of format and resume sections. Some of them provide little space to write about your achievements, skills, and experience. You must know your way around graphic design basics to have it done properly while still having a neat resume template.
No Resume Checker & No Resume Score
Being able to tell whether your resume is done 100% correctly is an important feature a resume builder should have. Getting hints on whether your resume summary needs a bit more work, having your text checked for both keywords and errors, or learning about what additional information you can add to your document is essential.
Now you know the pros and cons of using Canva Resume Builder, so it's time for a Canva templates review.
When making a resume in our builder, drag & drop bullet points, skills, and auto-fill the boring stuff. Spell check? Check. Start building a professional resume template here for free.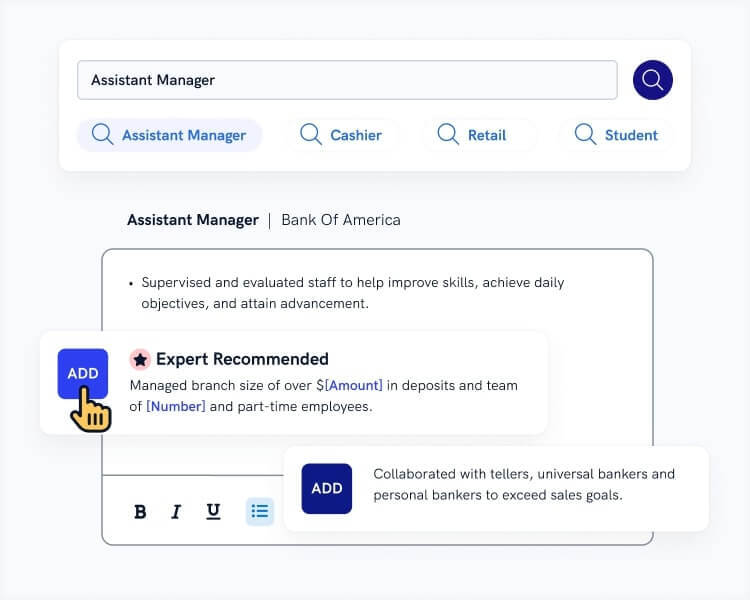 When you're done, Zety's resume builder will score your resume and our resume checker will tell you exactly how to make it better.
Canva Resume Builder Review—Templates
Selecting only a few templates from Canva Resume Builder is a difficult task since there are so many of them. Let's have a closer look at these four:
Olive Peach Pink Minimalist Resume by Take Care Creative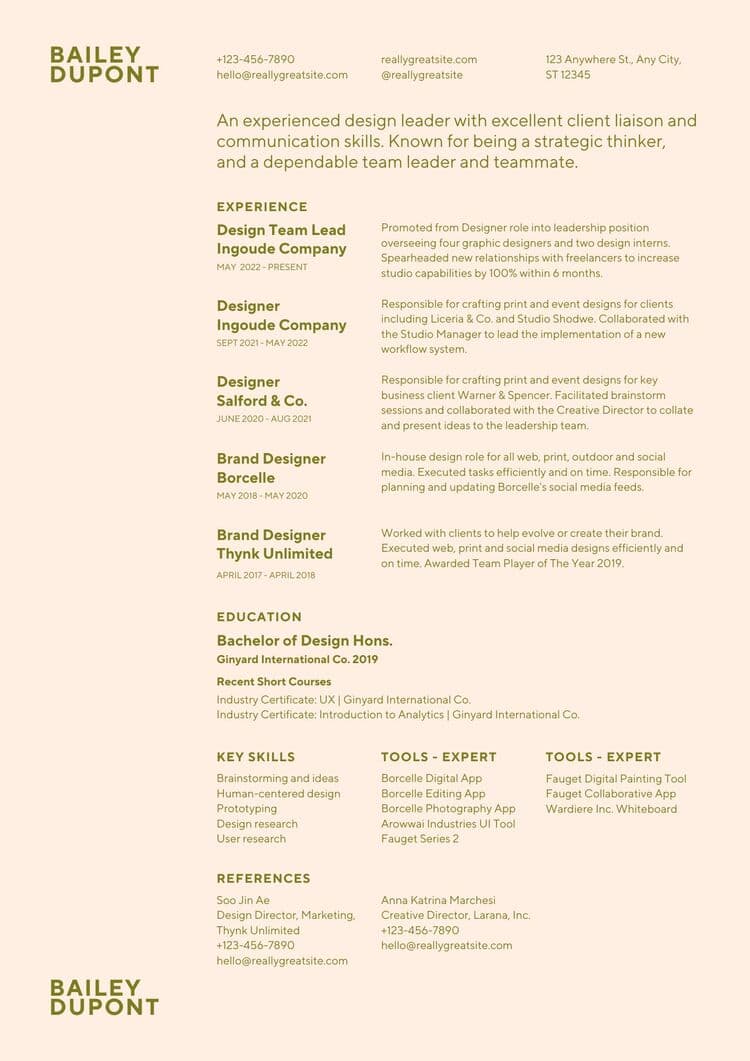 The peachy background and olive font color will help you stand out with this resume. Your name will also pop up on the recruiter's desk, as it's bolded in the top left corner. It's a minimalistic resume that leaves space to write a bit more about your experience.
Green and White Modern Resume by Canva Creative Studio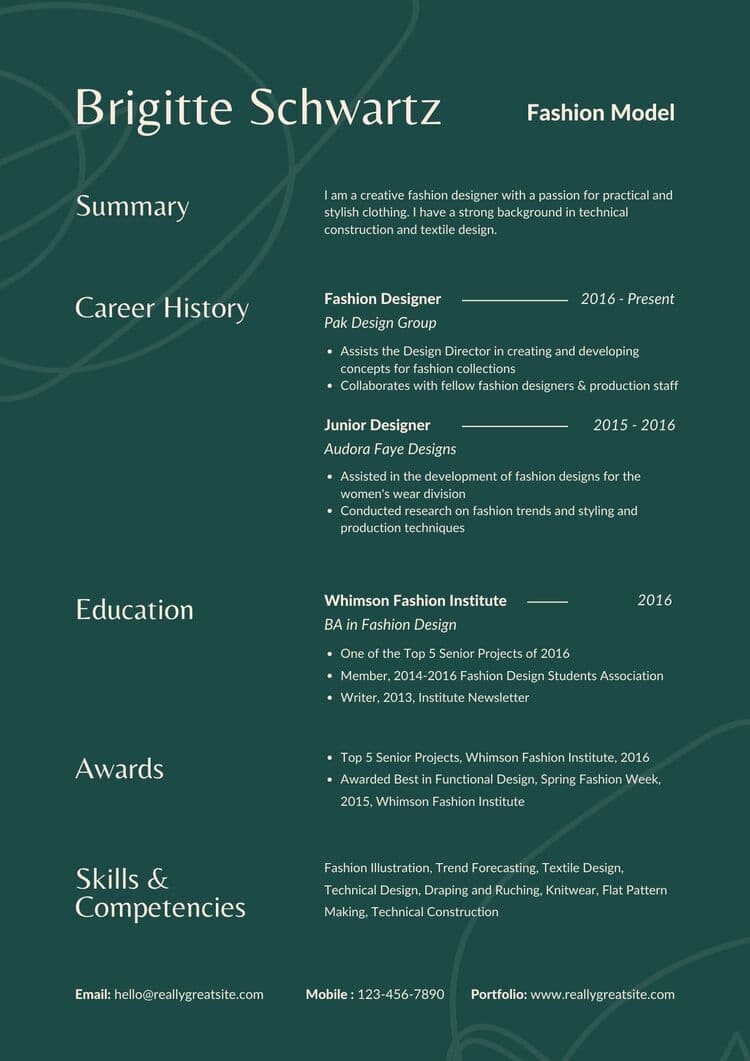 Elegant green meets cold white in this modern yet creative resume template. Abstract shapes in the background only make it stand out more. And there's a lot of space to describe your experience, education, awards, and skills on a resume.
Black and White Minimalist Resume by Canva Creative Studio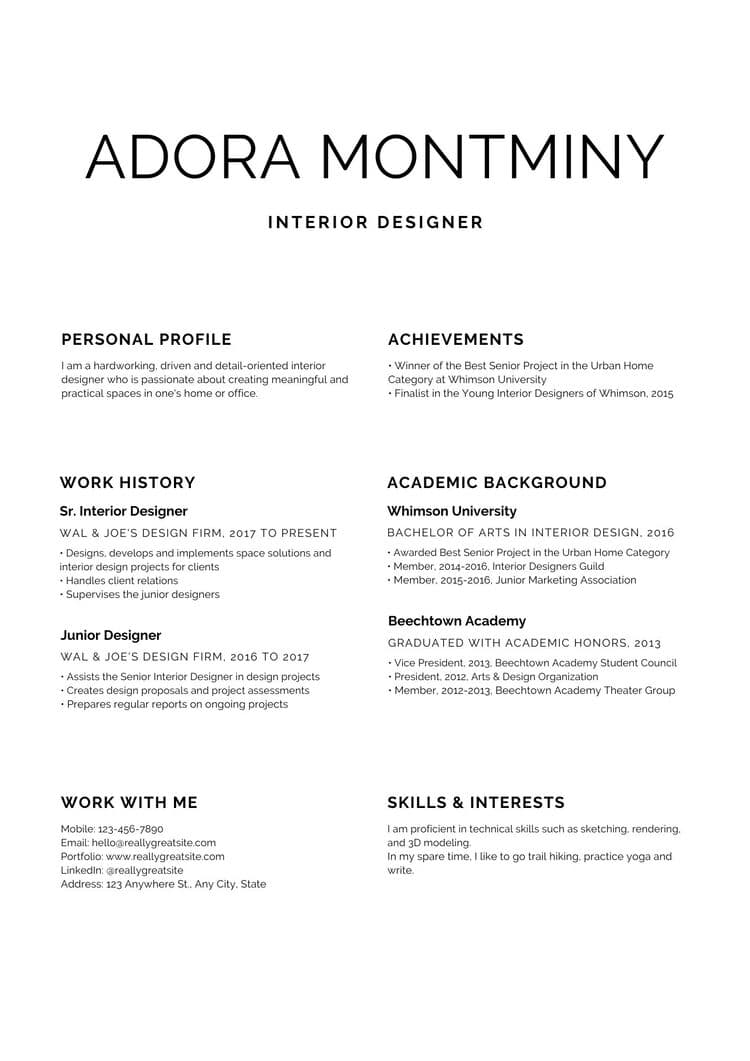 A classic, but with a strong highlighting of your name, which will make a recruiter remember you immediately. It's simple, yet the order of sections can be slightly confusing. The contact section is at the bottom of a resume, which is unusual but not necessarily in a good way. If you choose this template, you must work on its resume sectioning first.
Black and White Modern Graphic Designer Resume by Canva Creative Studio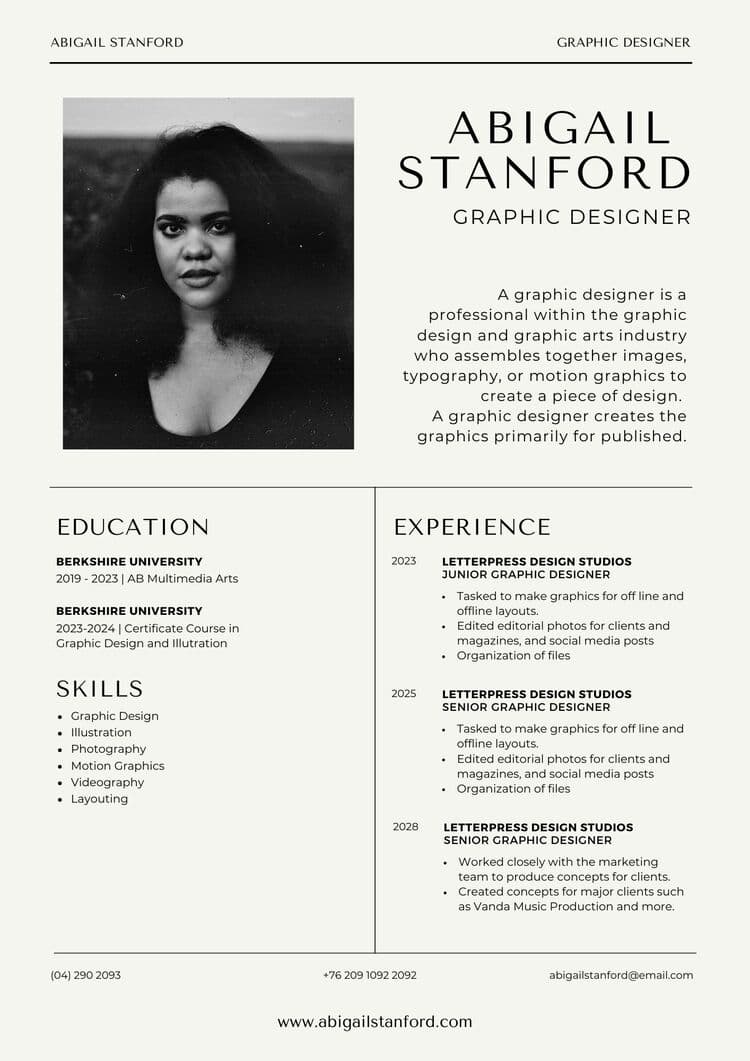 As its name indicates, this modern resume template is designed especially for a graphic designer resume. But for a graphic designer, it's quite modest, even tamed. It definitely doesn't pop with vibrant colors, as many creative resumes do. (Perhaps that's how you get remembered among those bright resumes.)
Many templates on Canva have photos you can replace with yours. Mind, though, that for the US market, you shouldn't put photos on your resume.
Plus, a great cover letter that matches your resume will give you an advantage over other candidates. You can write it in our cover letter builder here. Here's what it may look like: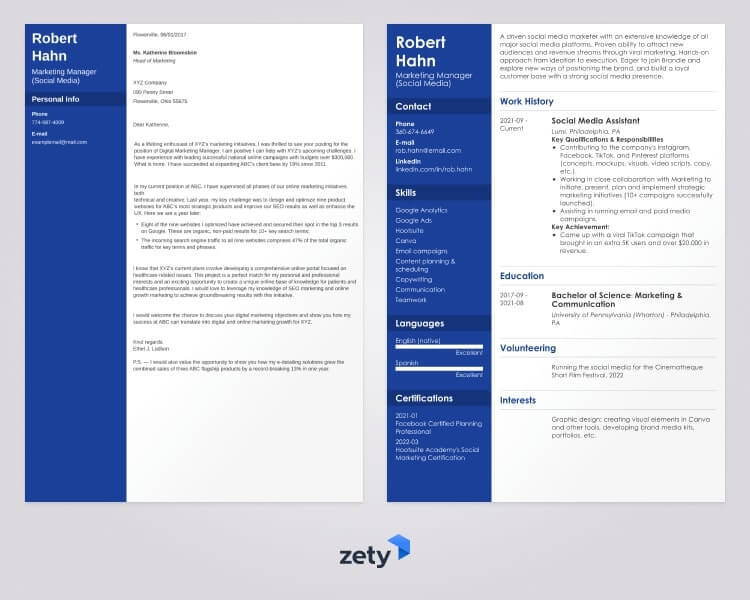 See more cover letter templates and start writing.
Is Canva a good resume builder?
It has a lot of pretty templates that can impress recruiters, and you can create your resume fast. But with many basic resume builder features missing, it's hard to recommend Canva as a resume builder. It has great editing options (like any graphic design program) and many templates. But without a resume checker, pre-written suggestions, and tips from experts, that's all it has to offer.
If you're looking for a resume builder that will boost your chances of landing a job you're after, you should consider looking for a tool that can quickly and effortlessly guide you through the process of creating a resume.
Impress your hiring managers with your skills, achievements, and experience. Learn more about How to Make a Resume
Thanks for reading our Canva Resume Builder review!
Would you like to discuss it further? Perhaps you've made your resume in Canva Resume Builder and would like to share your thoughts? Let's talk in the comment section below!
About Zety's Editorial Process
This article has been reviewed by our editorial team to make sure it follows Zety's editorial guidelines. We're committed to sharing our expertise and giving you trustworthy career advice tailored to your needs. High-quality content is what brings over 40 million readers to our site every year. But we don't stop there. Our team conducts original research to understand the job market better, and we pride ourselves on being quoted by top universities and prime media outlets from around the world.