Leaving a Job: From Termination to Resignation [2023 Study]
To quit or to be fired? That's the question. 1000 employees open up on how they really feel about ending employment and share their experiences with changing jobs.

Whether in private or professional life, breakups are never easy.
Endless dilemmas, sleepless nights, and hopeless attempts to find a perfect way out. Humming, "Should I stay or should I go", waiting for a sign, changing your mind a thousand times.
Sometimes it is you who makes the decision. At other times, the decision is made for you.
There are a ton of factors to consider when leaving a job. On the one hand, low pay. On the other, great colleagues. Stay for the free gym membership or leave for better job opportunities? And the ultimate question is, how should it end? Is it better to quit or get fired?
If ending employment had a Facebook relationship status, it'd be it's complicated.
Feels relatable? No surprise. Today's labor market is a hyper fast-changing picture. Layoffs, quitting, and job loss are everyday occurrences for millions of people.
Let's have a look at some recent data on the topic.
About 50.5 million people quit their jobs in 2022, beating out the 47.8 million in 2021, according to Bureau of Labor Statistics JOLTs data.
15.4 million Americans were laid off in 2022, a 62% decrease from 2020, according to Zippia.
Nearly 20% of Gen Z and 15% of millennials claimed they would be happy if they were to be laid off today, as a survey conducted by the Harris Poll for Bloomberg News in January 2023 uncovered.
As a new report from LinkedIn found, 61% of US workers are considering leaving their jobs in 2023.
Getting fired isn't a career killer. 91% of executives who were fired ended up finding a position as good or better than their last, as Zippia's study revealed.
According to the Bureau of Labor Statistics, the average worker has a 1 in 4 chance of getting laid off sometime during their career. It often comes as a shock, and it hurts. Still, that's not always the case. And it's not the only way to end employment. Nowadays, many people rethink their careers and decide to quit.
In today's job market, quitting and losing a job have become increasingly common experiences. While facing the uncertainty and financial pressures that come with job loss or leaving a job is never easy, it may serve as an opportunity for growth and new beginnings. A blessing in disguise.
At Zety, we surveyed 1000 employees to examine:
Key findings:
9 in 10 participants have quit a job. 62% of them take pride in it.
73% would quit the job if they had no chance of growth.
54% claim getting fired scares them more than death.
64% believe that job termination would make them feel useless.
75% feel ashamed of getting fired. 1 in 3 has hidden it from their family.
64% claim that in the long run, the layoff has turned out to be beneficial for their career.
Coming to work intoxicated, lack of professionalism, and poor teamwork skills are considered the top good reasons to fire an employee.
But don't quit now. Keep reading to discover what else our study revealed about termination and resignation.
First-hand experience with ending employment

To start with, we asked respondents how they left their last job
57% of participants quit their last job, 26% were fired, and 17% chose "Other" as their answer.
When it came to quitting, there were disparities among different demographic groups. Let's take a closer look.
Gender: females—61% quit vs. males—52%
Age: 25 or younger—60% quit vs. 26–40—52%
Industry: education—61% quit vs. manufacturing—52%
Work experience: 11+ years—66% quit vs. 3–5 years—53%
Company size: 501+ employees—64% quit vs. 51–200 employees—54%
Political affiliation: Democrats—64% quit vs. Republicans—50%
Annual income: $25,000 and less—61% quit vs. $75,000 and greater—49%
In contrast, the only noticeable difference in experiences with being fired could be observed in answers given by different age groups.
Age: 26–40—33% were fired vs. 25 or younger—16%
Notably, Gen Z seems to be a labor market disruptor when it comes to leaving their jobs. We'll discuss it further in the next section of the article. But for now let's move on.
Almost 6 in 10 (58%) participants claimed they had been unemployed for more than 6 months at some point in their careers. Disparities in different demographic groups to note:
Race: ethnic minorities—64% vs. white—57%
Industry: healthcare—69% vs. business & finance—54%
Type of work: blue-collar—66% vs. white-collar—57%
Company size: 1–50—71% vs. 501+—52%
Political affiliation: Democrats—59% vs. Republicans—52%
Annual income: $25,000 and less—64% vs. $50,000–74,999—55%
It seems that bigger companies provide more stable employment and a greater number of professional opportunities. In that regard, corporations aren't as bad as they're made out to be.
Now let's focus on statistics regarding first-hand experience with quitting and getting fired. We asked participants to share how many times they had quit a job or been fired.
Over the course of your working life, how many times have you quit a job?
Never – 7%
1–2 times – 47%
3–4 times – 33%
5 times or more – 13%
[business & finance—21% vs. healthcare—7%]
Over the course of your working life, how many times have you been fired?
Never – 24%
1–2 times – 37%
3–4 times – 26%
More than five times – 13%
[manufacturing—23%, business & finance—22%, education—8%]
Business & finance employees win the title of the greatest job hoppers. Time to move on to detailed findings about quitting.
Quitting a job: numbers & emotions

Quitting is gaining momentum in the labor market. Our study confirms this.
There are many reasons behind this phenomenon. In Gallup's "State of the Global Workplace: 2022 Report", 50% of US workers reported feeling stressed at their jobs on a daily basis, 41% being worried, 22% as sad, and 18% as angry. With growing mental health awareness, more and more people shift priorities and seek work-life balance. They look for new professional opportunities, which leads to resignations.
Also, new generations bring new rules to the labor market table. Gen Zers are courageous, demanding, and want to work for a higher cause. They place a great emphasis on purpose-driven work and a good work-life balance. Generation Z employees value flexibility, growth, and promotion opportunities.
Paychex's study on juggling multiple jobs revealed that while 40% of workers overall currently have multiple jobs, this number rises to almost half of Gen Zers. A full 47% hold down three or more jobs.
Here we go. Well, it's way easier to quit one job if you have another up your sleeve. For Gen Zers, jobs come and go, but their career is here to stay.
Let's move on to emotions related to quitting.
When asked, "How did quitting a job make you feel?", participants answered as follows:
[working remotely—62%, blue-collar—56%, ethnic minorities—55%, company with 1–50 employees—55%]
[business & finance—31%; 1–2 years of work experience—30%]
Also, a full 62% claimed quitting a job had made them feel proud. The percentage was even higher for ethnic minority participants (77%).
Taking control can be empowering.
Here are some more research findings worth mentioning:
75% of survey takers told their family and friends that they had quit a job. Employees of the business and finance industry were slightly less open, though. 67% informed family and friends about their quitting.
At the same time, 68% of respondents claimed that that could relate to people who hid the fact they'd quit a job.
Surprisingly, 62% said they'd return to the employer they quit from.
We also asked participants if quitting a job had turned out to be good for their careers. A full 67% agreed, 24% disagreed, and 9% were unsure.
But what about when the shoe is on the other foot? How do people feel about being shown the door? That's what we explored next.
How does it feel to lose a job? 2023 statistics on being fired

Let's reflect on how it feels to lose a job.
Surprisingly, as many as 51% felt happy after a job loss. 27% were depressed, while 22% remained neutral. Getting fired seemed worst for healthcare industry workers. 37% of them felt depressed once it happened.
Unfortunately, joy was not the only emotion experienced by participants when they lost their job.
75% of survey takers admitted they had felt ashamed of getting fired. 1 in 3 had hidden the fact of losing a job from their family.
For business and finance industry workers, job loss was even more difficult than for respondents employed in different sectors. A full 84% claimed getting fired had made them feel shame. Also, almost half of them hadn't told their families (44%) and friends (48%) about the fact.
Respondents with an annual income greater than $75,000 showed a stronger tendency to keep silent about losing a job compared to people who earn $25,000–$49,999 – 43% vs. 21%, respectively.
On a positive note, a full 64% of participants believed that this layoff had turned out to be good for their careers.
All's well that ends well. But which is better, termination or resignation?
What's better? To quit or to be fired?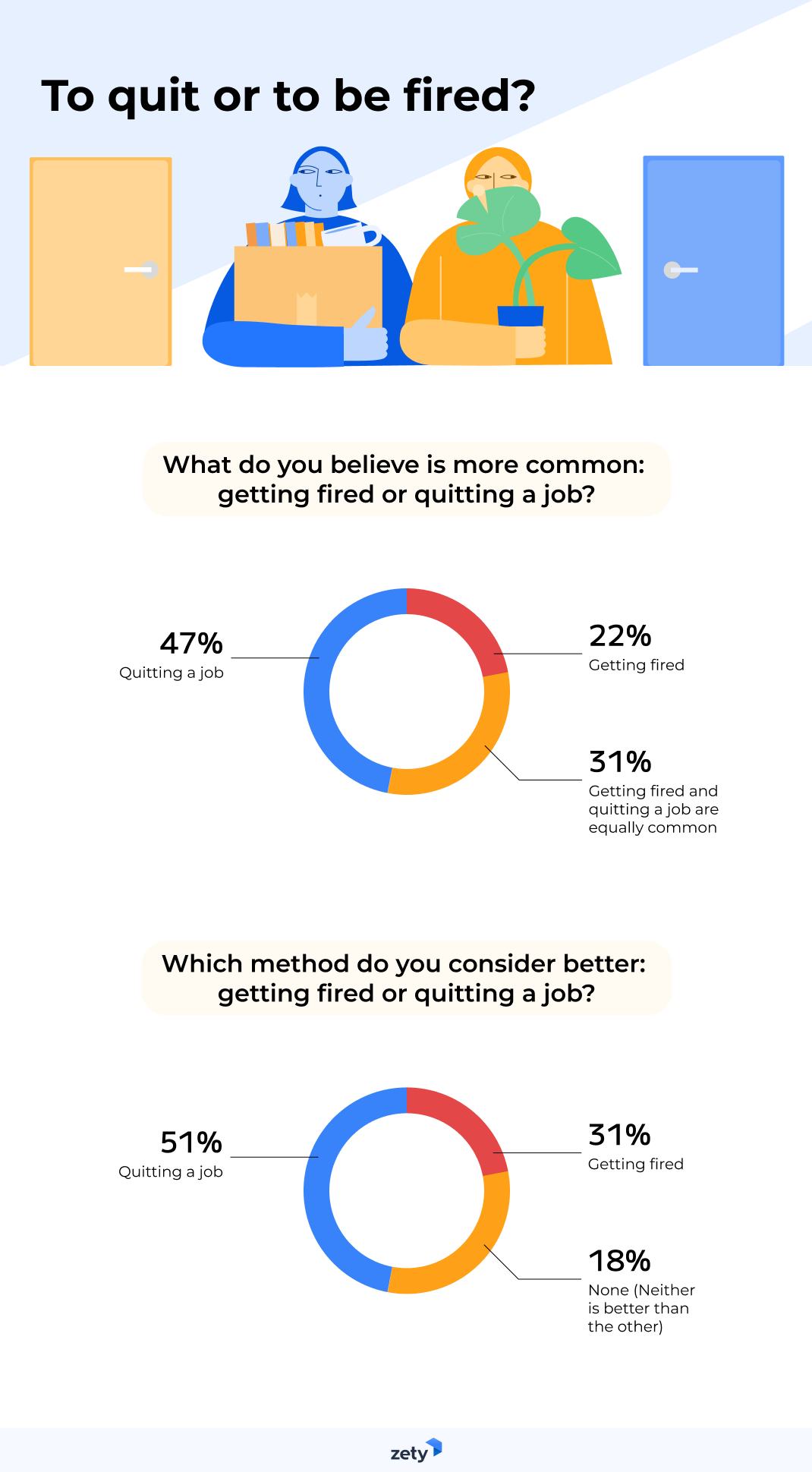 Time for the big question: to quit or to be fired?
51% of respondents considered quitting as a better way of ending employment. 31% preferred getting fired, while 18% rated them the same.
No surprise. We all know the breakup rules. "It's not you, it's me."
We also asked which form of ending employment our respondents believed was more common. 47% picked quitting, and 22% chose getting fired. At the same time, 31% viewed both of these options as equally common.
Accurate assumptions. As the Bureau of Labor Statistics reported in JOLTs summary from April 2023, quits (4.0 million) edged up, while layoffs and discharges (1.5 million) decreased.
Let's move on to job loss-related emotions now.
Fear of being fired & job loss-related emotions

Job loss. The sum of all fears. Let's see what emotions being fired evokes.
Almost 6 in 10 (58%) employees confessed they were afraid of getting fired.
Education sector employees (80%) and blue-collar workers (73%) showed the greatest fear of job loss of all demographic groups. On the contrary, participants who described themselves as a hybrid of white and blue-collar workers (42%) and business and finance industry employees (48%) turned out to be the least scared of getting fired.
Digging deeper—
65% of survey takers admitted that their fear of job loss is greater than their fear of sickness or poor health.
Better dead than unemployed? Disturbing, to put it mildly.
Interestingly, participants with work experience of over 11 years tended to be more job loss-related fear resistant than others. A full 42% declared getting fired did not scare them more than death. The longer you work, the less you care? Or maybe the "older–wiser" rule applies?
And what emotions are associated with job loss? We asked respondents how getting fired would make them feel.
64% believe that job loss would make them feel useless, 62% lonely, and 60% stupid.
How sad.
You're more than your job. Don't even question it.
Reasons for quitting a job & getting fired

Time to focus on reasons for quitting a job. What makes us resign? Do we wait for the last straw? Is quitting a job a decision made on a whim? Or is it a result of long-term consideration? Let's find out.
We asked participants to share what would make them quit their job.
I would quit a job if… [% of somewhat agree/strongly agree]
my earnings were low – 78%
[ethnic minorities—87%]
I got a better job offer – 77%
[healthcare industry—86%]
I had no chance of growth – 73%
my workplace atmosphere was negative – 71%
my job was meaningless – 70%
[healthcare industry—78%]
my personal values clashed with the employer's values – 70%
my job duties were boring – 63%
[6–10 years of work experience—74%; master's degree holders—74%]
I started dating my coworker – 60%
[manufacturing industry—73%]
I started dating my manager – 58%
[education industry—71%, ethnic minorities—67%]
I had to work with clients – 57%
[education industry—72%]
Low pay, a better job offer, and a lack of career advancement opportunities are on the podium. Employers take note. The best investment is in human potential.
Let's move on. We also gave respondents the opportunity to share more reasons why they would quit a job. These included the following:
Wanting to change career and/or switch to a new industry
Losing interest in a job, feeling bored
Stress, work pressure
Work overload
Health problems (both physical and mental)
Feeling depressed
Feeling disrespected
Feeling uncomfortable at work
Conflict with a manager
Discrimination in the company
Unsafe environment
Being harassed and not getting support
Pay cut and other salary issues
Company restructuring
Company downturn
Relocation
Time to change the perspective and focus on what's behind the termination of employment. We asked participants what they considered good reasons to fire someone.
If I were an employer, I would fire an employee who… [% of somewhat agree/strongly agree]
has come to work intoxicated more than once – 74%
[11+ years of work experience—87%]
is not professional – 73%
doesn't work well in a team – 71%
[manufacturing industry—82%; master's degree holders—79%]
is often late for work – 71%
[11+ years of work experience—82%; manufacturing industry—81%; master's degree holders—81%]
doesn't learn from their mistakes – 71%
doesn't take responsibility for their actions – 69%
uses company resources for personal purposes excessively – 69%
[education industry—78%; master's degree holders—78%]
is not a good cultural fit for the company – 67%
[ethnic minorities—77%]
[healthcare industry—74%]
Professionalism, teamwork skills, promptness, and the ability to learn from one's mistakes are desirable in different careers and across industries. At the same time, research participants unanimously agreed that intoxication and work don't mix. Sober is safer. Both on the roads and in the labor market.
When asked to provide some more reasons for getting fired, respondents named:
Ongoing poor job performance without enough improvement
Absence issues (taking too much time off, "a no call no show")
Lying on a resume, cheating on a job application
Overall bad attitude to work
Laziness
Excessive use of their cell phone for personal purposes
Creating a hostile work environment
Insubordination
Deliberate damage to company property
Unethical behavior
Criminal behavior (e.g., theft, revealing trade secrets, harassment, forging company records)
So you can minimize your chances of being fired by being honest, acting ethically, and staying productive. As simple as that.
Whether you experience termination or resignation, remember every ending is just a new beginning. Find the courage to fight for a better professional future. As job satisfaction goes hand in hand with overall well-being, employment goes way beyond making ends meet.
The moment is now. May your efforts be rewarded.
Methodology
The findings presented were obtained by surveying 990 respondents online via a bespoke polling tool. They were asked questions about different forms of ending employment. These included yes/no questions, scale-based questions relating to levels of agreement with a statement, questions that permitted the selection of multiple options from a list of potential answers, and a question that permitted open responses. All respondents included in the study passed an attention-check question.
Limitations
The data we are presenting relies on self-reports from respondents. Everyone who took our survey read and responded to each question without any research administration or interference. We acknowledge there are many potential issues with self-reported data, like selective memory, telescoping, attribution, or exaggeration.
Sources
Fair use statement
Want to share the findings of our research? Go ahead. Feel free to use our images and information wherever you wish. Just link back to this page, please—it will let other readers get deeper into the topic. Additionally, remember to use this content exclusively for non-commercial purposes.
About Us
Zety offers the best online resume builder on the market, plus expert advice on enhancing your resume. Learn about the best resume format. Discover how to write a job-winning cover letter, and get tips tailored to every career.
About Zety's Editorial Process
This article has been reviewed by our editorial team to make sure it follows Zety's editorial guidelines. We're committed to sharing our expertise and giving you trustworthy career advice tailored to your needs. High-quality content is what brings over 40 million readers to our site every year. But we don't stop there. Our team conducts original research to understand the job market better, and we pride ourselves on being quoted by top universities and prime media outlets from around the world.