Application Process: A 6-Step Plan of Getting Hired
You can already picture yourself signing that job contract. It's just that you have to go through the application process first. Let us walk you through it.
If you already know your dream position, you still have to swim through a sea of other candidates to reach it. However, if you know how to go about the application process, it'll be nothing but smooth sailing! Let us assist you in navigating those waters.
See our 6-step guide that will tell you everything there is to know about applying for a job. Find out what can lead to your recruiter telling you, "You're hired!". And don't worry. We're here to help you start a job of your dreams.
This guide will show you:
How to prepare before you initiate the application process to increase your chances.
A breakdown of the main job application process steps and what to expect from each.
Tips for getting every stage of the application process right to land the desired interview.
Want to save time and have your resume ready in 5 minutes? Try our resume builder. It's fast and easy to use. Plus, you'll get ready-made content to add with one click. See 20+ resume templates and create your resume here.
Sample resume made with our builder—See more resume examples here.
Feeling like there are more career avenues to explore? Have a look at these guides:
Jump right into the fitting stage of the job application process:
Here are the job application process steps described, with additional tips and resources for each:
1. Approach the Application Process Like a Pro
So you've done your research, found the best ways to find a job, scrolled through the top job search sites for days, and uncovered the Holy Grail. Or maybe you've used Google to aid your job search or summoned your networking superpowers. Anyway, it worked!
There's a shiny opening for a dream job, and all you need to do is hit "apply," right? Positions for the most respected jobs are filled quickly, so the faster you act, the more likely your resume will stand out.
Well, yes and no.
Instead of just sending a generic resume and reducing your chances of getting noticed, do this:
This will give you a good understanding of what the employer is looking for, what the company is like, and how you can tailor your resume accordingly.
2. Build an Inventory of Skills and Achievements
Before you initiate the application process and start assembling your resume, it's a good idea to create a list of the strong suits you can refer to. This includes your so-called employability skills, compelling transferable skills from previous jobs, and prominent achievements to strengthen your resume. If you're applying with a resume for an internal position, this approach is also appropriate.
Skills that employers look for usually fall into one of two main categories—hard skills and soft skills.
Typical soft skills include:
This may also include common leadership skills like decision-making, management skills, or organizational skills.
Hard skills will vary based on the job but may fall within the range of:
Your previous analysis of the job ad will guide you on which skills and accomplishments you should pick.
Pro Tip: Don't forget to update your skills on LinkedIn continuously, including your language proficiency levels.
3. Write a Resume That Targets a Specific Position
The next crucial step of the application process is writing a targeted resume directed at a specific position. Creating an easy-to-read, well-formatted document that is not overloaded with irrelevant details will increase your chances by up to 40%, according to studies.
There are several things to consider for a resume that performs well:
Alternatively, as a time-saving option, use our professional online resume builder. It will help you write an efficient, ATS-friendly resume, leading you through required resume sections, indicating which additional information would be beneficial, and even providing content suggestions relevant to your position.
When making a resume in our builder, drag & drop bullet points, skills, and auto-fill the boring stuff. Spell check? Check. Start building a professional resume template here for free.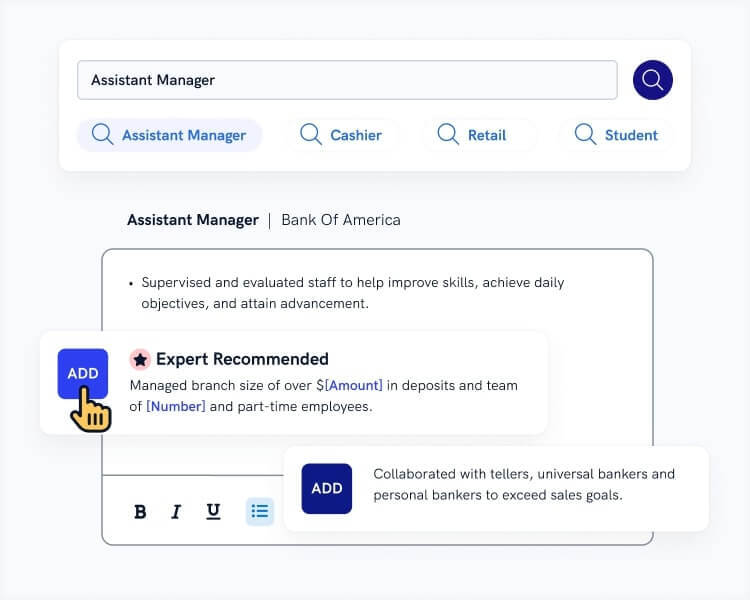 When you're done, our professional resume builder will score your resume and our resume checker will tell you exactly how to make it better.
4. Pair Your Resume With a Cover Letter
Even if you're not explicitly directed to do so, writing a perfect cover letter (or letter of application) is another important stage in a successful application process. A good cover letter will explain your motivations in greater detail, highlighting your major professional successes and showing the employer how beneficial it is to hire you.
Start by looking through cover letter examples, moving on to helpful resources on how to write a cover letter:
Otherwise, use our free cover letter builder to create one in 3 simple steps.
Read more: 35+ Successful Cover Letter Tips
5. Send Your Application Properly
It's time for the final phase of the application process—emailing your resume and cover letter. For this, you will need a so-called email cover letter.
How long does the job application process take? On average, you will need to wait two weeks to hear back from the recruiters. If the company doesn't contact you within this time frame, feel free to follow up on your application.
Pro Tip: Download your files in PDF to keep them intact on all devices.
6. Get Ready for the Interview
The application process itself may be over, but the hiring process is just beginning. You have to get ready for an initial candidate screening (usually a brief phone interview), a second full interview, and a test assignment.
Here are some of the areas to think through before the interview takes place:
There's a high possibility that the interview will take place over the video, so make sure to read our interview tips for Zoom (which works for other apps, too) to prepare for this specific arrangement.
You can also prepare to answer popular interview questions in advance:
Remember that you can and should ask the interviewer questions as well. Think about the aspects of the job that are important to you and things you have to be aware of before you accept their offer.
After the interview takes place:
Got a job offer letter? Your options are clear. Either send them a job acceptance letter or politely decline the offer.
Pro Tip: At some point in the process, the company might conduct background checks to see if you weren't lying on your resume. For that purpose, you might want to double-check the references you've supplied with your resume.
Plus, a great cover letter that matches your resume will give you an advantage over other candidates. You can write it in our cover letter builder here. Here's what it may look like: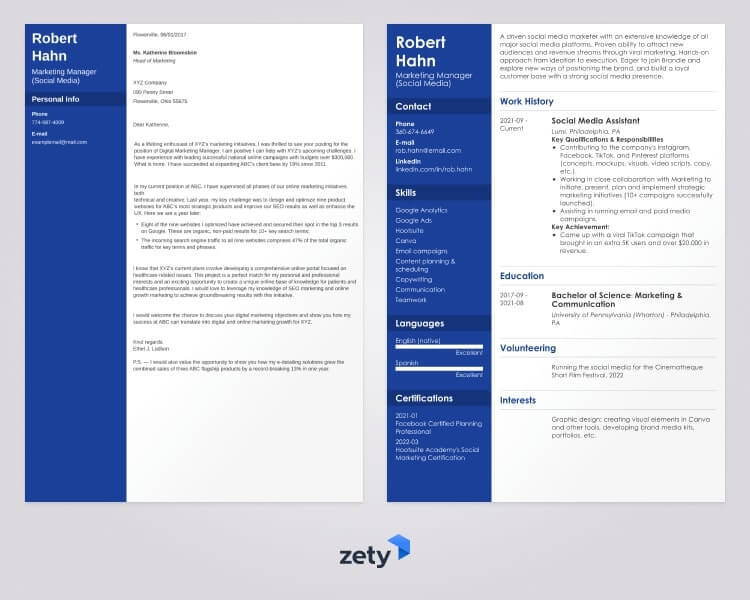 See more cover letter templates and start writing.
That's about it! You're ready for anything the application process may bring your way.
Key Takeaway
While the application process for a job might look challenging, you can ensure your success by following this advice:
Prepare in advance and thoroughly research your potential employer.
Evaluate your strong selling points to match the hiring side's expectations.
Write a strong, targeted resume and cover letter.
Send your application correctly and follow up if necessary.
Get ready for the interview and learn to answer common questions to ace whatever comes your way.
Do you have any tips on how to make your application process seamless? Let us know in the comments section below!
About Zety's Editorial Process
This article has been reviewed by our editorial team to make sure it follows Zety's editorial guidelines. We're committed to sharing our expertise and giving you trustworthy career advice tailored to your needs. High-quality content is what brings over 40 million readers to our site every year. But we don't stop there. Our team conducts original research to understand the job market better, and we pride ourselves on being quoted by top universities and prime media outlets from around the world.
Frequently Asked Questions about the Application Process
What is in a job application?
A job application is a form employers use to collect information about their candidates, including:
The goal is to clarify whether the person is a good fit for the open position. The easiest way to match the requirements is to ensure you add the right resume keywords (you can identify them by scanning the job ad).
What is the best way to apply for a job?
The best way to apply for a job is by following the instructions in the job ad. Submit a tailored resume and cover letter matching what the employer is looking for via their portal or with an accompanying email to your resume. And after a week or two, follow up on your application.
What to write in an email when applying for a job?
Your letter of application should contain a compelling summary of your relevant experience, skills, and accomplishments to justify why you're the perfect candidate for the job. Keep the email formal, and don't forget a professional salutation and closing.
What should you not say when applying for a job?
The following things should not be part of your job application:
How to apply for a job with no experience?
To get a job with no experience, you need a strong entry-level resume with a well-thought-through resume objective—paired with a matching cover letter supporting your case.
These guides will help you: