Our customers have been hired by:
The internet is filled with all sorts of work-from-home opportunities these days. The job ads make it look so easy—just sign up and start earning FAST!
You might feel uneasy that it's all just a bit too hunky-dory. Well… Because it often is. Want to be able to tell job scams from real job openings? Look no further.
This guide will show you:
How to identify job scams instantly.
Common types of job scams online.
Tips on how to avoid falling victim to job scams.
Where to look for reliable employment options.
Want to save time and have your resume ready in 5 minutes? Try our resume builder. It's fast and easy to use. Plus, you'll get ready-made content to add with one click. See 20+ resume templates and create your resume here.
Sample resume made with our builder—See more resume examples here.
Want some extra help? Have a look at these guides:
Job scams are on the rise, and COVID-19 largely contributed to this development: according to Federal Trade Commission reports, 2021 saw a 70% increase in fraud compared to 2020. Lack of employment stability and large job losses drove people to resort to any job opportunities—especially online and work-from-home options.
This created an enabling environment for job scams of all sorts. The greatest danger for the jobseekers lies in the fact those fake jobs are frequently advertised in the very same way as the "good" ones, which makes it even harder to protect yourself. It's hard but not impossible.
Follow these tips to evade being caught up in job scams:
1. Stay on the Lookout for Red Flags
There are features that unite the majority of job scams, so if you familiarize yourself with the typical indicators, you can avoid getting in trouble.
Here are the 13 common signs a job is a scam:
You're promised to make a significant amount of money fast.
No (or barely any) qualifications are necessary to perform the tasks, and nobody is trying to verify your professional experience.
You're asked to pay to apply for or get the job.
You're required to invest money before you can earn: buy equipment or materials, complete training, receive certifications, or similar.
There is an acute sense of urgency—you're supposed to APPLY NOW, or the opportunity goes away.
Personal information is required too early on—before the official hiring process begins, "the employer" asks for your SSN, a picture of your driver's license or other forms of ID, or banking details for a wire transfer.
You're expected to receive checks that you can cash immediately.
You don't remember applying for the job, but you get an offer (often via your personal email or social media).
You're invited to an online interview conducted through instant messaging apps.
The sender's email, company name, or the job ad itself looks fishy or contains errors.
It's hard to get any additional information: the contact person is vague and avoids answering questions and providing details.
The company doesn't show up on Google, or its website doesn't look professional.
The social media profile of the person reaching out has very few followers and looks fake.
Even one of those signs should be enough to make you question the validity of the proposition.
Read more: Online Jobs and How to Find Them
2. Identify Popular Types of Job Scams
According to a Stanford report, one out of ten adults in America falls victim to fraud annually. Definitely not the best job search stat to be part of.
If you want to avoid job offer scams, another great strategy is to get to know the areas and roles that should potentially raise suspicion. Some of them have been around for a long time, others mutate or evolve, but the essence of the scam stays similar.
Here's a list of 10 widespread remote/online/work-at-home job scams to be wary about:
Repackaging goods (postal forwarding). Those are most likely purchased with stolen credit cards, so you can unknowingly become part of a criminal operation.
Reselling merchandise. Similarly, oftentimes the products to sell are actually illegally obtained.
Envelope stuffing/postal job scams. Usually, involve paying a non-refundable sign-up fee to get started.
Online data entry job scams. You should be cautious if there's training you need to pay for, after which you're promised to make unlimited money.
Rebate processing. A popular commission-based work-from-home job scam.
Assembling products. You'd typically be asked to purchase all the necessary materials first.
Mystery shopping/secret shopper job scams. In this scenario, you'll often be deposited a check to use for buying goods and then need to send some money back. That check would later bounce, and you'll have to compensate for the losses with your own money.
Personal assistant job scams (or nanny/other caregiving jobs). Similarly, this can feature money transfers that, in reality, are part of a money-laundering operation.
Career consulting/job recruiting scams. While there are indeed headhunters or recruiting agencies who could help you find a job, they usually get paid by the employer when the candidate is hired—not by you.
Investing with an instant/large return. This is how most pyramid schemes work—and that means somebody will inevitably lose all their money.
It's important to understand that the job titles per se are not always a scam. But if the compensation is disproportionate to the effort/knowledge/skills required, it's worth questioning their validity.
Pro Tip: Remember that ratings can be manufactured. If you see glowing reviews on the company website, validate them by looking at independent platforms (like Google)—testimonials there are harder to fake.
When making a resume in our builder, drag & drop bullet points, skills, and auto-fill the boring stuff. Spell check? Check. Start building a professional resume template here for free.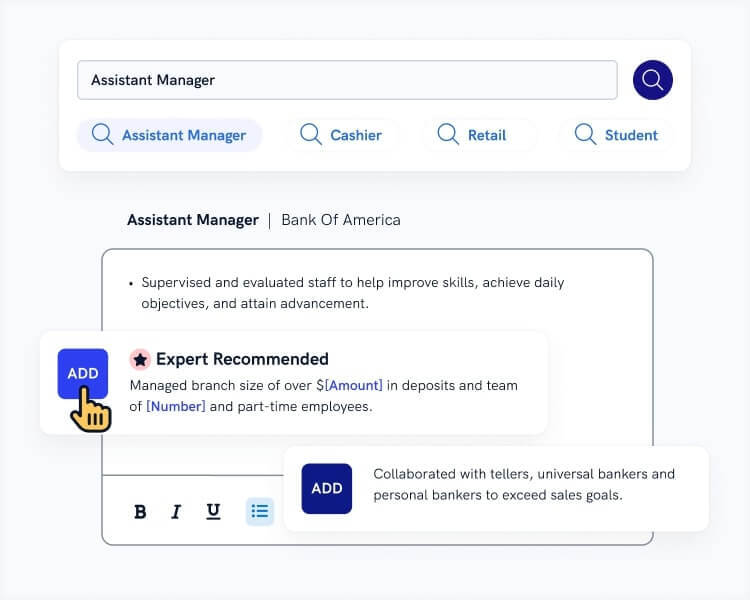 When you're done, our professional resume builder will score your resume and our resume checker will tell you exactly how to make it better.
3. Take Measures to Dodge Job Scams
If you've found a job posting or have received a job offer, go through this job scam checklist to ensure it can be trusted:
Analyze the employer's online presence. If you're not seeing any social media activity, no website (or the URL/look/content is suspicious), and no location or other contact details are available—it's a big red flag.
Check online using advanced Google search hacks. Look for [company name] job scams—people would often share the details of their experience to warn others.
Look the company up on LinkedIn, and see if people are working there—you can even reach out to them for details.
Refuse the offer immediately if you're asked to pay upfront—no legitimate employer should be asking you to invest anything before there's a contract signed.
Don't provide your personal bank account details, and never agree to random wire transfers—this money will be close to impossible to recover.
Request a second opinion from your friends and family—if you feel uneasy, they might validate your concerns.
You can report job scams you come across to Better Business Bureau© or the FBI Internet Crime Complaint Center.
4. Know Where to Look For Reputable Jobs
It's pretty much impossible to create a comprehensive list of scamming websites because new scammers and new schemes appear all the time.
Using trusted websites with a proven reputation can definitely reduce fraud risks. The best job search sites include:
However, even if you're looking through legitimate websites, you still need to double-check every opening. Job scams on LinkedIn or Indeed are still possible, so treat each offer with reasonable caution, and remember: if it's too good to be true, it's most likely something to stay away from.
Pro Tip: Rely on job networking to find good opportunities. Ask around, and see if someone you know can suggest vacancies at their workplace. This is how you'll be sure about what you're signing up for.
Key Takeaway
Job scams are designed to be appealing. The promise of easy money from the convenience of your own apartment is almost irresistible, but you can protect yourself by following these tips:
Analyze the job opening for common job scam signs.
See if the job is on the list of widespread job scams online.
Go through our job scams checklist to ensure your safety.
Use known job search sites to reduce the chances of encountering a job scam.
Trust your gut. If something's bothering you, take all the necessary precautions—it's better to be safe than sorry.
Hope you've found our guide on tackling job scams helpful! Do you know any other proven techniques that can aid candidates across the US to avoid falling into a job scam? Please, share your insights in the comments below.
About Zety's Editorial Process
This article has been reviewed by our editorial team to make sure it follows Zety's editorial guidelines. We're committed to sharing our expertise and giving you trustworthy career advice tailored to your needs. High-quality content is what brings over 40 million readers to our site every year. But we don't stop there. Our team conducts original research to understand the job market better, and we pride ourselves on being quoted by top universities and prime media outlets from around the world.
Sources