Here's a nightmare:
Imagine you just lost your job.
If you're one of the 141,667 U.S. employees facing that this month, you don't have to imagine.
In your near future? Financial troubles, marital stress, and a thundering whack to your self-esteem.
"Losing a job can send you into a fast downward spiral," says mental health coach Lee Everette. "It can set you back monetarily, but it can also impact your self-image and sense-of-direction, ultimately affecting your mental health."
Think he's exaggerating? According to a 2016 Harvard study, job loss is the #1 reason for divorce. The unemployed are twice as likely to suffer psychological problems and can be ten times more likely to commit suicide.
The emotional tailspin can lead to life-altering mistakes that can derail your goals and dreams for years to come.
Take Joe, a healthcare executive who lost his job. He spent a year looking and finally got a good offer—which the company then rescinded.
"Joe was so angry he drove to the company and demanded to see the executive director," says Nancy King, author of Fired. "Security escorted him from the building. He sought help from his priest and went into counseling. It took another year for him to find work."
But you don't have to succumb to the sucking jobless vortex. In fact, do a few things right and you can come out smelling like a rose.
With the help of FindMyProfession.com, we surveyed 187 career experts, HR professionals, recruiters, and business leaders for their best "just got let go" advice.
Almost every answer begs the question—
How?
See their eye-opening answers to that below the table.
| | |
| --- | --- |
| If You Get Fired, First— | # of Respondents |
| Take time out to grieve and process | 64 |
| Reach out to your network | 38 |
| Stay calm and positive | 32 |
| Make your job search your new full-time job | 22 |
| Make a plan for next time | 17 |
| Take a vacation and/or treat yourself | 12 |
| Plan to start a company | 10 |
| Seek help from career pros like resume writers/coaches | 10 |
| Find out why | 5 |
| File for unemployment | 4 |
| Sort out your finances | 4 |
| Prevent job gaps by volunteering or consulting | 4 |
| Take classes to improve your job skills | 4 |
| Change your LinkedIn status to Actively Looking | 3 |
| Seek legal advice | 3 |
| Don't sign anything | 2 |
| Make a plan to stay healthy | 2 |
| Ask your ex-boss for a good reference | 1 |
| Look for upcoming job fairs nearby | 1 |
Want to save time and have your resume ready in 5 minutes? Try our resume builder. It's fast and easy to use. Plus, you'll get ready-made content to add with one click. See 20+ resume templates and create your resume here.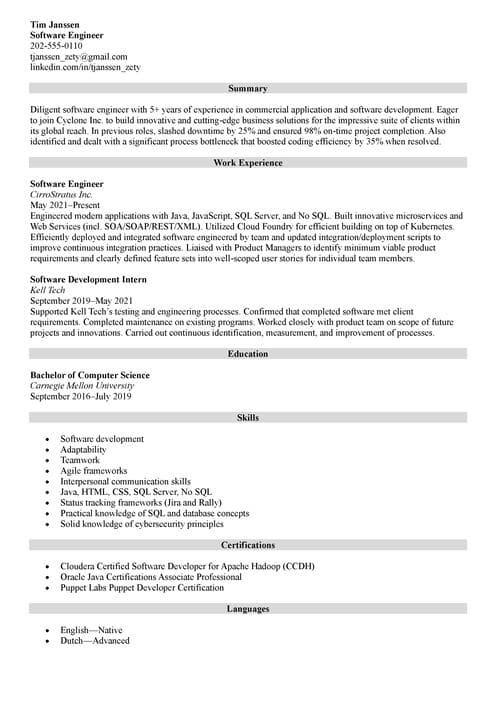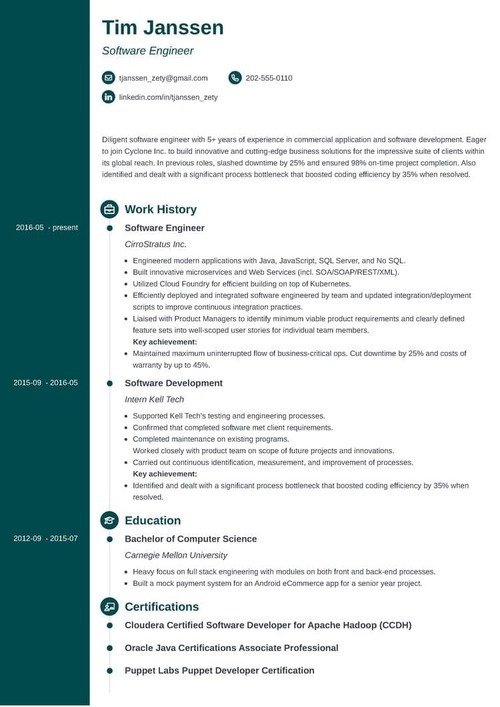 Sample resume made with our builder—See more resume examples here.
In the First 15 Minutes—Keep Your Head
You just got fired.
You're brimming with emotion, so it's easy to do the wrong thing.
But that can be disastrous.
"Do not lose your temper!" says Marc Powell, Production Supervisor at Bright Plastics. "When you're in control, ask for the specific, documented reason."
Find out what the company will say in inquiries about you. You'll need that when hiring managers ask why you left.
Plus, ask your boss for a glowing letter of reference. If the answer is no, at least get a letter of impact.
"In it, have them outline key strengths and weaknesses," says recruiter Ronald Marsh Jr. "Use it as a means of transparency when seeking a new role."
Next—Keep your John Hancock to yourself.
"There's a negotiation at this point," says Paul Levy, co-author of Don't Sign Anything, a guide to negotiating a better severance deal. "They may ask you to sign a release letter to get your severance pay."
That release is important to the company, but don't sign it right away. In many cases, waiting can mean a better severance deal.
One more tip?
"Avoid making disparaging comments about your employer on social media," says Marc Swank, VP of Marketing at Renew Sleep Solutions.
You'll need another job soon, and your ex-boss can help with that a lot—or hurt.
Already blew this part?
Ask for a do-over.
In a day or two, go back and explain that your emotions got the best of you. As long as you didn't do anything criminal, most employers will understand.
First 4 Hours—Baby Steps
You just got the worst news of your year—and possibly your decade.
You're not in a position to do much.
But there are a couple quick, proactive things to do right now.
First:
"Head straight to the nearest Department of Labor and collect unemployment," says Jose Luis Romero, IT Specialist at Aetna.
Even if you don't think you need it, fill out the forms. Getting that out of the way can slash your stress to pint-sized levels.
Next:
Change your LinkedIn status to Actively Applying. That takes a minute and sends up a rescue flare that tells recruiters you're available.
Last:
If you suspect discrimination or breach of contract, seek legal advice.
That sounds daunting, but it's as simple as a short email to an employment lawyer.
"State and federal employment laws are complex," says employment lawyer Talmage Newton. "There are strict deadlines for making claims and it's very easy to waive your rights."
At worst you've wasted a few minutes. At best, you'll gain advice that could save your bacon.
The First Two Days—Reach Out and Grieve
As the adrenaline wears off, two big proactive steps can save you from disaster.
1. Reach out
When recruiter Brett Lampe's mentor lost his job, his first step was to tap his network.
"Within 30 minutes of leaving the premises, he had multiple calls and meetings set up with other leaders in his industry," says Lampe.
To tap your network quickly, send a mass text/email. Then post to Facebook, LinkedIn, and Twitter.
"I would immediately reach out to my personal Board of Directors," says HR Exec Rebecca Oppenheim at nextOPP Search. "These are the people in my life I lean on for advice and direction."
That can be family, co-workers, past managers, recruiters, or mentors. Give them a chance to offer much-needed guidance and emotional support.
Don't have a ready-baked network?
Brainstorm ways to get one. When Amazon's Jeremy Hill lost his job, he took on driving work with Lyft and Uber. That gave him income and connections.
"I've picked up regular people, business clients, VPs, and CEOs of Fortune 500 companies," says Hill.
One CEO was so impressed by his personality and drive, she offered him a job.
"I was hired less than a week later. That wouldn't have happened with an online application."
Reach out to coworkers too.
"Identify an ally at your past company," says Tony Abbachi, founder of Uplift Marketing. "Secure a letter of reference if possible."
A reference letter can combat the question of why you left, and prove accomplishments in future interviews.
2. Process and Grieve
Next—
Just grieve.
"Take some time to grieve the loss of the job," says Sabrina Permuth, HR pro at Hillsborough County, Florida. "Be angry, sad, frustrated, disappointed, or relieved."
Award-winning writer Allen Smith concurs. "Process all seven stages of grief," he says.
Just like with the death of a loved one, you'll need to work through all your guilt and anger before you can move forward.
"Trust me," says Michael David Chapman, co-founder of MBM Mentoring, "You don't want to take the loss into your next interview."
Next, process.
"Take some time to reflect on the situation," says Mike Podesto, CEO of FindMyProfession.com.
Why did you lose the job? Did you enjoy it all that much? Would you do it again?
"Strategize next steps and build a game-plan for what to say to future employers."
"It's definitely time to face the mirror," agrees Anthony Onyewadume, Operations Manager at GNM Projects. "Not to count the wrinkles on my aging face, but to align my interests with my acquired skills."
"Ask, why did this happen?" says recruitment CEO Amy Volas. "What can you take away from it to learn and grow? How can you use it to get the next, remarkable step in your career?"
Amy recommends taking a personal inventory with a business scorecard. That can help you pinpoint goals and make a plan.
When making a resume in our builder, drag & drop bullet points, skills, and auto-fill the boring stuff. Spell check? Check. Start building a professional resume template here for free.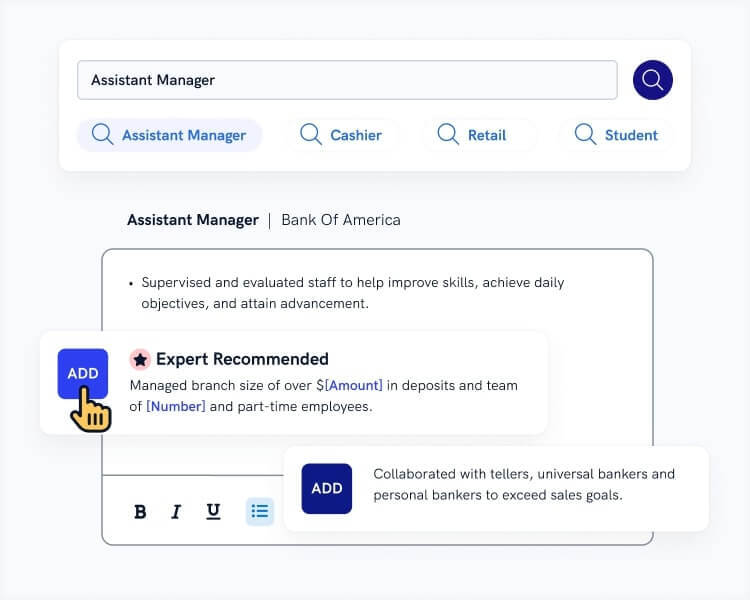 When you're done, our professional resume builder will score your resume and our resume checker will tell you exactly how to make it better.
The First Two Weeks—Recharge and Attack
What happens after all the processing?
This is where the rubber meets the road.
"I might take some time out for a much-needed vacation," Mike Podesto says. "It fits in perfectly with self-reflection time. I might go to the Bahamas or Thailand for a couple weeks."
Can't afford two weeks? At least take the weekend to go hiking or do something you've always wanted to do.
"I enrolled myself in a few volunteering activities I'd never found the time for," says HR Specialist Donna Kumar.
Volunteering—or consulting—can keep you from brooding, binge-watching, or worse. They also make great resume gap-fillers.
Then, do some planning.
Think about:
Health and exercise. Schedule time to stay fit. Plus, make sure you've got Cobra or other stopgap health insurance.
Finances. Take stock of what you've got and how long you can coast. "Check debt, bills, and assets," says Tech Lead Pradeep Kumar Mishra. "Come up with ways to cut monthly expenses."
Stay positive. Get some self-help books in print or audio. Also, list things you're thankful for, like friends, family, and health. If you pray, now's the time.
Sketch out your job search. When will you begin? What path will you take, and what allies will you turn to?
Finally...
Rip Into the Job Search
Some won't need two weeks—or even one—to process and re-energize.
When I lost my job two years ago (with a toddler and a new baby on the way) I tore right into hunting my next gig.
Diving in instead of taking a vacation can build confidence at lightning-speed.
I committed to apply to five positions every day. I set a goal to replace my previous income in three months.
I applied to 150 jobs, heard back from 50, worked for 20 on a trial basis, and found three I really liked.
The first month, I replaced 30% of my income. By month two, I had 70%. I hit 100% before the 90-day mark.
By then, I was happily ensconced at Zety, where I've been for two years.
To rule your job search:
Make the hunt your full-time job. You spent 40 hours a week working. Why wouldn't you put that much into building a better life?
Update your resume. If you can afford it, hire a top-notch resume writer or career coach.
Look for upcoming job fairs in your area. Talking to employers one-on-one can jump you past the internet "black hole."
Consider reading the excellent book, The Two-Hour Job Search, by Duke U's career consultant Steve Dalton.
If you've got the funds, think about starting your own company. You'll gain flexibility and pay less taxes. Plus, many companies now are eager to collaborate on B2B contracts.
The Aftermath: Don't Let it Happen Again
When the dust settles and you've got your dream job—
Don't rest.
Get a head start on next time.
"What you do after you get fired isn't as important as what you do before," says career coach Jerome Imhoff.
In other words, build your network.
Imhoff says a professional network is our most valuable asset. Sadly, most don't build it until it's too late.
"I was laid off from my staffing job on a Tuesday," Imhoff says. "Because I was well-networked, I was able to land a new position by the end of the week."
He also recommends keeping a side-hustle. During his last job, he wrote resumes for extra cash. After a layoff, that became his full-time gig.
Need more help?
Check out Nancy King's book, Fired: How to Manage Your Career in the Age of Job Uncertainty. She interviewed 65 people who lost their jobs, and followed their inspiring stories.
You might also consider:
Taking a certification course
Enrolling in a meditation, yoga, or other fitness group
Making short-term compromises to keep income flowing in
Planning an emergency fund for next time
And finally, take inspiration from Donna Kumar.
"This is only a phase and not the end of my life!" she says. "I'm using this time to find a job and do the things I love."
Plus, a great cover letter that matches your resume will give you an advantage over other candidates. You can write it in our cover letter builder here. Here's what it may look like: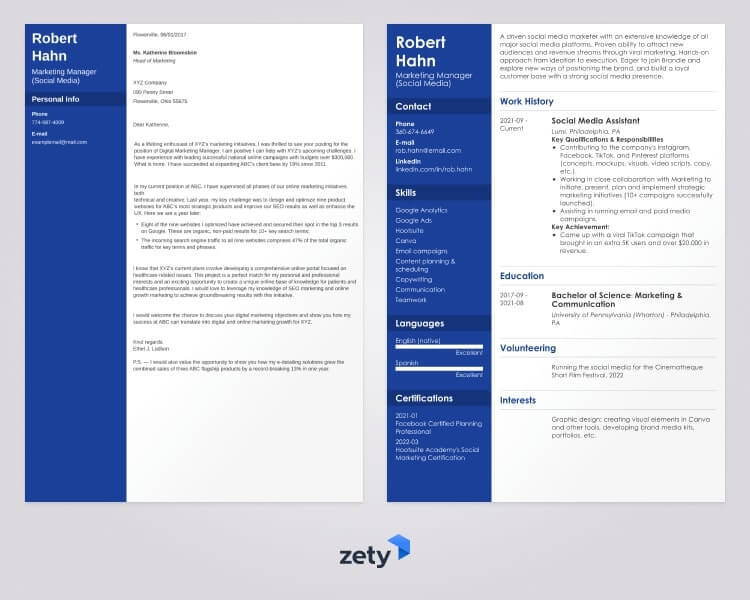 See more cover letter templates and start writing.
So, what do you think?
Did you lose a job recently? Do you have a question or a strategy to get back on your feet with grace and style? Let us know in the comments. We'd love to learn your thoughts.
About Zety's Editorial Process
This article has been reviewed by our editorial team to make sure it follows Zety's editorial guidelines. We're committed to sharing our expertise and giving you trustworthy career advice tailored to your needs. High-quality content is what brings over 40 million readers to our site every year. But we don't stop there. Our team conducts original research to understand the job market better, and we pride ourselves on being quoted by top universities and prime media outlets from around the world.