Living Without Pay in a Time of Crisis [2021 Study]
We live in troubled times. The ongoing COVID-19 pandemic has destroyed lives and livelihoods so we asked 1,000+ Americans whether they could live without pay.

The ongoing COVID-19 pandemic has had a devastating effect on the American economy. In 2020 we experienced the steepest drop in economic output ever recorded, and the impacts continue to be felt.
Unemployment is currently running at 6.7% compared to a pre-pandemic figure of less than 4%. Businesses of every size have experienced huge drops in income and thousands are set to stop trading for good.
Then there's the regular emergencies that still happen. From medical issues that require eye-watering sums out of pocket to being laid off, financial crises can seem to come out of nowhere and leave you struggling to work out what's next.
And while financial experts like Suze Orman recommend saving eight to twelve months' worth of living expenses, putting that much money aside for a rainy day is easier said than done for most Americans.
No one is truly prepared to live without pay, but what would you do if it happened to you? To help answer that question, we surveyed over 1,000 working Americans about their emergency savings. Read on to see how long people think they could live off their current savings, what makes up their monthly expenses, and the efforts some would make to get by without their regular income.
Reality Check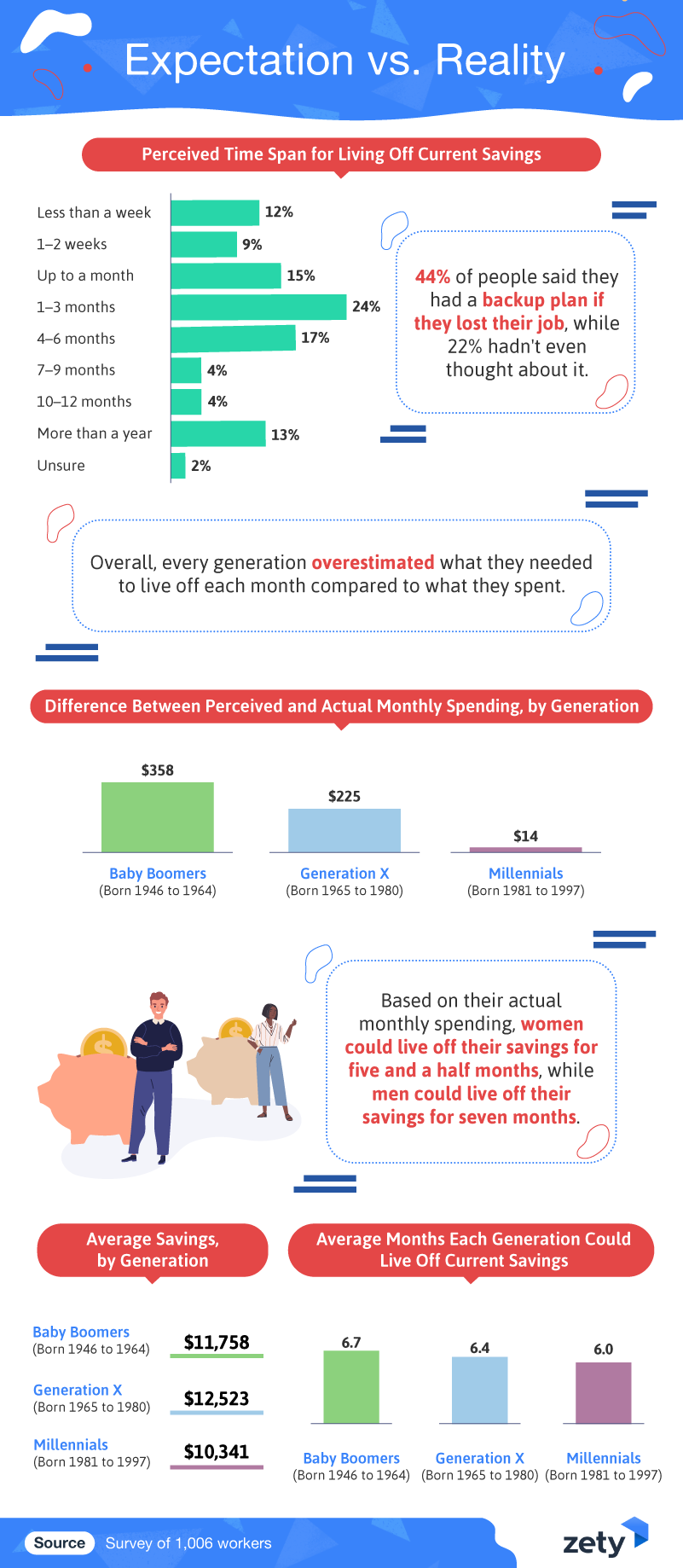 Building up sufficient savings, or savings of any kind for that matter, can be incredibly difficult. As Emory Nelms, a Senior Behavioral Researcher at Duke University points out.
The problem is that the abstract nature of how we think about emergency savings means it often is less motivating. Certainly, a broken-down car in the present moment creates a very pressing and concrete need. Unfortunately, it's harder to be equally motivated beforehand, when someone is only just imagining how detrimental a broken-down car would be if it were to happen. When the need for saving is more salient, people are more motivated to do so.
This problem seems to have fed through to our own respondents. When asked if they had a backup plan in case they were to lose their job, more than 1 in 5 respondents admitted they hadn't even thought about it.
Many also admitted that their current savings wouldn't take them far, and the speed at which they'd expect to eat through their savings is worrying.
12% could live less than a week with the money they had set aside
More than 1 in 3 wouldn't make it more than a month
Only 13% of people believed they could live for over a year on their savings
Even more concerning, in calculating how long they could live off the money they'd saved, Americans of every age overestimated how much they'd need to cover their expenses. In some cases by hundreds of dollars.
Interestingly, in direct contradiction to the stereotype of lacking financial responsibility, millennials had the best estimation of their living expenses and savings needs compared to their profligate elders. Gen Xers overestimated how much they needed every month by $225, and baby boomers overestimated by $358.
But with less savings than the older generations, millennials could only live for six months off their current nest egg with the figure being closer to seven months for Gen Xers and baby boomers.
That higher awareness among the younger generation could be attributed to the cold hard reality of the pandemic's economic effects. Unemployment rates among younger workers jumped significantly compared to older cohorts and they're more likely to be employed in jobs impacted by COVID-19, as Pete Sosnowski, Chief Career Expert at Zety confirms:
The worsening financial situation and more frequent job losses due to the pandemic among younger people are not surprising. People from this generation are more likely to work in occupations most affected by the crisis, like leisure and hospitality. People over 40 on the other hand usually have a more stable working situation. And also more earnings and savings.
Where It All Goes

Establishing personal savings goes hand in hand with building an effective budget, and the first rule of budgeting is simple: Understand where all of your money is going.
The biggest monthly expense for our respondents was rent or a mortgage, accounting for $985, on average, followed by credit card payments ($410), car payments ($369), and groceries ($357). Student loan payments also averaged $316 a month, with $280 going toward utilities.
Those surveyed also identified spending over $100 a month each on health and fitness, entertainment, and dining out or take out. Men acknowledged spending 85% of their monthly pay, while women spent more than they earned at 113%, on average.
Gen Xers were the most likely generation to outspend their earnings (103%) and also reported higher average rent or mortgage costs, in addition to higher utilities, groceries, student loan payments, and restaurant bills. Roughly 1 in 5 respondents admitted they were not very or not at all financially stable.
That overspending and lack of stability could all be down to the simple fact that people simply don't have a firm grasp on their incomings and outgoings. As personal finance writer Tanza Loudenback points out:
The first step to being good with money is knowing how much you have. You would be surprised how many people have no idea what's coming in and going out of their accounts each month.
You want to aim for positive cash flow — that is, you're bringing in more money than you're spending. Make a list of your fixed monthly expenses, such as housing costs (rent, mortgage, utilities, etc.), any out-of-pocket insurance premiums, and any debt payments.
And with the negative economic effects of the coronavirus pandemic set to continue for the foreseeable future, there's no better time to begin budgeting.
The Cost of Getting By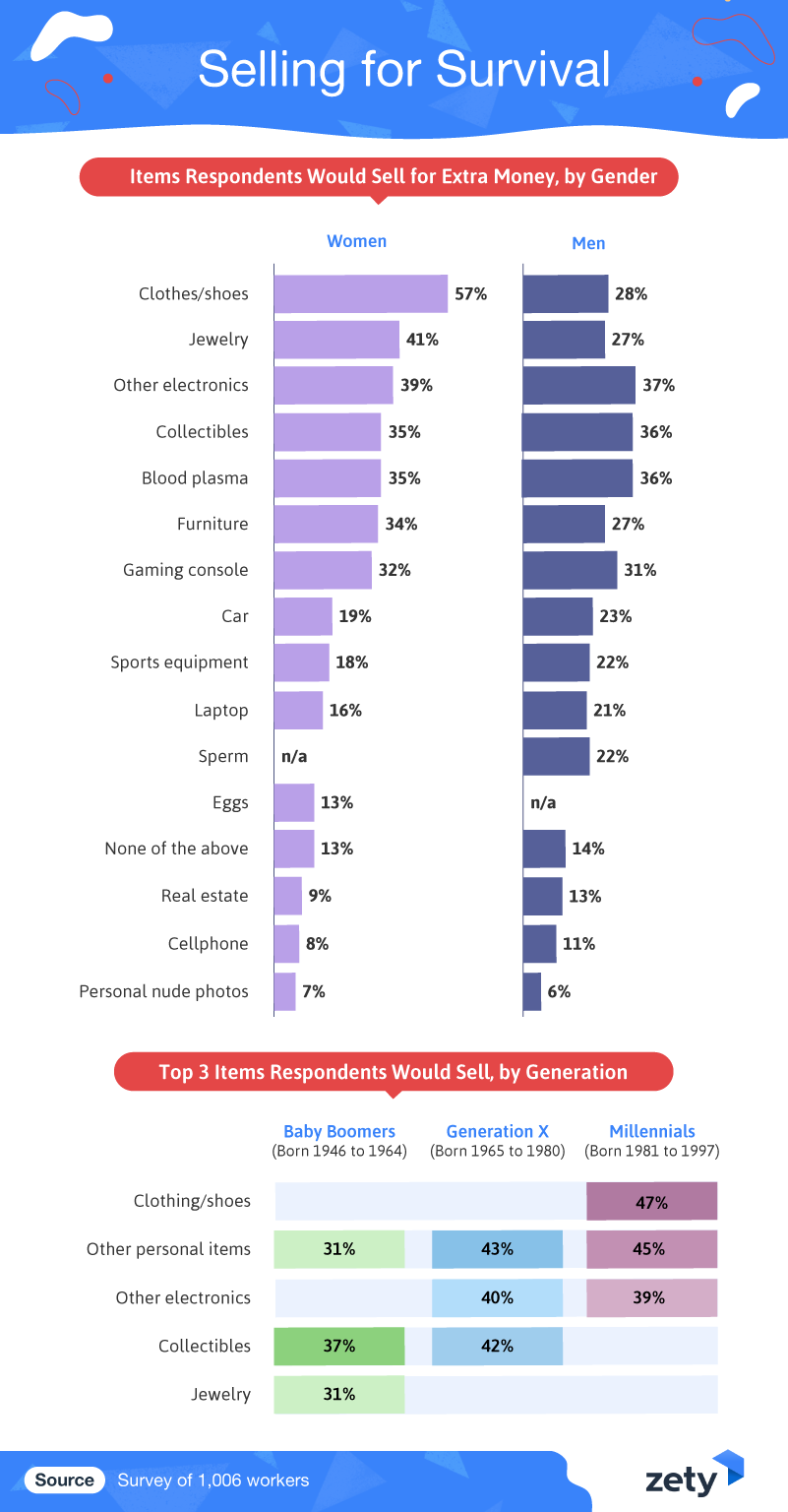 With so many people living above their means, and the continuing state of the nation's finances, it wouldn't take much to push many people into a crisis. Selling off personal items or your bodily products might not be the first choice for getting through an unexpected loss of income, but it could be a temporary solution.
Women were more likely than men to sell certain items for extra money, including their clothing and shoes (57%) and jewelry (41%). In contrast, men were slightly more willing to part with their laptop (21%), collectibles (36%), blood plasma (36%), car (23%), and sports equipment (22%).
Millennials were the most likely to sell their clothing and personal items, while Gen Xers were the most likely to give up electronics and collectibles, and baby boomers were the most likely to sell their jewelry to make ends meet.
Digging Deeper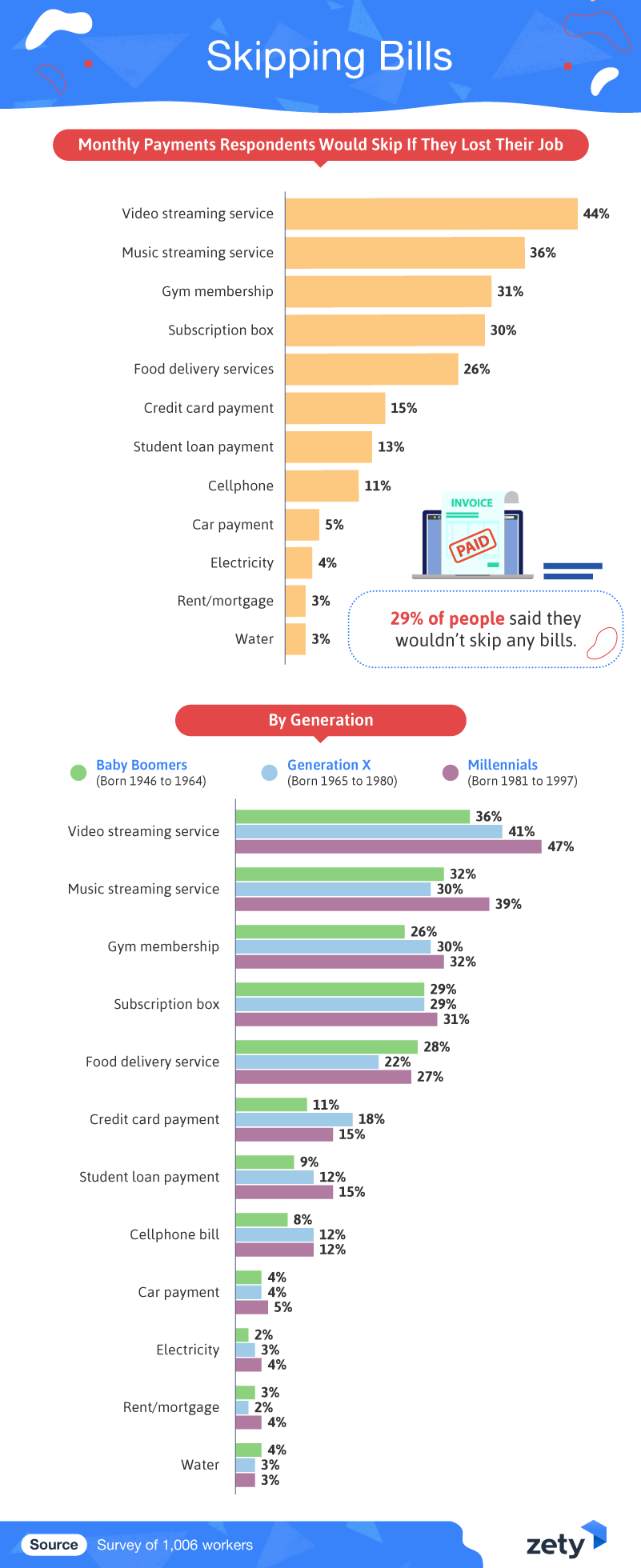 Not having enough money to weather a financial storm can leave you wondering where to cut corners.
Fewer than 1 in 3 Americans said they wouldn't skip paying their bills if there was a gap in their income. The first monthly expenses on the chopping block were video streaming services (44%), music streaming services (36%), gym memberships (31%), and subscription boxes (30%).
Meanwhile, 15% of people indicated they would stop making monthly credit card payments, followed by nearly as many who would stop paying their student loans (13%) and cellphone bill (11%). Only a small population of people would go so far as to stop paying for their car (5%), electricity (4%), home (3%), and water (3%).
In almost every scenario, millennials were more likely than older generations to avoid certain expenses, except cell phone bills (tied with Gen Xers), food delivery services (baby boomers), credit card payments (Gen Xers), and water bills (baby boomers). Once again, economic pressures have given Millennials a strong sense of frugality and financial responsibility.
So what's the best approach to reducing your expenses? The experts agree that those pesky subscriptions should be first to go. Maureen Milliken of debt.org specifically mentions this as one of the best ways of reducing your outgoings.
Most people have monthly subscriptions for cable TV or streaming services, internet, cell phones, publications, weight loss programs, you name it. Once you set one up, you likely don't think about it much, yet the money comes out of your account every month. Now's the time to take a close look. Ask yourself: How much do I use this? Do I really need this? Can I live without this? When you cancel the subscription, go through your email and unsubscribe to newsletters or regular advertisements that come from that source. Don't pass on unsubscribing to something because they make it hard or it seems like a small expense that's not worth the trouble to get rid of. Think of cutting expenses as death to debt by a thousand cuts, not one big blow.
Finding a Better Solution

So what if your savings dry up, you aren't willing to sell your possessions, and you don't want to fall even further behind by dodging bills, what's left?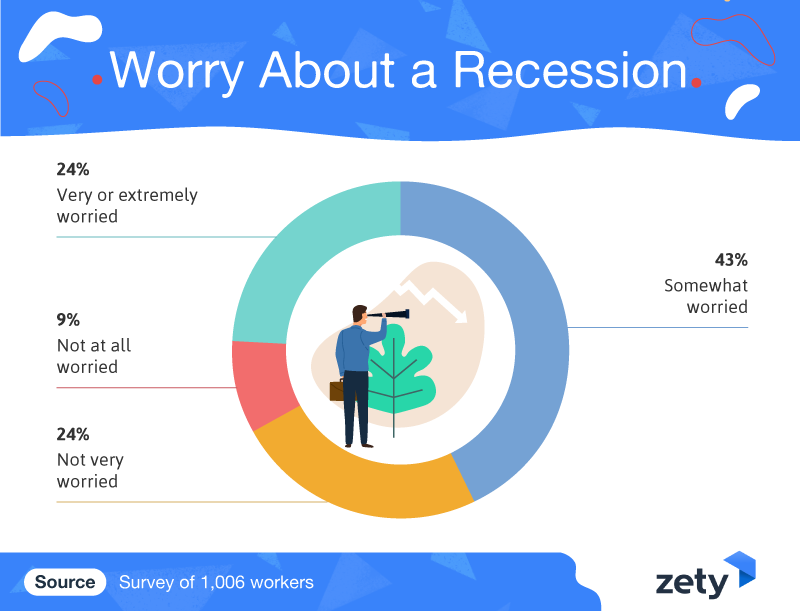 Around 2 in 3 respondents would turn to a side hustle if their savings weren't enough to carry them through, and roughly half would look to join the gig economy. Many also indicated they would attempt to live off unemployment, including 56% of Gen Xers and 50% of millennials. Roughly 1 in 3 would be able to live off their spouse's or partner's income, while others (including 28% of millennials and 18% of Gen Xers) would ask their family for support.
Nearly 70% of the people surveyed were extremely, very, or somewhat worried about a recession occurring. And that fear is firmly grounded in reality. Q2 of 2020 saw a massive 31.4% plunge in economic output in America, only to bounce back 33.4% in Q3. Fears of a double-dip recession have been allayed somewhat by the successful passing of the recent stimulus bill, but the new Biden administration faces an uphill battle to avoid further issues in 2021. The labor market recovery remains fragile and key provisions of the stimulus package are set to lapse in March, long before relief from vaccination can truly help the economy rebound.
When forced to ask for help, 44% of people would turn to their parents, followed by state government resources (33%), federal government resources (32%), and a sibling, other family members, and friends (18%). Roughly 1 in 4 people indicated they wouldn't ask anyone for help financially, including 40% of baby boomers and 35% of Gen Xers. While older generations were more inclined to turn to the government for assistance, millennials were more likely to turn to their parents or friends to get by.
Staying Ahead of the Curve
The key takeaway is clear. Just because everything seems fine today doesn't mean you shouldn't be prepared for a financial emergency. A majority of Americans didn't have a firm grasp on how far their savings could carry them, and few could live off their current savings for an extended period. Instead, many indicated they would sell their possessions, skip bills, and turn to gig jobs or their family for support.
To prevent that happening to you, take a long hard look at your incomings and outgoings, reducing your expenses wherever possible and trying to build a savings buffer against the unexpected. The world remains in a fragile economic state and the wolf could be at the door without warning. Taking care of your physical health is crucial in a time of pandemic, but so is monitoring your financial health. It's clear that many Americans are woefully unprepared for economic hardship, but you don't have to be one of them.
Methodology and Limitations
We surveyed 1,006 employed workers and freelancers for this study using Amazon's Mechanical Turk service. When showing how much money respondents spend each month, have in their savings, their monthly spend estimates, and the average paycheck amounts, we excluded all outliers by only looking at the answers that fell within the fifth and 95th percentiles. When considering monthly pay, we asked respondents only to provide take-home pay after taxes. We had 479 women, 520 men, and seven people who did not identify as either participate in the study. Among our respondents, we had 100 baby boomers, 291 Gen Xers, and 595 millennials. The remaining respondents were either Gen Zers or part of the silent generation but were not sufficient enough to use within our breakdowns. The average respondent age was 37.63 with a standard deviation of 11.09. There are limitations within this data, including, but not limited to, self-reporting, which can lead to exaggeration, especially when it comes to salary and spending. In addition, our data are not weighted or a representative sample.
Fair Use Statement
Don't let your readers get caught by surprise in a financial emergency. Feel free to share these insights into living without pay with them for any non-commercial use. Just include a link back to this page in your story as credit to our hard-working contributors.
Sources
About Us
Zety is the expert resource that helps you stay competitive on the job market and land interviews. Write a competitive resume with our resume tips and resume templates. List the right soft and hard skills, upload your resume on LinkedIn, and start getting interview-ready.