The Secrets of Satisfied Employees [2021 Study]
What's the secret for those who love their jobs? We asked 3,000 Americans and here are the results.

Many Americans aren't ecstatic about their employment. Workplace burnout is alarmingly prevalent, and only about a third of professionals feel actively engaged at work. Not to mention the current pandemic has many Americans struggling to keep their current gig or find employment at all.
But what about the merry minority of extremely satisfied employees? How do people who love their jobs differ from those just collecting paychecks, and what can we learn from their examples?
To find out, we surveyed more than 3,000 employees, including 329 who identified as "very satisfied" with their careers. We then compared the attitudes and experiences of the very satisfied group to those of other workers. Our findings suggest which workplace factors may contribute to employee satisfaction and the keys to creating a rewarding career.
The Satisfaction Split
Our respondents expressed varying degrees of career satisfaction, and most were "somewhat satisfied" or "satisfied" with their current employment. For this project, however, we isolated the most contented employees overall: the "very satisfied" group. We then aggregated all other respondents into another cohort, which we termed the "average employees" contingent. The contrasts between these groups proved striking, touching virtually every dimension of employment experiences.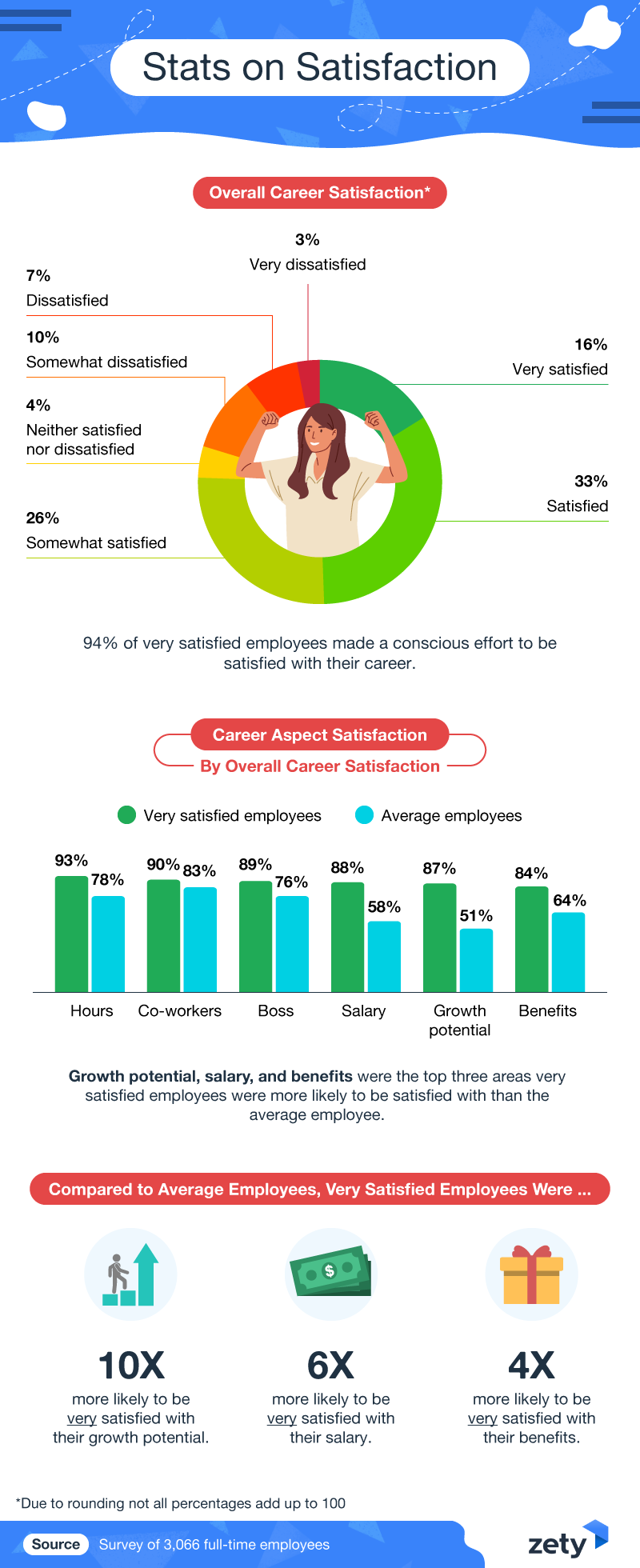 In fact, very satisfied employees were significantly more likely to express satisfaction with every element included in our survey, ranging from the hours they worked to their opinions of bosses and colleagues. These findings suggest that no single aspect of work distinguishes the experiences of very satisfied employees from that of less satisfied workers. Additionally, they raise the questions of perception and reality: Do very satisfied employees tend to view all aspects of their job more positively, or are their jobs actually better in all these respects?
However, differences between very satisfied and average employees were particularly stark in certain areas. For example, very satisfied employees were 10 times more likely to be very satisfied with their growth potential. This resonates with existing research indicating that growth opportunities are a key driver of employee satisfaction. Similarly, very satisfied employees were six times more likely to be very satisfied with their salary and four times more likely to be satisfied with their benefits.
We also learned that very satisfied employees were also substantially more content with intangible dimensions of their workplaces, including stability, values, culture, and diversity. These data points support a growing consensus that culture should be a key area of focus for businesses of all sizes.
Sources of Satisfaction
In the eyes of very satisfied employees, which factors contribute to their contentment at work? We compared their experiences to those of average employees, assessing which perks they tend to have and enjoy.

Among very satisfied employees, 69% said their particular role was essential to their satisfaction. Sixty percent credited their employer more generally, and 55% said their salary was a top factor. Interestingly, those who attributed their satisfaction to their role tended to earn less than those who cited other variables. Perhaps, for many of these professionals, enjoyable work makes up for modest paychecks.
Income aside, most very satisfied employees felt appreciated by their employers: 40% felt "extremely valued" at work. Unfortunately, just 7% of average employees could say the same. This represents a serious concern for business owners because research suggests that making employees feel valued is crucial to talent retention.
Interestingly, very satisfied employees were less likely to have some perks than average employees were. For example, a smaller percentage of very satisfied employees got medical, dental, and/or vision insurance, paid time off, and a 401(k) through work. However, they were more likely to enjoy flexible hours (an especially attractive perk for younger workers).
Relative to average employees, very satisfied employees were far more likely to report intangible perks. Sixty-seven percent felt their job was purposeful – a benefit that working Americans deeply desire. A similar percentage said their job kept them learning and challenged them continually. In terms of employee satisfaction, therefore, it seems easy work could be a liability.
Aspiration and Compensation
Are satisfaction and salary inextricably linked? We compared the incomes and workplace experiences of very satisfied employees with average workers. Our findings indicate that while very satisfied employees do tend to make more money, their performance may be well worth it.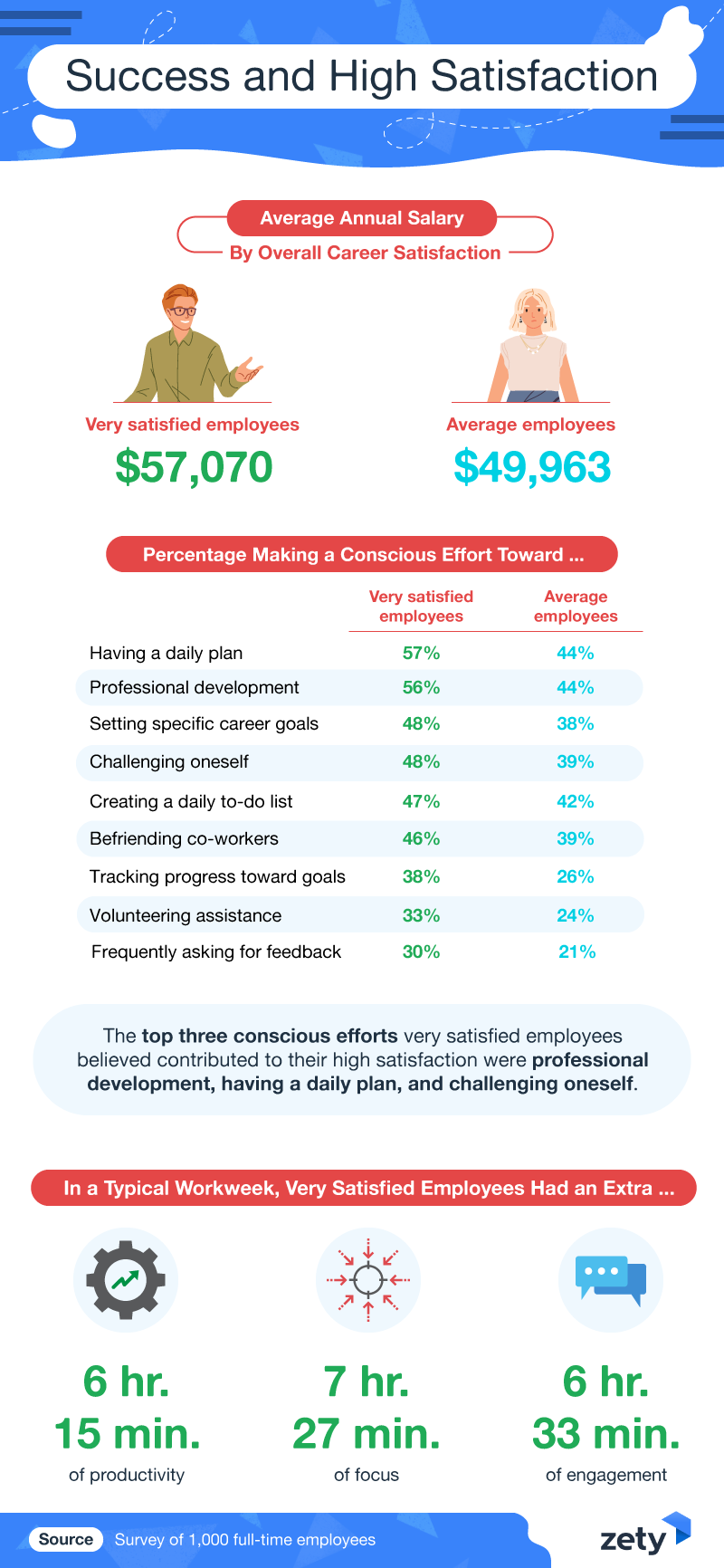 On average, very satisfied employees made roughly $7,000 more per year than other professionals. Yet, in terms of focus, productivity, and engagement, very satisfied employees far surpassed average employees. For example, very satisfied employees delivered an additional six hours and 15 minutes of productive time each week – amounting to almost an additional workday. Additionally, very satisfied employees provided an extra seven and a half hours of focus each week, no small feat in an era of abundant workplace distractions.
Moreover, very satisfied professionals were substantially more likely to take steps to advance their careers, and their employers certainly benefit from their industriousness. A majority said they made a conscious effort to engage in professional development; as technologies transform many industries, this ongoing training is increasingly important. Similarly, very satisfied employees were willing to tackle challenges, volunteer for extra duties, and ask for feedback. Given their model employee behaviors, it's no surprise that very satisfied employees tended to earn more than their average peers.
Impacts Beyond the Office
For many businesses and their employees, work-life balance is a much-debated subject. But could a job enrich your life more generally, rather than detracting from it? We asked our very satisfied employees to find out, juxtaposing their responses with answers from average professionals.

A striking 98% of very satisfied employees said their work had a positive effect on their life, whereas just 68% of average employees said the same. Additionally, over 60% of very satisfied employees said their life was more satisfying, purposeful, and meaningful because of their careers. These findings support the notion that effective workers envision their jobs as reflective of their priorities, not just a means to pay for them. Indeed, 71% of very satisfied employees felt a satisfying career was essential to a satisfying life more generally.
Overall, very satisfied employees felt a greater degree of agency in their professional and personal lives. Compared to average workers, they were significantly more likely to feel capable of "great things" and "achieving whatever I set my mind to." Similarly, very satisfied respondents were far more likely to feel in control of their careers and lives. According to some psychological research, this sense of confident autonomy may be the single strongest predictor of human happiness.
Seeking Satisfaction
Our findings illustrate profound differences between the work experiences of very satisfied employees and other professionals, with accompanying contrasts in engagement and productivity. And although very satisfied employees did earn more, on average, they often attributed their contentment to intangible benefits rather than concrete perks.
Indeed, very satisfied employees were far more likely to describe their work as meaningful and challenging, encouraging continuous learning over time. These gratifying roles can have transformative impacts, enriching workers' lives with a sense of purpose.
For the average employee, these results raise interesting questions. Even if you appreciate your job in many respects, could you find an opportunity that better reflects your aspirations and values? Are you settling when you could be truly satisfied instead?
If you have your eye on new opportunities, Zety.com is your ally. Our resume and cover letter tools empower you to stand out from the crowd, crafting an attractive introduction to employers. Check us out today and see how we can help you excel in the application process.
Methodology and Limitations
We surveyed a total of 3,066 full-time employees, focusing on a core sample of 1,000 respondents who were selected based on their career satisfaction. Survey quotas were used to ensure sufficient sample sizes of "very satisfied employees" and "average employees," and our respondent count for each group was 329 and 671, respectively. As noted previously, "average employees" included all employees who were not "very satisfied" with their careers.
To help ensure that respondents took our survey seriously, all respondents were required to identify and correctly answer an attention-check question. In many cases, questions and responses were rephrased for clarity or brevity. These data rely on self-reporting, and statistical testing was not performed on these findings. Potential issues with self-reported data include, but are not limited to, exaggeration, selective memory, and attribution errors on the part of respondents.
Fair Use Statement
Want to share our project with a friend or colleague? Feel free to use our images and information to spread the word about the secrets of employment satisfaction! When you do, please include a link back to this page, allowing other readers to access this project more easily. Additionally, please use this content exclusively for noncommercial purposes.
About Us
Zety is an exhaustive collection of tips and tricks to help you get that job. Find the best resume builder, explore winning resume formats, write a resume for an internship, learn how to list computer skills properly, and so much more.
About Zety's Editorial Process
This article has been reviewed by our editorial team to make sure it follows Zety's editorial guidelines. We're committed to sharing our expertise and giving you trustworthy career advice tailored to your needs. High-quality content is what brings over 40 million readers to our site every year. But we don't stop there. Our team conducts original research to understand the job market better, and we pride ourselves on being quoted by top universities and prime media outlets from around the world.
Sources