You're about to unlock the secret to the best jobs for veterans on earth.
Why is it hard for military veterans to find jobs? Well—
You're a good piece of gear. But you're back on the block.
There's a secret code to getting civilian jobs, and you're locked out.
Great job seekers know something you don't. They were learning to climb the career ladder while you were keeping them safe.
Take heart. I'm about to break it down Barney-style.
This guide will show you:
How to find civilian jobs for veterans fast.
The best way to transition military skills to the civilian jobs market.
The top veteran jobs boards and how to use them.
How to find and get Veteran Affairs jobs that recruit military near you.
Want to save time and have your resume ready in 5 minutes? Try our resume builder. It's fast and easy to use. Plus, you'll get ready-made content to add with one click. See 20+ resume templates and create your resume here.
Sample resume made with our builder—See more resume examples here.
1
Make the Most of Veteran Jobs Boards
Where can you find the best jobs for veterans and Veteran Affairs jobs?
Definitely on veteran job boards.
Best Veteran Jobs Boards
Some employers prefer to recruit military veterans. Just don't limit yourself by searching only these veteran job boards.
Best Department of Veterans Affairs Jobs Boards
Want to work for the VA? The VA's veteran employment programs have your six.
Visit VA Careers to find VA jobs by keyword, category, and region.
Or just google Department of Veteran Affairs jobs. Google's job search feature is pretty brainy at knowing where you are and what you're looking for.
You can even narrow your results based on your skills and qualifications.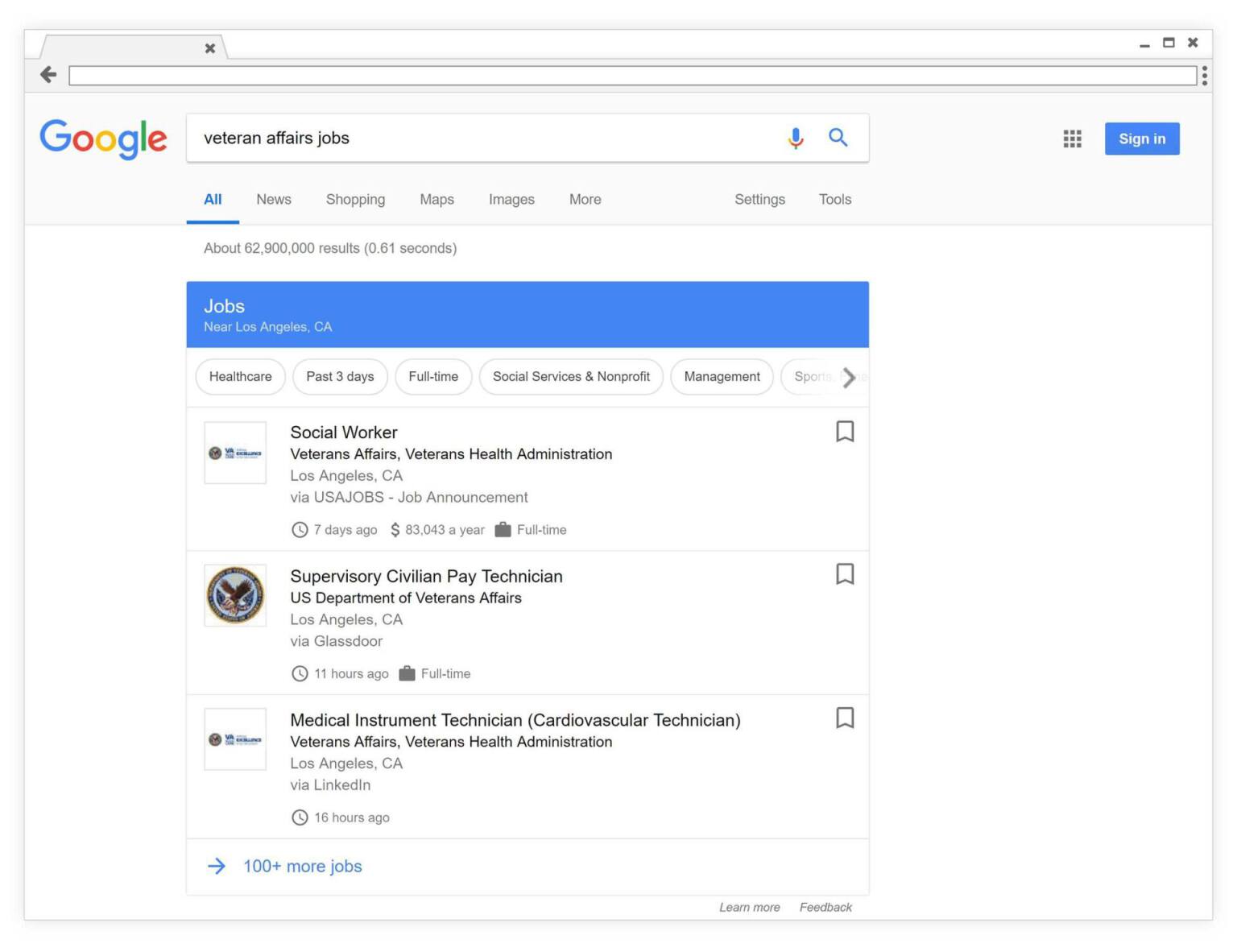 Your military time will count towards your retirement as a Federal civilian employee. Contact your human resources office on how to 'buy back' your military time to receive credit towards your Federal civilian retirement. Plus, these jobs often give veterans preference.
Randy Fisher
US Army Veteran and National Park Service Law Enforcement Officer
Why use plain ol' Google as a veteran job search site?
Because Google's got that big money to put toward solving problems.
Google's AI lets you type in your military job codes, then hunts for civilian jobs that need matching skills. It also weeds out duplicate listings so you don't have to.
Best Civilian Job Websites
For the most and best of every kind of job offer, use the best job websites in the world. They've got veteran job listings and much more.
They are:
Indeed Job Search—Hands-down the best job search site on the planet. It's got the most jobs, the most relevant jobs, and the most up-to-date jobs. You can even search veteran-specific jobs by googling jobs for veterans Indeed. Also try Department of Veterans Affairs jobs Indeed.
Glassdoor Jobs—Glassdoor lets you check salary as you search—a lifesaver.

LinkedIn

—This site lists great, relevant job offers and gets your networking campaign up to ramp speed. Try googling Department of Veterans Affairs jobs LinkedIn.
Pro Tip: There are dozens of job search engines on the web. Don't exhaust your veterans jobs search time by trying to use all of them.
Want to check out other great job sites for your jobs for veterans hunt? See: Job Sites: 15 Best Job Search Engines and How to Use Them Perfectly
2
The 20 Best Jobs for Veterans
Drawing blanks? Need help deciding what jobs for veterans you might be good at?
The list below has 20 great veteran jobs. Many double as Department of Veterans Affairs jobs—or jobs for military veterans without degrees.
Are you qualified for all these jobs? No.
But a walk through the list will flush out some great ideas.
For the best jobs for veterans (the best careers, actually!), get tech trained. I'll brief you on that next.
Pro Tip: Take the time to think which jobs for vets match your skills, passion, and desired pay. Don't settle for veterans jobs or Veteran Affairs jobs just because they're easy.
The department of Veterans Affairs recruit military candidates for almost all the jobs you can think of. Need more career types? Find a resume example for every profession.
3
Think About Veteran Jobs Training
Still no impact, no idea? Can't find jobs for veterans no matter what you do?
Don't embrace the suck just yet.
You can't fall back on your training in the civvy world unless you have it.
So—get it.
Pick a career from the lists above and use your G.I. Bill. You can also leverage veteran employment programs to gain the skills you need.
It takes about two years to become a nurse. You can start computer programming in as little as one year.
Not sure where to start? Check the VA job training site. It's your lifeline to free training for veterans.
There's more info on USA.gov's veteran employment, jobs for veterans, and vet training page.
Want to train on the job? Find a way to talk to lots of people who already have the job you want.
Most people can learn most things on the job. The challenge is getting employers to want to do that with YOU. A lot of that is showing drive and interest in the subject matter. The best way to do that? Pay attention to what you enjoy learning about. Talk to people who've found a way to make a living doing that to see if their job resonates on practical levels like pay, job outlook, etc.
Steve Dalton
Author, The 2-Hour Job Search
Pro Tip: Want to help other veterans find work? The Veterans Site helps homeless veterans get job training. Donate here.
Not sure what skills to list during your veteran jobs search? Don't know what responsibilities will get the best Veteran Affairs jobs? See: 30+ Best Examples of What Skills to Put on a Resume
4
Translate Your Military Skills to the Civilian Jobs Market
It's high pucker-factor time.
You're highly qualified for your military job—but not much else.
There's little call for E-4s or Staff Sergeants at Macy's or AT&T.
But—
You're actually qualified for tons of ex military jobs.
First check your skills.
Were you in charge of other warfighters? Then you've got leadership skills.
Did you give presentations or write memos? That's communication.
Take time to list the strengths you gained while serving.
You'll use them to zero in on a career.
Then 86 the acronyms.
The civilian world doesn't know what AFB, 11B, or 88H/Cargo Specialist mean.
Instead, say Air Force Base, Team Manager, or Distribution Manager.
Use This Military-to-Civilian Jobs Translator
Need help? Try these veteran jobs translators. Just type in your MOC Code and get civilian jobs and skills suggestions.
You can copy the results and plug them into Indeed or Linkedin job search to find related jobs for veterans.
Use the Occupational Outlook Handbook
Next, check out the Occupational Outlook Handbook from the U.S. Bureau of Labor Statistics.
It'll answer:
What careers are growing?
Which are shrinking?
What jobs for veterans pay most?
Which jobs require the least training for highest pay?
Think what you're most qualified for—and passionate about.
That'll help you decide on an attack plan. It'll help you choose from standard vet jobs, Veteran Affairs jobs, or some other course.
Many military occupations transfer directly to Federal Civilian jobs like law enforcement, trades, and information technology. These jobs often come with an increase in pay, less hours, and no overseas deployments.
Randy Fisher
US Army Veteran and National Park Service Law Enforcement Officer
Plus, Have a look at the Military Friendly Employers website. It lists companies that hire ex military personnel and do a great job of it.
Need a military-to-civilian resume for your veteran jobs search? See: Veteran Resume: How to Use Your Military Experience
5
Target the Right Vet Jobs, Then Contact Them
You could spend years looking at all the different jobs for veterans. You could pore through Veteran Affairs jobs, federal jobs, and other veterans jobs that recruit military personnel.
But you'll hit T-minus-zero soon.
Why do most veterans take months or years to find a job, while others grab one almost overnight?
According to Steve Dalton, author of the excellent book, The 2-Hour Job Search, most people chase the wrong employers. They aim for only well-known companies.
But 99.9% of companies have less than 500 employees.
To get the best veteran jobs fast—
As Dalton suggests, spend just 40 minutes identifying your top 40 companies.
Use a method Dalton called LAMP: List 40 contacts, focus on Alumni, Motivation (dream places to work for), and job Postings.
Include:
10 dream employers (and their peers)
10 employers where you know people—military buddies, Facebook friends, and LinkedIn connections
10 companies from job search websites like Indeed
10 companies from headlines in your chosen industry.
Don't Be the Grey Man
Once you find your 40 companies, don't be anonymous.
According to Steve Dalton, anonymous applicants fire a barrage of generic resumes at veterans jobs offers online.
And they get lost in the crowd.
Instead, send a quick email to the most relevant contact at the top five. Use LinkedIn's company-and-people search to find them. Or use the company's About Us page.
Keep your networking emails short and painless:
The key things Steve Dalton points out to:
Stick to 100 words or less.
Don't mention jobs.
Explain briefly how you found them.
Explain your general interest. ("I'm trying to learn more about project management careers.")
Say how you'll follow up. ("If this week doesn't work, I'll try back next week to see if that works better.")
You'll get either silence, no, or yes.
Track each response and set calendar reminders to follow up.
Do "Informational Interviews"
When you get a "yes," drive on.
An "informational interview" is a short call with the goal of creating an advocate inside the company you want to work for.
Start with small talk. What are they working on? What path did they take to join the company?
Ask about the trends impacting their business.
Get their insights. What are the best lessons they've learned?
Solicit advice. What can you do to prepare for a similar career?
Find resources. What next steps should you take?
Ask if it's okay to reach out again.
Those questions make the calls fun. They also boost the odds you'll get the job search gold of an internal referral.
Pro Tip: Don't say "yes" to the first employer who offers you a job. Getting locked into low-paying post-military jobs for veterans is an E-1 mistake.
Need help with networking? See how a twentysomething with an unfinished degree bagged a six-figure job. How to Network Your Way Into a $100,000 Job [Real-Life Story]
When making a resume in our builder, drag & drop bullet points, skills, and auto-fill the boring stuff. Spell check? Check. Start building a professional resume template here for free.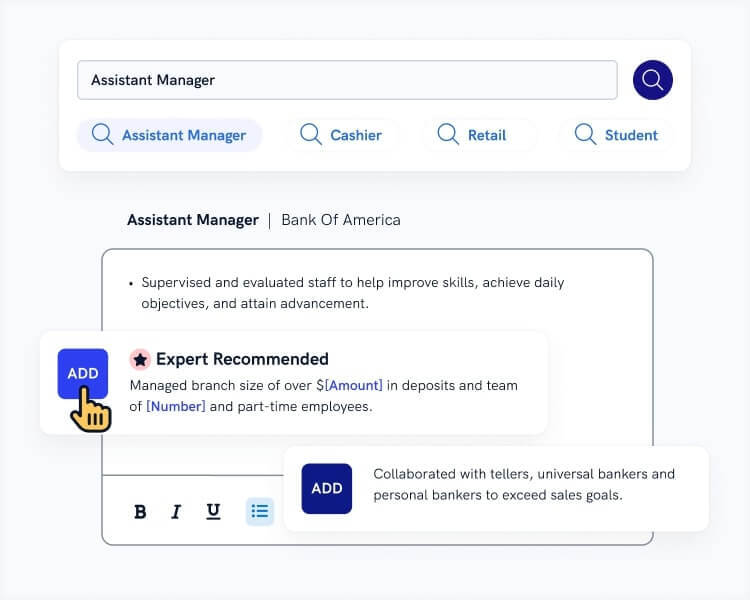 When you're done, Zety's resume builder will score your resume and our resume checker will tell you exactly how to make it better.
6
Customize Your Military-to-Civilian Resume and Cover Letter
In battle, blending in is good.
When hunting jobs for veterans or Veteran Affairs jobs, it's death.
Each hiring manager skims 250 resumes per job opening, according to our HR statistics report.
Your veteran jobs resume must stand out like a MOAB.
But don't do it by sending it inside an ammo box.
First, learn the exact skills the employer needs. Read the job offer or talk to the hiring manager or her employees.
Second, search your military past for evidence you've used those skills.
My advice is to highlight the skills and qualities you acquired from your military service—things like loyalty, teamwork, organization, effective communication, and flexibility. Talk about how those skills translate from a military culture to make you an ideal employee for their business.

Brian Michuad
IT Support Manager (US Army 1987–1992)
These two Department of Veterans Affairs jobs resume examples help.
Let's say the job wants to recruit military personnel good at (1) leadership, (2) attention to detail, and (3) security.
right
Security Specialist
U.S. Marine Corps 2015–2018
(1)

Led and mentored a diverse team of 25 people

. Gained 5% increase in promotions and 20% decrease in turnovers.
Received recognition for reporting and documentation (2)

accuracy

.
Achieved a "zero loss" period in 3 years of managing the (3)

security of different equipment worth $125,000

.
Wow. That's lean and mean. It's got exactly what the hiring manager is shopping for.
Not only that, it's got specific achievements, measured with real numbers.
The next of our Department of Veterans Affairs jobs resume examples has good initiative, bad judgement.
wrong
Security Specialist
U.S. Marine Corps 2015–2018
Responsible for all team communication.
In charge of reporting and documentation.
Handled maintenance of key equipment.
That's a soup sandwich. It looks fine until you stick it in a pile of 250 others. Then it vanishes like a Navy SEAL.
Avoid vet jobs resume examples without metrics.
Write a Cover Letter to Get the Best Jobs for Veterans
Do you really need a cover letter to get veterans jobs and Veteran Affairs jobs?
Yep.
Lots of "helpful" people will tell you cover letters are Tango Uniform.
Not so. Half of all employers require cover letters.
Use the hiring manager's name to get attention.
Then read the job offer to learn exactly who they're looking for.
This veteran jobs cover letter example shows how:
Veteran Cover Letter Example
During my time in the Middle East, I dreamed of working as a project manager back home. I believe my handling of 9 $1 million+ projects—bringing each one in $5%+ under budget—shows I have the skills. LueckerCo has just the right mission and vision to deliver a steady stream of projects I could sink my teeth into. When I slashed supplier costs by 10%...
That ties into the company's needs like a refueling boom into an F-35.
If you can't land jobs for veterans with a cover letter like that, somebody is pranking you.
Pro Tip: Should you follow up on your veteran jobs cover letter and resume in 3 days or 2 weeks? How about both? The hiring manager won't get annoyed, and you'll get more shots at getting hired.
Need to customize your resume? Want to plug into the best jobs for veterans like an HMMWV Gun Ring Mount? See: 6 Tips on How to Tailor Your Resume to a Job Description
And don't forget to read our Veteran Resume Example & Writing Guide!
Plus, a great cover letter that matches your resume will give you an advantage over other candidates. You can write it in our cover letter builder here. Here's what it may look like: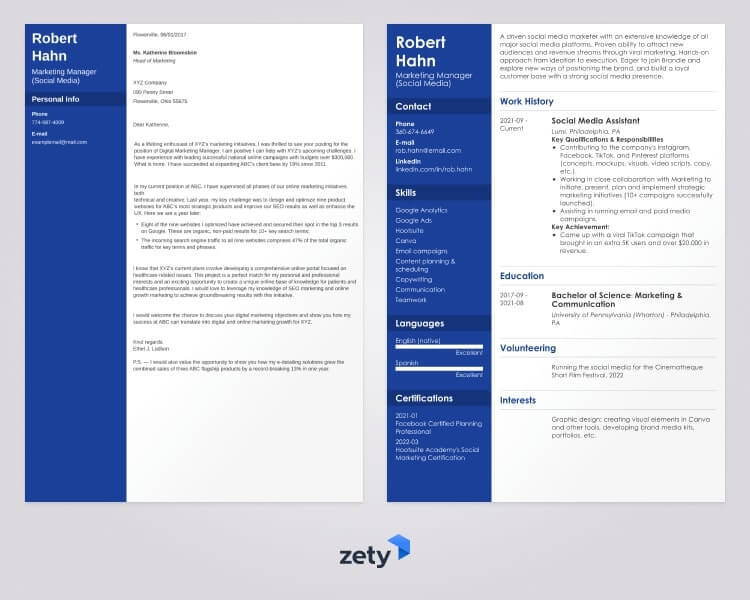 See more cover letter templates and start writing.
Need more ammo to find jobs for veterans?
The links below give help to veterans with resume writing, cover letters, and finding employment.
They're great resources to help you find vet jobs.
Free Career Counseling for Veterans
The VA has a page on Chapter 36 free career counseling to help you get the best veterans jobs.
Most military installations also provide career coaching to vets for free.
The VA's Veterans Employment Center has you covered too. There's help finding jobs for veterans. There are Department of Veterans Affairs jobs. There's also career counseling, and even free online classes through LinkedIn Learning.
The Veteran Employment Services Office (part of the VA) has a whole website for helping veterans find jobs.
VetNetHQ is a private veteran-to-civilian training resource. It offers transition help for veterans at a price.
Other Veteran Jobs Resources
Are you injured? Wounded warfighters can find internships through Operation Warfighter. Some can lead to federal jobs for disabled veterans.
Want to start your own business? Here's a cache of great resources for veteran entrepreneurs:
The U.S. Department of Labor has a jobs for veterans search page. It's got info to smooth your transition to the civilian world. There's also a list of employers who recruit military vets.
Feds Hire Vets is a U.S. government page with info on federal veteran jobs, career search, and training.
Pro Tip: Absolutely can't find civilian veterans jobs in your area? Consider moving. Sometimes the grass really is greener on the other side of the fence. Overseas jobs for veterans abound, though mostly in the security contracting sector.
Applying to Veterans Administration jobs or other jobs for vets? Your resume needs to show transferable accomplishments. See: Career Change Resume: Sample and Complete Guide
Key Takeaway
For vet jobs, Veteran Affairs jobs, or Veterans Hospital jobs, you need to prove the transferable skills the military gave you.
Here's a quick recap of how to find civilian jobs for veterans:
Find your marketable skills. How did service prepare you for the civilian job search world? Use the military-to-veteran jobs translators in this article.
Don't fall into the resume black hole. Learn to connect with key people who guard the best jobs for veterans. "Networking" is not a dirty word.
Customize your vet jobs resume and cover letter. They should fit the job like an M855 round in an M4.
Use veteran job boards, but don't rely on them exclusively. Indeed is still your best buddy. Google "veteran jobs Indeed" to get tons of great Veteran Affairs jobs and regular vet jobs.
Do you have questions on how to find the best veteran jobs? Not sure how to transition your skills and achievements to civilian jobs? Give us a shout in the comments! Let's initiate your job search success.
About Zety's Editorial Process
This article has been reviewed by our editorial team to make sure it follows Zety's editorial guidelines. We're committed to sharing our expertise and giving you trustworthy career advice tailored to your needs. High-quality content is what brings over 40 million readers to our site every year. But we don't stop there. Our team conducts original research to understand the job market better, and we pride ourselves on being quoted by top universities and prime media outlets from around the world.
Sources