Our customers have been hired by:

In the contemporary workplace, cutthroat competition is rarely openly acknowledged. As organizations embrace principles of community and collaboration, explicit professional rivalries are generally discouraged.
But however much a company aspires to be a family, there's no denying the reality of the corporate hierarchy: Not everyone will get ahead. In an era of professionals being encouraged to play nicely, do they tend to compete through underhanded tactics? How often do they venture into ethical gray areas – and outright wrongdoing – to advance their careers?
We surveyed over 1,000 working professionals, asking whether they'd ever compromised their values for professional gains. We discovered that while most workers agreed that certain maneuvers are unacceptable, many were also guilty of significant transgressions. For a striking look at just how far professionals will go to get ahead at work, keep reading.
Employee Competition, Ethical Compromises?
Which ethically dubious behaviors are most common at work? We asked respondents whether they'd engaged in questionable professional conduct or had ever seen a colleague do so.
Hiding an issue was the most reported unethical behavior: Roughly two-thirds of respondents had witnessed or engaged in this objectionable practice. Sucking up to a boss and lying to a supervisor were nearly as common. These transgressions share a common theme: managing the perceptions of one's superiors.
After all, admitting mistakes to one's boss can be challenging, and workers may hope to conceal an issue until they can resolve it themselves. Interestingly, respondents who identified as "passive" were far more likely to engage in such attempts to avoid criticism. Perhaps this seems preferable to the conflict that might result from accepting responsibility.

More generally, our findings suggest some degree of cognitive dissonance: Whereas just 27% said they'd behaved unethically at work, more than half admitted to at least one unethical behavior. Additionally, 87% said they'd caught a co-worker doing something unethical, indicating we may be better at monitoring colleagues than assessing ourselves.
Managers and senior managers seemed more aware of their own lapses: A majority of those respondents admitted to at least one unethical behavior. Alternatively, perhaps those in power are simply more inclined to ethical slips. For example, 57% of respondents had seen a supervisor or manager behave unethically, and 20% had even witnessed poor conduct by a president or CEO. Unfortunately, experts suggest that senior-level dishonesty can have a trickle-down effect, creating challenges across a whole company.
Beyond the Professional Pale
Our findings suggest that ethical lapses are quite common across the American workforce, but which actions are widely viewed as totally unacceptable, and which might respondents be willing to perform in exchange for professional rewards?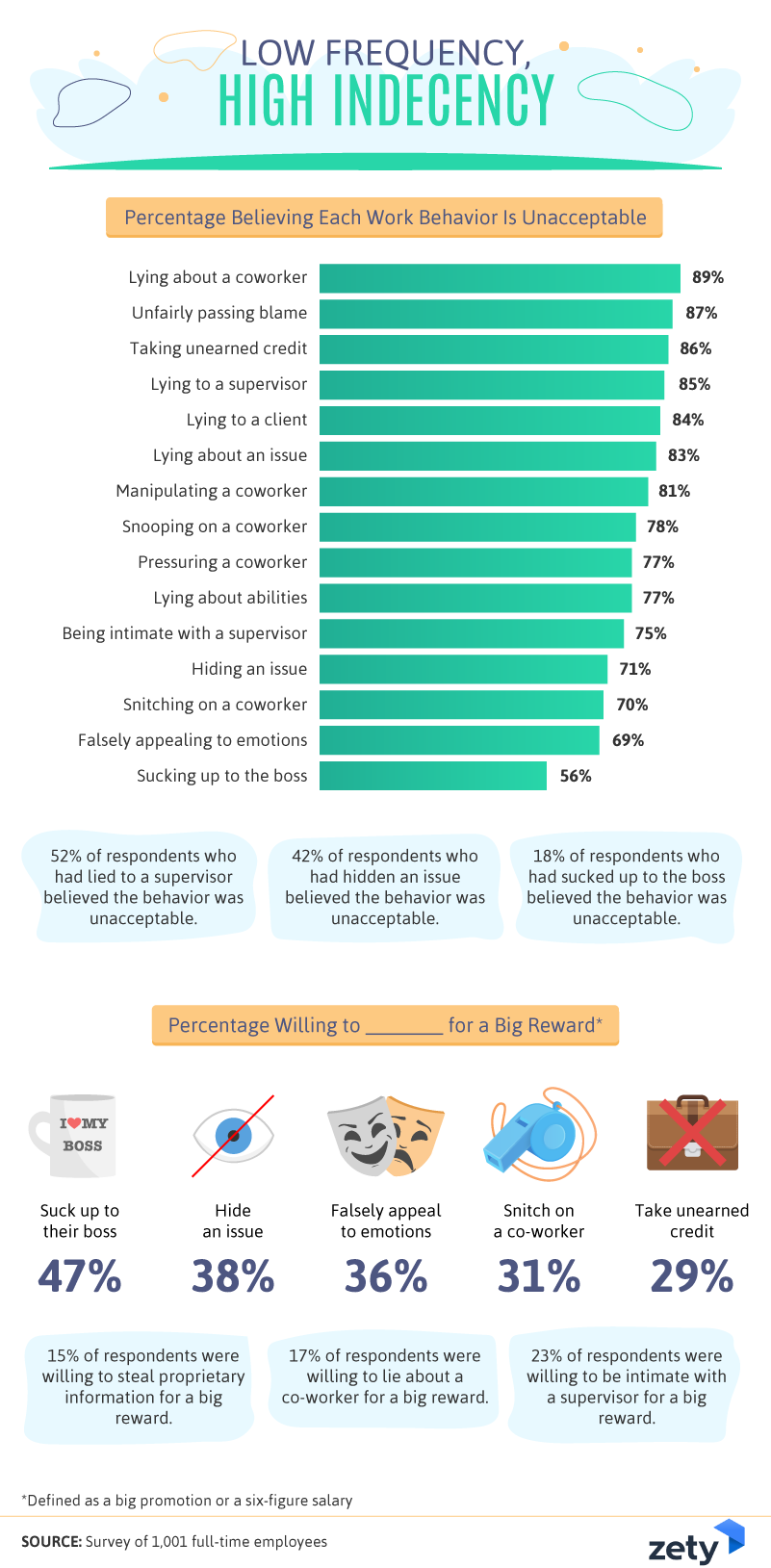 The most universally condemned work behaviors involved throwing colleagues under the bus: Almost 9 in 10 respondents said lying about a co-worker or unfairly passing blame were unacceptable actions. Other forms of deceit, such as taking unearned credit or lying to a supervisor or client, were also widely deplored.

It's not that professionals' motives for lying are hard to understand: According to experts, dishonesty at work stems from common, relatable impulses, such as a desire to protect one's job. Rather, these forms of dishonesty may seem especially objectionable because they can directly hurt others. Indeed, 38% of respondents reported being negatively affected by the unethical behavior of a colleague. By contrast, behaviors such as sucking up to the boss or falsely appealing to emotions were not condemned quite so widely.
Perhaps predictably, those who had engaged in certain work behaviors were far less likely to regard them as unethical: Of those who sucked up to their boss, just 18% found doing so ethically problematic. Moral concerns aside, sucking up might be a bad call, as research suggests it consumes energy needed to perform well at work.
Whatever their ethical objections, however, a fair number of respondents said they'd betray their principles for a big reward. For example, 29% said they'd take unearned credit, and 23% would be intimate with a supervisor for a considerable career advantage. Fifteen percent said they'd even steal proprietary information, a potentially criminal act that could result in prison time.
Benefit or Backfire?
Is cutting ethical corners actually advantageous? We asked our respondents whether workplace transgressions were likely to help or hurt one's career. We also studied whether those with a history of questionable actions tended to make more money, gauging whether ethics are at odds with earnings.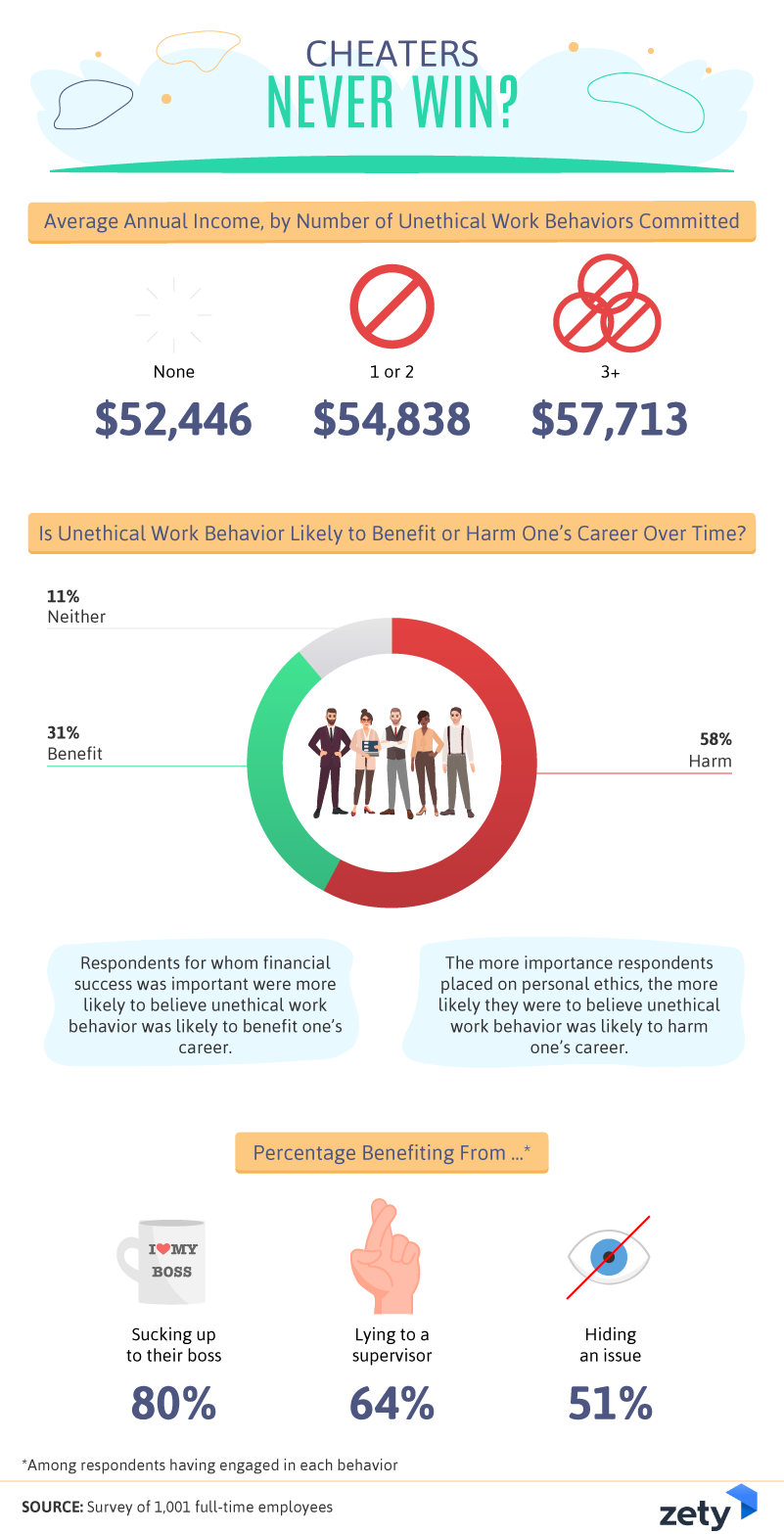 Overall, a significant majority believed unethical work behavior was likely to harm one's career over the long term. Those who placed a high value on personal ethics were especially likely to take this view. These sentiments aren't necessarily idealistic or naive: There are real business benefits associated with maintaining high moral standards. For example, an ethical manager could aid with employee retention and earn acclaim for reducing costs as a result.

On the other hand, plenty of respondents felt their past ethical indiscretions had paid off. Eighty percent who had sucked up to their boss felt doing so had benefited them. Among those who had hidden an issue from their superiors, a thin majority believed the tactic had been beneficial. Furthermore, people who had committed three or more unethical behaviors made over $5,000 more per year than those who had committed none. Do these numbers suggest that lying is lucrative?
Even if unethical behavior corresponds to higher earnings, it's worth assessing other potential costs of unethical behavior, including physiological distress. Studies show that lying can take a considerable toll on one's health. Moreover, getting caught could have painful ramifications unrelated to salary, such as the disdain of one's colleagues.
Judging Companies and Colleagues
In the eyes of American workers, how uncommon is unethical behavior at the corporate level? Moreover, do successful professionals and company leaders get ahead because of their immoral actions? We asked our respondents about these matters and received an alarming set of responses.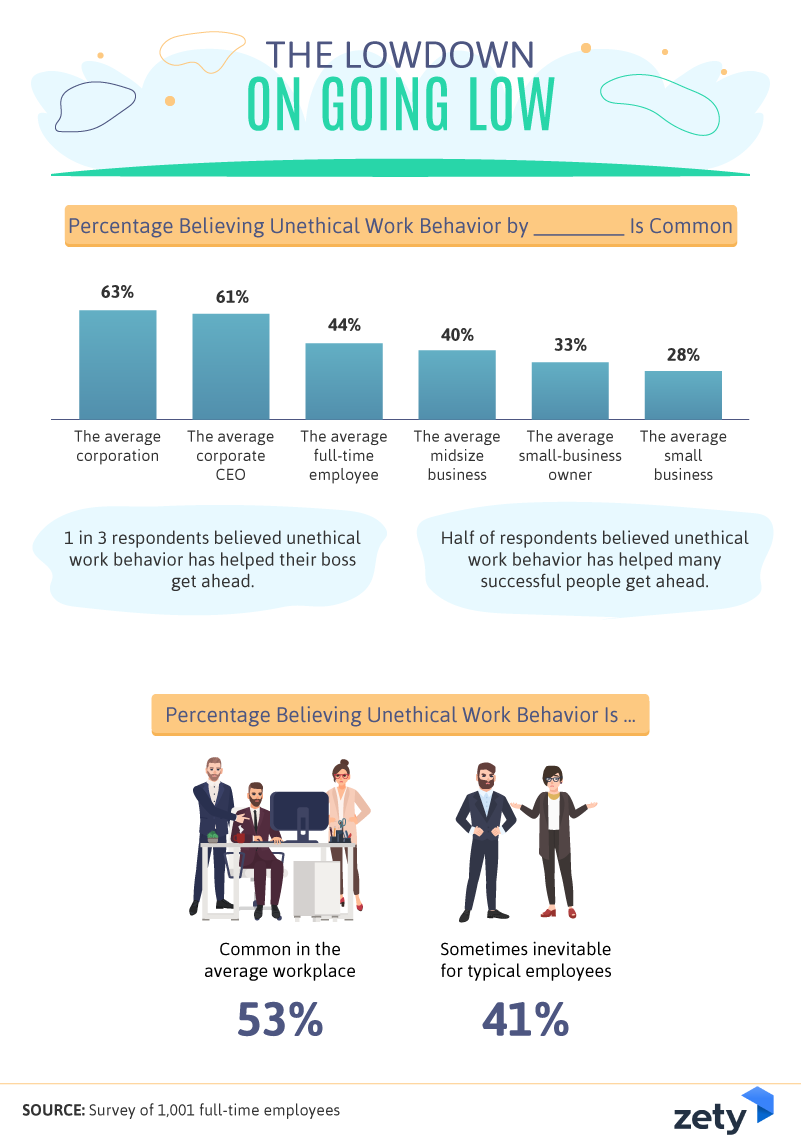 More than 60% of respondents felt unethical behavior was common in the average corporation and among corporate CEOs. This skepticism resonates with other recent studies indicating that Americans are wary of big business and its influence. Respondents were less likely to believe unethical behavior was common at small and midsize businesses, although a significant portion still viewed smaller organizations cynically.
A majority of respondents felt unethical behavior was common in the average workplace, and 41% said it was sometimes inevitable for typical employees. In the context of our discussion, it's worth mentioning that many forms of unethical behavior don't involve getting ahead. For example, wasting company time or stealing supplies can be problematic but not professionally advantageous. Likewise, research shows that sexual harassment remains disturbingly common in workplaces across the country.
In terms of career advancement, however, a third of respondents believed their boss had benefited from acting unethically. Moreover, half of the professionals surveyed believed many successful people enjoy career gains from immoral actions. It seems that as long as these beliefs remain widespread, workers will be tempted to behave unethically.
Ethical Career Advancement
Our findings present striking conflicts between workers' stated values and their actions in the workplace. And while the most common offenses seem unlikely to cause serious harm, they could foster a toxic dynamic of dishonesty. In a corporate climate in which little lies are constant, can real collaboration flourish?
Unfortunately, most professionals perceived dishonesty among the upper ranks of their companies, leading them to conclude that unethical behavior is often advantageous. Perhaps our results make a case for greater transparency among organizations' leaders. If executives open up about their own errors, other workers may feel more comfortable being honest about their own. Similarly, a company's conduct and communication could set the tone for its entire workforce, encouraging ethical action by example.
Thankfully, you don't need underhanded tactics to advance your own career. Whether your current job makes you feel ethically uncomfortable or simply stuck, we'll help you capture better opportunities. With Zety, you can craft the perfect resume and cover letter, giving you an edge on other candidates. Check out our tools today and see how you can make a better first impression on employers.
Methodology and Limitations
We surveyed 1,001 full-time employees using Amazon's Mechanical Turk service. To help ensure that respondents took our survey seriously, all respondents were required to identify and correctly answer an attention-check question. Survey quotas were used to ensure a sufficient sample size of respondents at a variety of career stages and levels of professional success. 470 respondents were female, 528 respondents were male, and three respondents didn't identify as male or female. Our average respondent was approximately 38 years old. Where appropriate, particularly for calculations of salary, outliers were identified and removed.
In many cases, questions and responses were rephrased for clarity or brevity. These data rely on self-reporting, and statistical testing was not performed on these findings. Potential issues with self-reported data include, but are not limited to, exaggeration, selective memory, and attribution errors on the part of respondents.
Fair Use Statement
If you've enjoyed this project, your friends and colleagues might feel the same. After all, we can all appreciate a transparent look at what really goes on in the average workplace. If you do choose to share this project with others, please link back to this page so that other readers can view all of our results. Additionally, please share our images and information exclusively for noncommercial purposes.
About Us
Zety arms job seekers with the most relevant tips about making a resume and formatting cover letters. It's more than just that—readers may also learn how to upgrade their resume with free Word templates and resume power words.
About Zety's Editorial Process
This article has been reviewed by our editorial team to make sure it follows Zety's editorial guidelines. We're committed to sharing our expertise and giving you trustworthy career advice tailored to your needs. High-quality content is what brings over 40 million readers to our site every year. But we don't stop there. Our team conducts original research to understand the job market better, and we pride ourselves on being quoted by top universities and prime media outlets from around the world.
Sources