You're about to see the best jobs for teens—online or IRL. But first—
You're a teen. Most adults would trade places with you in a heartbeat. Only problem—you need money. Relatable? How do you make money as a teen? When your parents were kids, their parents said, "Walk down to the Pizza Hut and fill out an application."

You've got Google! And a dozen other magic helpers. You just need to know how to use them to find teen jobs.
This guide will show you:
How to make money as a teen and what highest paying jobs for teens are available.
Where and how to get good jobs for teenagers.
How to find the best online jobs for teens in seconds.
The best summer jobs for teens you can sign up for now.
Want to save time and have your resume ready in 5 minutes? Try our resume builder. It's fast and easy to use. Plus, you'll get ready-made content to add with one click. See 20+ resume templates and create your resume here.
Sample resume made with our builder—See more resume examples here.
Trying to write a resume for local part time jobs hiring now? What about jobs for high schoolers? See our guides:
And if an internship is what you are after, we've got the guide: How to Get an Internship: Find Internships and Land the Best Ones Fast
1
How to Find Jobs for Teens Fast
You can find dozens of good jobs for teenagers in seconds.
A couple big job sites will help find jobs for high school students instantly.
Indeed.com can help you find:
Teen jobs near me
Online jobs for teens
Summer jobs for teens near me
Anything in between
Shockingly, Snagajob.com is not your best bet for how to make money as a teen. (Snagajob does okay, but Indeed finds more and better jobs.)
Let's look at how it works:
How to Find Teen Jobs Online
In the Indeed search box, type "teen". Add your location to the "Where" box and hit enter.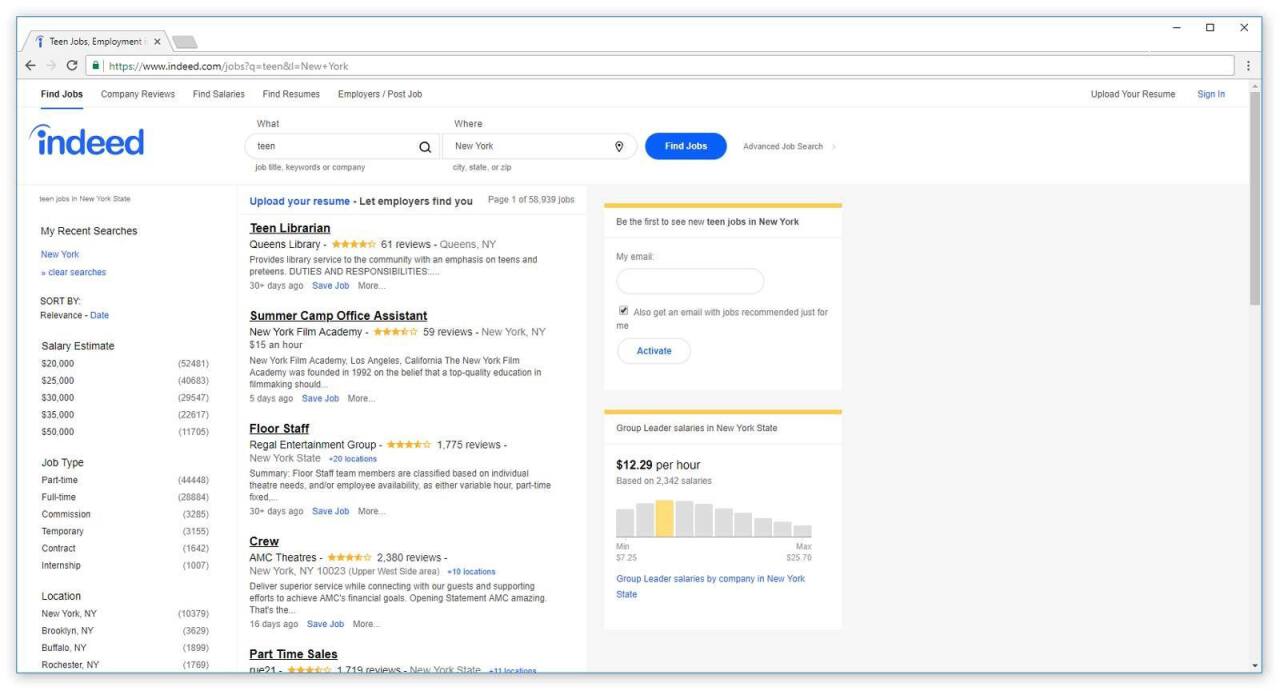 See that? I just got a ton of teen jobs near me.
Set up notifications to find new jobs for teenagers while you're off doing other things.
Use the same method to find summer jobs or online jobs. Just use the terms below.
How to Find Jobs for Teens Online

| | |
| --- | --- |
| If You're Looking For... | Type This in the Indeed Search Boxes... |
| Jobs for teens | "teen" + [Your Location] |
| Online jobs for teens | "teen online" + [Leave "Where" Blank] |
| Summer jobs for teens | "teen summer" + [Your Location] |
Looking for how to make money online for teenagers? Typing "teen online" into the Indeed.com search box works great. We've got a list of the best ways to make money online for teens below.
Pro Tip: Want to know how to make money as a teenager without crawling to Indeed? Use Google search to find other teenage jobs, or try to find a job for teens in the lists below.
Did you find jobs hiring teens, but need a resume with no experience? See our guide: First Resume with No Work Experience Samples (A Step-by-Step Guide)
2
How to Google Teen Jobs Hiring Now
Didn't find the right job on Indeed?
Most of the other sites we tried got terrible results for online jobs for teenagers.
That includes Glassdoor, LinkedIn, and Monster.
Snagajob.com (now Snag) did find several opportunities in big cities. (It didn't do as well in rural areas.)
We got results like, "Restaurant Manager" or "Program Director." Not exactly jobs for teenagers.
Surprisingly, plain ol' Google knocked it out of the park.
The Trick to Finding Work-From-Home Jobs for Teens Google
Type "teen jobs" in the Google search bar.
You'll get a ton of teen job openings near you.
Refine your search by location and set notifications.
Looking for online jobs for teens or summer jobs for teens? Google stumbles on those. Use Indeed.com instead.
It's as easy as this: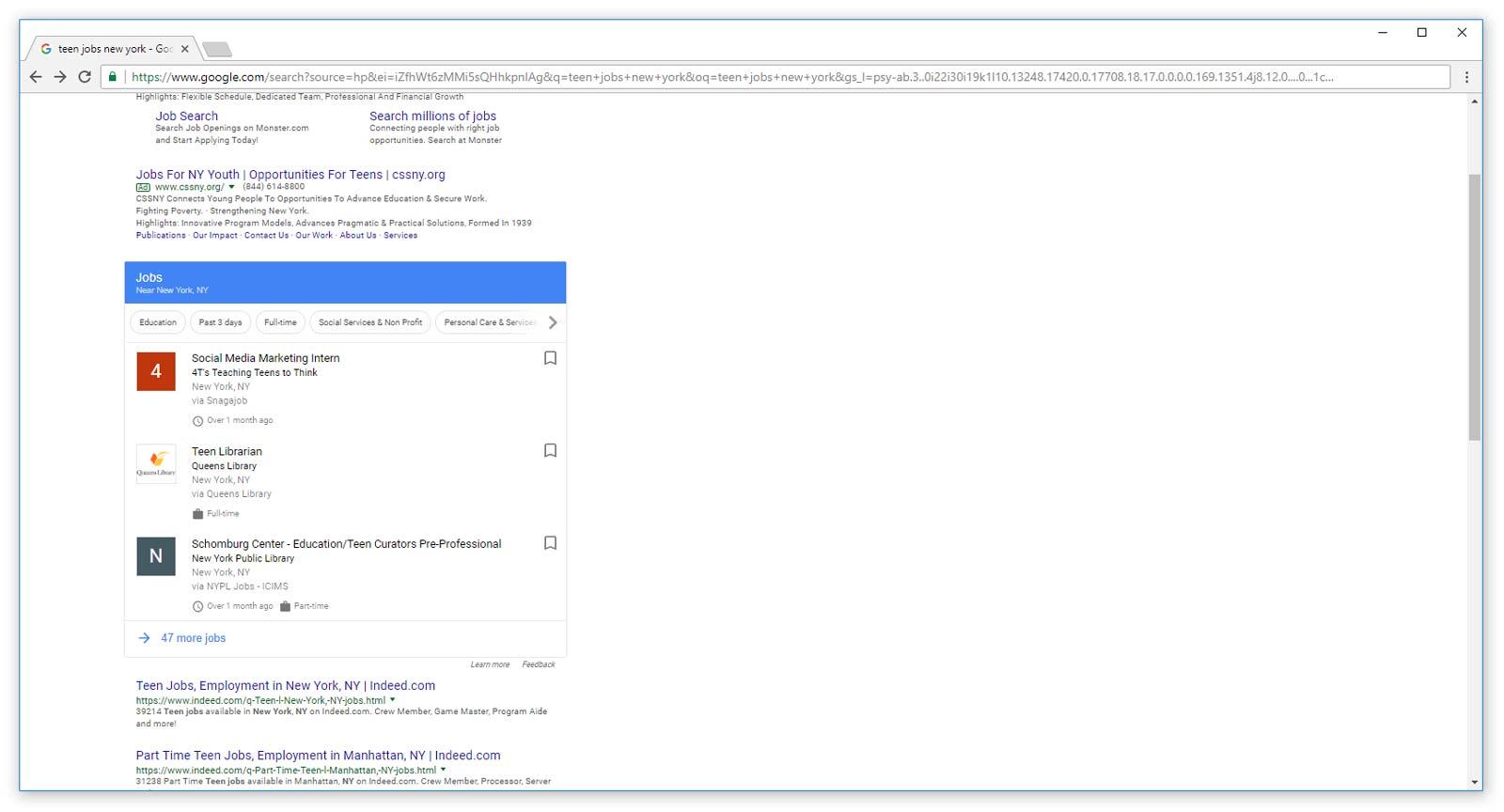 Google's AI is surprisingly good at finding good jobs for teenagers near you.
Both Google and Indeed can find jobs for 15 year-olds, jobs for 16 year-olds, and jobs for 17 year-olds. The catch? In the US, at 14 and 15 you can't work more than 3 hours a day.
Pro Tip: Wondering how to make money as a teenager without job search sites? Try networking. Put the word out with family and family friends you're hunting teenage jobs.
Most search sites don't make it easy to find jobs hiring teens. Want to give them a try anyway? See our guide: Job Sites: 15 Best Job Search Engines and How to Use Them Perfectly
Ready for a shock?
The best way to find full or part-time jobs for teens isn't always online.
Back in the stone age, my brother's friend asked me to rake his parents' lawn for $50. A fortune in those prehistoric times.
A neighbor caught me in the act and asked if I would do hers too.
Soon I had so many raking, mowing, and landscaping gigs I couldn't keep my head straight and I had to hire friends.
Anything adults don't want to do makes good jobs for teenagers.
Want to work for yourself and earn real money? See the list of teen jobs below.
Best Jobs for Teens
The real trick to these great ways for teenagers to make money?
Reach out to your parents' friends and neighbors first.
Do a great job for a couple clients, then ask them to tell others.
Yard Work. Mowing, raking, moving piles of dirt, even doing small grunt dirt jobs for local mom-n-pop construction firms are all great teen jobs.
Babysitting. Good with kids? Responsible? Babysitting is one of the easiest ways for teens to make money. Can't find customers? Sign up on Sittercity or Care.com.
Dog Walking. Professionals need pups walked while they're away. Want to pick up money for teens walking pooches? Sign up at Rover.
Cleaning Houses. Everyone needs cleaning done, but most don't have the time. Can't get clients? Try Housekeeper.com.
Pet Sitting. It's really hard to take pets on vacation. Pet sitting is one of the easier summer jobs for teens. Start booking clients in the early Spring or use Petsit.com. Rover.com lets you watch dogs in your own home.
House Sitting. What's better than making money eating and sleeping? TrustedHouseSitter.com can get you started..
Doing Tasks. Can you hang a shelf? Set up a TV? Put the word out that you're available for odd jobs for high schoolers. Can't do the networking? Sign up for Taskrabbit.
Tutoring. Are you great at math? At English? Teens can earn money tutoring. Need clients fast? Sign up at Tutor.com.
Shopping. All kinds of retailers are hiring unskilled labor to fill online orders. The best place to look for these great jobs for highschool students? Online.
Starting your own miscellaneous teen jobs for yard work or babysitting? Ask to put up flyers in local hotspots.
If you're looking for how to make money fast as a teen, try starting your own gig.
It won't be full-time at first, but it's one of the most rewarding ways to make money as a teen.
Pro Tip: The online services we shared above are great, but they take a cut. Do the extra work to build your own client list. You'll make more money.
Are you good at building websites? There are tons of teen part-time jobs you can find here. But hiring managers will want to see your work. Check out our guide: How to Make a Personal Website That Helps You Find a Job
4
Best Online Jobs for Teens [+ List of Highest Paying Online Teen Jobs]
You won the lottery when you were born in the 2000s.
There are thousands of jobs online for teens.
The best advice?
Visit Indeed.com.
Type "teen online" in the search box.
Leave the "where" box blank.
I just did this and got 90,000+ online jobs for teens.
You have to hunt a bit because they're not all online teen jobs.
Try this trick on any other search engine and you'll get jobs working with teens.
Best Online Jobs for Teens
We found the jobs online for teens below. They pay $11–$25 an hour.
Will you find these exact teen jobs when you search Indeed for "teen online?" Probably.
Data Entry. Enter data or photos into spreadsheets for pay. Tedious? Yes. Pays money? Yes.
Online Tutor. There are dozens of tutor openings online for academically gifted teens.
ESL Teacher. Teens can find jobs teaching English as a second language for $12 to $25 an hour.
Social Media Associate. Mom 'n' pops need people to interact with customers on social media. They trust teens to have the skills.
SEO Intern. Do you understand keywords and search intent? Make money guiding a small business through the Googleverse.
Telemarketer. Ugh, cold-calling people at home, right? But at the end of it, a paycheck waits.
Call Center Representative. Join the hectic world of answering inbound customer calls. This teen job needs a skin as thick as vibranium.
Editorial Internship. Interested in a career in marketing? Earn money to get a headstart with a real marketing department. We found a few internship jobs for teens in marketing on Indeed.
That list is just a sampling of online jobs for teenagers that pay real money. Your search might find web development jobs or other openings we haven't listed.
Pro Tip: Online jobs aren't the only ways for teens to make money. Check out the lists below of great summer jobs for students and other high school summer jobs.
Some jobs hiring teens need letters of reference. See our guide for help: How to Write a Reference Letter: Sample & Guide
When making a resume in our builder, drag & drop bullet points, skills, and auto-fill the boring stuff. Spell check? Check. Start building a professional resume template here for free.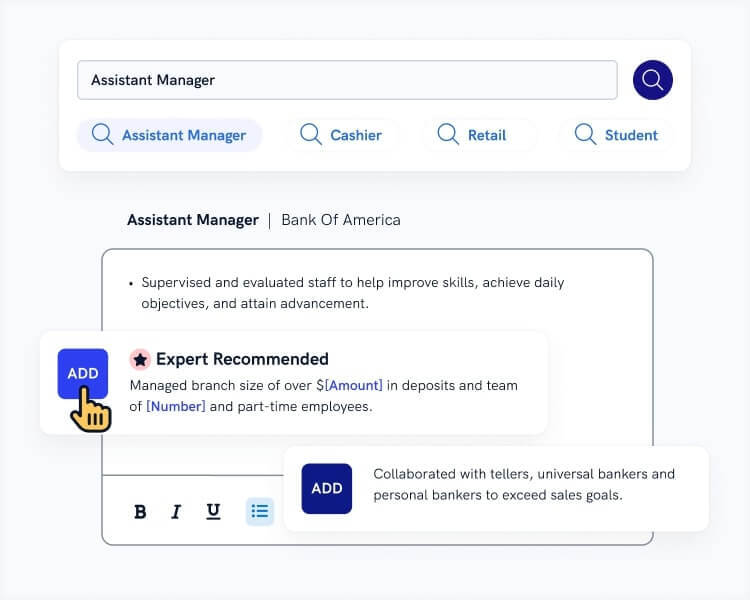 When you're done, Zety's resume builder will score your resume and tell you exactly how to make it better.
You've got the summer to yourself. No school, no hassles.
No money either.
To get teen summer jobs, just think—
What businesses ramp up in summer? Ice cream places? Pools? All kinds of tourist businesses?
They all need extra help in summer. They're often happy to hire teens.
Here are a few ideas for summer jobs for teens:
Teen Summer Jobs
Camp Counselor. Do you like working with younger kids? Summer camp jobs for teens are fun and give you skills for life.
Dishwasher/Waiter/Cook. Not glamorous, but restaurants always need seasonal help. These are tried and true jobs for highschool students in summer.
Restaurant Host. The cleanest and easiest of the good summer jobs in restaurants.
Ice Cream Clerk. Work with a window on a sunny day. Interact with happy people. Plus—those free ice cream bennies!
Fun Park Attendant. As summer jobs for teenagers go, this one's pretty fun. The downside: Constantly saying, "please don't stop on the giant slide."
Lifeguard. If you've got lifeguard training (or can train on the job) this is a great summer job for students. Work on your tan while you earn cash.
Grocery Stocker. Those shelves aren't going to restock themselves. This is high up on the easy summer jobs list.
Instacart Shopper. Or Kroger, or Payless. Dozens of brick-and-mortar retailers are hiring teens to fill bags with orders made online.
Escape Room Attendant. Do you like games and telling people what to do? See if your local escape or game room needs extra help when school's out.
To Go Order Taker. Another teen summer restaurant job. Answer the phone and enter orders.
Box Office Ticket Seller. Sell movie tickets (or concessions). Bonus: Get cheap or free admission.
Hunting "summer jobs for teens near me?" Search online for businesses from the list above nearby. That includes movie theaters, ice cream stands, and fun parks.
Pro Tip: The summer teen jobs above aren't always the highest-paying jobs for 18 year-olds. See the next section for a job for teens with higher pay.
Getting ready for college? When you're done working summer jobs for teenagers, see our guide: How to Choose a Major: A Complete Guide [25+ Expert Tips & Advice]
6
Best Paying Jobs for Teens
So you need to make a lot of money.
Who could blame you? College costs two arms and a leg, and how can anyone afford a decent car?
You'll have to dig to find high paying teen jobs. There's a sampling below.
Highest Paying Jobs for Teens
Shopper. Shipt, Instacart, Kroger, and tons of other employers are hiring for a brand new position: online delivery. Got a car? Deliver groceries or other products. No wheels? Work in-store filling bags with online orders. Pays $12 to $22 an hour. Search Indeed for "eCommerce Associate."
Library Shelver. If you're organized and you love books, check with your local library. Government jobs pay well.
Tutor. Tutors can make $15 to $25 an hour, and can do their work online. It's tough to rack up 30 or more hours a week, though.
Research Test Assistant. Researchers need helpers too. If you can be professional and follow instructions, you can be that help.
Book Sorter. Online book businesses sometimes need people to sort donated books. It's boring work, so it pays relatively well.
The list above doesn't have the best summer jobs (or the most fun jobs). If you're looking for the nearby jobs with highest pay, you may have to sacrifice a bit.
Pro Tip: There are lots of ways for teens to make money. Do online jobs for teenagers that pay well sound best? Or would you rather start searching the best summer jobs for teens? Focus on your favorite so you don't get overwhelmed.
It's no good hunting part-time summer jobs or online jobs from home if you look terrible on Facebook. See our guide: How to Check Your Online Presence Before Recruiters Look You Up
Plus, a great cover letter that matches your resume will give you an advantage over other candidates. You can write it in our cover letter builder here. Here's what it may look like: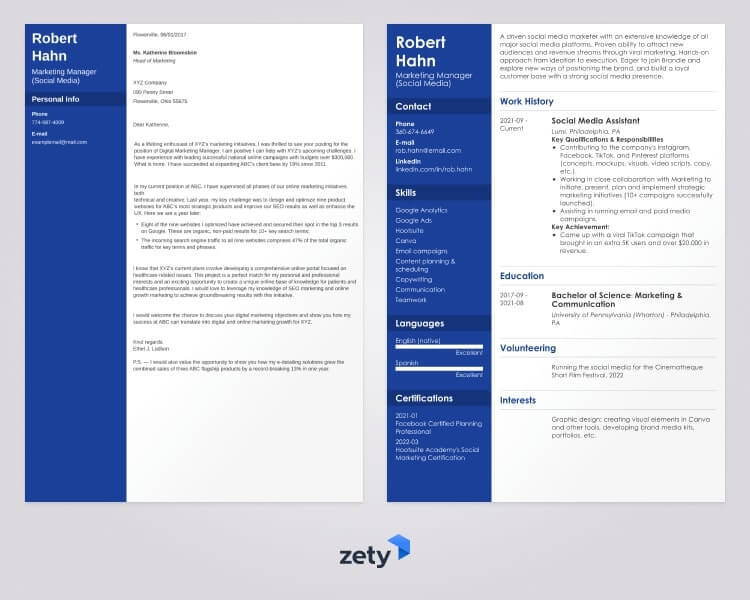 See more cover letter templates and start writing.
Key Takeaway
Here's a quick recap of how to make money as a teen:
Looking for ways to make money as a teen? Look online first. Type "teen" in the Indeed.com search box. Add your location in the "Where" box. Use Google job search too.
Want online jobs for teens? Search "teen online" at Indeed, with nothing in the "Where" box. The other job search engines just don't seem to work for this.
Use the lists of teen jobs, summer jobs for teens, and best teen jobs for high schoolers above to get ideas.
Consider starting your own thing by thinking what adults need done but don't enjoy. Take a few first customers and have them spread the word.
Do you have questions on how to get the best jobs for teenagers? Not sure how to find "teen jobs near me?" Give us a shout in the comments! Let's get you cashing paychecks now.