You want a job at a nonprofit.
You'll get it. Why?
You've stumbled across the best resource for NGO jobs on the web.
Here's more good news—
Plenty of great nonprofit jobs have the same titles as their for-profit counterparts.
So, take heart.
Do a few things right, and you'll be up there with Sandra Bernabei and Keith Alford fast.
This guide will show you:
112 nonprofit jobs you can find in real life.
How to search non profit organizations near me to get results.
The best 25 nonprofit job boards on the web (and how to use them).
How to find NGO jobs, philanthropy jobs, and careers in nonprofits quickly.
Want to save time and have your resume ready in 5 minutes? Try our resume builder. It's fast and easy to use. Plus, you'll get ready-made content to add with one click. See 20+ resume templates and create your resume here.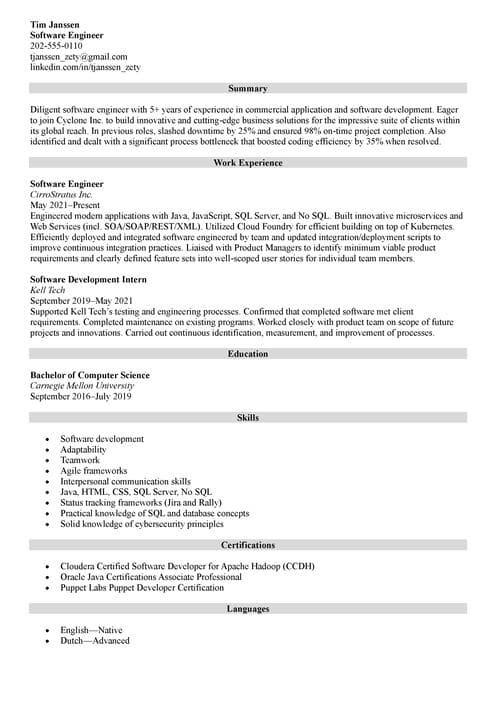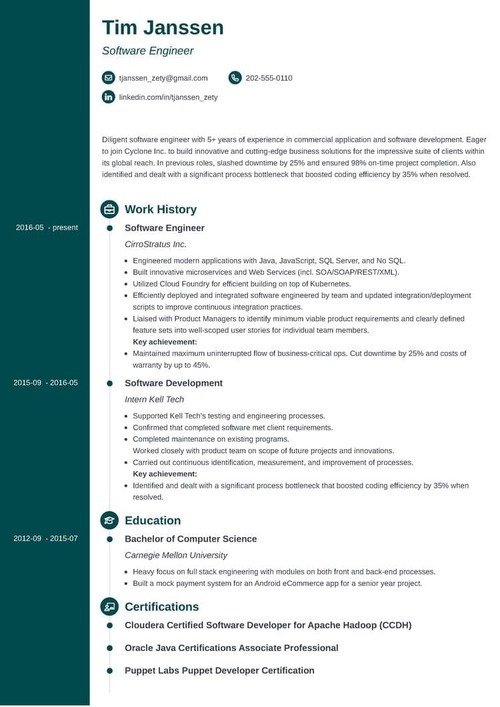 Sample resume made with our builder—See more resume examples here.
Just looking for nonprofit organizations? Skip to our best non profit organizations list below.
Here are 112 common nonprofit job titles.
Pick one that fits your skill set.
But—
These aren't the only NGO job titles.
I'll show you how to find hundreds more in the next section.
45 Management Careers in Nonprofits
Looking for director-level philanthropy jobs? Are you a charity work coordinator, manager, or supervisor? See these 45 nonprofit jobs for managers.
Searching non profit organizations near me? Jump to nonprofits near me lower in this guide.
Advocacy Director
Aide Supervisor
Animal Shelter Director
Campaign Manager
Chemical Dependency Director
Chief Operating Officer
Community Organizer
Community Service Project Coordinator
Compliance Coordinator
Compliance Director
Development Manager
Director of Community Relations
Director of Development
Director of Special Initiatives
Director of Support Services
Family Shelter Director
Financial Aid Director
Foundation Director
Foundation Program Officer
Grant Proposal Manager
Hospice Supervisor
Housing Coordinator
Housing Program Manager
Labor Union Organizer
Managed Care Coordinator
Member Certification Manager
Nonprofit Administrator
Nonprofit Executive Director
Planning Manager
Program Coordinator
Program Director
Program Manager
Project Manager
Public Relations Manager
School Director
Shelter Director
Special Events Coordinator
Special Events Director
Team Leader
Teen Center Director
Volunteer Coordinator
Volunteer Manager
Volunteer Director
Volunteer Services Director
Women's Shelter Director
21 Fundraising Nonprofit Jobs
Can you shake the trees and make the money fall? These fundraising nonprofit jobs might be for you.
Management Fundraising
Director of Corporate Giving
Corporate Giving Manager
Director of Major Gifts
Donor Relations Manager
Fundraising Manager
Planned Gift Director
Planned Giving Director
Planned Giving Coordinator
Development Coordinator
Fundraising Coordinator
Grant Coordinator
Front Line Fundraising
Contracts Specialist
Development Assistant
Development Associate
Development Officer
Financial Aid Representative
Fundraiser
Grant Administrator
Grant Specialist
Nonprofit Fundraiser
16 NGO Jobs in Counseling
Save the world one client at a time. Do it with these careers in nonprofits for counselors and social workers.
Case Manager
Director of Social Services
Social Work Manager
Chemical Dependency Counselor
Child Counselor
Child Life Specialist
Child Support Case Officer
Childbirth Educator
Counselor
Couples Counselor
Housing Counselor
Human Services Worker
Juvenile Counselor
Living Skills Advisor
Medical Social Worker
Social Worker
10 Marketing and Public Relations Nonprofit Jobs
Are you a skilled marketer who doesn't want to aid consumerism? Try these NGO jobs in marketing.
Community Outreach Advocate
Community Outreach Coordinator
Social Media Coordinator
Community Outreach Specialist
Graphic Designer
Grassroots Organizer
Lobbyist
Marketing Associate
Online Activist
Publicist
Technical Careers in Nonprofits
Got tech skills like Sundar Pichai and want to use them for the public good? See these nonprofit jobs in tech.
Information Technology Manager
IT Manager
IT Specialist
Policy Analyst
Programmer
Software Engineer
Web Developer
Human Resources Philanthropy Jobs
Event Team Recruiter
Human Resources Manager
Job Developer
Recruiter
Director of Human Resources
Religious Non-Profit Organizations Jobs
Associate Pastor
Chaplain
Minister
Pastor
Health Care Not for Profit Jobs
Community Health Director
Critical Care Director
Recreational Therapy Director
Residential Living Assistant
Education Nonprofit Jobs
School Director
Teacher
Preschool Teacher
School Assistant Director
Now you've got 112 philanthropy jobs titles.
Now use them to find actual nonprofit jobs postings next.
Didn't see careers in nonprofits that fit your skills?
Scroll down to find them fast.
Pro Tip: Hunting entry-level non-profit jobs? Need entry-level NGO jobs? Add entry-level to any of the charity work jobs titles above, then search. I'll show you how next.
Are you disabled and seeking non-profit sector jobs? See our popular guide: 100+ Great Jobs for People with Disabilities to Get You Out and Earning
2
How to Find Nonprofit Jobs
You want a job at a nonprofit.
How can you find one?
Here's how, in three quick steps:
1. Pick a Nonprofit Job Title
It's easy to find NGO job titles.
They're often the same job titles from non-philanthropy jobs.
Get them from the nonprofit jobs list above or—
Pick them from our master list of 450 regular job titles.
2. Add a Nonprofit Jobs Synonym to the Job Title
If you picked a "regular," for-profit job title in step #1—
Put a philanthropy jobs synonym on the front.
Do it like this:
Non Profit Job Titles

| | | |
| --- | --- | --- |
| Ordinary Job Title | Nonprofit Jobs Synonym | New Nonprofit Job Search Term |
| Accountant | Nonprofit | Nonprofit Accountant Jobs Near Me |
| Marketing Specialist | Non Profit | Non Profit Marketing Specialist Jobs |
| Administrative Assistant | NGO | NGO Administrative Assistant Jobs |
| Engineer | Not for Profit | Not for Profit Engineer Jobs |
3. Search in Google for Jobs
Now it's time to find nonprofit jobs that fit your job title.
It's easier than you think.
Type your careers in nonprofits title into Google search. Then click the big blue bar, like this: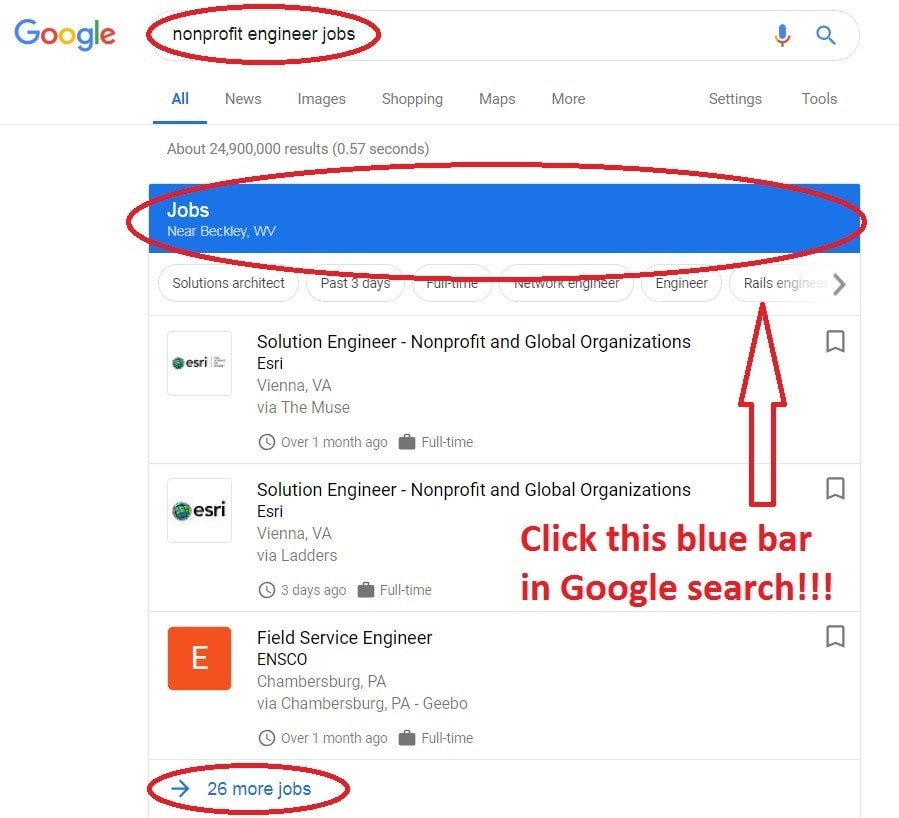 See that?
Google found 26 non profit jobs near me.
It works because Google for Jobs scrapes thousands of other non-profit job sites. It also sifts zillions of career pages for charitable organizations.
Need other great nonprofit job boards?
The best nonprofit websites are:
Indeed—Search nonprofit jobs and find thousands of openings.
Glassdoor—Get non-profit organizations jobs salary for hundreds of NGO jobs.
LinkedIn—The best site for networking your way into non-profit organizations jobs.
We like Google best. Why? It piles up not-for-profit jobs from all the other non profit job sites.
You can automate your nonprofit job search in Google and other nonprofit job boards. In Google, click Turn on email alerts for this search in the lower left.
Pro Tip: Don't apply for nonprofit jobs you find in Google. Find the job on the organization's website and apply there. You'll get heaps more interviews.
Want to use Google for Jobs like you were born to it? See our guide with expert tips: Google for Jobs: Use This Search Engine Tool to Find Your Next Career
3
How to Find Non Profit Organizations Near Me
If you're searching non profit jobs near me, here's how to find them.
There are two easy ways:
1. How to Find Nonprofit Jobs with Google for Jobs
Looking for NGO jobs near you?
Use Google for Jobs, like I showed above.
But—
Google automatically searches for local non profit jobs.
Look at this nonprofit jobs search example:
See that?
I didn't add a location.
Creepy? Helpful? Either way, Google knows where you live.
2. How to Find Non Profit Organizations Near Me with Google Local
Just need to find nonprofits near me?
Here's the good news:
Google knows where you are.
Just type one of the following into Google search:
Nonprofits near me
Nonprofits
Local nonprofit organizations
Nonprofit organizations
NGOs
Charitable organizations
Next—
Click More places in the search results.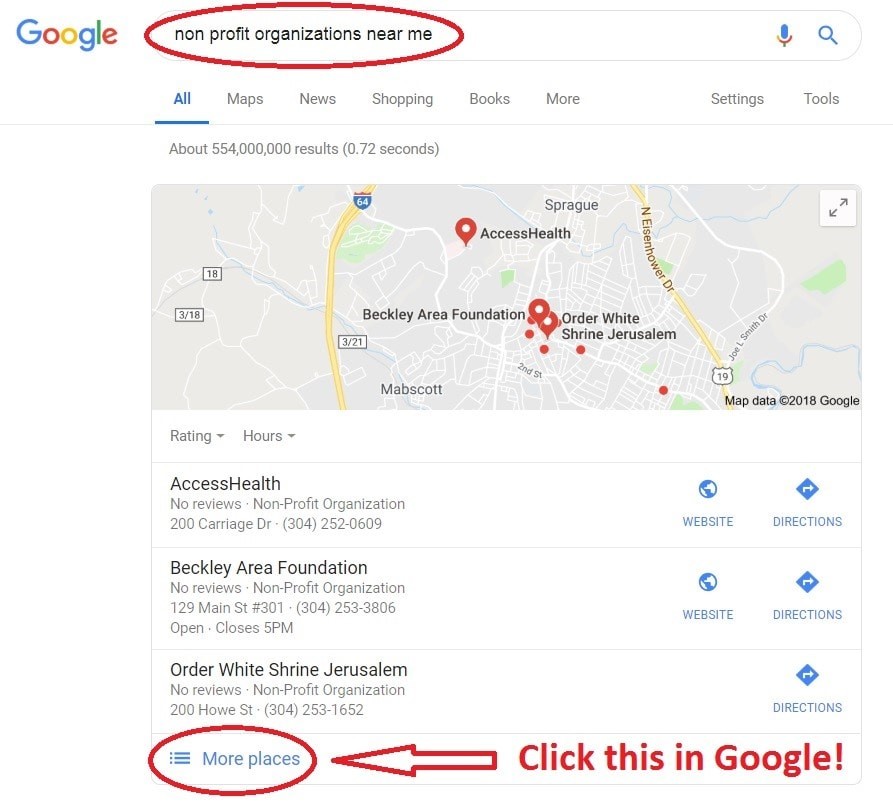 You'll get a big list of local non profit organizations.
You can even ditch the near me part. Google knows you mean non profit organizations near me. (Unless you specify a different city, state, town, or country.)
Then—
Search each organization's careers page to find nonprofit jobs near you.
Pro Tip: Hunting non profit jobs near me? Don't just apply online. Use your magic power and walk in. Hardly anyone does it, so you'll stand out like Gandhi at a Burger King.
Want to find non profit work from home jobs? See our guide for tips: 62 REAL Work from Home Jobs and How to Get a Good One Fast
4
List of Nonprofit Job Boards
Here are 25 nonprofit job boards.
But—
Don't get overwhelmed.
Our advice? Just use one or two. Many repeat the same postings.
Most have alert settings that let you automate your nonprofit job search.
Many are for directors and coordinators. Only a small percentage are entry-level non-profit jobs.
10 Best Nonprofit Websites
7 More Nonprofit Job Boards to Try
Regular Job Sites to Search Nonprofit Jobs
In these sites, search nonprofit jobs, ngo jobs, or not for profit jobs. Or search regular job titles with nonprofit added.
You can find nonprofit jobs near me by adding your location.
Your best bet to find nonprofit jobs fast?
Search Google for Jobs. If you've got time, try Indeed, plus one or two dedicated nonprofit job boards from the list above.
Pro Tip: Kick the spam. During your non profit job search, create a second gmail address. That way spammers won't clog your personal inbox.
Do you want more job search sites to nail your nonprofit job search? See our guide: 30 Best Job Search Sites & How to Use Them to Find Employment Fast
When making a resume in our builder, drag & drop bullet points, skills, and auto-fill the boring stuff. Spell check? Check. Start building a professional resume template here for free.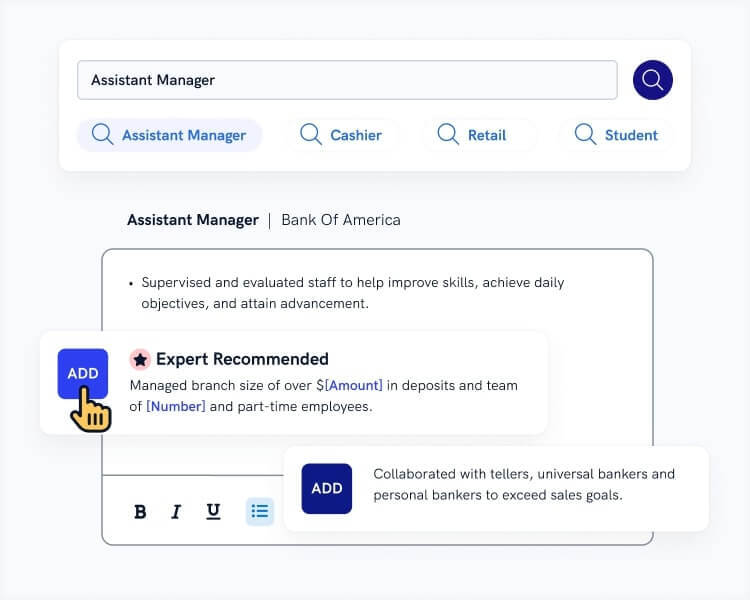 When you're done, our professional resume builder will score your resume and our resume checker will tell you exactly how to make it better.
5
Best Non Profit Organizations List (181 Organizations)
Nonprofit organizations are the best place to find nonprofit jobs.
That's why we've compiled this non-profit organizations list.
They're the 181 biggest, best nonprofits to work for.
To use them to find nonprofit and NGO jobs—
Click through to their websites and review their career pages.
Those are the biggest and best nonprofits to work for in the US. But don't stop there.
There are 1.5 million nonprofits in America, according to the NCSS.
Pro Tip: The non profit organizations list above shows big orgs. When seeking nonprofit jobs, go small. Search non-profit organizations near me and you'll have less competition.
Are you a stay-at-home-mom looking for nonprofit or NGO jobs? See our guide for tips: 61 Real Stay at Home Mom Jobs and How to Get a Good One Fast
The Dalai Lama said it's not enough to be compassionate. You must also act.
Working in philanthropy jobs means changing passion into action.
Start by answering your basic questions about nonprofit jobs below.
What is an NGO?
An NGO stands for "Non-Governmental Organization." They're nonprofits that operate internationally.
Nonprofits that work only in the US aren't called NGOs. An NGO is a nonprofit that functions in the US and other countries.
What is a Nonprofit Organization?
A nonprofit is an organization that operates without profit. They may earn revenue, but because of the good they do for society, they're tax exempt.
Nonprofits are organizations like animal shelters, homeless shelters, schools, arts organizations, and human services entities.
How Do Nonprofits Work?
Nonprofits don't pay money to investors or owners in the form of profits. They channel their revenue back into their efforts.
Most people who work at nonprofits earn a salary or hourly paycheck. They often make less than their for-profit counterparts.
How to Work for a Nonprofit
To work for a nonprofit, start by volunteering, doing an internship, or looking online. Search sites like Google for Jobs, Indeed, and nonprofit job boards like Idealist.
You can also check the career pages of nonprofit websites like American Red Cross or Teach for America.
Why Work for a Nonprofit
The biggest reason to work for a nonprofit? Passion. Employees at NGOs and not-for-profit organizations are passionate about helping the world.
There's a big side-benefit to following your passion into careers in nonprofits. Namely, you'll work side-by-side with others who share that passion.
Do You Get Paid to Work at a Nonprofit?
Yes—most of the time. Nonprofit organizations don't make money like for-profit companies do. But in most cases, their employees do earn a salary.
That said, nonprofit employees often earn less money than for-profit employees. Their compensation comes partially from following their passion.
Pro Tip: Worried you won't find nonprofit jobs? Take heart. In a survey of 3,400 nonprofit leaders, more than half said they're expanding services and staff.
Want part-time non-profit jobs? See our guide for tips: 107 Part Time Jobs Near Me & How to Get Them
Plus, a great cover letter that matches your resume will give you an advantage over other candidates. You can write it in our cover letter builder here. Here's what it may look like: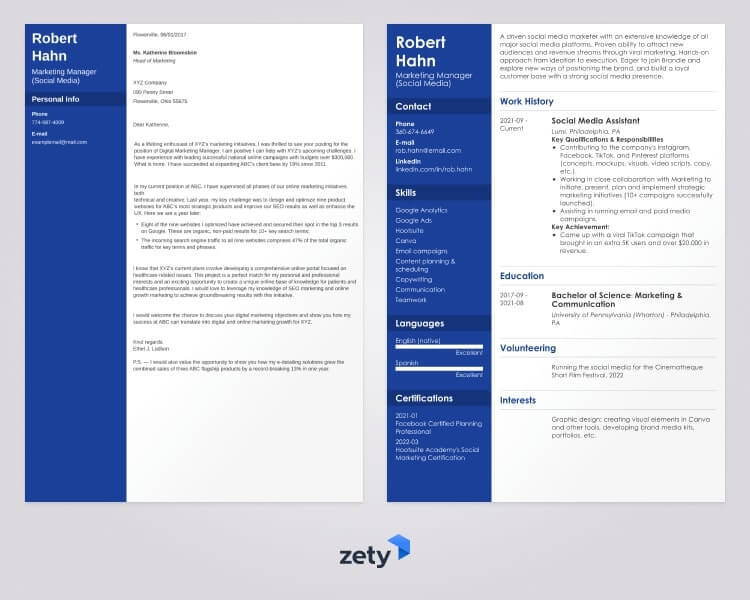 See more cover letter templates and start writing.
Key Takeaway
Here's a quick recap of nonprofit jobs and how to get them:
Review the list of 112 nonprofit jobs in this guide.
Pick a philanthropy job title that fits your skills and experience.
Plug your careers in nonprofits title into Google for Jobs. It's the strongest nonprofit job board because it hunts through all the others.
Let Google for Jobs find not-for-profit jobs near you. You don't even have to type non profit organizations near me. Google knows where you live.
Use the list of the 25 best nonprofit websites in this article. Pick one or two to fill in any gaps in Google search.
Check out the best non profit organizations list in this guide. Hunt through their career pages for NGO jobs.
Want more nonprofit jobs titles? Looking for high-paying NGO jobs? Need tips to use nonprofit job boards better, with less stress? Leave a comment. We'll be happy to reply!
About Zety's Editorial Process
This article has been reviewed by our editorial team to make sure it follows Zety's editorial guidelines. We're committed to sharing our expertise and giving you trustworthy career advice tailored to your needs. High-quality content is what brings over 40 million readers to our site every year. But we don't stop there. Our team conducts original research to understand the job market better, and we pride ourselves on being quoted by top universities and prime media outlets from around the world.
Sources