Getting a part-time job is a battle. You write a hundred resumes, and they end up in the online black hole. You Google "part time jobs near me", and bam: a flood of work-from-home scams. Awful part-time jobs with bad pay. Horrendous work conditions.
Yes, hunting part-time work is full of bear traps, but you can find a part-time job you love. You just need to know what's out there, then do a few things right— and our list of 107 best part time jobs will definitely help.
This guide will show you:
107 of the best part time jobs no matter what your skills. (Organized by industry)
How to find "jobs near me part time" in a few days.
Expert tips to find real part-time online jobs or jobs with people, fast.
How to get a part time job when all your applications get ignored.
A note about the hourly pay rates in this article: they come from sites like Payscale and Glassdoor. They're medians, so half the jobs pay less and half pay more.
Want to save time and have your resume ready in 5 minutes? Try our resume builder. It's fast and easy to use. Plus, you'll get ready-made content to add with one click. See 20+ resume templates and create your resume here.
Sample resume made with our builder—See more resume examples here.
Also, read our guide on How to Make a Resume for a Part-Time Job and for more see:
1
The Best Part-Time Jobs
Meet Mary. She's wondering, "Where are the part time jobs near me?"
Mary just hit the jackpot. We've got 107+ great part time jobs in this article.
To get hired, scroll through and pick the 10 you like best. Pay special attention to pay and skills required. Most of these jobs hiring part-time pay $10 to $20 an hour. Some pay $30 to $60.
Plug your 10 job titles into a job search site like Indeed.com. It'll kick back hundreds of online job postings. Apply, but don't stop there.
Walk in. Visit the companies in person and say a friendly hello. Not every job is in the online job postings, and those that aren't are the easiest to get. Hunting part-time retail work? Fill out in-person job applications at Costco or L.L. Bean.
Plus, part-time jobs don't just offer extra cash—they help you land a full-time gig as well. According to Indeed's Hiring Lab Survey, almost half of involuntary part-time workers between 25 and 54 landed full-time jobs within a year of working part-time by August 2019.
That's right. With a strong economy and unemployment at a record low 3.5% for September 2019, employers are turning part-time jobs into full-time positions.
Pro Tip: Even a Facebook post like, "I'm looking for jobs near me part time" can be a worldshaker. I recently interviewed a pro who got a six-figure job by networking.
Apply online for part time online jobs like tech positions, tutoring, or typing jobs. Just make sure to customize your resume.
Yes, you do need a resume for a part-time job. Learn how to write one now: How to Write a Resume for a Job of Your Dreams.
2
32 Great Work from Home Part-Time Jobs
It's hard to know where to find remote jobs. So—
Let's meet a hiring manager. Her name is Sally. She's hiring for several high-paying online part time jobs.
(Nice Michael Scott wall hanging.)
She really needs good people like you. But she has a hard time finding them.
Sally is out there.
You just need to find her.
Start by asking, "What are good part time jobs online?"
The answers are below.
Then—
Make a short-list of five part-time online job titles that catch your eye.
Search them on Indeed.com.
Customize your resume to fit each one you apply to.
The jobs in the list below aren't always part-time. That depends on the company.
Not trying to find jobs online? Keep scrolling. You'll find dozens of great part time work positions with co-workers in section #3.
Education
You can find great part-time online jobs teaching and helping teachers.
Online Tutor. People all over the world need to learn. Hunt your own clients, search Indeed, or sign up with a service like Tutor.com or Revolution Prep. $25/hr
SAT/ACT Instructor. Got math and language skills? Can you communicate them? $20/hr
Test Scorer. A little red ink can earn you $12/hr
Online ESL Instructor. English is the language of business. If you know it, you can get part-time work teaching it. $19/hr
See our tutor resume guide here.
Typing
If your fingers fly across those keys, people need you. Try these four high-paying online part time jobs.
Medical Transcriptionist. You'll need to learn your medical terms for these great part time jobs. Ideal for stay-at-home moms. $15/hr
Law Enforcement Transcriptionist. This one's like being a medical transcriptionist, with easier jargon. $15/hr
Court Typist. You need speed for this one (180 WPM to 225 WPM). But it's on a stenotype machine so, easier. $26/hr
Data Entry. Got fast typing skills—10-key and otherwise? These make solid part-time online jobs. $14/hr
See our data entry resume guide here.
Research
The details make the world go round. Here are two part time online jobs if you love digging.
Business Researcher. Courts, nonprofits, and companies need the facts dug up and broken down. $33/hr
Research Assistant. Can't land a part-time job as a full-blown researcher? They need assistants too. $15/hr
See our research assistant resume guide here.
On the Phone / Customer Service
Got good phone skills? You can turn them into $12–$27 an hour. You'll find remote jobs for most of these positions. They also fit the "good part time openings near me" search.
Phone Survey Conductor. Phone survey researchers get more respect than telemarketers. $27/hr
Telemarketer. You'll need a very thick skin for these part-time work-from-home jobs. $11/hr
Telephone Operator. Answer and redirect calls. $11/hr
Help Desk Worker/Desktop Support. Good at answering questions about tech? Do these part time IT jobs for $22/hr
Virtual Assistant. Companies without resources for full-time staff need customer service people too. $16/hr
Customer Service Representative. Customer care rep positions make great flexible part time online jobs. $15/hr
Call Center Worker. You don't always have to work in a call center to be a call center employee. Some call centers offer part time work from home. $11/hr
See our help desk resume guide here.
Marketing
There are more and more marketing jobs part time online. Software-as-a-Service (SaaS) continues to explode. Here's a sampling, but get to know some marketing types and talk to them about their part-time needs.
Graphic Designer. Got mad skills with art, Photoshop, and Illustrator? Many graphic designers work part time and/or from home. $24/hr
Social Media Assistant. OMG, you can make money in part time jobs posting on Facebook and Twitter? Yes, yes, you can. $15/hr
See our graphic designer resume and marketing resume guides here.
Computer Science
The computer science jobs below increasingly make logical part time IT jobs. Can't find one online? There's plenty of opportunity to work these high-paying jobs in person too.
UX Designer or UI Developer. User Experience is how a website feels to you. User interface is how you feel to the website. Do either as part-time online jobs. $49/hr
SQL Developer. Build the databases where all the info lives. $41/hr
Web Designer. Not as high-dollar as it used to be, but still pretty good, as part time jobs go. $28/hr
Web Developer. Build the back-ends of websites. Stay in the shadows and make $44/hr
Software Engineer. Make the big bucks. Use programming skills to create software solutions. $52/hr
Computer Programmer. If you've got programming skills, companies will pay you to hack together code for them. $32/hr
See our IT resume guide here and click through to specific examples from there.
Writing
One day you'll be a famous novelist. For now, try these part-time writing jobs.
Copy Editor. Nobody can edit their own work. Read it, spot the goofs, and suggest fixes. $15/hr
Proofreader. When you see spelling and grammar flubs, do you like to nip them in the but? $25/hr
Content Creator or Blogger. If you can routinely churn out 500–2,000 words a day, ad agencies and other companies want you. $22/hr
Journalist. Do you know a good story when you see one? News happens daily. Someone's got to cover it. $22/hr
Copywriter. Some people could sell a sandwich to a Giro vendor with a well-written paragraph. If that's you, make $24/hr
Grant Writer. Companies and nonprofits love free money. Get it for them and earn $32/hr
Pro Tip: Beware MLM jobs (Multi-Level Marketing). They sound great, but most are ponzi schemes set up in a way that will never make you make any actual money. Don't fall for such pyramid schemes... Yuck!
"Do I need a resume for a part-time job?" Only if you want them to hire you. Don't worry, it's not rocket science. Our guide can help: How to Make a Resume for a Job
When making a resume in our builder, drag & drop bullet points, skills, and auto-fill the boring stuff. Spell check? Check. Start building a professional resume template here for free.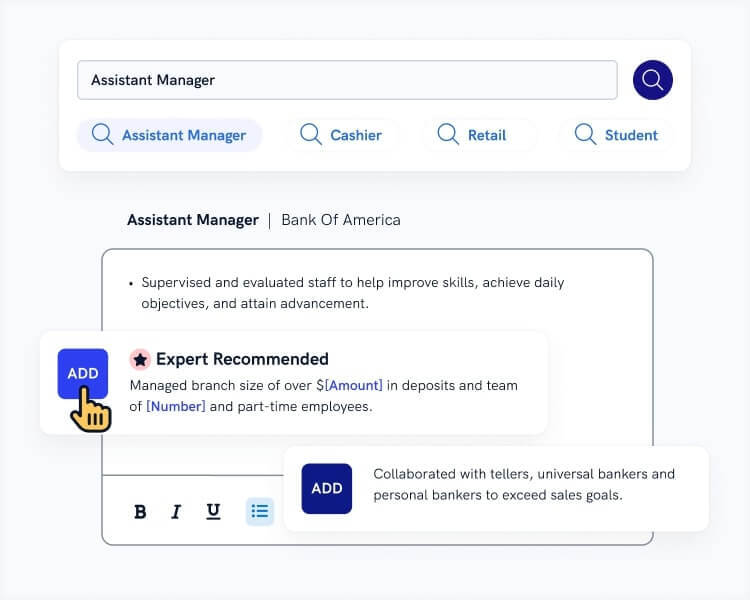 When you're done, our free resume builder will score your resume and our resume checker will tell you exactly how to make it better.
3
78 Best Part Time Jobs Working With People
Here are 78 of the best part time jobs to crank your social life up to 11.
Those same four walls can drive you bonkers.
But it's funny how a little useful work and chatting can change your world.
The list of part-time work below is anything but solitary.
To land one of these jobs:
Pick the 5–10 you like best.
Type them in the Indeed.com search box.
Tailor your resume to fit each one you apply to.
You don't even need to type in "part time jobs near me" or "jobs near me part time." Indeed knows where you live. (Yipe!)
Education
Got teaching creds? Don't have them? Local schools hide a ton of great part time jobs for SAHMs and other job seekers.
School Laborer or Administrator. Talk to someone in your local school district about these part time jobs. Schools have tons of part-time work for landscapers, library aides, classroom aides, school nurses, and more. $18/hr
Tutor. You need two things to be a part-time tutor: 1) skills in math, language, or science and 2) the ability to teach them. $20/hr
Substitute Teacher. High schools really, really need subs. These jobs often pay $100/day.
Teaching Assistant. Can you plan lessons, grade papers, or fill in at class time? These great part-time jobs might be for you. $18/hr
See our substitute teacher resume guide.
Office
If you want to get out and around other people in a water cooler setting, look for part time work in local offices. Small businesses need clerical help and can't always shell out for full-time help.
Human Resources Assistant. Want to read mountains of resumes? These aren't bad part time office jobs. $16/hr
Receptionist. People who do these jobs part time meet, greet, and answer phones. $14/hr
Secretary. Secretaries often double as receptionists. They may write emails and letters and schedule appointments too. $15/hr
Administrative Assistant. A part-time admin assistant does everything a secretary does. They may also throw in bookkeeping and budgeting. $20/hr
Office Assistant. These part-timers organize files, write copy, proofread, and do receptionist duties. $13/hr
Office Clerk. Run errands, sort mail, stuff envelopes, and be an all-around office gopher. $11/hr
File Clerk. Do you like data entry, paper filing, scanning, copying, and managing electronic files? These jobs hiring part time may be for you. $15/hr
See our administrative assistant resume guide and click-through to specific guides from there.
Working with Kids
If you enjoy working with children, try the part-time positions in this mini-list.
Youth Monitor. Contact high schools, middle schools, and preschools in your area. Ask if they need help at recess, during study times, or after school. $13/hr
Nanny. Do everything from washing dishes to making lunches, changing diapers, leading activities and putting the kids to bed. $27/hr
Child Care. Day care centers, schools, and large companies may need help with kiddos at different times of day. $10/hr
See our nanny resume guide.
Retail
When you think about retail part time jobs, do you picture toiling in an H&M down at the mall?
Don't discount Costco. They pay well and give benefits like health insurance and 401Ks even to part-time workers.
Food or Product Demonstrator. "Would you like to try a sample of new Smucker's apricot-berry on a cracker?" You've seen these guys. $12/hr
Shelf Stocker. The customers buy the stuff. You put it back. These are sure-fire part-time or weekend jobs. $10/hr
Cashier. Can you run a register? Can you learn to? Look for part-time work as a cashier. $10/hr
Sales Associate. They used to call these floorwalkers. Stroll the store and give general assistance and advice. $10/hr
Janitor. Retail stores need cleaning too. These retail workers make $12/hr
See our retail resume guide.
Driving
If you've got a driver's license or a CDL, you can find part-time work behind the wheel. Check out the shortlist of options below.
Mail Carrier. Fresh air, exercise, and sometimes even sunshine. Bring some tunes or audiobooks for these part time jobs with Uncle Sam. $25/hr
UPS Driver. UPS hires drivers, driver helpers, and has openings in other part-time work. $10–$30/hr
Tow Truck Operator. Help people in distress. Drive, think, and get paid. What could be better? $14/hr
Delivery Driver. Good part time weekend jobs if you've got your own car. Try pizza joints, sandwich shops, and anywhere else that makes food. $14/hr
School Bus Driver. With a CDL license, these are the best morning and afternoon part time jobs. $15/hr
Courier. Search online for these part-time work opportunities. Also check big companies in cities. $15/hr
Recyclables Collector. Drive the big green truck. $15/hr
Meter Reader. These days you don't even have to get out of the truck to read meters. Just whisk down the road and bluetooth does the rest. $15/hr
See our truck driver resume guide.
Banking and Finance
Like working with money? Look for these jobs hiring part time in banks and businesses.
Bank Teller. If you're trustworthy, good with people, and you can learn to run a drawer, you can make $12/hr.
Bookkeeper. Keep track of dollars and cents. Usually requires knowledge of Quickbooks, but there are tutorials for that. $18/hr
See our bank teller resume and bookkeeper resume guides.
Sports and Fitness
Want to move that body and help others do the same? These make good part time weekend jobs or evening work.
Fitness Instructor/Personal Trainer. If you know your way around a gym and you're good with people, check these great part time jobs. $22/hr
Yoga Instructor. Want to help me look for part time jobs hiring near me? Namaste here and teach this yoga class. $20/hr
Assistant Golf Professional. Handle club repair, inventory, bookkeeping, and selling merchandise. $13/hr
See our personal trainer resume guide.
Pro Tip: Beware of work from home scams! They often sound too good to be true, then demand you pay up front for uniforms or other fees. Use a trusted job search site that screens its postings, like Indeed.com.
Food Service and Hospitality
Restaurants, catering businesses, sandwich shop, hotels—they all have part-time work available. Search the job titles below online.
Barista. How would you like your half-caf mapleccino latte swirl? A fast-paced and social job. $12/hr
Restaurant Host. Meet, greet, seat, and make $10/hr.
Guest Service Representative. Check with spas, hotels, and other hospitality businesses for these good part time jobs. $12/hr
Front Desk Staff. Hotels need help checking people in. These make good part time weekend jobs. $14/hr
Cafeteria Worker. Run the register or stuff the cheesy walnut peppers. Check schools, colleges, and businesses for these part-time openings. $12/hr
Housekeeper. Talk to hotels, inns, motels, resorts, or try Care.com for these cleaning jobs. $11/hr
Food Service Cook/Line Cook. There are lots of these part-time jobs because nobody wants them. Swallow your pride and earn that dough. $10/hr
Waiter/Waitress/Server. Friendly, attentive, speedy, and thoughtful? You can make great tips in these positions. $15/hr after tips
Hotel Front Door Greeter. These jobs often go to the distinguished and presentable. $10/hr.
Bus Person. Clean the tables up and carry the dishes and cutlery out back. $10/hr.
Bellhop. I did this for years and loved it. Tons of laughs and exercise and mega tips. Especially fun at ski mountains and resorts. $20/hr.
Porter. If you can carry bags and keep things neat and clean, you can get part time work as a porter. $11/hr.
Spa Worker. Check hotels and day spas to see if they need help handing out towels in spas or poolside. $10/hr.
Valet. Parking cars and running back from is actually pretty fun. $15/hr.
Banquet Staff. Your sword and armor in these part-time and weekend jobs is tongs, pats of butter, and trays of water glasses. $11/hr.
See our hospitality resume guides.
Manufacturing
You probably have more manufacturing businesses around you than you think. Drive around local industrial parks, walk in, and ask if they've got part-time work.
Since most people apply online, you'll stand out like a $100 bill dropped in the parking lot.
Warehouse Worker. Warehouses need all kinds of part-timers for busy times. Pickers, packers, stockers, runners, truck unloaders, and more. $18/hr.
Material Handler. Factories make things from lots of little parts. Someone has to move all those around. $18/hr.
See our warehouse resume guide.
Law Enforcement
Can you really get part time jobs in law enforcement? Maybe not as a cop, but you bet your billy club these jobs exist:
Security Guard. Sit in a car and watch a backhoe and two piles of dirt. It ain't glamorous, but it pays $12/hr.
Private Investigator. No, you won't be helping damsels beat a murder rap. You'll probably take sneaky video of some "disabled" guy lifting refrigerators. $15/hr.
See our security guard resume guide.
Construction and Residential
Wherever people need things done, there's part-time work. Sometimes that's in people's' homes or at construction sites.
Handyman. If you're handy and you've got your own tools, you can make up to $60/hr. If I was hunting jobs near me part-time, this is the one I'd pick. Get clients by word-of-mouth. That means working cheap at first and doing a great job.
Carpenter. Got experience with power tools? Look online, sure, but also ask around with local builders. $22/hr
Locksmith. Don't have a locksmith certification? You can get one in a couple months. $25/hr
Landscaping Assistant. This is best in spring, summer, and fall. Fill in during winter shoveling roofs and driveways. $12/hr
Painter. Painting businesses are classic sources of good part time jobs. They get busy and need helpers, but not all the time. $19/hr
Construction Laborer. Do the odd, unskilled things nobody else wants to do. $15/hr
Caretaker or House Sitter. Just live in someone's house while they're not there. Find clients through HouseSitter.com. $50/day
See our construction resume guide.
Healthcare
There are lots of good part time jobs in the medical world. Don't just look online. Check hospitals and local clinics by walking in. This is just the short list:
Home Care Provider. You need a caring heart to pick up this part-time work. Get clients by word of mouth or check Care.com. $10/hr
Pharmacy Assistant. You don't need a degree to answer phones, run a register, and do clerical work. $15/hr
CNA. I won't lie. Being a nurse assistant is a dirty job. It's all the things the nurses avoid doing. $13/hr
Non-Certified Medical Technician. What??? Yep, there are plenty of jobs hiring part time with this title. Also called medical assistant. $18/hr
Drug Testing Technician. Can you stand collecting urine and saliva samples? $11/hr
See our nurse assistant resume guide.
Sales
Are there any part time jobs near me in sales?
Yes! Try the ones below. They may require travel but they can turn into full-time gigs.
Sales Representative. Do you have great interpersonal skills? Find a product you love and get out and press the flesh. $28/hr
Travel Agent. You can find remote jobs in the travel industry. Check with reputable agencies, train companies, and airlines. $16/hr
See our sales rep resume guide.
Working with Animals
Puppies, kitties, who doesn't love 'em? Here are three soft and fuzzy part time jobs.
Dog Walker / Pet Sitter. Get part-time work with lots of exercise by hanging out a shingle. Or sign up at Rover.com. $20/hr for walking, $20/day for sitting.
Veterinary Assistant. Do clerical tasks around the vet office and help with the animals. $11/hr
Animal Shelter Worker. You'll need a heart the size of a Clydesdale to make it through these jobs part time—or one the size of a flea. $10/hr
Cosmetology
If they don't look good, you don't look good. If you've got the skills, get part time work in the beauty field. Add tips to the hourly rates below.
Beautician. This is a catchall term for hair stylists and aestheticians. Seek these good part time jobs in hair salons and nursing homes. $13/hr
Hair Stylist. Cut, trim, style. Make hair look great and make $10/hr + tips.
Nail Technician. Can you do basic manicures, hand massages, and nail polish? These part-time positions might be for you. $11/hr
Cosmetologist. These beauty masters do it all—cut, style, shampoo, plus do nails and makeup. $15/hr
Other
Need still more jobs hiring part time? Here are a few more to help your search.
Parking Attendant. You'll want a subscription to a good audiobook service with this job. $10/hr
Library Assistant. Do clerical tasks around the library for $13/hr.
Dispatcher for Trucks or Taxis. A mic, a phone, and you're on your way. You can even find remote jobs as a dispatcher. $15/hr
Custodian. Retail, office, manufacturing, healthcare—every business needs custodians. $12/hr
Counselor. You'll need a master's degree in therapy, but you can get that in one year if you've already got a bachelor's degree. $21/hr
UPS Part-Timer. UPS hires part-time package handlers, driver helpers, and even drivers. Call your local facility and ask to submit an application. $10–$30/hr
Pro Tip: "I don't have the skills for any of these." That's so common! You can train for most of these part time jobs in a month or two. Take an online class or talk to an employer who'll train you while you work. You've got to put yourself out there if you want the greenbacks.
Do you need a cover letter for the best part-time jobs? That depends. Do you want the hiring manager to call you? The trick is knowing how to write a cover letter for a part-time job. See our guide: How to Write a Cover Letter in 8 Simple Steps
4
How to Get a Part Time Job
How can I actually land the best part time jobs near me?
Now you've got 107+ ideas for great part time jobs that you can actually do.
But how can you get one of these jobs?
It seems like such an impossible chore.
But it's like Creighton Abrams said—How do you eat an elephant? One bite at a time.
How to Find a Part Time Job
There are two ways to find a part time job. The first is to use job search engines like Indeed.com. You'll find zillions of openings that way but you might hear crickets after you apply.
The second way? Use your feet and walk in. More on that in a minute. First let's look at search engines.
How to Use Search Engines to Find Part Time Work
My three favorite job search sites are:
Indeed. It's got the most job listings, and they're up-to-date and verified. It's also really good at knowing what you're looking for. You can even type in "part time jobs" and it'll serve up millions of results.
Glassdoor. Not only does this site have a pile of openings, it also shows good salary data.
Google for Jobs. Yeah, no kidding. It's a job search site. Type in any job title in this article or just "part time jobs."
Pro Tip: You don't need to type in "best part time jobs near me" with any of these job search sites. They all know where you live! Creepy, but useful when you're hunting work.
How to Get a Part Time Job
Now you know how to find part jobs. But how to get gigs?
The search engines work great for finding jobs, but not as well for getting them. So—apply online, but then walk in and say hi.
Nothing beats an in-person visit. If they tell you to apply online, say you did, but you wanted to drop by in person. You'll stand out like you went swimming in that stuff they put in glow sticks.
How Long is a Part Time Job?
Part-time jobs can last indefinitely, though they're technically 35 hours a week or less. One-time jobs or gig jobs may last an hour or two, but you can string them together for full-time work. Gig work includes work for Uber, Turo, Justpark, TaskRabbit, and other gig job companies.
Part-time work is basically any kind of work you do for no more than 34 hours per week: voluntarily or not. There are various reasons for going part-time, but the most common include: childcare, personal or family obligations, health limitations, and schooling.
Pro Tip: Looking for a second job? The combination resume format uses the best achievements from your main job to get you hired.
Will your part-time jobs search die a grisly death because of a non-woke Facebook post from 10 years ago? It happens all the time. See our guide: How to Check Your Online Presence Before
Plus, a great cover letter that matches your resume will give you an advantage over other candidates. You can write it in our cover letter builder here. Here's what it may look like: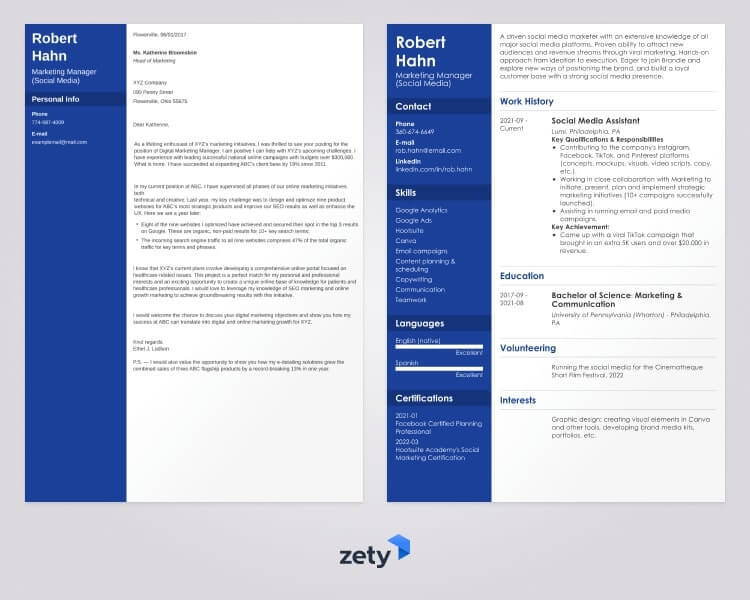 See more cover letter templates and start writing.
"Wow. There are a ton of part time jobs near me."
You bet there are. Here's a quick recap of how to get the best part time jobs.
Use the list of 107+ jobs hiring part time in this guide.
Write down the 10 job titles you like best. Then plug them into job search websites like Indeed.com.
Go in person to stand out from the masses. Also walk into business that don't list job openings online. You'll be the only one filling out job applications.
Customize your resume to fit the job like it was sprayed on. Tailored resumes get more interview requests.
Do you have questions on how to find the best part-time jobs? Not sure how to list your skills and achievements on a resume? Give us a shout in the comments! We'd be happy to reply.
About Zety's Editorial Process
This article has been reviewed by our editorial team to make sure it follows Zety's editorial guidelines. We're committed to sharing our expertise and giving you trustworthy career advice tailored to your needs. High-quality content is what brings over 40 million readers to our site every year. But we don't stop there. Our team conducts original research to understand the job market better, and we pride ourselves on being quoted by top universities and prime media outlets from around the world.