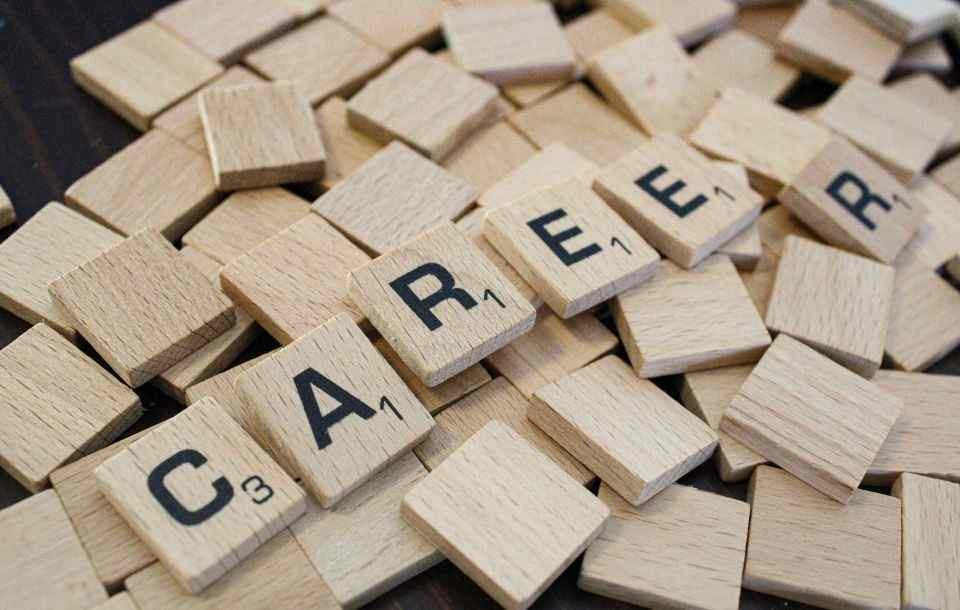 Best Career Test: What Career Is Best for Me? (Free Tests)
You care about your future, so you're looking for assessment tools to get the job that's right for you? Here's a breakdown of the best career tests out there to help you decide.
Making career choices isn't easy. With so many options available, various professional paths might be equally appealing. So how do you make a decision?
You'll need data. And not just any data, but a thorough evaluation from different angles—aptitude, interests, personality. Luckily, career assessment tests are abundant these days!
To help you determine the best career test out there, we've picked out the top ones based on Reddit reviews, tried them all, and shortlisted the top 10 to facilitate your job search.
Want to save time and have your resume ready in 5 minutes? Try our resume builder. It's fast and easy to use. Plus, you'll get ready-made content to add with one click. See 20+ resume templates and create your resume here.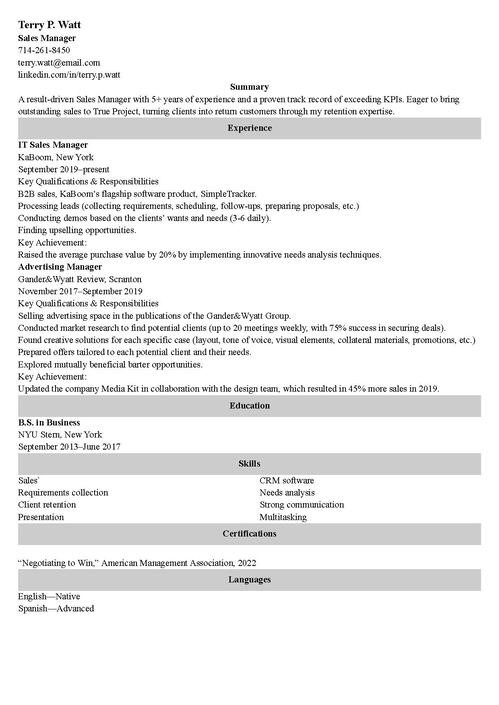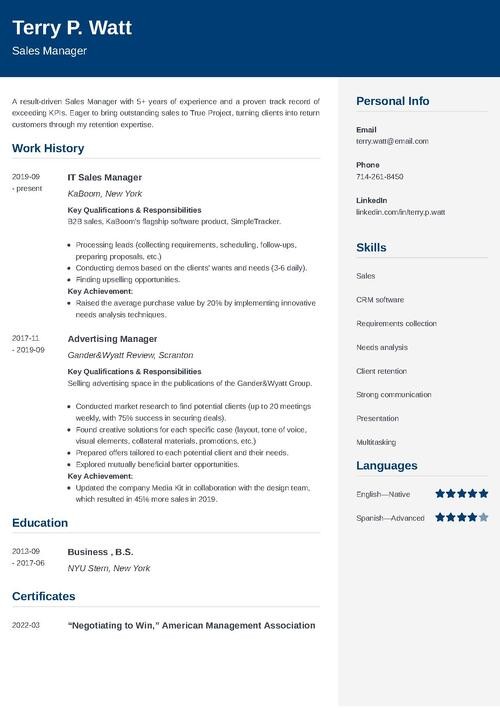 Sample resume made with our builder—See more resume examples here.
Want more? Explore these guides:
Read on to find the best career test and see what career is right for you.
What Is a Career Test?
Career or aptitude tests are personality-centric evaluations that highlight your strengths across different domains and help you narrow down areas that will bring you job satisfaction (and thus ensure burnout prevention). The most popular career quizzes include the Myers-Briggs-type assessments (based on studies by Jung), the Big 5, and the Enneagram.
10 Best Career Tests to Use in 2023
Let's start with the classics—a test to see what career best fits you. Using popular methodologies like Holland Score, these tests are designed to determine what jobs you could potentially be successful at.
The only thing left to do afterward? Explore the best sites to find a job and how to create a resume to apply for that dream position.
1. Sokanu Career Explorer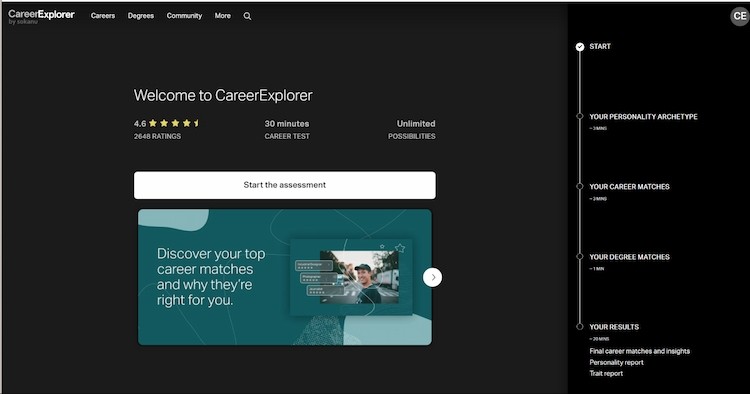 What to expect:
Probably the best career test on the market. The Career Explorer does exactly what it promises—it helps with your career exploration. It's an extensive test, so it will take you a while. The system will ask you personal questions (very in-depth) about how you deal with various situations, how you make decisions, etc. It also allows you to add your education and previous career if you consider a career change.
How good is it? Here are a couple of Reddit reviews:
"The best I have come across. Great free tool."
"It is accurate and SPECIFIC. My top match was particle physicist. Guess what field I'm literally about to start my Ph.D. in…."
Time needed:
Set around 30–40 minutes to do it. There are a lot of questions. But, there's a handy timer to keep you on track, so you'll see how much time you'll need to finish.
What you'll get:
Great insights into your unique characteristics, plus a whole variety of specific job ideas ("your top careers") that can give you some decision-making clarity.
Price:
It's a free career test. It doesn't require registration, either, but you can do that to save your results for later.
2. CareerFitter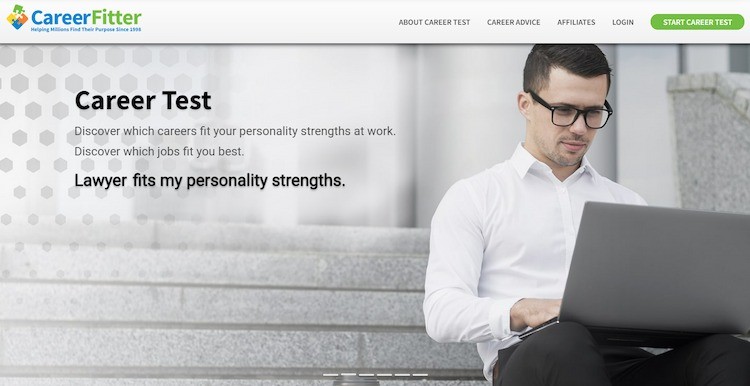 What to expect:
CareerFitter helps you determine the best career for you. It provides questions with sets of options (usually the two alternatives that are opposites of each other). The questions range from those on your personal preferences at work, your decision-making style, and your personality.
Time needed:
20+ minutes.
What you'll get:
Your work personality strengths, ideas about an optional work environment for you, and your income potential.


Price:
Free, but there's a catch. If you want to see actual career suggestions (plus a new feature called "Work From Home Careers"), you'll have to pay $19.95 (they promise a 100% satisfaction guarantee).
3. Princeton Review Career Quiz

What to expect:
Princeton Review Career Quiz is a simple "what career is best for me" test based on the Birkman Method.There are 24 questions in total, asking you to choose between 2 alternatives ("I would rather be a company controller" or "I would rather be a TV news anchor," that kind of stuff).
Time needed:
It takes around 10 minutes, but there's obligatory registration with a couple of additional questions.
What you'll get:
Career recommendations based on "style and interest" colors that signify the following:
RED: Expediting
GREEN: Communicating
BLUE: Planning
YELLOW: Administrating
You'll find out which ones are dominating and get a comment on what kind of work you could be potentially drawn to, plus which work environment you'd strive in. It also provides a pretty extensive list of careers that make sense based on the assessment.
Price:
Free (registration needed).
4. The MAPP (Motivational Appraisal Personal Potential) Career Assessment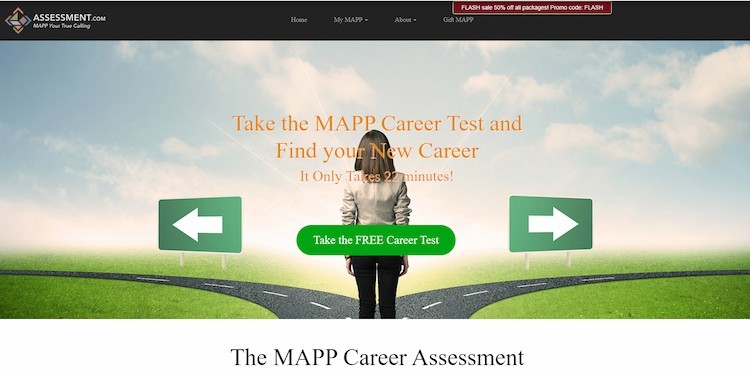 What to expect:
MAPP is a career quiz that includes a set of 71 statements. You have to choose one statement you can definitely agree with and one you least prefer. Expect questions like "Would you prefer to assemble a large, complicated jigsaw puzzle or assemble and run a model railroad?"
Time needed:
22 minutes (the questions will require a lot of focus).
What you'll get:
Insight into your job temperament, aptitude, how you relate to people and things, what kind of work environment fits you, and more.
Price:
Limited access is free (registration needed). However, if you want to see a full report, plus all the top career areas, you'll have to pay for a package, starting from $89.95.
5. My Next Move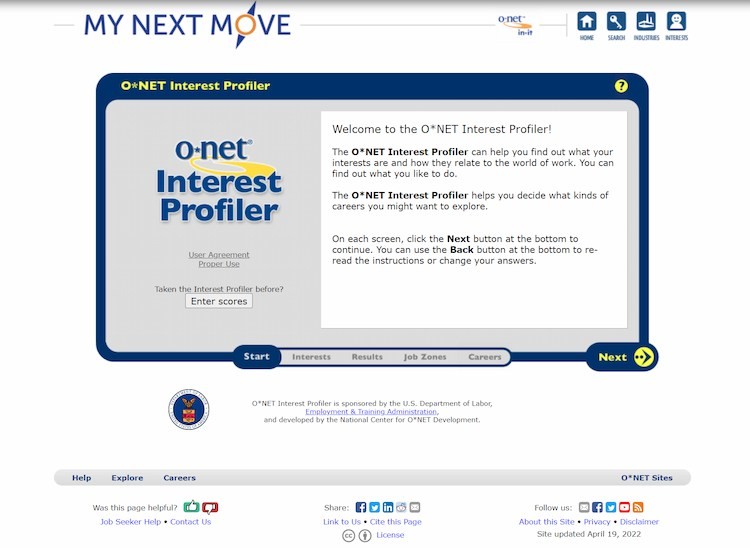 What to expect:
Don't be fooled by the interface that you get. My Next Move is still a solid career test (sponsored by the US government). Its results are based on your interests. There are 60 questions in total. It asks you not to focus on whetheryou have the right education or not, or even how much money you could potentially make—just your interest and whether you like or dislike doing something. Questions are somewhat similar to Career Explorer. Our personal fave? Whether or not you'd enjoy operating a calculator.
Time needed:
10-15 minutes max.
What you'll get:
Holland scores across six categories (Realistic, Investigative, Artistic, Social, Enterprising, Conventional, or RIASEC), plus career suggestions. Is it the best career test? Probably not, but it grants a decent addition to the other results.
Price:
Free, no registration.
6. Sparke Type Assessment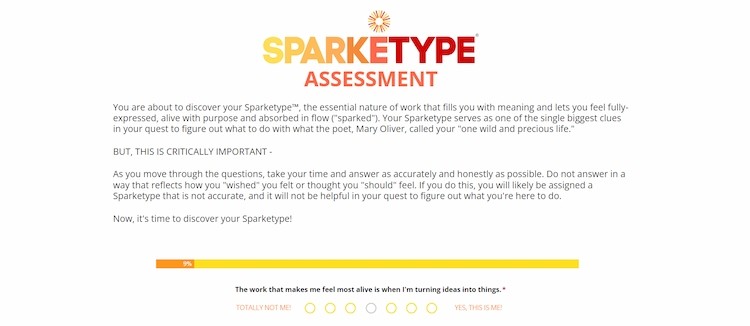 What to expect:
To find the "nature of work that gives you meaning," i.e., find a career path that will be fulfilling and make sense for your personality. With Sparketype, you'll answer questions with an appropriate degree of "Totally not me!" to "Yes, this is me!" to find your spark.
Time needed:
20–30 minutes. The creators emphasize the importance of taking your time and answering the questions with what is true and not what you wish were true.
What you'll get:
The test will reveal your Primary Sparketype, your Shadow Sparketype, and your Anti Sparketype (you'll get comments on the meaning of each). This will help you understand what kind of work you should be doing and what tasks will always be somewhat of a burden to you.
Price:
Free, but you'll only get results if you provide your email.
7. 16 Personalities (Jung Personality Test)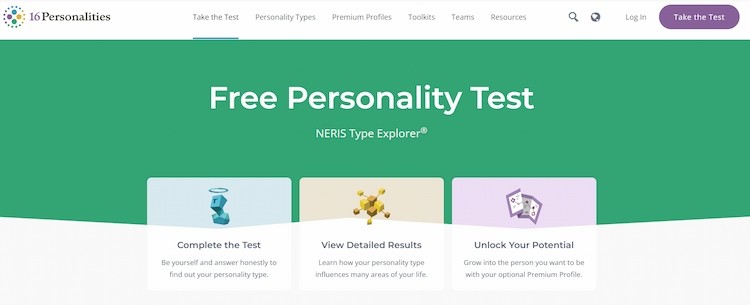 What to expect:
Probably the best personality test for career exploration (well, at least the most popular one). 16 Personalities Test is based on the Myers–Briggs Type Indicator (MBTI) and will calculate your personality type based on four main parameters (extraverted vs. introverted, intuitive vs. observant, thinking vs. feeling, judging vs. prospecting).
Time needed:
Around 10 minutes.
What you'll get:
A 4-letter "code" will indicate what kind of person you are, plus your strengths and weaknesses. It will also provide potential career paths and workplace habits and tell you which famous people and characters have the same personality type as you do.
Price:
Free (you can provide your email to save the results). There's a Premium profile available.
8. The HIGH5 Test (also known as the Big 5, or High Five Test)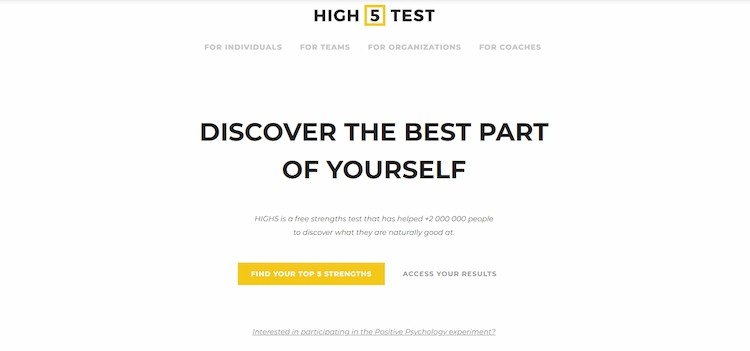 What to expect:
The HIGH5 Test includes 120 statements that you have to agree or disagree with. There's a "puller" you can drag to the left or right to mark to which degree you concur or oppose.
Time needed:
15+ minutes, more if you like to take your time and think your options through more thoroughly.
What you'll get:
A sequence of your top 5 strengths, with a clarification for each, describing what drives you and what you find crucial—thus, what you should be looking for during your career exploration.
Price:
A basic report is free, with email, Facebook, or LinkedIn registration. However, if you'd like to download a full report (listing your top 20 strengths), you'll need to pay $29.99.
9. 123 Career Test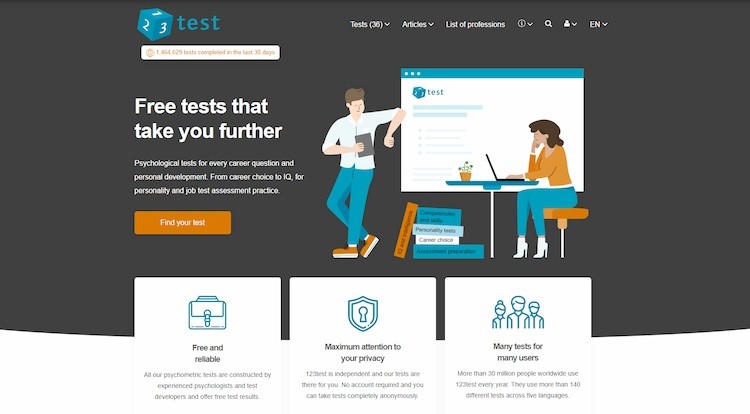 What to expect:
A selection of tests, ranging from the DISC personality test (recommended by 123 experts) to the Situational Judgement Test. Some tests are available in other places (like the Big Five), and some are pretty unique (like the Inductive Reasoning test). We recommend taking the free Career aptitude test (based on Holland Code personality types).
Time needed:
From 5–10 minutes to infinity (and beyond).
What you'll get:
A whole data set never to ask yourself, "What should I do with my life?" again.
Price:

Some are free (they'll ask you some personal questions, though). You can also purchase more detailed reports for free tests.
10. Truity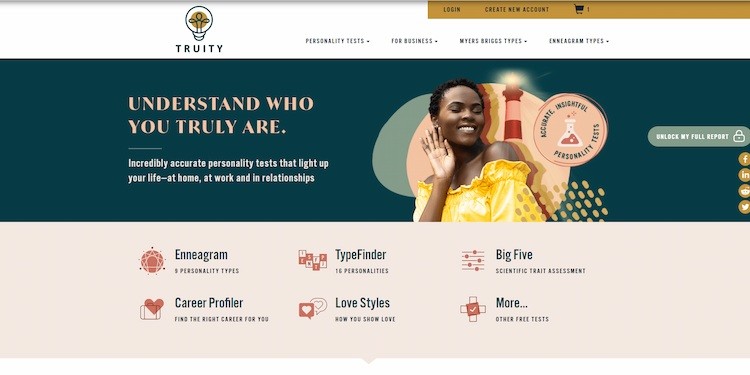 What to expect:
If you don't hope for just one best career test to give you all the answers, Truity is a one-stop shop to provide you with multiple sources of self-assessment. It has a Holland Code Career Test, the Big 5, Enneagram (which of the nine personality types you are), 16 types, you name it.
Time needed:
Better clear out your day and get ready to find a lot of guidance.
What you'll get:
The homepage promises you'll "understand who you are." You'll get the best free career tests out there, personality profiles, and information on Myers-Briggs Types and Enneagram types—it's a massive knowledge base.
Price:
A lot of the materials are free. Basic reports are free, but more in-depth reports would require payment and email registration. You can get a lot of value from the free stuff. It'll probably just take a bit longer to put things together.
When making a resume in our builder, drag & drop bullet points, skills, and auto-fill the boring stuff. Spell check? Check. Start building a professional resume template here for free.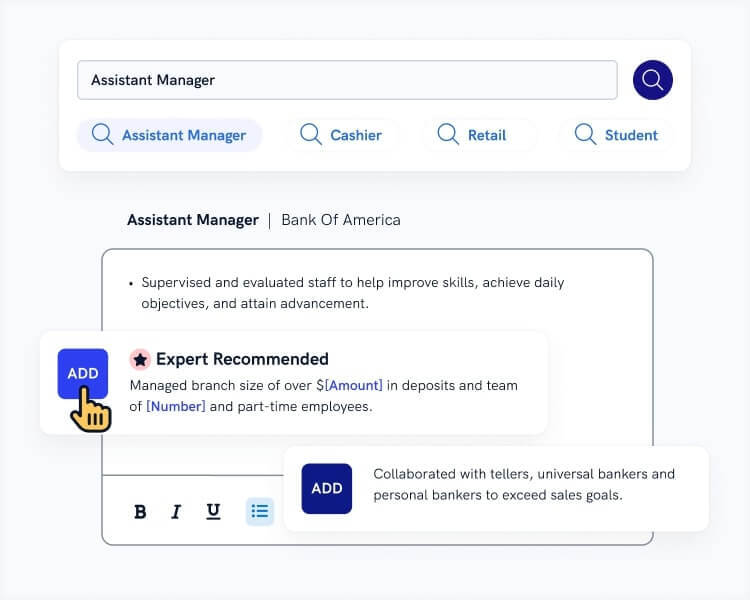 When you're done, Zety's resume builder will score your resume and our resume checker will tell you exactly how to make it better.
Key Takeaways
There are hundreds of career and personality tests on the internet, and they can be very helpful if you're looking for direction. They'll assist you in identifying your strengths and weaknesses and defining areas of interest or aptitude.
However, don't expect just one *best* career test to give you all the answers. Take the results with a grain of salt—you can't fully avoid cognitive bias, so use them as more of a compass than guidelines set in stone.
Thanks for reading! Did the guide help you find the best career test? Would you like us to add more? Let us know in the comments!
About Zety's Editorial Process
This article has been reviewed by our editorial team to make sure it follows Zety's editorial guidelines. We're committed to sharing our expertise and giving you trustworthy career advice tailored to your needs. High-quality content is what brings over 40 million readers to our site every year. But we don't stop there. Our team conducts original research to understand the job market better, and we pride ourselves on being quoted by top universities and prime media outlets from around the world.